We all know that off-road travel trailers are tough enough to withstand the rough terrain choices. There are different models and sizes of off-road camper trailers equipped with a range of amenities with overwhelming decisions.
Campers give an excellent chance to find out the off-road travel trailer. Different campers have different features which can be used according to the type of terrain. If you are looking to the camp off-road grid with a little bit of luxury, then a tiny off-road camper is the right choice for you. Let's see: What are the 25 extreme campers built for off-roading?
The best 25 extreme campers built for off-roading include:
Opus 4-Sleeper Off-Road Camper
Black Series HQ12 Off-Road Travel Trailer
Morv Explore
Taxa Outdoors Tiger Moth
Topo Series Escapod Off-Road Travel Trailer
Terra Trek Australia
Airstream Basecamp X Off-Road Camper
Boreas XT Off-Road Camper
Schutt XVenture XV2
Turtleback Trailers Expedition Off-Road Trailer
Colorado Base-drop Teardrop Camper
Hickory Expedition Off-Road Trailer
1982 Toyota Pickup
AM General M109
1991 Mitsubishi L300 4WD Van
1997 Ford E-350 Super Duty Ambulance
M35A2 Troop Carrier
Mitsubishi Fuso
XP Camper
Earthcruiser
Global Expedition Vehicles
Four-Wheel Campers
Rawhyde Adventures
Sportsmobile
Conqueror Uev 440 Extreme North America
25 Extreme Campers Built for Off-Roading:
1. Opus 4-Sleeper Off-Road Camper: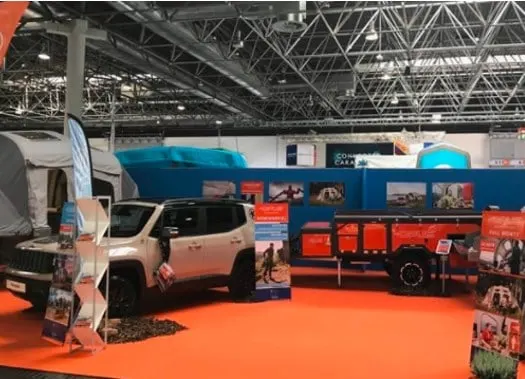 Opus 4-sleeper Off-road camper can take you to distant mountain peaks and sparkling lakes. It holds some unique features, which are as below:
Opus 4-sleeper Off-road camper holds an independent coil suspension having heavy-duty tires and all-terrain chassis.
It is capable of staying off-grid for up to four days.
It includes the feature of an inflatable decision with 8-foot ceilings and panoramic windows.
This camper also provides storage, power, and onboard water for camping adventures.
You can also cook outdoors with these off-road campers as it has a slide-out kitchen too.
2. Black Series HQ12 Off-Road Travel Trailer: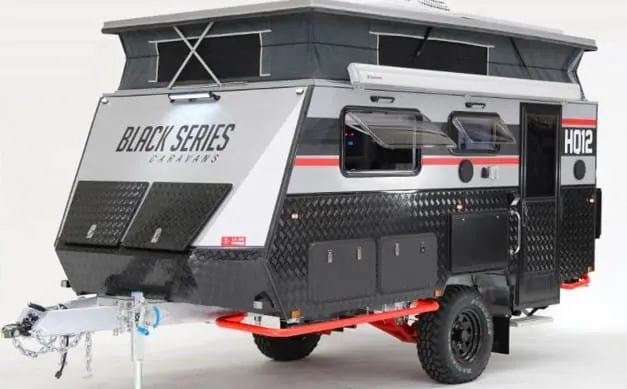 This off-road travel trailer is regarded as one of the best off-road travel trailers named as Black series HQ12 off-road travel trailer and holds special features as below:
It has a robust suspension system with custom-designed trailing arms.
It allows each wheel to move independently over the rough terrain.
A family of four can easily sleep in the HQ12 Black series.
This camper has enough room to move around and includes convertible beds, solar panels, and a full kitchen.
It also includes a power system that keeps you comfortable off-grid.
3. Morv Explore: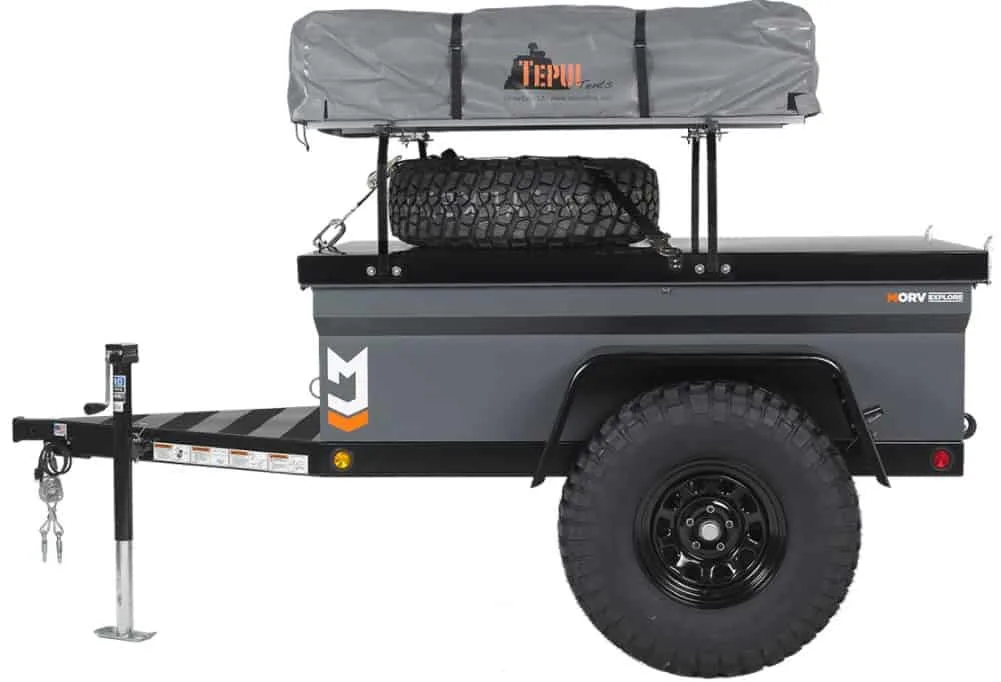 This off-road camper is the best one for remote areas and includes some best features such as:
It has an aluminium lid with a trailer rack and rooftop tent and also holds a Manley toolbox.
There is also LED lighting with a military tested independent torsion axle and a trailer stabilizer.
This off-road camper trailer has a rear hitch stabilizer with a lid-tie down-kit and trailer rack uprights and bar.
4. Taxa Outdoors Tiger Moth: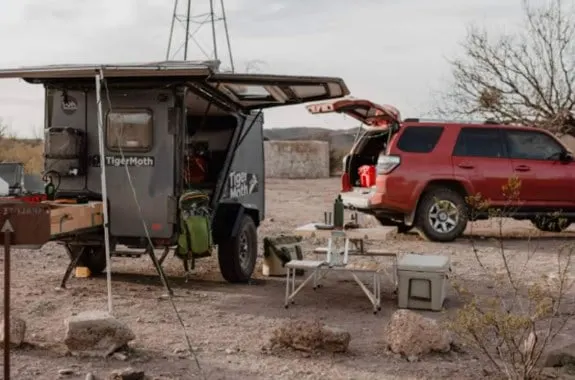 This off-road camper is a viable choice for different terrains and includes a simple design. It holds specific features such as:
It is lightweight and rugged, and there is an option to add a rooftop tent to it.
There are roof tracks, LED interior and exterior lights with USB outlets, and all-terrain tires.
Available add-ons include a rooftop tent with rear awning and portable 2-burner stove too.
5. Topo Series Escapod Off-Road Travel Trailer: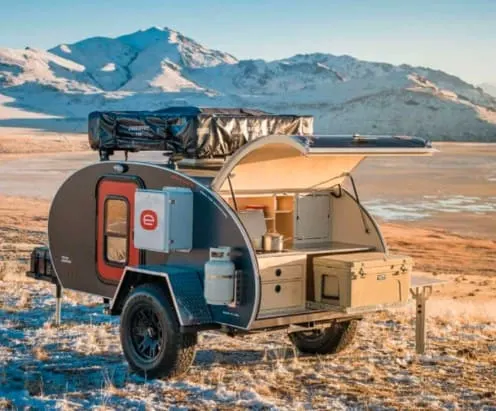 This Off-road travel trailer camper holds a minimalist design which is an excellent choice for rugged terrains. It has specific features such as:
It includes a weather-proof sealed undercarriage with a stainless-steel countertop.
Other than this, several add-ons include solar power, a two-stove burner, and a propane tank with a water tank.
You can also customize the camper according to your ease for making your trip a perfect one!
6. Terra Trek Australia: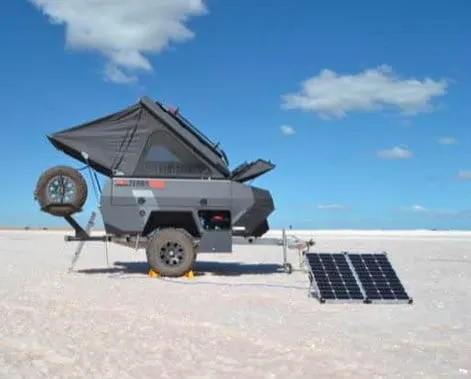 This Terra trek off-road camper trailer is designed specifically for handling rough terrain and harsh weather and includes the best features such as:
It includes a freezer/fridge with a side access pantry in it.
There are mud-terrain tires associated with this camper.
There is also a slide-out kitchen with having outdoor twin burner cooker in it.
7. Airstream Basecamp X Off-Road Camper: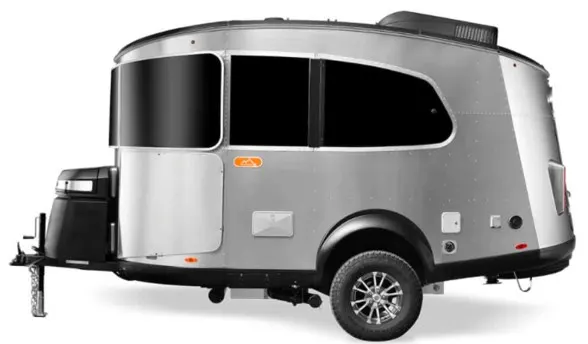 This off-road camper is made up of all terrains, especially for snow to rough woods. This camper is small and sleek to make set up and clean up the breeze. It includes features including:
It has a functioning kitchen with attachable tents.
It has a solar pre-wire kit with pull-out sofas.
It has an outdoor shower with bench storage and much more!
It can be customized according to personal preferences.
8. Boreas XT Off-Road Camper: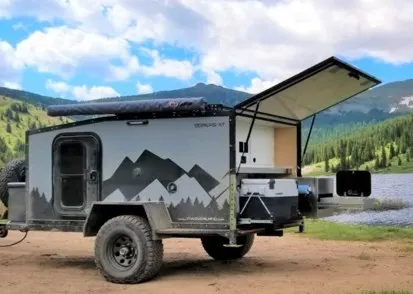 This Boreas XT off-road camper is considered a perfect backcountry basecamp. It is designed in a specific way that can work best in sandy, muddy, rocky, and other rough terrains. It holds many exterior features such as:
It has electric brakes and an aluminium roof rack attached on top.
There is a fibreglass exterior and instant hot shower attached to the camper.
There is a rear stabilizer jack and LED lights too associated with this camper.
This off-road trailer also boasts the 2-burner propane stove with a freshwater pump and much more!
9. Schutt XVenture XV2: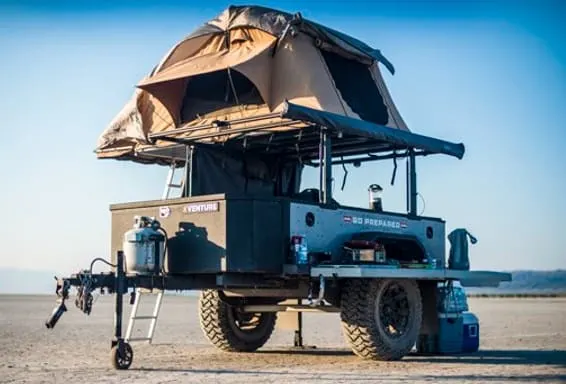 The XV1 off-road camper trailer is built with aircraft-grade aluminium, making it durable even in extreme climates. Every trailer holds a ten-year factory warranty.
Each camper is made in the USA and holds the design of military engineering basics.
It holds unique features and includes a heavy-duty fold-down tailgate, max coupler hitch, large toolbox, LED lighting, and electric brakes. Add-ons are the water system, propane system, water heater, lighting systems, and power upgrade.
10. Turtleback Trailers Expedition Off-Road Trailer: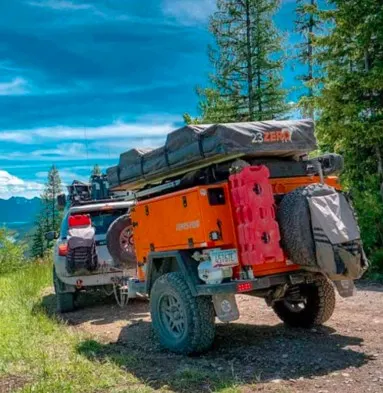 The expedition trailer is the most significant off-road trailer Turtleback offers on the market. This trailer can accommodate up to six people and is an option for families.
The water tank holds up to 48 gallons, and the entire camper has 50+ cubic feet of storage. Features include a shower, stove, slide-out kitchen, steel fold-down tables, LED lighting, standard roof rack, electricity, and more.
11. Colorado Basedrop Teardrop Camper: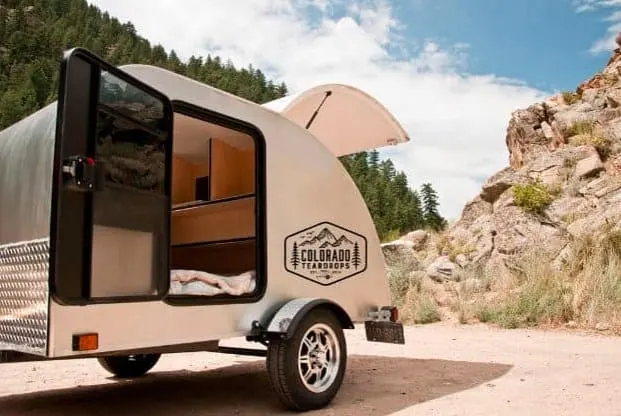 This camper is made up of an aluminium frame and is lightweight and durable. It is designed for the comfort of holding a queen size mattress.
This trailer comes with a one-year warranty and is so lightweight that it can be towed by cars having small engines.
It also includes specific features, including LED lights, solar generator and panels, front cargo racks with a water tank and hand pump, and much more!
12. Hickory Expedition Off-Road Trailer: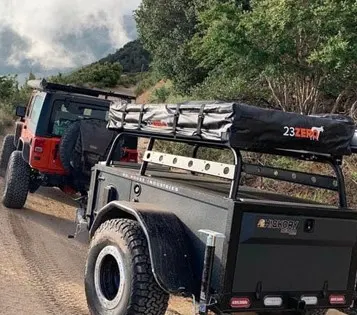 This off-road expedition trailer was designed for convenience and durability. This camper is made up of an aluminium body which provides strength. There is also an aluminium tongue box that can be modified according to specific needs.
The base model of this trailer includes off-road tires, urethane coating, an adjustable hitch, LED lighting, and safety chains.
A person can also add a roof rack for additional storage and include two water and propane packages, a portable solar package and solar package and heat & A package, and much more!
13. 1982 Toyota Pickup: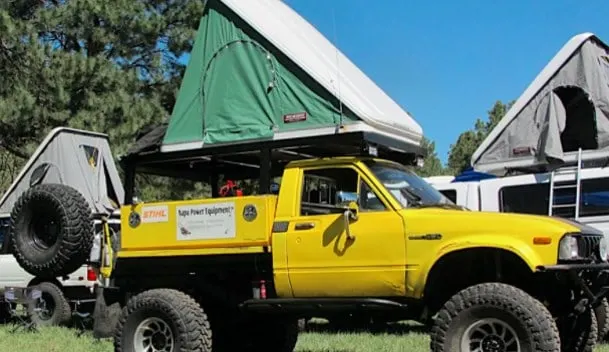 This truck can inch on large rocks practically one tire lug at a time and holds astonishingly a low craw ratio of around 230:1. This truck has a hybrid of the sort with the self-sufficiency of Overlanding.
There is a feature of adding more capacity to the rear spring pack, which is helpful to stand up the extra weight of the tent and camping equipment.
14. AM General M109: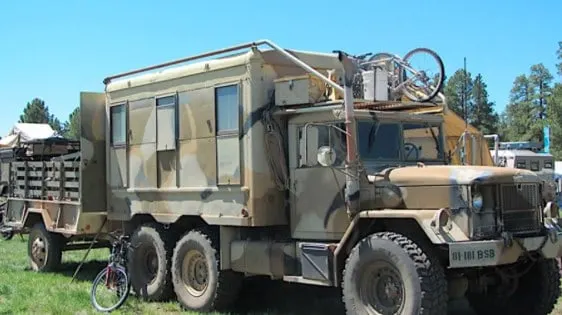 If you are looking for a vehicle to ride all over the country as an Overlanding expeditor, then AM general M109 is best! It holds a multi-fuel engine and his outfit for camping. The interior is extraordinarily crazy and is the best one.
It provides the facility of driving 1500 miles on overland adventures and can cross seven mountain ranges.
The truck has two fuel tanks of 50 gallons each which can be filled up between.
15. 1991 Mitsubishi L300 4WD Van: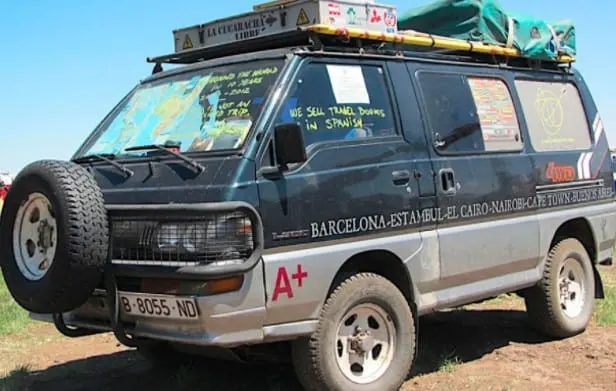 This van runs with a 2.5-litre diesel and holds an extra fuel tank.
There is an added roof storage with a bed inside it.
This van has solar panels to recharge the batteries, and there are also storage racks and containers in it.
It also has a pretty steady rig with a small kitchen.
16. 1997 Ford E-350 Super Duty Ambulance: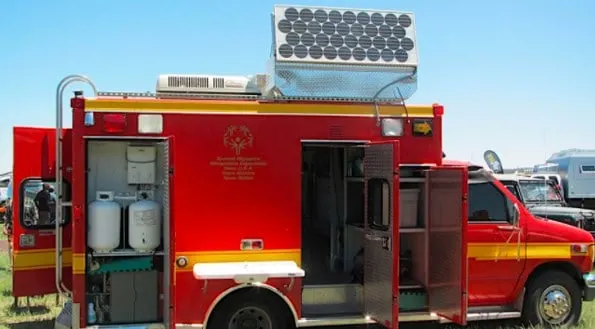 The 1997 Ford E-350 super duty ambulance is packed with 7.3-litre power stroke diesel and is limited slip-differential.
This ambulance holds a great base, and the chassis is strong.
Its bodywork has double-wall aluminium with two-by-two girders.
There is a heavy roof box containing a 100-watt solar panel that can run A/C and TV.
There is also an indoor shower with a 40 gallon of freshwater holding capacity and a tankless water heater with two propane tanks.
17. M35A2 Troop Carrier: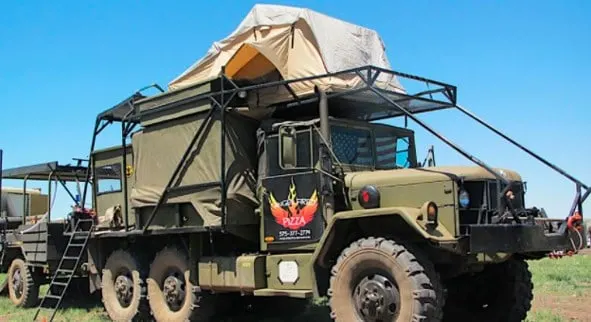 It is an overland camper, and it includes various features.
There is a sealed-off and a lockable sleeping area in it and also consists of an above-roof tent.
Most of the construction comes from recycled materials.
There is also an outdoor cooking tabletop associated with it, and it includes a top speed of 53 mph and an average speed of 40 mph.
18. Mitsubishi Fuso: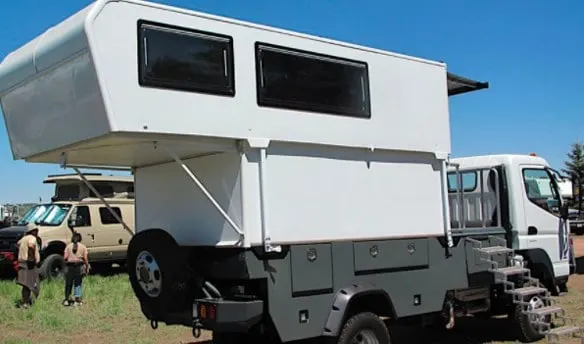 This vehicle is a new one and runs on a 3-litre turbo-diesel mated to automatic transmission and 4WD.
The innovative top associated with it raises and lowers via torsion bar springs.
Its production model uses an electric and hydraulic system, and the lower portion of bodywork offers locking storage.
There is a 32-gallon grey water tank associated with it.
Both ends of the truck have capacity winches and custom bumpers with a 16,000-pound capacity.
19. XP Camper: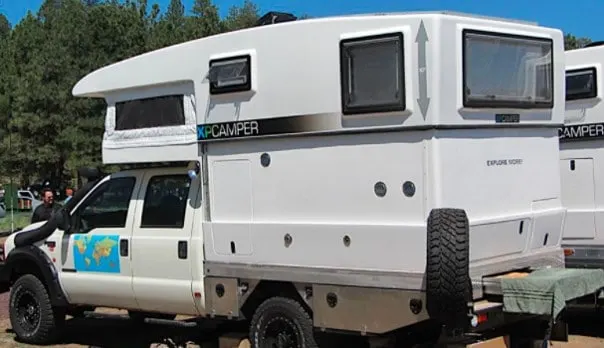 XP Camper is a slide-in technology-based camper and holds additional storage and is easy to remove.
It is used on conventional pickups, and its pop-top raises and lowers hydraulically with a mechanical backup system.
The camper comes with a diesel cooktop having 75 gallons of fresh water.
There are two beds associated with this camper, and this camper requires a heavy-duty 2500-series pickup platform.
20. Earthcruiser: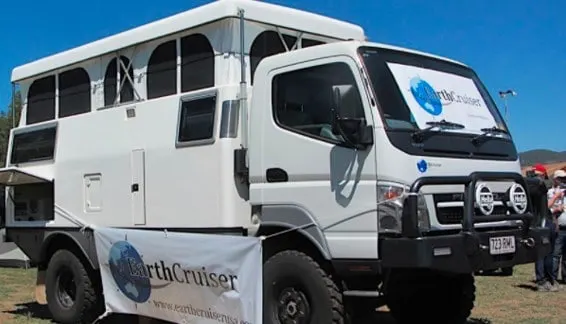 It is an extreme overland-style camper and modifies the suspension.
The spring offers more flex and axle articulation for traversing rough terrain.
This camper has a diesel cooktop and holds 90 liters of freshwater.
There is also an additional 100-litre tank available which we can use for showering and other cooking purposes.
21. Global Expedition Vehicles: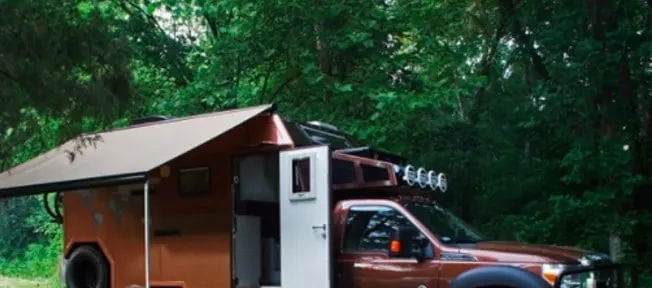 It is the most incredible truck in the overland world.
It is a 2WD model having a 300-inch wheelbase.
The bodywork of this vehicle is an insulated 2.5-inch composite sandwich of many marine-grade components.
The windows are also thick dual-pane constructed and are made up of stainless-steel hardware.
It is one of the most extreme and luxurious lifting roof models.
22. Four-Wheel Campers: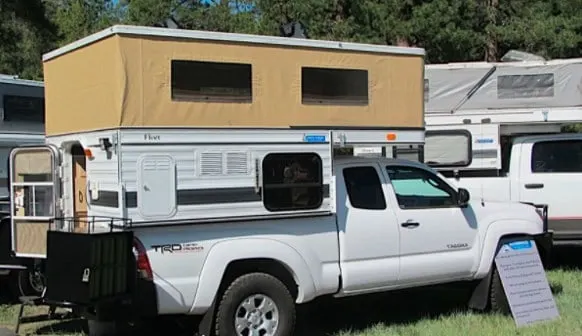 It is a kind of slide-in pop-up camper and is known as the best overland camper.
This model is light enough and works on midsize pickups like Tacoma.
This unit also includes an indoor shower.
23. Rawhyde Adventures: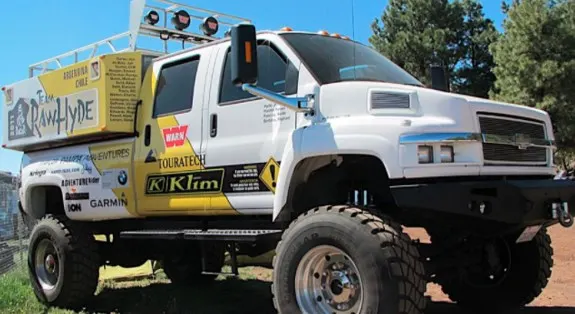 This camper is considered a monstrous beast whenever we talk about adventure support vehicles.
It is equipped with a Duramax diesel, and the truck hauls all sorts of camping supplies.
There is food for tour and fuel and also includes some spare parts.
24. Sportsmobile: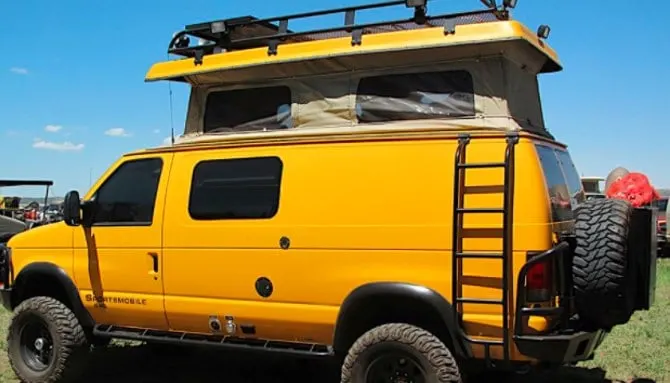 This model is configured for maximum off-road capability and includes locking differentials with a transfer case.
There is also a diesel-powered cooking stove with one fuel source and a propane tank.
There is solar power with 34 gallons of water and an external shower too.
25. Conqueror Uev 440 Extreme North America: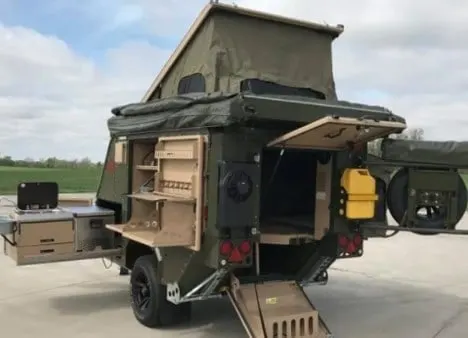 This camper is considered a monster of truck campers and includes Military specs.
It can take your off-roading to an extreme and is equally impressive from the inside.
This camper includes a carpet on the floor with roof insulation and a minibar bottle holder.
If you are looking to sell your camper fast, I recommend to chcek this artice: How To Sell A Camper Fast?
Features Of Off-Road Campers:
Here we will discuss some of the significant features associated with off-road campers:
1. Durability:
Whenever you look for an off-road camper, always pay special attention to what vehicle the camper is built on. No one wants their camper to fail when moving to a remote part of the country, and it should be their top priority to take the camper down.
Choose a camper with a durable build as it is necessary. For this purpose, Mercedes Sprinter Chassis and Ford Transit Chassis are considered esteemed for their extreme durability and off-roading capabilities. They are a high-quality pick for off-roading due to their powerful engines and transmissions and allow them to submit through rough roads.
2. Quality of Tires:
Choosing top-quality tires when choosing an off-road camper should be another priority. But still, a camper can be compromised when the tires and wheels on it are not designed for off-roading capabilities. It is advisable to go for premium quality tires.
Benefits of Travelling in Off-Road Campers:
1. Add-on Options:
Off-road trailers are also available in a customized way according to an individual's personal preferences. This thing allows the customer to ensure what sort of facility they want to include in their camper. Some of the significant add-ons include the items like water tanks and kitchen appliances, which helps to elevate the comfort factor of the off-road camper.
2. Weather Resistance:
One of the best things about off-road campers is that they won't leak in the night of heavy rains. Campers are exclusively designed and made up of hard-shelled exteriors that enable a person to enjoy the trip in any weather. Most of the campers are fully insulated, which helps to protect the person from extreme temperatures.
3. Storage Capacity:
Off-road campers hold plenty of storage space as compared to the standard trunk of the car. They are designed to maximize the storage and are built creatively with pop-outs, under storage, and cabinets. There are also some exterior storage spaces too which are locked along with interior drawers and storage.
4. Camping in Style:
Off-road campers help provide privacy and security so that a person can feel confident enough. Camping in a tent is a wild thing, while off-road campers provide heat, indoor plumbing, mattress, kitchen, and more! Campers are considered as homes on wheels just for the sake of comfort!
Also Read:
Top 5 Ways to Damage Your Car while Off-Roading and Recovery
What Size ATV Do I Need to Buy for Off-Roading?
Frequently Asked Questions (FAQs):
Which is the most demanding camper?
The most challenging camper to ever hit the road includes:
Earthcruiser
XP Camper
AM General M109
1991 Mitsubishi L300
Rawhyde adventure's Kodiak
The desert Challenger
Kiran
Which is the most rugged travel trailer?
The most rugged campers to pull behind others are:
Bruder EXP-4
2020 Opus Air 4 sleeper
Airstream Basecamp X Off-road trailer
2020 into the wild overland Boreas XT
2020 TAXA Mantis
2020 inTech Sol Down
2020 Black series
Black series HQ15
Can you go off-road with truck campers?
It is possible to go off-road with truck campers, and you can go anywhere and camp anywhere with it.
Can I travel the trailer off-road?
Truck campers are original off-road and can handle the rough road. They are highly manoeuvrable and can tow your boat or trailer behind. It also gives you the advantage of being able to use the pickup separately from your RV.
Can you use dually for off-roading?
It requires a particular sort of craziness to build a dual-pickup into an off-roader. It is great to see the large trucks blasting through mud, clawing up rocks, and being stuck up in the sand.
What do the off-road trailers look for?
Whenever you plan to purchase an off-road camper trailer, you should consider the vehicle's tow capacity and ball weight. It is true if you own an SUV or a 2-wheel drive.
What is meant by overland camper?
They are also called off-road trailers, which encompass any trailer equipped to drive over remote locales. They are best for self-guided exploration.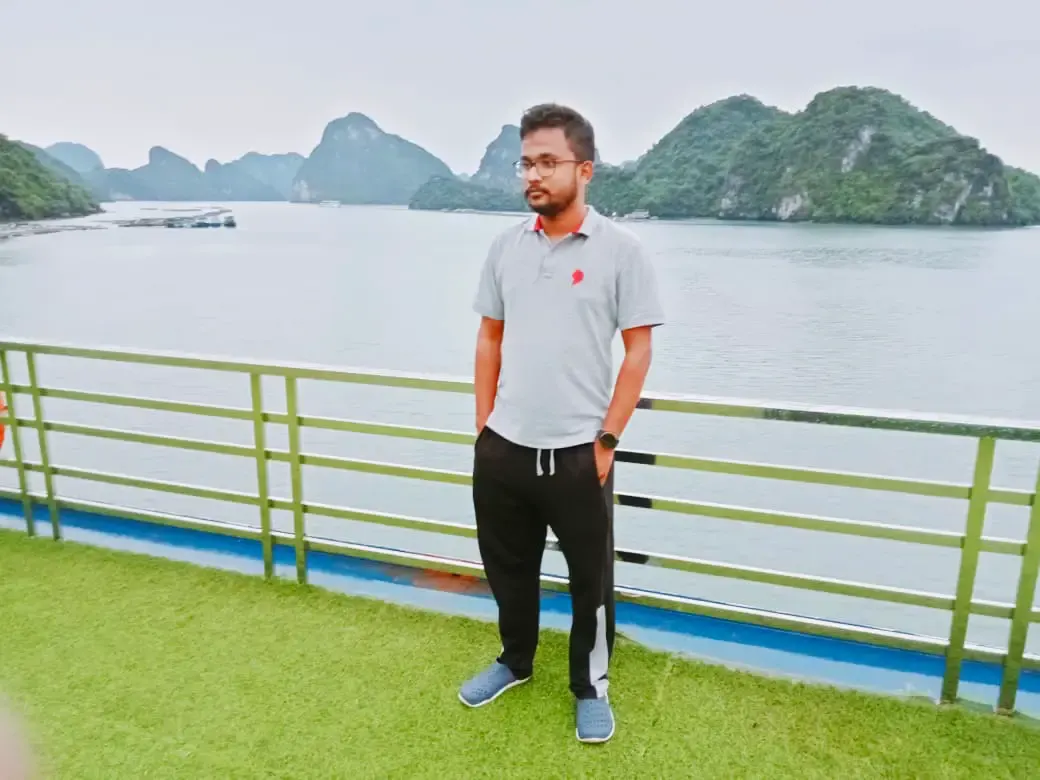 This is Surya. I am an experienced off-roader. I have been off-roading for many years across several terrains. I am passionate about 4×4 driving and want to share my knowledge and experience with others.
My goal is to provide you with the most comprehensive and unbiased information about off-roading.
I curated this article through my personal experience and expertise, and I hope it helps you with what you are looking for.