The contemporary world is witnessing a transition that hydro-carbon engines are being replaced with more environmentally friendly electric-powered ones. The roots of this transition have also been formulated into off-roading vehicles, and people are vying to see their performance on off-road trails.
In this article, we attempt to find out how electric cars are performing off-roading? Let's see: Are electric cars good for off-roading?
Electric vehicles are suitable for off-roading due to several reasons:
Electric vehicles are adjustable and require significantly less maintenance
Electric vehicles generate more instant torque (from 0 rpm)
Electric vehicles are stable because of better weight distribution
Electric vehicles remain unaffected by water and sand (As they don't have air intake)
Electric vehicles have better traction because of independent motors at each set of wheels
Section 1:
In section 1, we tend to list the significant perks that electric vehicles are bringing in the off-roading domain. The section compares the components of electric vehicles with that of conventional off-roading vehicles so that the reader understands the impact that electric vehicles will bring on off-roading.
Adjustable and Maintenance Free: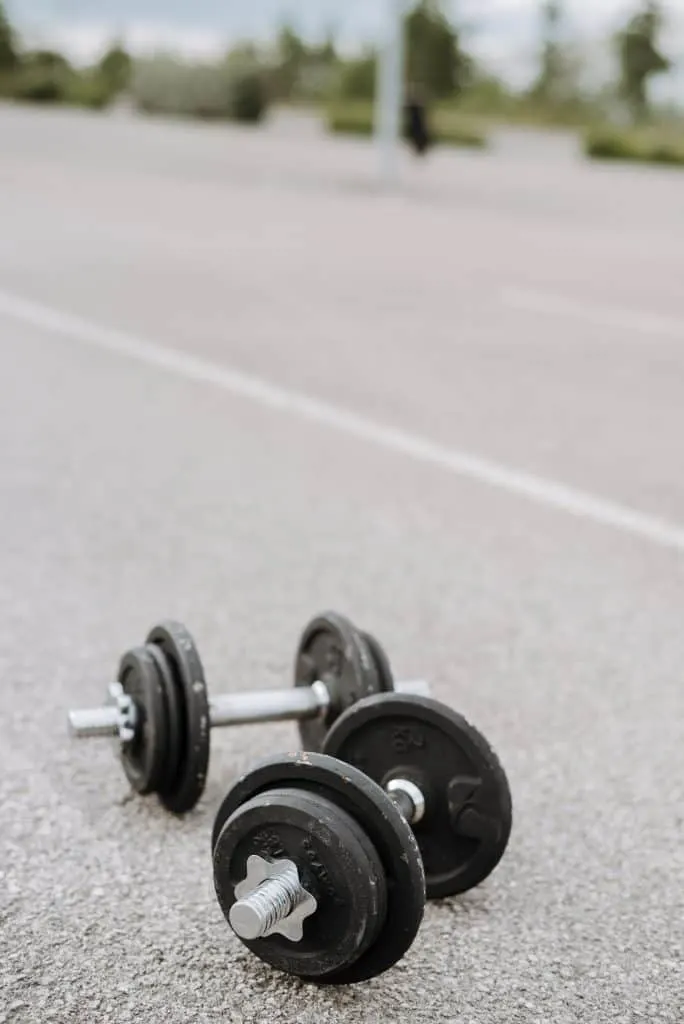 The number one benefit of electric off-road vehicles is that they can be manufactured in a more flexible manner in correlation to off-roading needs. This means that in combustion engine vehicles, the automakers have minimal opportunities to maneuver in terms of their design and add other components.
It is because the functioning of the mechanical parts impedes if their position is altered. Moreover, combustion engines have to face several regulations regarding carbon emission and fuel burn that limit any revolutionary change in them.
Yet, electric cars have a limited number of components, primarily batteries, and motors which can be adjusted and replaced to several positions. This helps them to be manufactured in a much more stable way that is suitable for off-roading.
Above that, off-roading vehicles have maintenance costs that reach the sky. But electric vehicles bring change in it as the vehicles have no fuel linages, mechanical wear and tear, and no combustion pistons requiring additional lubricants and maintenance to keep functioning.
In a similar case, the electric vehicles' motors come with a guarantee of up to 10 or 20 years that ensures that people buying electric vehicles will remain hassle-free from any significant maintenance cost for some time. This shows the more excellent utility that electric vehicles are bringing in off-roading.
Instant Torque: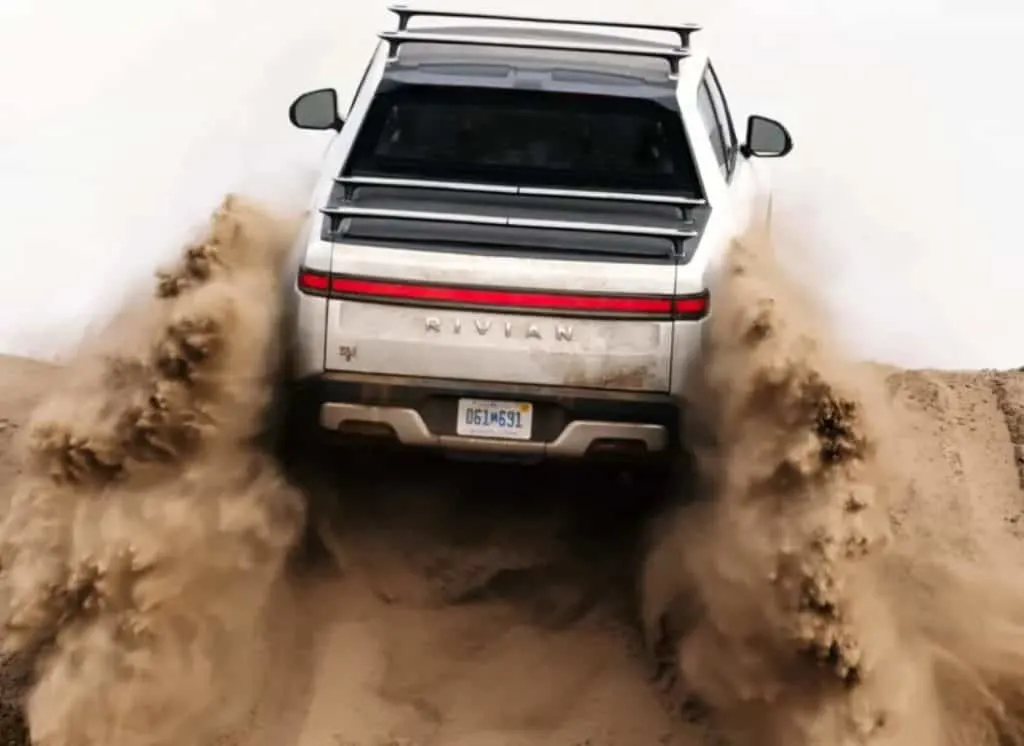 The next significant benefit of electric vehicles over combustion engine off-roaders is the instant torque that the electric motors produce. Instant torque means that the electric motor receives power through electric transmission, and the motor rotates at a much greater pace. And they are ultimately generating more torque.
These fast torque-producing motors prove critical in off-roading as the vehicle requires sudden pulls to overcome obstacles and hurdles. Other than that, in combustion engines, the torque produced faces a relative delay in the form of mechanical power transmission and may not be as adequate as the situation requires. So electric vehicles are proving this otherwise.
Furthermore, in diesel engines, the torque produced depends on the revolutions the engine is already making. If the vehicle intends to achieve greater torque, then the requirement is that the vehicle should already be in a position of movement.
Otherwise, the required torque is not achieved, yet it is quite different in the case of electric vehicles. For instance, the motor does not require any pre-torque to achieve greater torque.
The rpm that an electric motor has is a lot more than the one generated by combustion engine pistons. So the notion of instant torque is true in the case of electric vehicles.
Dynamic and Stable Weight Distribution: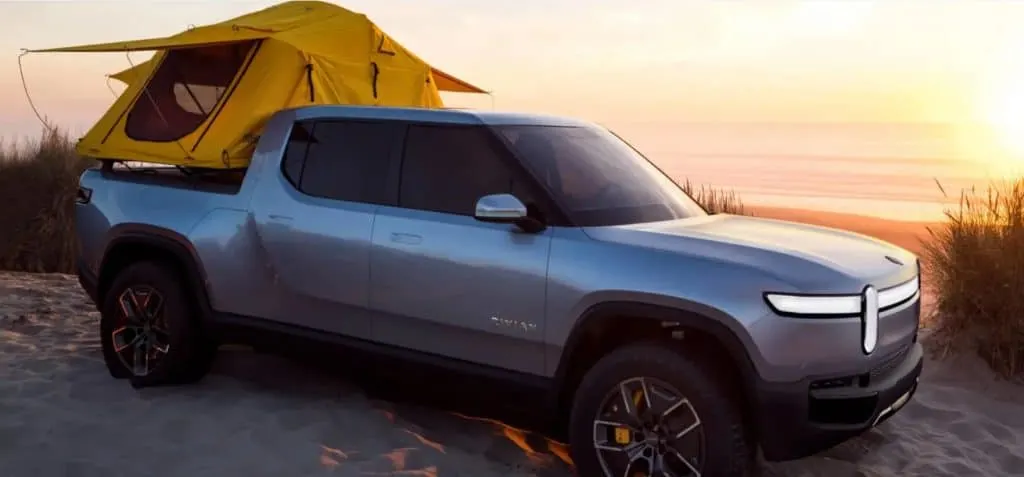 The next significant benefit that electric vehicles have introduced into off-roading is that their weight distribution and gravity centre are very low compared to other off-roading vehicles. This is because electric vehicles have heavy-weight batteries, and these batteries are placed in the middle of the vehicle.
This implies that whenever the vehicle faces an obstacle that can become a cause of its roll-over, the battery's position can stop the roll-over. This shows that electric vehicles are more stable as compared to combustion off-road vehicles.
Other than that, the weight distribution in electric vehicles is very dynamic and stable. The sole reason behind it is that the components of electric vehicles vary differently than other vehicles.
Other vehicles require a combustion engine, a crankshaft, an axle, and an active differential locking system. Electric vehicles come out with limited components like batteries and motors that get easily fixed at any place within the car. This results in weight distribution that is more stable as compared to other vehicles.
Unaffected From Water and Dust: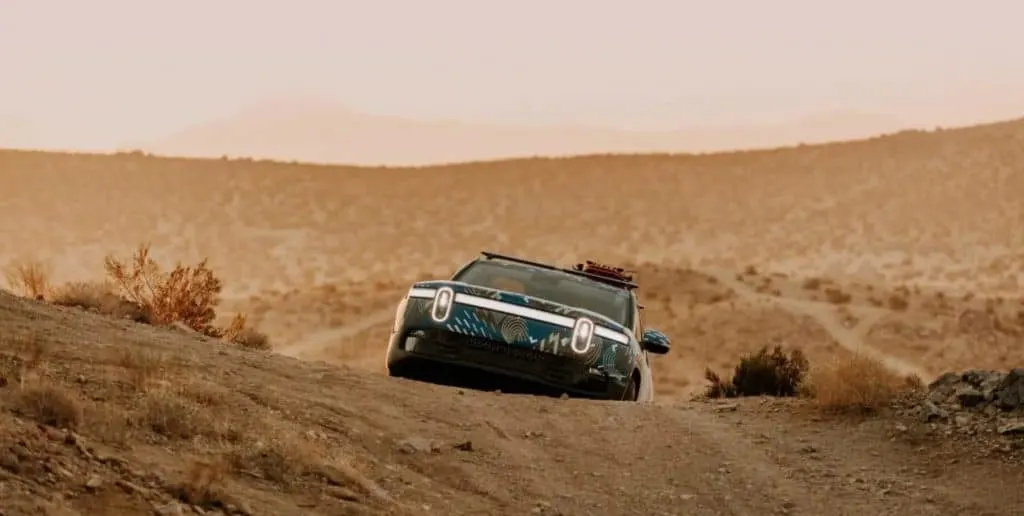 The next significant benefit that electric vehicles have over others in off-roading is that they remain unaffected by dust, sand, and water.
Electric vehicles find it relatively easy to cross any of the places filled with water or dust. And this is because these cars do not have any combustion engines, but motors only then do not require any external intake.
This proves highly beneficial in off-roading as the number one hurdle that any off-roader faces is whether his vehicle gets clogged with sand or the engine gets filled with water – rendering it from functioning.
So electric vehicles are posing as substitutes for the problems that regular off-roaders are facing. And this makes them more beneficial for off-roading.
In the same context, electric vehicles do not require any external ailments like snorkels that are essential for conventional off-roading trucks to get through water into off-roading.
This can save you money.
More User-Friendly:
Electric vehicles are more user-friendly because most of the processes in electric vehicles are controlled by software and through intelligent decision-making – done by computers.
For instance, the car senses the terrain on its own, and depending upon the terrain; it applies traction and other controls. This ultimately helps the driver while they are trekking – as the driver requires utmost efficiency.
Furthermore, electric vehicles lack any gearbox which means the vehicle does not require sudden gear shifts to move further. In electric vehicles, you need to put your foot on the pedal, and the vehicle will go from zero to maximum depending on the need. This makes the drive a lot easier and more convenient while off-roading.
Better Handling and Control: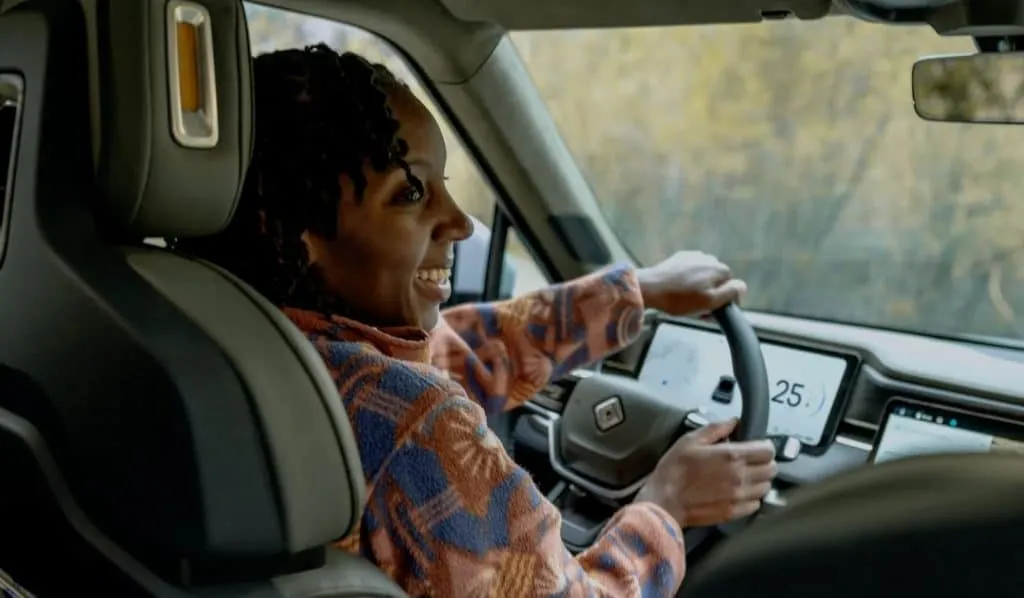 Electric vehicles have exceptional handling and control when it comes to off-roading. These vehicles are powered by electric motors that are connected with each set of tires separately.
Now the control of these motors is automatic and done through precision which helps in better traction and control. Suppose this is compared with regular off-roading vehicles.
In that case, it comes out to be as the driver has to actively engage the differential locking system – even if it is automatic.
And when the wheels are engaged separately; then, there are instances when the wheel's movements are not congruent with each other. This creates a problem for the driver to carefully calculate the movement of the wheels as the vehicle passes over the hurdle.
Other than that, electric vehicles can theoretically provide plenty of downhill 'motor' braking as they do now in the form of regenerative braking.
Imagine a 4×4 with four in-wheel electric motors able to modulate each one independently and provide the same retardation going down the hill in the form of regenerative braking as they do going up the hill in motive power. That's one reason that off-roading can prove more convenient in terms of off-roading.
Section 2:
In section 2, we bring you some of the most extraordinary electric vehicles that can perform off-roading. We are going to list down their respective off-road specifications as well.
Rivian R1T: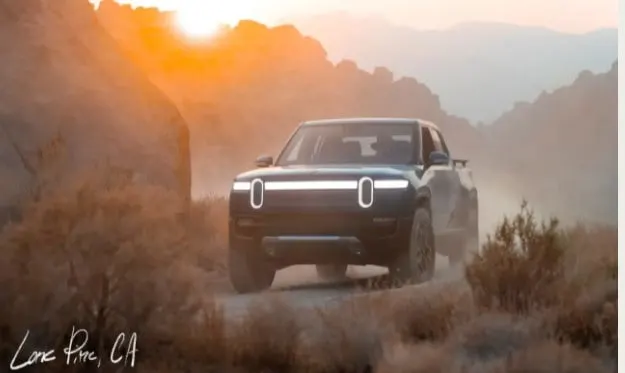 To make a robust case on the capabilities of electric vehicles, the first vehicle in this list is the Rivian R1T. Rivian R1T is an electric utility pickup; although yet to be launched for the general public, it has shown outstanding off-road performance in trials.
Additionally, the vehicle is capable of driving uphill and crossing through mud and water, respectively.
Moving towards the specifications of Rivian R1T, the vehicle is fully electric and can cover the journey of almost 400 miles on a single charge.
This shows that the vehicle can almost cover the distance from New York to Waterloo, Canada. And that is huge. In terms of off-roading, this distance is also going to impact the Rivian R1T, capable of having external batteries. That will give a further boost to this distance moving towards this vehicle's approach and departure angle.
Then, like any conventional off-roading vehicle, the R1T also has similar angles (34 and 30 degrees, respectively). In addition to this, the Rivian R1T shares a ground clearance of almost 14 inches – that is more than any regular off-roading vehicle out there.
The vehicle has a towing capacity of almost 11000 lb, and it can carry up to 1750 lb of weight.
However, the dimensions of Rivian R1T may change depending on the region it will launch. But the initial variants will be the same.
To save your time, we have listed the significant perks of Rivian R1T in the given table:
| Specifications | Rivian R1T |
| --- | --- |
| Distance covered in one charge | 400 miles in one charge (Top Variant) |
| Maximum towing capacity | 11000lb max |
| Ground Clearance | 14 inch |
| Approach and Departure Angle | 34*/30* |
| Maximum Payload | 1750lb |
Tesla's Cyber Truck: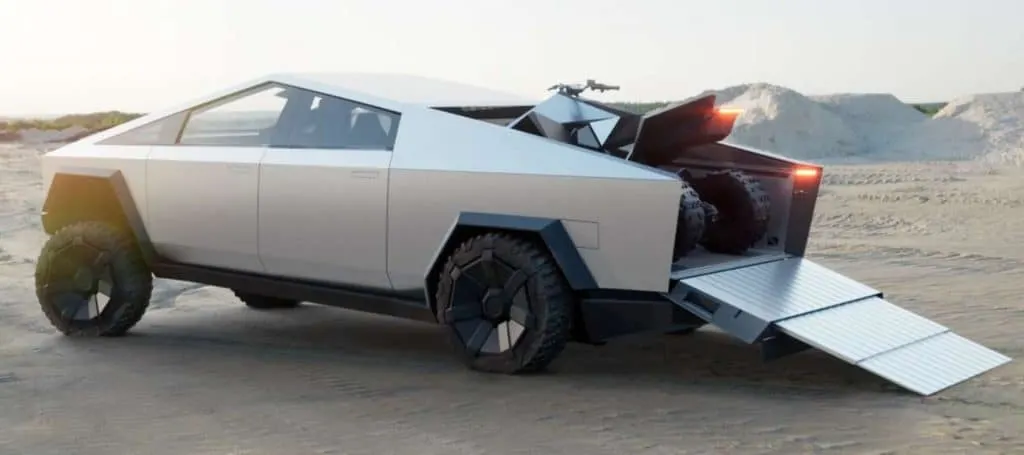 The second vehicle that we have chosen as an example for exceptional off-roading capabilities by electric vehicles is Tesla's Newly launched Cyber Truck. The Cyber Truck specification listed by Tesla has an exoskeleton that allows it to have a bolder design with significant weight distributed at the side-lines of the body.

Likewise, the exterior is made up of Ultra-hard stainless steel (30X Cold Rolled) that allows the exterior to provide extensive tensile strength to eliminate regular dents, scratches, and corrosion.
This will not only help in your protection but also in minimizing the cost of maintenance. With stainless steel, the Tesla has combined a specially designed Tesla Armor Glass in the Cyber Truck. Likewise, Tesla's Cyber Truck is also marked with its utility and load-carrying capacity.
Cyber Truck can take up to 3500 pounds, and it can drag around 14000 pounds. Above that, the Cyber Truck has a storage capacity of more than 100 cubic meters which will help you to bring other stuff during the journey. And also, the toolbox and spare tires find their particular place in the design. 
This makes it competitive with other off-roaders, especially if compared with Ford and Jeep variants. Coming towards the ruggedness of Cyber Truck, it already has off-roading tires and suspension installed in it.
Additionally, the easy-to-use interface and technological sophistication allow every driver to customize and adjust the vehicle with a lot more ease than the manual ones.

For instance, the Cyber Truck has an acceleration of 0-100km/h in not more than 3 seconds. Likewise, the efficient differential locking system, the low centre of gravity due to the exoskeleton, and hyper-speedy electric motors make its performance a lot more efficient.

Adding more to this, the Cyber Truck has a range of up to more than 500 km on a single charge. That means you can cover the distance from one state to a nearby state of the U.S. in a single charge.

Another cool feature of Cyber Truck: It has Tesla's Solar Panels attached to the roof that provides an assistive charge as the vehicle is in a stationary position.

This makes this vehicle more off-roading friendly as you don't need to worry about the limited charge available, and you can charge it anywhere under the sun.

So, to list some of these specifications, we have given the following table for a clear view.
| Specification | Cyber Truck |
| --- | --- |
| Distance covered in One Charge | 500 miles in one charge (Top Variant) |
| Towing Capacity | 14000lb max |
| Ground Clearance | 16 inch |
| Approach/ Departure Angle | 35*/ 28* |
| Max Payload | 3500lb |
Porsche Tycan Cross Turismo:

The third vehicle that we have chosen is the Porsche Tycan Cross Turismo. The vehicle is an all-rounder SUV that gives both the experience of a regular SUV with a mix of an off-road one. Also, the vehicle is entirely electric – not a hybrid one.
Porsche Cross Turismo comes with a 93.4 KWh hour battery that gives it a range of almost 283miles in a single charge. This charge is made available due to a battery system based on 33 separate modules, with each containing 12 cells. 
Likewise, the vehicle covers the performance test of 100 km in around 5.1 seconds – making it a good SUV. Other than this, the vehicle comes with dual electric motors fitted at both sets of wheels respectively.

These motors enable the Porsche Turismo to be an all-wheel drive and a two-wheel-drive depending on the moment's requirement.

In terms of off-roading, the Porsche has enhanced Turismo's suspension and ground clearance compared to other SUVs of this range. The vehicle uses an air-suspension system and an enhanced ground clearance of almost 2 inches more than the regular variant. Although it may look significant in terms of off-roading, it can play its part in low-intensity off-roading.

To list the top features in a table, we have created the given section:
| Specifications | Porsche Turismo |
| --- | --- |
| Battery size | 93.4 kWh battery size |
| 0-60mph performance test | 5.1 seconds |
| Top speed | 220km/h |
| Drive modules | Both 2WD and All wheel drive |
Final Thought:
Whether electric vehicles are suitable for off-roading, the answer to the question is 'Yes'. Electric vehicles have relatively more capabilities in terms of off-roading, i.e., dynamic and stable weight distribution, good suspension, and torque production that allows them to be better while performing on off-road trails.
In this case, the vehicles like Tesla's Cyber Truck, Rivian R1T, and the newly launched Porsche Tycan Cross Turismo prove exceptional in terms of relative off-roading. So it can be said that the future of electric cars is very bright in off-roading, and they have the potential to change the course of this motorsport to a new level.
Also Read:
Should You Go Off-Road While Pregnant? Things to Remember
Can Cybertruck Go Off-Road? Know From Tesla's Aspect
Frequently Asked Questions (FAQs):
Will electric cars reduce road noise?
Yes, the electric vehicle reduces noise because the electric vehicle does not have a combustion engine that works by the movement of pistons. Electric vehicles work on electric motors that are fitted with each wheelset(mostly). So these motors do not generate noise, and electric vehicles are noise-free.
Are electric cars 4×4?
Electric cars are not 4*4, but they have the option of all-wheel drive. The all-wheel-drive system is readily available in most of the electric cars available in the market. However, Tesla's Cyber Truck and Rivian R1T are two electric utility pickups, and they have 4*4 as listed by their respective companies. So generally, they are not 4*4, but they have off-road capabilities.
Is Hybrid good for off-roading?
Yes, to some extent, hybrid cars and SUVs are good for off-roading. Hybrid systems are more efficient in working, and they have a lot of integrated systems that ease the driver during off-roading. But, here to mention one thing, the hybrid vehicles are only capable of limited or low-intensity off-roading.
Are electric vehicles AWD?
Yes, electric vehicles are AWD. It is because electric vehicles work on the electric motors that are mounted at each set of wheels. Then, these separate motors allow the vehicle to be an AWD.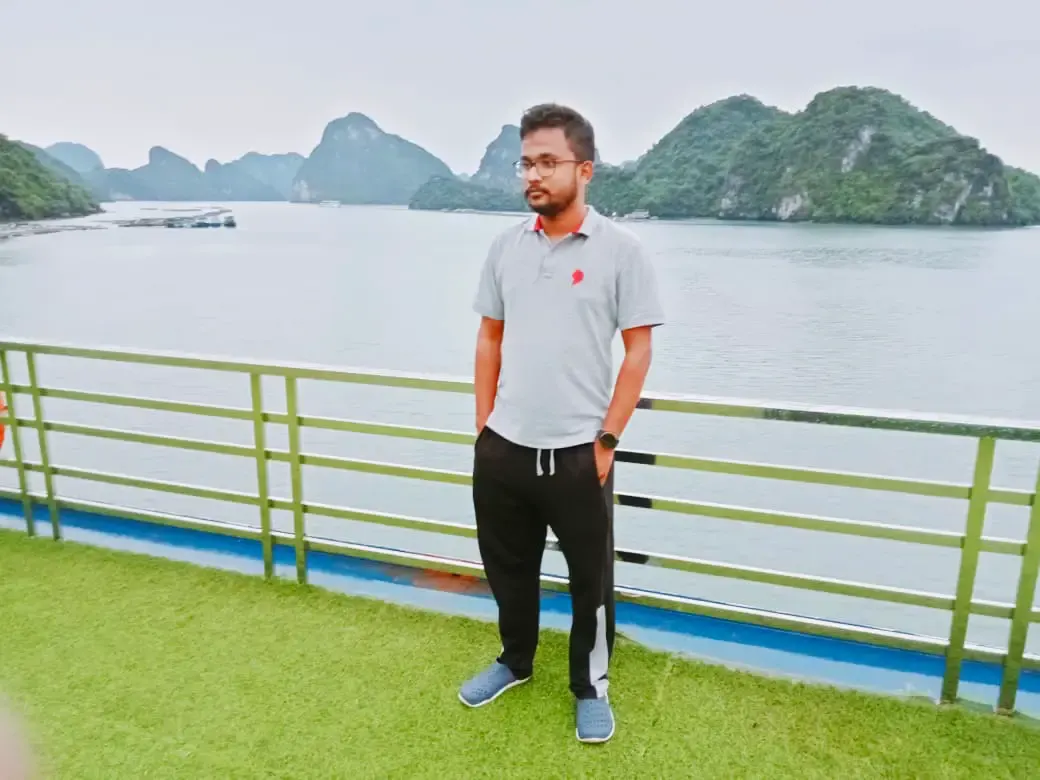 This is Surya. I am an experienced off-roader. I have been off-roading for many years across several terrains. I am passionate about 4×4 driving and want to share my knowledge and experience with others.
My goal is to provide you with the most comprehensive and unbiased information about off-roading.
I curated this article through my personal experience and expertise, and I hope it helps you with what you are looking for.