You may have heard ATVs and Quads – they are sometimes used interchangeably. But what is the actual difference between a quad and an ATV? A Quad has four wheels, but not all ATVs come under the quad. In this article, I'll discuss the differences between ATVs and Quads.
ATVs are the four-wheel utility vehicles used to carry heavy goods and are also used personally for lowing and hunting. ATVs are rigorous and can perform well in any harsh terrain. On the other hand, Quads are termed as sports ATVs mainly used by people for recreational purposes.
People use quads for their speed and to conquer the trail systems. ATV is a four-wheel-drive vehicle having a driving seat and control for the steering wheels. ATV helps a person perform a rigorous ride, and passengers can change the weight in their vehicle to improve the ride and grip. ATVs are designed into two types by their manufacturers, including:
Type 1: It is for single-operator use with no passenger seat
Type 2: It is also for the operator's use but includes a passenger seat.
Differences and Uses of ATVs and Quads:
| | | |
| --- | --- | --- |
| | | |
| | They are less expensive than quads | They are more expensive than ATVs due to their premium features and specs |
| | They are small in size as they are mostly used for off-roading purposes | They are bigger in size due to their large storage capacity and extra seating |
| | They are lighter in weight and can be controlled easily | They are heavier in weight due to large storage capacity and having extra components and seats provide strong turf |
| | ATVs are made for off-roading and racing and can be easily controlled providing a fantastic thrill | They are made only for recreational purposes and are not for racing purposes |
| | They does not have the hauling feature as they light in weight | They hold an excellent hauling feature due to their larger load carrying capacity |
| | ATVs have saddle type of seating in which not everyone can fit and offers a difficult steering system | Quads have inclusive bench seating and their steering is easy to control |
| | ATVs are made up for off-roading purposes so they can travel easily through any terrain including rocky pathway, sand dunes and even through snow | Quads are made for recreational purposes thus they are not capable for off-roading terrains |
All four wheels are quad, and every quad is ATV. But not all ATVs are quad and not all quad four-wheel drive. The ATV is an all-wheel drive with three or more wheels, including four-wheel drive and quad wheels. The quad is a four-wheeled ATV and can be pulled by two or four wheels.
In the Northern Territory (NT), QUAD bikes and ATVs are popular as recreational or agricultural vehicles used in private or agricultural rural areas and vacant land. Local governments use farmers, producers, entertainment, clubs, adventure travel, and the general public for personal recreation.
NT motorsport clubs and organizations are passionate about promoting the four NT bikes for annual competition events such as the Thumper Series and the Kamfari mud race.
Pros and Cons of ATVs Against Quads:
| | |
| --- | --- |
| | |
| ATVs are more affordable vehicles | Using an ATV, a person drives in a straddling position |
| ATVs are fast and light vehicles | They are not suitable for the passengers |
| ATVs hold the ability they maneuver in a better way | ATVs lack the safety features like a roll cage |
| ATVs do not take up much place in the garage | ATVs have less storage space in their vehicle and have the low pulling power |
5 Best ATV Vehicles:
1. Yamaha Raptor 700R Model:
Yamaha Raptor is considered one of the best-selling sports ATV vehicles. It has various features and specs that make it the demanding one and can provide a thrilling experience. This vehicle is powered by a 686cc engine that is a single cylinder. This engine uses fuel injection, valves, and a cam. It also has a five-speed transmission with a piston and a connecting rod.
Suspension is one of the main things that help achieve excellent performance in this ATV. Yamaha ATV has an adjustable rear shock in a YZ style that holds 10.1 inches of travel. It also has 9.1 inches of wheel travel provided by the adjustable shock upfront.
2. Polaris Sportsman 450 Model:
The Polaris sportsman model is a functional ATV perfect for hauling and plowing. This vehicle has arches, engines, and a suspension that can travel a long way and handle wide ranges of terrains of all types. The sportsman has a towing capacity of 1350 pounds with tons of storage capacity and is an all-wheel drive.
The Polaris sportsman model is powered by a four-stroke cylinder engine that is 499cc and is fuel injected. It provides about 33 horsepower. Sportsman has a dry storage area that can hold tools and gear and is attached to the rear top rack of the model.
3. Honda 250X Model:
ATVs are confined to harsh terrains, and every rider requires the traveling of their ATV through rough terrains and rocky trails. But the Honda 250X model of ATV is designed for the new and young riders who can use it on different terrains.
This model has a carbureted air-cooled engine, having two valves and a powerband. It has many features that help the riders to use the clutch without any threat of an accident. This model has a front suspension with aluminum wheels and other premium features that make it a muscular sport ATV.
4. Cam-Am Outlander 450 Model:
The outlander model from Cam-AM is a capable line of ATV that is considered perfect for wading down through mud and fire roads. This vehicle is powered by an engine of 38 horsepower and is a single cylinder. It has an auto-locking front differential having a towing capacity of 1300 pounds.
It has various premium features, including a dynamic steering and transmission system. It has multiple options for accessories that help a person detect the machine's variants. Outlander has a wide range of variants and models, including a six-wheeled version, hunting version, entry-level version, and Mossy Oak edition of Outlander.
5. Honda Rancher 4-by-4 Model:
Honda Rancher 4-by-4 model is designed as an ATV that can perform various actions in one go. It is an automatic four-wheel drive with electric steering and transmission and a rear suspension system. It holds various premium features that make it a great vehicle. This ATV has a liquid-cooled cylinder-based engine having fuel injection.
Are Quads Safe than Motorcycles?
Generally, motorcycles and quads are relatively safe (more about the passenger's ability than the car itself), but quads are less safe for inexperienced riders. Quad victims were represented differently in this field.
The problem with the quads is that novice rider initially feels safe in them. They are not slippery, so the rider feels safe to move quickly before he has the skills and knowledge to handle unexpected events or obstacles (e.g., whoops, rocks, ruts, etc.).
So, while the newbie motorcycle rider slows down and tries to stay afloat, the newbie quad rider detonates a full-throttle in the forest.
Quad is called a quadricycle having four wheels, In the UK, you can ride one with a motor vehicle license, motorized tricycle, or trike, which has three wheels, so I would say no, it is not a motorcycle, as they have two wheels about the authorities.
How to Read ATV Tire Size? The Complete Guide
Pros and Cons of Quads:
| | |
| --- | --- |
| | |
| Quads have their side-by-side passenger seating that is not in ATV | Quads are much higher in price than ATVs |
| Quads are equipped with the safety features of seat belts and roll cages | Quads have a bigger value in turning the radius |
| Quads are suited for hauling and landscaping | Quads are known for less agility and lower maneuverability option |
| Quds take up more space for cargo purposes | Quads can be weighed down easily |
Some Best Quad Vehicles:
1. 100cc ATV Quad Bike:
100cc Quad bike is one of the most demanding vehicles manufactured by CF moto. It has a powerful engine that runs on fuel and can help the vehicle attain a maximum speed of 65 km per hour. This bike is available in customized colors and holds a fuel capacity of about 10 liters.
2. Falcon Quad:
The falcon quad is equipped with premium features and is a model of 2020 manufactured under the brand Phoenix. It is a quad that can attain a speed of 100 km per hour with a 250cc engine. This quad provides a seat height of 740mm and offers a ground clearance of 180mm.
This quad has four strokes and weighs 165kg. The maximum load capacity of this quad is 220 kg having one cylinder and holding front and rear brakes. This quad has an airbag shock absorber having a fuel capacity of 5 liters. These all features make it one of the demanding quad in the market.
3. 150cc Torque Quad: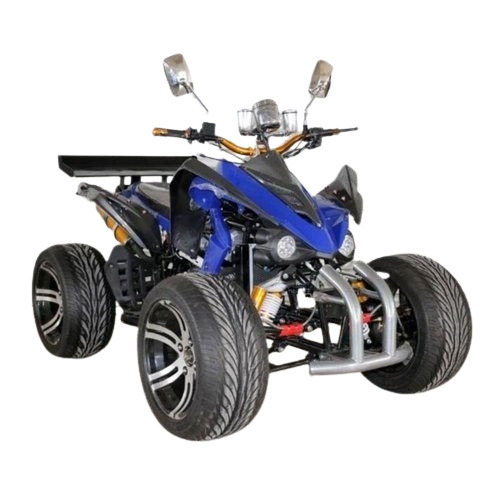 150cc torque quad is a vehicle model of 2019 having an engine type of 150cc that is air-cooled and can attain a maximum speed of 80 km per hour. This quad has a fuel capacity of 7 liters with a ground clearance of 200 mm. This quad has a seat height of 600mm and is available in various colors.
This quad comes with a front and a rear disc with a battery spec of 12 V. The net weight of this quad is 210 kg having a maximum load of 200 kg.
Is It Difficult to Ride a Quad Bike?
If you refer to the quad ATV, which has a low speed, it is not difficult to ride them. If you ride one at high speed, the bumps will hit the tires at different times, causing the quad to go up and down on all four wheels, which can cause significant instability. If you cannot handle this situation, it can cause you to crash.
ATV Or Quad- Which One to Choose?:
Pricing of vehicles

Size of vehicles

Weight of vehicles

Racing property

Hauling feature

Seating and steering size

Terrain and Maneuverability

Capacity of towing

Storage and safety
1. Pricing of Vehicles:
Quads charge more price than ATVs due to their excellent features and specs. The brand of the vehicle is also a factor in the high pricing of ATVs and UTVs. Some brands produce cheap quads.
For instance, Polaris and Cam-AM are the top brands producing the best vehicles. The ATVs by Polaris cost around $7000-$13000, while their quad costs between $10,500-31,000.
How Much Does An ATV Cost? Complete Guide
2. Size of Vehicles:
ATVs are considered small in size as compared to quads. They have tight spaces in them and require a lot of physical energy from the rider to ride them. Quads, on the other hand, are more significant than ATVs. Their size protects the rider and provides an excellent riding experience. The sizes of these vehicles vary according to brand and their usage.
So, it is essential to select the suitable one for you. Quads are made for sports or recreational purposes and vary in their seats. The size of the quad will increase with the increase in the number of seats.
The ATVs are smaller in size than the quads.
| | | |
| --- | --- | --- |
| | Length of the vehicle in inches | Width of the vehicle in inches |
| | | |
| | | |
| | | |
| | | |
A normal-sized ATV ranges between 40-60 inches by 30-45 inches in width. This size is much smaller than an average quad.
3. Weight of Vehicles:
ATVs are lighter in weight than the Quads and are less heavy, which is beneficial for turf. ATVs place a minor impact on the turf, but their size can vary according to the brand. Quads, on the other, are large and heavy in size, providing a solid turf.
How Much Does an ATV Weigh? Detailed Guide
4. Racing Property:
ATVs are designed especially for racing, so if you are looking for a vehicle for personal usage, this is not an option for you. ATVs can race easily due to their light frame and provides a fantastic thrill. On the other hand, Quads are for recreational purposes and are not for racing purposes.
5. Hauling Feature:
The hauling feature is one of the main features offered by quads. These vehicles can haul around the things and can haul heavy objects. ATVs are not designed for this purpose as they have a trailer attached to them which works effectively but is not considered a great one.
The quad can carry a weight of around 1000-2000 pounds in any task and can perform the hauling job. The ATVs, on the other hand, cannot perform this task and are not able to carry the weight. They cannot haul this much weight, so before purchasing the ATV, specify the weight capacity.
6. Seating and Steering Size:
The seating style and capability of seats in both the ATV and quads are different. Both the vehicles have different types of seating. Quads offer more inclusive bench seating. ATVs offer saddle types of seating that not everyone can fit easily.
The steering wheel of an ATV is challenging to handle and manage. It is hard to make a complete turn bringing an ATV handlebar system. Quads are easy to use with their steering wheel system, and there is no need to operate the machine with much effort like an ATV.
7. Terrain and Maneuverability:
ATV is the best vehicle if you are looking for one that can work on any terrain. ATV can handle all sorts of challenging and rough tracks that seem like unsuitable terrain for others. ATVs can also ride in the areas of giant pieces of rocks. Quads are made up of easy terrain and cannot bear such harsh environmental conditions.
In terms of maneuverability, ATV vehicles are easy to maneuver as they are small and light-weighted. These vehicles can easily alter their speeds and maneuver in tight spaces. Quads can also maneuver, but they are more clunky than ATVs.
8. The capacity of Towing:
If we talk about the towing capacity, the ATV vehicles win this game. ATVs have better-towing capacity than the quads, irrespective of their size. Towing ability is an essential factor in which ATVs can tow with full power in the perfect spot. Quads can also tow helpfully but are placed farther away from the tires. This thing makes them less powerful.
9. Storage and Safety:
Storage is also an essential factor in which our activities related to vehicles are based. ATVs and Quads require specific storage for their activities. Quads have ideal space as storage having bed storage for large items on it. Some ATVs have tiny space as storage in which one can only place a few phones.
Quads are considered safe vehicles as they are structured securely. Quads are equipped with seat belts, windscreens, and other features that make them a better vehicle. ATVs are more prone to accidents, and a rider has to wear a helmet, goggles, and other accessories for safety purposes.
Also Read:
How Fast Does a 125cc ATV Go?
How Fast Does 110cc ATV Go?
What Is The Most Reliable Off-Road 4×4 ATV?
Who Makes Tracker ATV? All Necessary Details of Tracker ATV
Frequently Asked Questions (FAQs):
Do you think quads are the same as an ATV?
Quads are the recreational form of an ATV that includes all-terrain vehicles having four wheels. They are used for non-business purposes and were introduced into the market in the early 1980s.
What features are seen on the ATVs?
ATVs hold specific features that distinguish them from others. These features include the straddle form of seating and a handlebar steering. ATVs can maneuver in a variety of terrains and conditions.
What is the biggest danger associated with an ATV?
ATVs are not stable vehicles and are difficult to control at high speeds. These vehicles often collide and are fatal. Riders often face injuries due to riding an ATV.
What are some advantages of ATV?
ATVs hold many advantages, including:
ATVs are all-terrain vehicles that can tackle all kinds of terrains.

ATVs are great for climbing hills and are maneuverable.

ATVs are simple to maintain and versatile.
Are all ATVs considered four-wheelers?
An ATV does not need to be a four-wheeler. There are many recreational ATVs available on the market: AWD and 4WD. There are also youth ATVs and quads known as 2WD available in the name of ATV.
Who is the inventor of the 4-wheeler ATV?
The inventor and father of the modern ATV vehicle are Osamu Takeuchi. He invented this vehicle in 1967 and drafted various ideas, and gave the ideas of 2-wheeled vehicles, 3, 4, and even 6-wheeled vehicles.
How many kinds of four-wheelers are available on the market?
There are four kinds of four-wheelers available on the market. These vehicles are designed for various purposes, including hunting and hauling purpose, off-road racing, and intense terrain off-roading.
How does an ATV vehicle work on the terrains?
The ATV vehicles possess a robust engine that works by pulling the oxygen and the fuel into their combustion chamber. The chamber allows the piston to push upward and combines with the mixture. The controlled explosion propels the vehicle forward and backward and releases the exhaust through an outlet.
Which ATV is considered the safest ATV?
The most reliable ATV is the Honda ATV. These ATVs hold the bomb-proof transmission and have metal gears, can cross rugged terrains, and are durable. Other ATVs include the Polaris, Kawasaki, Yamaha, Argo, and Can-AM.
Why do the riders face an Accident while driving an ATV?
Riders are more prone to accidents while riding an ATV because of the inexperienced operational conditions. Some riders attempt to perform dangerous stunts in areas where they are not familiar with the terrain.
Is riding an ATV considered good exercise?
ATV is a good form of exercise, but it is not comparable to strenuous exercises like weight-lifting and jogging.
Why are the all-terrain vehicles considered good ones in the market?
All-terrain vehicles are considered good vehicles in the market as they can last longer than usual without the worry of recharging.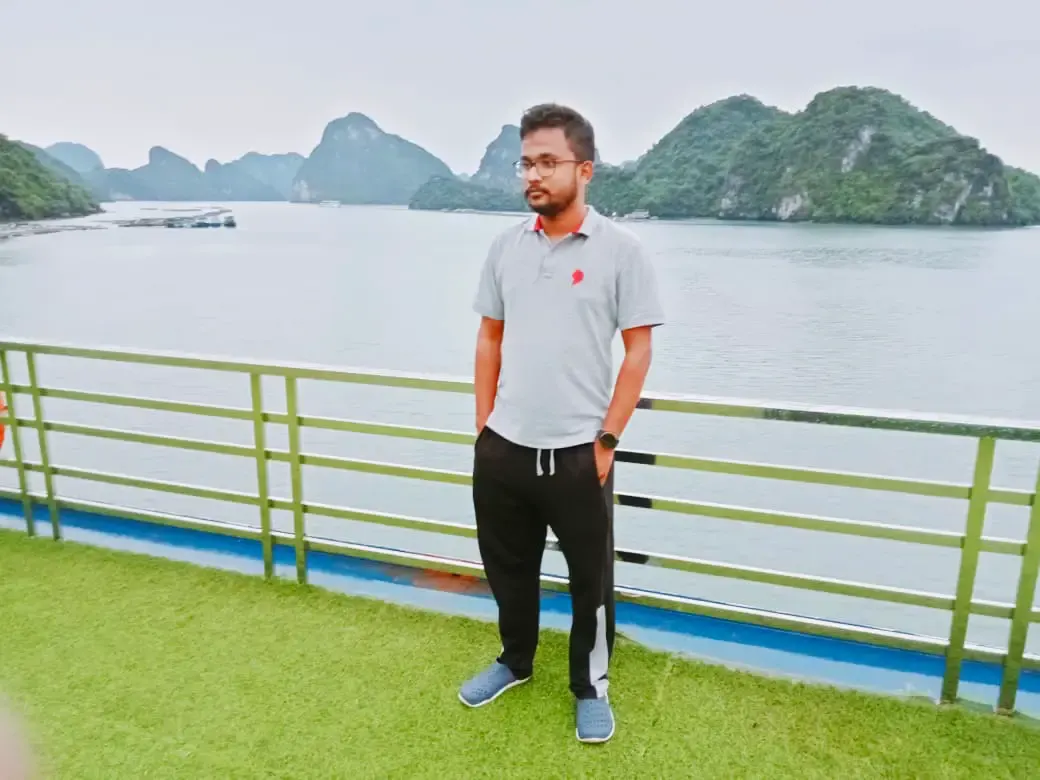 This is Surya. I am an experienced off-roader. I have been off-roading for many years across several terrains. I am passionate about 4×4 driving and want to share my knowledge and experience with others.
My goal is to provide you with the most comprehensive and unbiased information about off-roading.
I curated this article through my personal experience and expertise, and I hope it helps you with what you are looking for.