If you are thinking of pushing yourself into a rocky abyss or a gooey slop, then off-road winches are the saviors for this purpose. Off-road winches are a kind of rescue line on the front or in the rear bumper. They give a sense of confidence to riders so that they can push their rigs just a bit further. Modern manufacturers deal in a large variety of winches that can fit almost any application and budget. Let's find out what the best winches for off-roading are?
There are unlimited numbers of winches in the market having specific features. Here are some of the best and unique offerings, including:
WARN Zeon platinum winches

Champion winch kit

Portable electric winch

Super Winch Terra winches

Smitty Bilt XRC Winch
5 Best Winches for Off-Roading:
1. WARN Zeon Platinum Winches: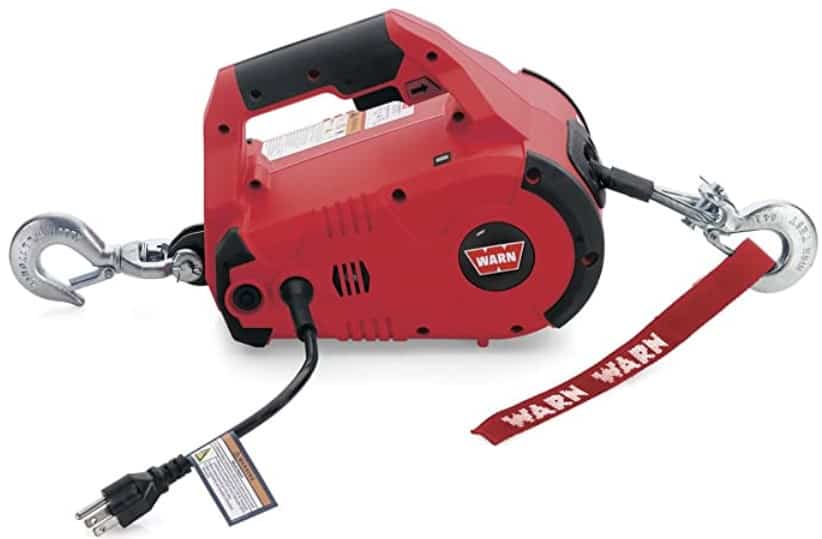 WARN Zeon Platinum is considered the biggest name in off-road winches and is a technologically advanced winch in the industry. It is considered the most durable as anything else. There are four variants associated with WARN Zeon Platinum, including 10K, 10K-S, 12K, and 12K-S.
Each variant has different kinds of pull ratings and holds specific features such as:
WARN Zeon Platinum winch holds a new high-speed motor and is equipped with an advanced wireless remote.

Remote on this winch provides feedback on battery charge and winch motor temperature.

It is built with an aluminum structure with a flat black powder-coated finish and is an item for next-level corrosion resistance.

This winch has outstanding power and performance and offers an awesome warranty to back it up.
2. Champion Winch Kit: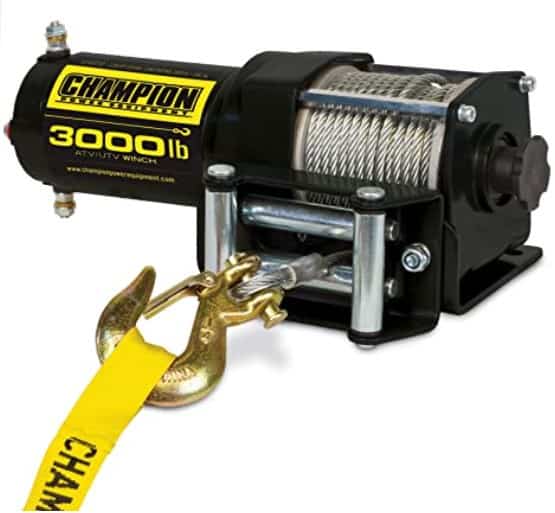 Champion winch kit is equipped with a 1.3-hp magnet having a permanent motor. It also offers a first-class-rated line pull with a mounting channel, fair lead, and remote control.
This winch has super-duty aircraft and galvanized cable. It makes this winch the best one in highly abrasive terrain such as mud, sand, or rock.
Other than this, it offers some other specific features too such as:
This winch includes a roller fairlead along with remote control and a hook strap.

It also includes a dynamic brake which offers the stopping power and has a 3-stage planetary gear offering a reduction ratio.

As compared to other winches, it is a bit noisier and includes a bulky remote.

This winch pulls well and is of good quality.
3. Portable Electric Winch: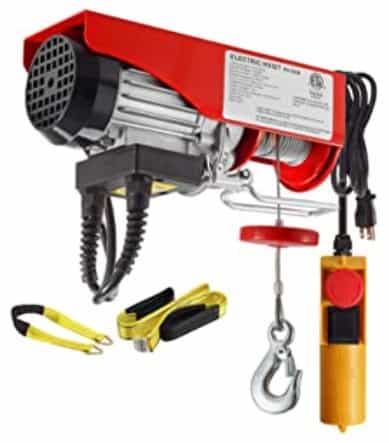 220 Lift Electric Polipasto for a portable electric winch is the best one to consider. This alone proves helpful to lift the heavy item that needs to be done, including the lifting of engines and other associated items. Although it might not help pull the truck or jeep from a nasty mudhole, it is still helpful in heavy lifting.
Other than this, it offers some special features too including:
Its variable speed trigger provides a simple and smooth operation in both reverse and forward directions.

The supplied battery helps deliver more power if required.

It is a portable item and operates in cordless electric power.
4. Super Winch Terra Winches:
Super winch Terra winches are considered highly-rated and most popular winches available in the market and come in six different variants. Each variant is differentiated based on the types of motor or wire they include.
Some variants include the features of high-efficiency and permanent magnet motor, while some variants work on a steel wire or a synthetic rope. Other than these, each winch model indicates their pull rating, too, which determines their capability of pulling.
Other than this, it also includes some specific features such as:
This winch includes a variety of options and is smooth and easy to operate.

It includes a free-spooling clutch which allows the user to disengage the motor. It also helps manually draw out the winch roper and have a heavy-duty latched hook with a thimble.

Although it may seem difficult to install this winch, it is still considered the most powerful and easy-to-use winch.
5. Smitty Bilt XRC Winch: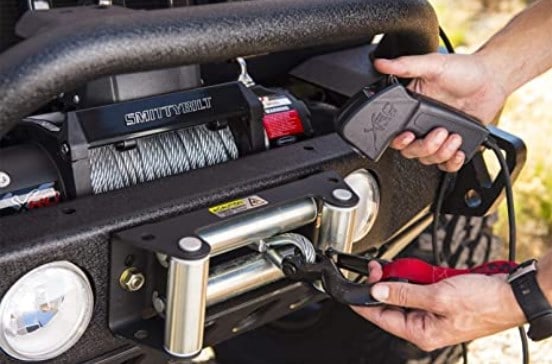 Smitty Bilt XRC Winch is powered by an amphibious motor and includes a three-stage gear system. This winch comes with all sorts of necessary wiring for installation purposes and is considered one of the best winches for your jeep.
Other than this, it has an automatic in-drum brake with a wire rope necessary for all sorts of situations. This product offers a limited sort of mechanical and electric lifetime warranty.
Other than this, some specific features include:
This winch is easy to install and is an established and respected brand.

It is a quality purpose winch providing high performance.

Although it includes some plastic pieces, its quality control issues are manageable.
Top Choices of Winches:
Check Out: Best Off-Road Fog Lights for Cars and Bikes- Complete Guide
Winch and Its Components:
A winch is a lifting device that consists of a chain winding around a horizontal rotating drum and is typically turned by a motor. An electric winch is commonly used in vehicle recovery, which is bolted to the vehicle's front. A typical winch is made up of various sort of components, including:
Steel cable 

Winch drum

Gear train

Winch motor

Winch control box
1. Steel Cable:
The cable of the winch is mostly made up of synthetic rope or steel cable. The material is preferred according to preferences and needs.
| Pros Over Synthetic Cables | Cons Over Synthetic Cables |
| --- | --- |
| Greater durability | Greater kinetic energy creates severe whiplash |
| Lasts longer than usual | Difficult to handle |
| Less expensive | Develops barbs and kink |
| Requires less maintenance than synthetic | Is heavier |
|   | Impossible to fix it |
|   | Can go rusty and lose strength |
|   | Requires regular lubrication |
2. Winch Drum:
Winch drum allows the wire to wrap neatly. The winch spool is responsible for rotating the drum and winding the cable.
3. Gear Train:
It is the part of the winch which gears down the motor and turns the winch. The faster the winch the lower is the ratio of gear.
4. Winch Motor:
The Winch motor is responsible for powering the drum so that the wire can be wrapped around itself. Motors are typically available in 12 and 24-volt models.
5. Winch Control Box:
The winch control box is considered as a brain of winch and consists of wires and an electrical board. These are responsible for operating the motor. 
Determining the Need for a Winch:
The following two questions will help you to determine that either you need a winch or not:
Are you planning to going-off with your vehicle on potentially challenging routes?

Are you traveling solo such that there won't be another four-wheel-drive vehicle with you?
If your answer to both the questions is yes, you should purchase and install a specific winch in your vehicle. It doesn't matter that you are travelling off-road; all that matters is that you can get stuck when it is not predicted.
A good quality winch helps you get yourself out of any sticky situation, and self-recovery becomes easier at remote places. 
Other than this, if you are not travelling solo, then make sure that your other partner has a recovery kit and winch along with them. 
Things to Consider When Buying a Winch:
Several factors should be considered while choosing a 12-volt winch for the vehicle and an overall off-roading need. Here we will discuss some important things which we need to consider, such as below:
Winch Price and How Much You Should Spend:
Cost plays an important role in any buying decision. Results impact the cost and are very little on which we have control, instead of going for the cheapest option. 
Cost is an obvious factor in any buying decision. But when you begin digging into what attributes of a winch you want and need, the results usually impact the cost.
This can then become something you have little control over. An unlimited number of options are available in the market, offering cheap to greatest quality winches with adjustable prices. They all claim to offer the best features and hold branded names that one gets confused about either to keep all ears on their brand promotion or not?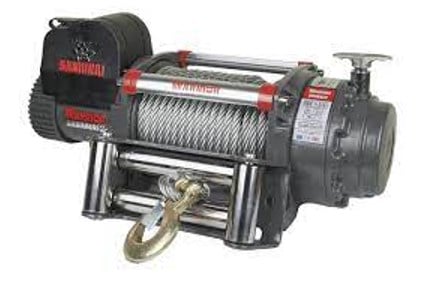 Well, just like an old saying that you always get what you pay for, so the thing is that instead of saving some dollars, go for the quality in case of the winch. What will you do when during a trip where you are a thousand miles away from home, your winch burns out just because of a few dollars! WARN Winches are considered as one of the top-notch quality winches, and their items are sold worldwide. 
Capacity Rating:
The primary purpose of any 4×4 winch is to pull you out from whatsoever situation. Therefore, it is important to know that your winch is strong enough to do this job. Winches are rated by the weight they can pull, and this thing is called a winch line capacity rating.
It can be translated into kilograms and is usually shown in pounds. Always make sure that the capacity rating of your winch should always be stronger than the gross weight of your vehicle. Include all sorts of gear and accessories along with the actual weight of your vehicle.
Do this task when you check the gross weight of your 4×4 winch and don't forget to include the items like rooftops, water tanks, and other heavy items.
It is advisable to look for a winch that can pull two times the gross mass of your vehicle. The pulling capacity of a winch can be doubled by using a pulley block and doubling cable. This might slowdowns the process but has various benefits and can eventually be a lifesaver.
Winch Mounting Methods:
There are a lot of methods to mount a winch, including multi-mount, bumper, and hidden. Most of the winches allow for different mounting methods you want, including various brackets.
During the decision-making process, check for all the items you require for installing a winch. Some of the winches are ready as standard mounting winch and includes all sort of brackets and bolts.
Check the various specifications of a winch against the bar if you are not sure it will fit your bull bar. Also, check the mounting bolt pattern of the winch and the overall dimensions of the winch to confirm that bar will provide sufficient space.
A Good Warranty: 
Any dealer or a good brand dealing in the sales and purchase of winches offers a minimum of three years warranty, including all electrical components. Always ensure that the warranty of your winch includes all sorts of protection against water damage.
Check this thing carefully as most companies don't provide such warranties, and it causes problems later on. Ideally, look for a brand that is easy to reach any support when the problem arises. It is necessary to instead of relying on emails; you can easily pick up your phone and talk to a knowledgeable person without any trouble.
Also Read:
What Tire Pressure for Off-Roading Is Suitable-Tune the Tire
Does Off-Roading Void Warranty? How to Check Your Vehicle
Frequently Asked Questions(FAQs):
What are the highest-rated winches?
 The highest-rated winches include the following:
Champion Truck SUV Winch 10000 lbs
Smittybilt synthetic rope winch
RUGCEL Synthetic rope Winch
WARN electric winch
STEGODON electric winch
How can we choose a winch for 4 x 4?
Look for the total weight of your setup whenever you want to choose the correct winch. The weight should include the weight of your vehicle as well as of your gear.
What are the best winches for a truck?
The best winches for truck includes:
WARN premium choice winch with synthetic rope
Smittybilt XRC Winch
Suoerwinch LP10000 Winch
Does ARB manufacture any winches?
ARB manufactures almost all kinds of winch bars. Always have a look at the weight of your vehicle whenever you want to consider the right electric winch for your application.
Do you need any extra battery for the winch?
You don't need a dual battery for running the winch. Make sure you have plenty of reserve capacity, which is required to run the winch for long pulls.
How much winch power do you need for work?
If you want to figure out the winch's capacity according to your vehicle, add thirty percent to the working GVW.
What is a high mount winch?
The motor in the high mount winch sits at the top of the winch and lowers the motor bolts on the side of the winch without getting involved in any technical issue.
Can we run the winch on one battery?
One combo battery seems enough to work unless or until you winch a lot. Winch requires time to cool off, so the battery charges up back during that rest period.
Why are high mount winches considered better?
One of the top-notch advantages of the high mount winch is the extra rope or cable on which the winch can be fit.