An ATV is an all-terrain vehicle. It is a small four-wheeler that can travel on various surfaces, including trails, roads, and across the grass. They are commonly used for recreation like hunting, riding, or racing. However, you can use them to do chores around the yard, like mowing the lawn. The question arises: Can you do yard work with an ATV?
You can do yard work with an ATV by attaching a lawnmower to the back of your vehicle. The lawnmower will sit on a platform and be towed behind you as you ride over the grass. It is a quick way to get your yard work done, whether by cutting grass or hauling other equipment for land preparation.
Benefits of Using ATV for Yard Work:
The benefits of using ATVs for yard work are multi-folds. Let's discuss major benefits here:
Efficiency:
Even though yard work is strenuous, an ATV can get it done in a shorter amount of time. They are capable of covering long distances in quick succession. You can make your way around the entire property and complete chores in no time.
Versatility:
Since you're using an ATV, you can do yard work with all kinds of equipment. You can load up on items like lawnmowers, weed eaters, shovels, or rakes to get the job done. If you don't want to use your ATV for yard work, you can attach some tools and take them with you while riding around town.
Speed:
One major benefit of using an ATV is the speed. You can make your way across long distances in a short time frame. The engine provides the power for you to get around quickly.
Safety:
Since an ATV is small, it can be maneuvered with ease. You won't have any problems moving around the lawn and finding the right places to cut or weed. Even though they're quick, safety measures are included, like seat belts, helmets, and shielded cabs.
Traversing rough terrain:
Another benefit of using an ATV rather than a yard tractor or push mower is that it can move across rough patches like hills, boulders, and tree stumps. Without worrying about damaging your mower or your yard, an ATV can handle it with ease.
5 Things to Consider while Using ATV for Yard Work:
Before you kick off your journey with ATVs for yard work, do consider the following 5 things-
1. Size:
Your mower should be heavy enough to tow behind you, but not too heavy where the engine can't pull it up a hill. The platform should be durable and long-lasting with proper welding to prevent breaking. When buying an ATV for yard work, make sure the model of your choice has a weight capacity high enough to carry the mower.
2. Durability:
Like any other machine, a lawnmower needs to last a long time. So it should be made of durable steel and other materials that won't rust or break down over time. A lawnmower needs to have a strong blade to push through stubborn grass and a motor that doesn't overheat easily.
3. Tools:
It's always convenient to have tools with you when you travel. You don't want to be stuck somewhere without something to help you move forward in your chores. So consider the attachments on your ATV for yard work. It can be a mower, weed eater, rake, shovel, etc. So look for these attachments before you make the final purchase.
4. Range:
A lawnmower can perform better if it has a wider range of motion. A long cable on the starter will allow it to move in greater distances with ease and less fatigue on your part. The machine will also have a better speed, and it won't lose power quickly as you move around the yard.
5. Maintenance:
In addition to the condition of the mower, you need to check the ATV for maintenance before you start working. Drain out any water from the engine compartment after use to prevent rusting. Also, check and replace air filters and spark plugs when needed.
Usage of an ATV to Tow Equipment or a Trailer:
You can use your ATV to tow equipment or a trailer. As long as your mower is heavy enough to pull behind the ATV, it should be able to do yard work effectively. Another thing you may have to consider beforehand is where you're going to store the items you attach to your mower.
Since an ATV has a smaller engine, it will have limited power. So keep that in mind while towing equipment or a trailer.
ATVs can make your life easier, but you should always use them safely and within reason. If you want to replace some mowing with yard work from your ATV, consider the above points before doing so!
Can You Cut Grass with an ATV?
You can cut grass with an ATV by using a push mower or some other type of lawn mowing machine. You may have to purchase a specific model, depending on the size and tag of your ATV.
If you want some extra help while trimming the yard with a push mower, you can attach a trimmer line to it so you can get more work done at once.
There are also self-propelled mowers that you can attach to your ATV. You can do more work in a shorter time, so be sure to have the right equipment for the job!
Usage of an ATV to Clear Brush and Debris from Your Yard:
If you want to clear some brush and debris from your yard, using an ATV can be a great way to do it. You will probably need to attach a bush hog or another type of machine designed for this purpose.
Depending on the size of your yard, you may need to attach two or more machines to get the desired effect. However, this will allow you to clear out everything in one day, rather than dragging around a trailer or finding another way to do it.
Storing Yard Equipment with Your ATV:
It would help if you didn't keep your yard equipment on the ATV for extended periods. Keeping it attached to your mower or ATV with bungee cords isn't a good idea either since the equipment can fall and cause damage to both itself and the ATV.
The best way to store equipment with your ATV is by making a small rack or attaching some other type of shelves for storage. You can use nails or screws to attach the pieces and connect them to the back of your ATV.
When properly stored, you can remove them quickly when needed. This will save you time, especially if you frequently switch between different machines.
Usage of an ATV as a Self-Propelled Mower:
A self-propelled lawnmower is more practical if you have a large yard and your ATV can support the device's weight. If not, then using it like a push mower or attaching a weed eater or other device to it may be more appropriate.
Again, you will need to attach the necessary equipment before you begin mowing your yard. This includes string trimmers and different types of self-propelled mowers.
You need to take care when using an ATV as a self-propelled mower. Even if you plan on using it on an empty lawn, you need to be aware of your surroundings.
Can You Mow a Lawn with an ATV?
Yes, you can mow a lawn with an ATV by using a push mower or a riding mower on a wide enough path. However, the mower needs to be heavy enough to not flip over while being pulled by an ATV.
If you want to attach a trimmer line or other device, make sure it is designed for this purpose and safely attached to your ATV. Otherwise, keep things simple and focus on one task at a time.
Recommended ATVs for Yard Work:
In this section, we'll list out the ATVs compatible with Yard Work. You can choose the most suitable one for your yard work.
1. Kawasaki Teryx 750 FI 4×4: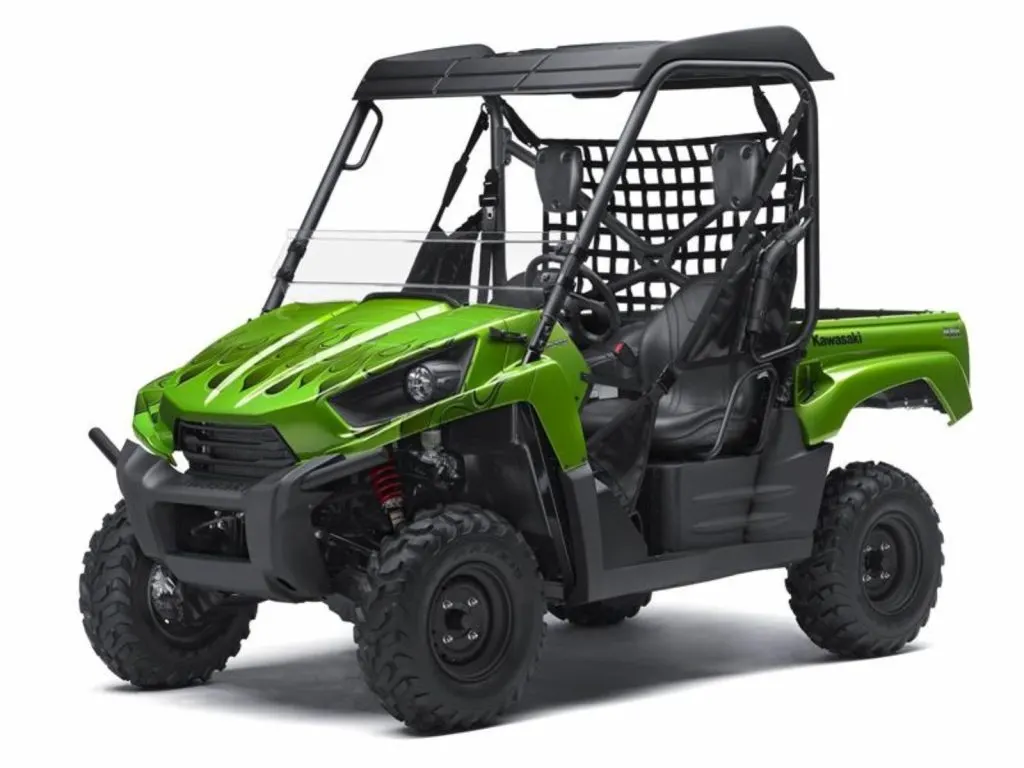 This 4-stroke ATV has an engine of 749cc. It can handle both light and heavy yard work without any issue due to its powerful engine. The 4WD feature gives you the ability to work on any terrain. The Teryx also comes with a rear-mounted cargo rack, perfect for storage.
2. Polaris RZR XP 4 1000: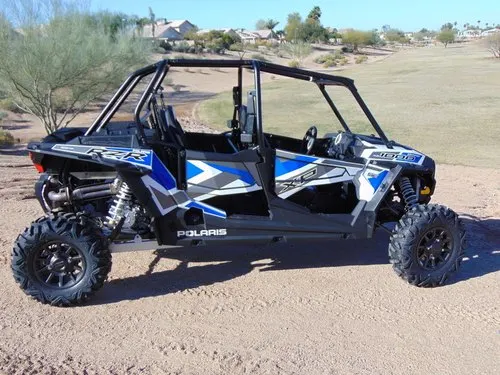 This ATV has a 999cc power output of 168 HP and torque at 120 ft-lbs. It's perfect for mowing lawns, driving through water, and other tough terrains with ease.
3. Yamaha Raptor 700R Special Edition: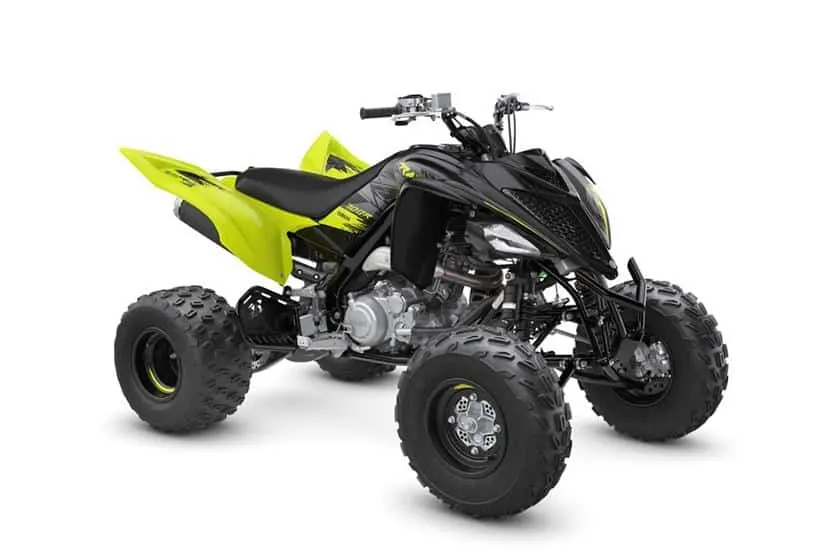 This ATV has 686cc of engine capacity, which is more than enough for heavy-duty tasks. Not only that, the 4WD feature allows it to work beautifully on different types of terrains. The vehicle is equipped with a rear cargo box, perfect for storage.
4. Yamaha YXZ 1000R: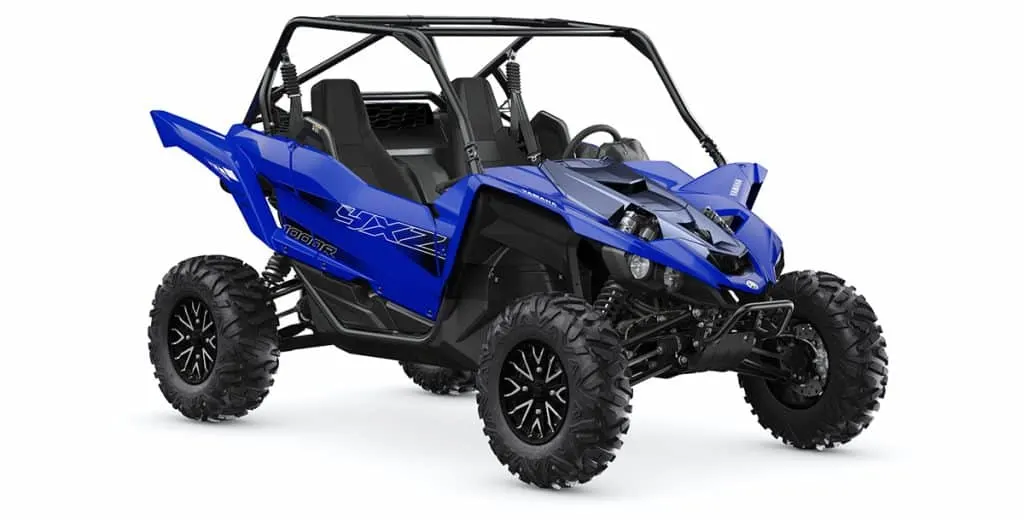 This ATV has an engine of 998cc and can produce a power output of 103.11 hp at 5,560 rpm and torque at about 95 pound-feet. It has a perfect Grip-Shifter Transmission. The 4WD feature makes it suitable for working on tough terrains.
5. Arctic Cat Wildcat Trail: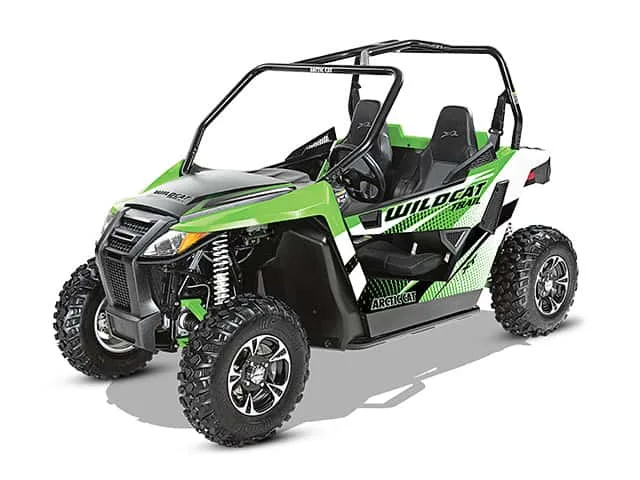 This ATV has an engine of 700cc and can produce a power output of 60+ HP at 5,100 RPM and torque at 40+ pound-feet . It can handle both light and heavy yard work with ease. The 2WD feature makes it suitable for working on flat surfaces only.
How Much Does An ATV Cost? Complete Guide
Wear Protective Gear When Using an ATV for Yard Work:
Before you start mowing, painting, or cutting the grass with your ATV, make sure to wear protective gear.
Goggles

Gloves

Helmet (ATVs can reach speeds of up to 55 mph.)
Be careful when using an ATV as a self-propelled mower, especially when it has a larger gas tank. If the ATV is parked on an incline or in an area where any fuel leakage may reach surrounding objects, be cautious.
Hazards to Be Aware of When Using an ATV for Yard Work:
Even though you can use an ATV as a self-propelled mower, keep the following hazards in mind.
Slippery Surfaces

Puddles and Mud
These are two very common issues you may encounter while working with your ATV. Make sure always to keep your ATV away from deep water, mud, and other very slippery surfaces. The vehicle may slip or skid if you're not careful.
Be very careful when working with an ATV due to the risk of serious injury associated with it. If you need help completing yard work with an ATV, consider hiring a yard work company.
Disadvantages of Using ATVs for Yard Work:
Now that we have discussed the benefits and other features of ATV in yard work, let's find out the disadvantages of ATVs using in yard work:
1. Risk of Injury:
Using ATV for yard work is very dangerous, especially when you don't wear protective gear. You can hurt yourself because of falling from the vehicle or if the vehicle accidentally skids out of control.
2. Difficult to Handle:
If you're trying to mow your lawn and there's a turn in front of you, mowing with the ATV is very difficult and frustrating. You cannot make a turn with ease as it's not designed to handle turns easily.
3. High Maintenance:
If you're planning on using an ATV for yard work, keep in mind that maintaining them is expensive as they require lots of money and time.
4. Difficult to Store:
You cannot store your ATV in a shed easily as it's bulky and takes a lot of space. If you don't have enough space, storing the ATV is unavoidable for you.
5. Gas-Powered:
If you do not have a proper place to refill your ATV with gas, you cannot use it for yard work. Since yard work takes place in open areas, you cannot refill the gas tank on your own.
6. Not cost-efficient:
Using an ATV for any small job is not cost-efficient as they are very expensive, and using them for small jobs does not make sense.
Final Thoughts:
An ATV is a great alternative for mowing your yard if you don't want to pay someone else to do it for you or you can't afford a riding lawnmower. Ensure to wear protective gear and keep in mind the risks involved with operating an ATV.
Also Read:
What Size ATV Do I Need to Buy?
How Fast Does 110cc ATV Go?
Frequently Asked Questions (FAQs):
What types of yard work can you do with an ATV?
You can do things like mowing, brush clearing, and leaf collection. You can also work on landscaping projects, such as creating a raised bed garden or building a deck using cinder blocks.
Can you use an ATV to haul items?
Yes. If you attach a hitch-mounted trailer to your ATV, you can haul anything from small to large items. Just make sure the weight inside the vehicle doesn't exceed your ATV's limits.
How much does it cost to operate an ATV?
It typically costs about $11.00 per hour, depending on the size of your yard and how many hours you use the vehicle. However, that's pretty cheap compared to a riding lawnmower, which can reach up to $20 per hour.
Can you put a weed eater attachment on an ATV?
Yes. Several attachments are made specifically for grass trimmers and brush cutters that work with most types of ATVs. You can also attach your garden hose and sprayer nozzle so that you can do all your yard work quickly and efficiently.
Can you use an ATV for snow removal?
Yes, but only if the vehicle has both 4WD and reverse capability. If so, all you have to do is attach a plow blade to the front of the ATV and then start pushing or plowing snow away. It can be a fun and easy way to clear the snow from your driveway.
What do farmers use ATVs for?
Farmers typically use ATVs to carry supplies, work on the farm, and run errands. They also use ATVs to transport farm equipment from one place to another. Farmers can also tow trailers behind an ATV, allowing them to haul larger items than they would otherwise be able to.
What do landscapers use ATVs for?
They typically use them for various things, such as lifting heavy objects and digging. They may also remove weeds by hand or with a weed cutter attachment on an ATV. Another popular thing to do is collect leaves with a lawn sweeper attached to the back of an ATV.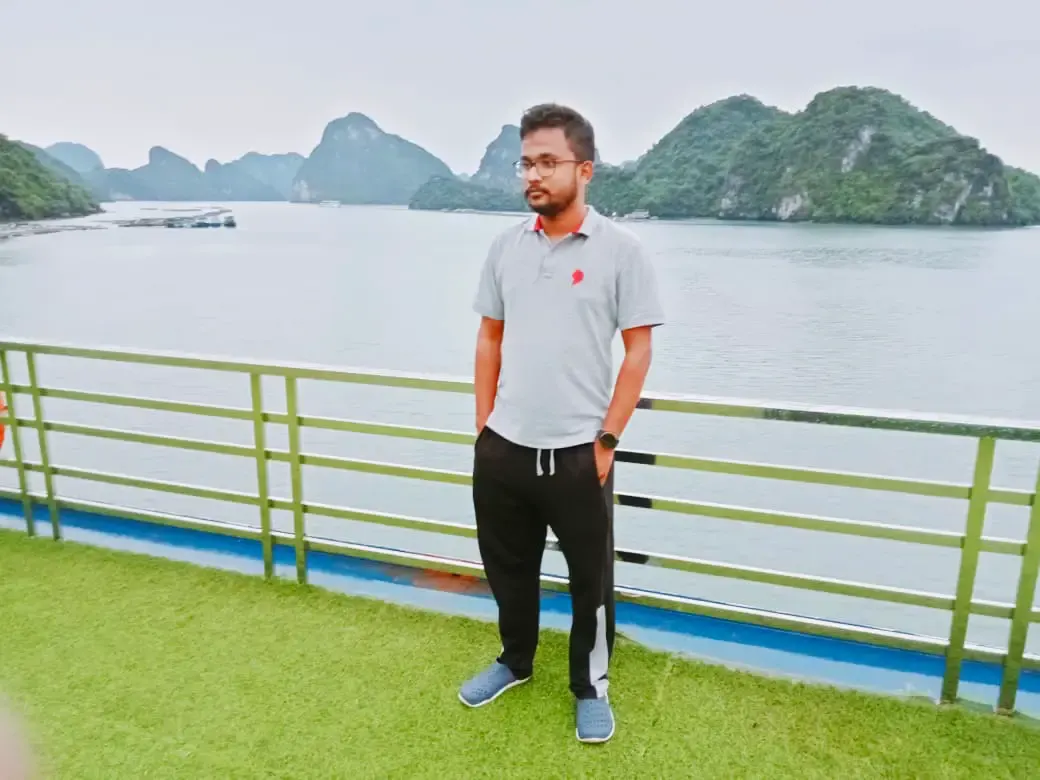 This is Surya. I am an experienced off-roader. I have been off-roading for many years across several terrains. I am passionate about 4×4 driving and want to share my knowledge and experience with others.
My goal is to provide you with the most comprehensive and unbiased information about off-roading.
I curated this article through my personal experience and expertise, and I hope it helps you with what you are looking for.