Mud Tires are popularly and generally viewed as off-road driving equipment as their rugged, aggressive and durable nature dictates, but does their versatility encompass being tried on smooth roads? Can you drive mud tires on the road?
Generally, you can drive a mud tire on roads, but that is not advisable. In cases of on-road driving, it is not a better option unless your daily ventures are on rocky, muddy, and not smooth roads. Even in some states, mud tires are prevented from being on roads as the state laws restrict them.
Mud tires can also be used on roads but are unsuitable for such purposes as they are meant for off-road adventures. Of course, they will thread roads but not without evidencing their defect for road activities which essentially is their loss of grip and noise-making, amongst other deficiencies.
Now that you have been left with options on whether you should adventure your mud terrain tires on highways and roads, it is evident to establish why the idea is not a very rational one. Why? Looking at reality, you should have realized you scarcely or do not at all find people racing their tires on roads.
It may seem doable to you, but it is not at all an ideal and rational attempt to make. To establish the infeasibility, you can note the key points stated until the end of the thread.
What is a Mud Terrain Tire?
Tires are vehicle instruments that also aid movement, and there is no universal adoption as their function varies from each other. One of the popularly recognized types is the mud tire. Mud terrain tires, also referred to as off-road tires, are very strong, aggressive, and heavy duties tires built.
They are designed to withstand rock climbing, holes, and technical conditions, including uneven surfaces, unpredictable conditions, deep mud, gravels, rough rides, rocky ways, and loose settlements very harshly.
They must withstand road abuse, bash through rocks, and be puncture resistant. A mud terrain tire is usually meant to be mounted on trucks and SUVs. These tires are good for you if you often thread off-road than on the highway use.
Specifically, you won't want to venture into an off-road path with any other type of tire except for mud terrain tires because that is primarily the work and destination they are built for. They don't involve in tire grooves, and when some do, most mud tires often clean themselves of debris, mud, and dirt channels through the grooves just as water does with street tires.
Before you should endeavor to choose your mud tires, you should ask yourself the following questions. 'what type of activity or journey am I using the tires for?' 'How often and how far will you go off-road?' 'How much do you use the vehicle for daily driving?'
After soliloquizing and answering these questions, you can decide if you need to go for a mud-terrain tire or any other suitable type of tire to mount on your vehicle.
The main difference between mud-terrain tires and general-purpose tires is their purpose, the before for off-road activities and the latter for on-road activities. You should be able to note now that this isn't a perfect idea for you if you are a cab driver or an everyday road voyager or itinerant as you have no rocks to climb or evade on roads.
The mud tires are durable tires that will give you a longevity span of 40,000 and a minimum never less than 20,000 mileage.
They are tires that tend to wear faster because their tread is durable but not as much as winter tires and all-terrain tires. Their rubber compounds are softer, providing a better grip on uneven surfaces. They possess stiff sidewalls, which absorb shock from impacting unsmooth surfaces.
Why Mud Terrain Tires Are Not Advisable on Highways:
The reason why you will not want to take your off-road tire truck on the road will also include:
1. Laws:
If you are somewhere like the United States, the law is an obstruction and impediment to your view of cruising on a government tarred road or highway as this can land you trouble with the government as it has been entrenched in the law.
2. Noise Making:
This is the most considerable idea to consider when choosing a tire for your on-road ventures. You don't want to be on a date and have noise cruising with you and your lover.
Mud tires are built for aggressive appearances, and most road occasion does not warrant such; they are louder than on road tires due to how they are being constructed.
An off-road adventure will make the accompanying noise more beneficial for your trip or race features. In some countries in Europe, it will take an evaluation of tires through their noise level.
Why are Mud Tires Loud? All You Need to Know
3. Less Control and Stopping Power:
The balancing difficulty and control power are reduced compared to on-road or all-terrain tires. They are usually heavy and have a negative handling reputation, and that is also equal to a heavy and hard ride.
Thich results in balancing difficulty, steering response, ride quality, and clumsy handling as they are not easy to operate due to their heavy-duty and traction composition that enhances abrasion resistance but a rugged driving performance.
4. Traction Not Suitable for Any Road Not Rough:
This type of tire are suitable for snow and ice way as this is even very dangerous to try. Competition among tire makers has even started propelling mud-terrain tires as measured by their non- versatile nature, road noise level, and substantiating economic level of fuel.
Even people in cold climates with eventual icy and snow roads usually store up all-terrain and winter tires as spare for this season. Mud tires don't meet and pass the snow qualification regarding acceleration and braking situations. Winter tires are mostly recommendable in this situation.
5. Increased Tire Wear and Durability:
Your tire wearing out on threading them on roads is faster than running them on rocky grounds. Other deficiencies include less precise slightly on dry pavements, worse fuel consumption/power and fuel mileage, and requiring a strenuous workforce to keep the heavy equipment and tires in motion.
6. Not Fashionable for Road Behavior:
Many individuals disagree with an off-road tire beautifying a road car as its primary purpose is not for fashion but a warrior-like situation. So even if the noise defect is eventually conquered on mud tires, rarely will you find individuals, especially the female gender wanting to install a mud tire on their vehicle.
Adaptability of Mud Tires On Road:
However, there is not much to worry about if you still insist on or want to love your road journey still to be on mud-terrain tires. Technology has made advances for adaptability purposes which will be illustrated below.
Advancements have been made for developments as recent modifications give effect to off-road tires having a bit more prowess on roads. For example, recent SUVs' family-oriented tires are focused on off-road purposes.
Many SUVs you find in town today also adopt mud terrain tires in which a certain extent of noise is being canceled out from the tires; another example is the Toyota 4runner, whose function has been designed to meet the daily road and highway functions. Instead of their aggressive nature, they are now substituted for fancy and family-oriented purposes to broaden their function ability and economically improve the market for the sale of the equipment in a general market.
They are being restructured for more toughness in road usage and overall improvement in on-road abilities. There are only a few, and far between numbers who buy these types of tires; instead, they go for the purpose/ general tires or the winter counterparts.
Recent problems give rise to recent and extant solutions as modern SUVs are being created to be more potent than before.
Mud Terrain Tires Suitable for Road:
1. The General Grabber X3: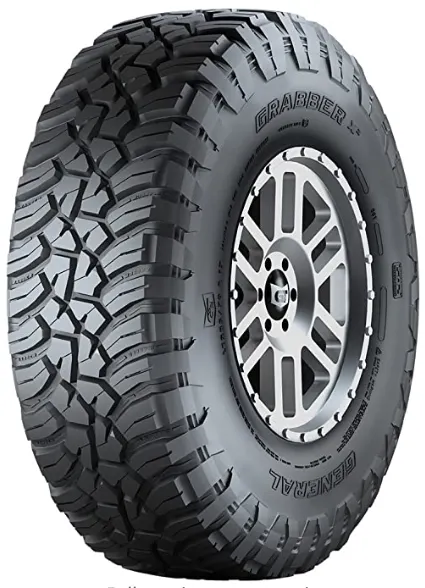 | | |
| --- | --- |
| | |
| Increased and good on road traction | Limited snow and ice traction |
| | |
2. Cooper Discoverer X3: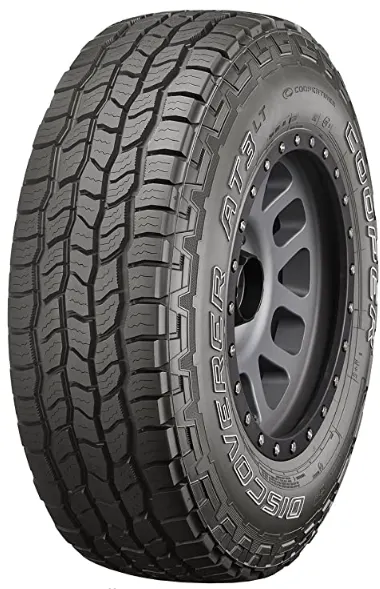 | | |
| --- | --- |
| | |
| | Non total clearance of noise |
| Good road characteristics | |
3. BF Goodrich Mud- Terrain KM2: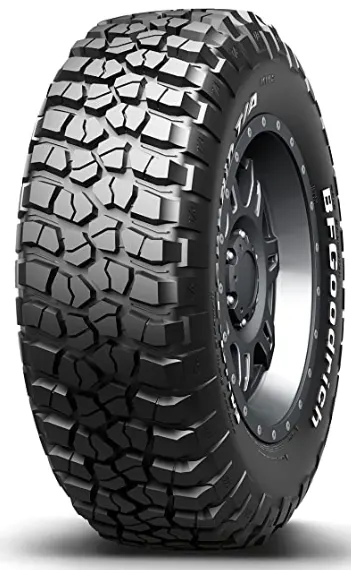 This tire is very comfortable over bumps and quieter than its counterparts, very strong and durable construction, only cons are the high price
4. Firestone Destination: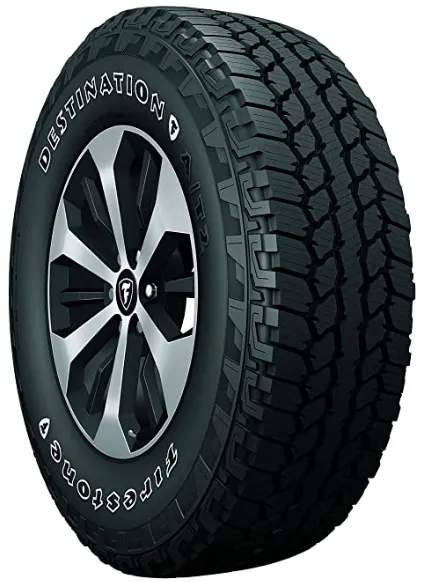 Very responsive on hard-packed surfaces, has very good slow performance and can be studded for increased snow and ice traction. Noise is still a big issue and on-road dynamics are average.
5. Goodyear Wrangler: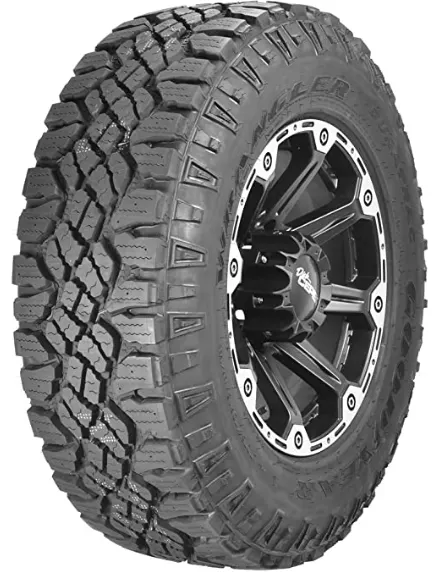 They are one of the most pertinent tires nowadays. They have reinforced sidewalls (which helps tires to be puncture-resistant) and improved silica rubber compounds.
6. Mickey Thompson Baja MTZ: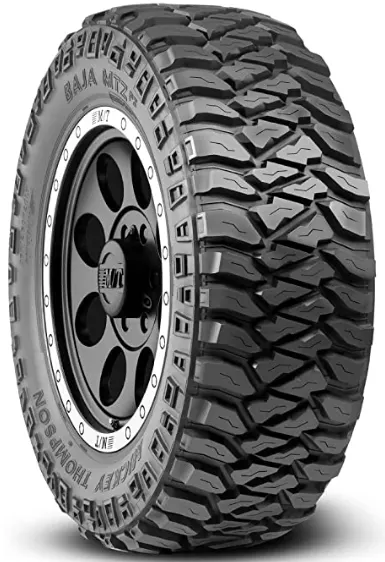 They offer high mileage and excellent off road traction, with self cleaning capabilities. They are mostly great for mud, deep snow use and average performances on roads and highways than other off road tires.
7. Dick Cepek Fun Country: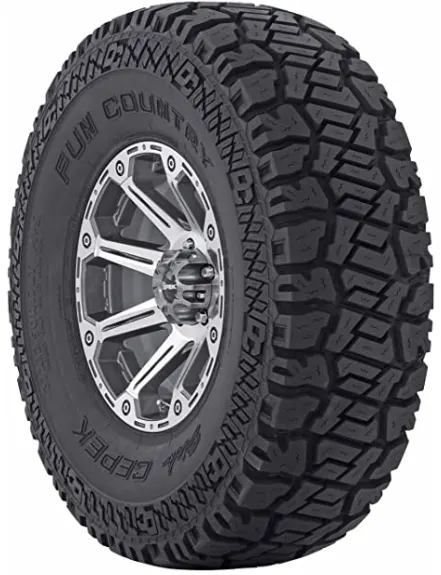 These tires most times fall between mud-terrain and all-terrain, which is a kudos to their versatility as their lateral grooves help to resist damage and clean the tire with their unique stone kickers. Their sidewalls add to their safety and puncture resistance and help keep the grip great all year long.
Adaptability differences between mud-terrain and all-terrain on roads and other environments show their pros and cons to knowing the best choice when venturing on a highway trip.
| | | |
| --- | --- | --- |
| | | |
| | Depleted balancing and control, makes noise, consumes a lot of gas, and bad grip | Very suitable for roads and highways |
| | | |
| | | |
| | Very good as that is the main purpose it was constructed for and gives the best output during this type of venturing | Very Poor and tires tend to get very muddy and result into no traction and control |
| | Shorter life Span and longer stopping distance | Very nice grip, very quiet, and long durability |
| | | |
| | Good – based on nature of the rocky road | |
Even with all justification for mud terrain tires, all-terrain, also known as all-purpose, will still hold the prize among every other type of tire suitable for roads and highway purposes.
They also specialize in off-road and on-road handling and will be referenced as the best and most versatile tire out there for their all-purpose nature. They are better on dry and wet pavements, in snow, on ice, and also on the sand. They are not as noisy as the mud-terrain tires, which is a significant perk for performance on the road. They are also considered for their all-year operability.
They consume less fuel in tandem with lower rolling resistance. Their sipes assist in biting into snows during winter and a better grip on street roads to improve and enhance its overall performance.
Types of Mud and All Terrain Tires to Mount:
Another type of Vehicle very suitable for the highway is High way all-season tires which provide much more comfortability. They are also suitable because they are known as country roads, streets, and patched asphalt.
They deal with bumps well, have better grip even more than all-purpose on roads and dry streets due to their tread pattern and rubber compounds, are less noisy, and fuel and gas efficiency better than mud-terrain tires and all-terrain tires.
In preference, this will be your best choice, even better than all-terrain tires, but you won't be able to use it on rough roads, which is the edge all-terrain tires possess over others.
Final Thought:
The main factor to consider when choosing your car's tire type is its purpose. Both Tires will get you to your destination and wherever you want, but how about slight inconveniences on the way, where off-road tires are proficient in traction and durability but not in ride comfort or pavement durability. That is why you should conversate with those vehicles and know which one is suitable for each road.
Also Read:
Do Mud Tires Cause Vibration? All You Need to Know
Do Mud Tires Ride Rough? All You Need to Know
Can You Hydroplane with Mud Tires?
Frequently Asked Questions (FAQs):
What are the best mud tires for the street?
The best type of mud terrain tires for the street are those family-oriented types, usually SUVs modified to adapt to this type of activity.
What is the difference between mud tires and all-terrain tires?
Mud tires are best for off-road purposes, while all-terrain are meant to be versatile to cover on and road activity.
Are mud tires better than regular tires?
The measurement for both will depend on the activity and journey you want to endeavor on. Mud tires are better for the messy situation, while regular tires are for a beautiful experience on the road.
Do mud tires wear faster?
Due to their rubber compound being softer than other types of tires, so they seem to wear out faster than their counterparts. Their high cost doesn't assure them not wear out very fast.
How long will mud tires last?
An average mud tire will use up to 40000 mileage and not less than 20000 mileage, including on and road purposes.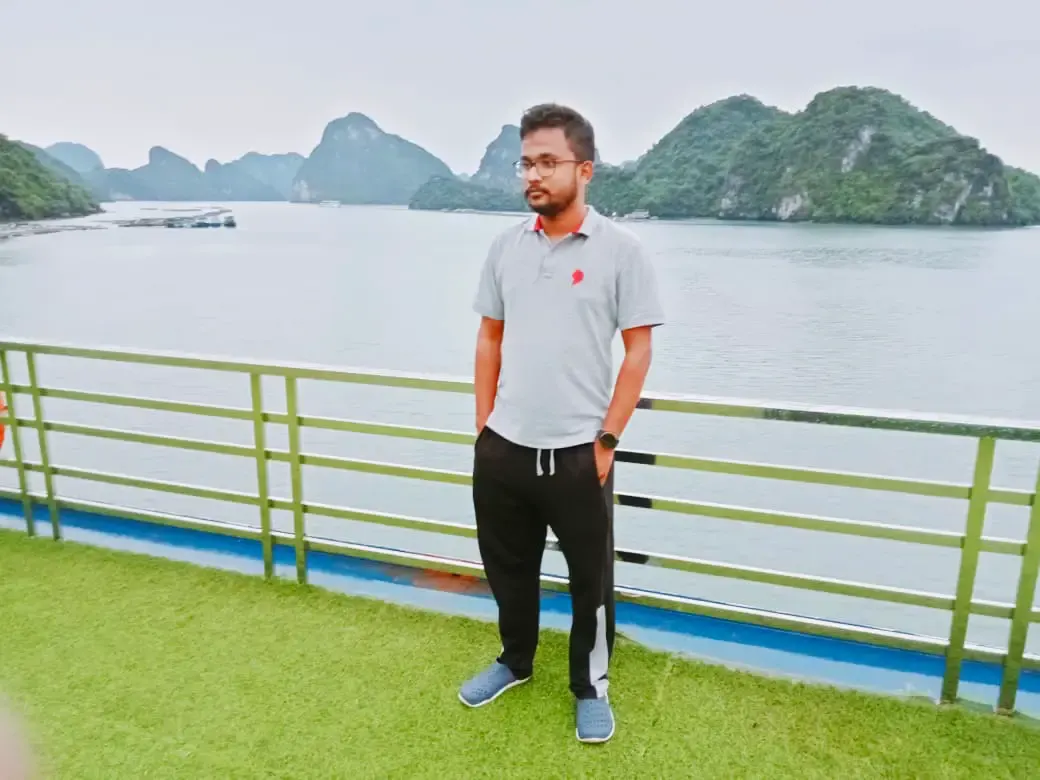 This is Surya. I am an experienced off-roader. I have been off-roading for many years across several terrains. I am passionate about 4×4 driving and want to share my knowledge and experience with others.
My goal is to provide you with the most comprehensive and unbiased information about off-roading.
I curated this article through my personal experience and expertise, and I hope it helps you with what you are looking for.