Mud tires are considered one of the most powerful tires for off-roading, especially in terrains and tracks associated with mud, sand, and gravel. These tires can also be used on the on-road pavement but are better for off-roading as they can't provide much traction on on-road pavements. The question arises: can you put mud tires on a 2WD truck?
Mud tires can be put on a 2WD truck since in 2WD, the engine powers only two wheels, and the other two wheels spin along with the main two wheels. Aggressive mud tires would be a great help in spinning. However, being loud and noisy, mud tires are not suitable in a 2WD truck for on-road driving.
Installing all four mud tires on your 2WD truck will help you easily go through the mud. If in case, the vehicle gets stuck in mud or rocky terrain, it would be easier to get through it with these four mud tires.
The engine usually powers only two tires in the 2WD truck, and they will do the same on the mud tires. But if all four would be the mud tires in a truck, better traction and spinning would be provided to get along the off-roading.
Driving in the Mud with 2WD:
It is possible to drive through mud and rocky terrain in a 2WD truck with good preparation and planning. Let's discuss those steps if you want a better driving experience.
1. Preparation:
Before driving, the first and foremost step is to make sure that the driver is thoroughly ready and prepared to drive in the mud. If you are driving yourself and planning off-roading using mud tires on the 2WD truck, then first look for your vehicle.
Ensure that the vehicle is modified and equipped with the best parts and structures, which will help you off-road.

Make sure that your vehicle is equipped with a rescue kit, as it would help you a lot if you get stuck in the mud.

Look for the installed winch in your vehicle as it is highly recommended for a 2WD truck.

Go for an appropriate pair of mud tires and look for the structure and features of tires to avoid any complications during off-roading. You should make sure that you check all such things before taking your 2WD vehicle through mud and rocky terrain.
2. Approach:
The next step is to choose a line after you feel prepared for going in mud for off-roading with mud tires. It'll help if you make a solid plan of tackling the mud tires in mud, and such a plan is called choosing a line.
Inspecting obstacle on foot
It is the first step and you should inspect the obstacle on foot.

Have a close look at the mud and inspect the depth using a stick. Try to locate some dry ground around the mud.
Choose the line
Choosing the line is an important step for the vehicle as you may not be able to go towards the direction without this.

When you are satisfied that mud is not deep and there are no ruts it is necessary to choose a line.
Lowering the tire pressure
Create as much of a footprint as possible and lower the tire pressure.

This step improves the overall traction and gives tire, a more surface area for covering.
Locking differential
After choosing the line, the vehicle is ready to go. It is the time to lock the locking differential if you don't want to slow down the mud.

In case of an air locker, it is not necessary to slow down to lock it. You can also take help of traction boards and can lay them out as they can help you for getting across the mud.
Keep the momentum
It is necessary to keep momentum in 2WD for getting across the mud in a successful way.

Momentum helps to clear the wheels from mud which is crucial step for getting a good traction and also helps to propel the vehicle in forward direction.
Avoid over-steering
It is highly recommended to avoid over-steering as it can cause the vehicle to slide out of control. It could lead you in a very difficult situation.
3. Getting Stuck:
It is common that when you spend a lot of time in mud doing off-roading, you might get stuck at some time. It can also happen using mud tires too, but it can be prevented using some tips and tricks.
It is good to be prepared beforehand for such a situation, and you should get a fully-equipped recovery kit if you want to get yourself out from mud without much effort.
It is recommended to use a recovery shovel to clear any sort of mud or sand wrapped around your tires and under the vehicle.
You can place a traction board in front of your tires and dig a small clearing in front of your tires. If you have only two traction boards in your 2WD vehicle, you can place them in front of tires. You can place them in front of the rear wheels if your vehicle is a rear-wheel drive.
Traction boards are considered enough for getting you unstuck from mud; so slowly drive up onto the traction boards whether you have 2WD or a 4WD.
Can 2WD Go Off-Road? Understand the Dynamicity
After following such steps, if you still face difficulty getting yourself unstuck from the mud, you can use the remaining equipment from your recovery kit.
An installed winch also helps in such aspects, or you can go for recovery straps to tow you out of the mud.
Reasons for Not Installing Mud Tires on a 2WD Truck:
There are many reasons associated with the fact that some people do not install mud tires on their 2WD trucks. There are pros and cons associated with all sorts of tires, whether mud tires or all-terrain tires.
Here are some of the reasons of not installing the mud tires on your two-wheeled truck.
1. Not Good for On-Road:
Two-wheel-drive vehicles are also used for on-road trips. Mud tires are installed on 2WD vehicles for a better off-roading experience, but still, these tires are not considered the best ones for the on-roading experience.
Although the modern mud tires are much better than the older ones, they are still not good compared to all-terrain tires for the on-road experience. 
It is recommended to check whether the mud tires are street legal or not, as not all are street legal.
2. Not Good for Snow:
Mud tires are suitable for mud and provide better traction. They decrease the traction on snow and ice, so these tires are not recommended for the two-wheelers.
If you plan for an off-roading experience on ice or snow, then it is recommended not to install mud tires on your 2WD.
3. Produce a Lot of Noise:
Mud tires are a bit clumsy and produce a lot of noise when used on the road. The noise might disturb during driving.
Sometimes the uneven tires are also a reason behind producing loud noise, which is annoying and unpleasant to the ears.
4. Use More Gas:
Mud tires are the worst option regarding fuel mileage. Mud tires are usually large and cumbersome, and they require more gas for operating and performing well during off-roading.
On the other hand, all-terrain tires are better than mud tires in terms of gas mileage but if you are strict on a budget, go mud tires.
5. Less Effective on 2WD:
2WD vehicles are not good compared to 4WD for an off-roading experience, and installing mud tires on 2WD is also less effective.
It is recommended to install mud tires on all four tires on the 2WD vehicle, too, to get the perfect off-roading experience.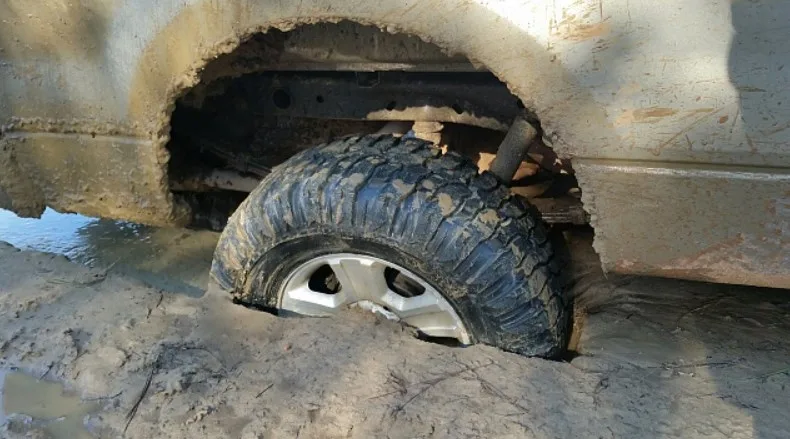 Other Things To Consider:
Installing new, large, and heavy tires such as mud-terrain tires can sometimes be challenging. Such installation of tires can eventually change the center of gravity of your truck, and during sharp turns, there are chances of rolling over.
The driver should recalibrate the built-in pressure monitoring system for adjusting the new tires on a 2WD truck to get a better off-roading experience.
How to Improve Traction on 2WD?
If you want to improve the traction of your 2WD truck, then here you can implement some tips which will help you in this aspect.
Upgrade the tires
If you want to improve the traction of your 2WD truck, then it is recommended to upgrade the tires. It is the first and most obvious option as traction totally depends on the type of tire.

You can go for all-terrain tires if you do occasional trailing and overlanding. If you spend a lot of time in doing overlanding on remote areas then go for mud-terrain tires. For a challenging terrain, the choice of tires get more aggressive.
Size of tire
Size of tire is also an option to consider for improving the traction on 2WD truck.

Look for the size of tire according to your vehicle and install the tires according to the size.
Upgrading the diff
You can also upgrade the diff for improving traction on 2WD and it also depends on the use of your vehicle.

Locking the diff also helps in improving the traction on 2WD. Choose carefully in this aspect as some locking and LSD's reduce the road manners associated with a vehicle.
Also Read:
Do Mud Tires Cause Steering Wheel Shake?
Top 10 Best Off-Road Mud Tires: Guide to Select The Best
Frequently Asked Questions (FAQs):
How can a person make a 2WD truck better for using in the mud?
The 2WD truck can be made better for off-roading. It can be done by installing large tires with deep treads, which can increase traction. For this purpose, a suspension kit is also used. It is recommended to have a winch and tread mats on hand for emergencies.
Are mud tires considered bad for a truck?
Mud-terrain tires are heavy, loud, and noisy and are difficult to balance. These tires also provide clumsy handling and ride rough on the pavement.
Can a person put bigger tires on a 2WD truck?
Sometimes, truck owners need to lift the front to fit the bigger tires, and in 2WD trucks, there is enough clearance to fit the large tires on the rear side. But still, this is not the case with front clearance, as a 2-inch lift can help raise the front to enough height for getting the bumper and fender out of the way for bigger tires.
Are mud tires considered bad for daily driving?
No, mud tires are not meant bad for daily driving. They can be used legally on the road as there are no rules, but they are still not an ideal choice.
How can a person make 2WD trucks better in the snow?
2WD trucks can be made better in snow for getting more traction by putting a significant amount of weight of around several hundred pounds in the bed. Traction is a function of grip and leverage.
Do the mud tires cause vibration in a vehicle?
Mud tires can cause the vehicle to shake because it can cause the tires in an unbalancing state if a person drives them on a muddy road. Moreover, you can use pressurized water to remove debris from tires.
Do mud tires wear faster than other tires?
Mud tires can wear faster than other tires as they are made up of soft rubber compounds, which offer a better grip virtually on any surface. That's why these mud-terrain tires wear faster and cost more.
How long can mud tires last on a highway?
Mud tires can last up to 40,000 miles on mud, gravel, and lost terrains, while they have a dramatic effect on the pavement. These tires are designed with deep treads.
Are 2WD trucks considered a bad choice?
2WD trucks are a sufficient choice if you plan to drive on flat terrain on asphalt in fine weather. But if you are planning for off-roading, hauling, or towing or wish to drive on snowy roads, then you should go for 4WD.
Why does the truck shake with mud tires?
Shaking trucks is common with mud tires due to unbalanced situations, which causes them to shake.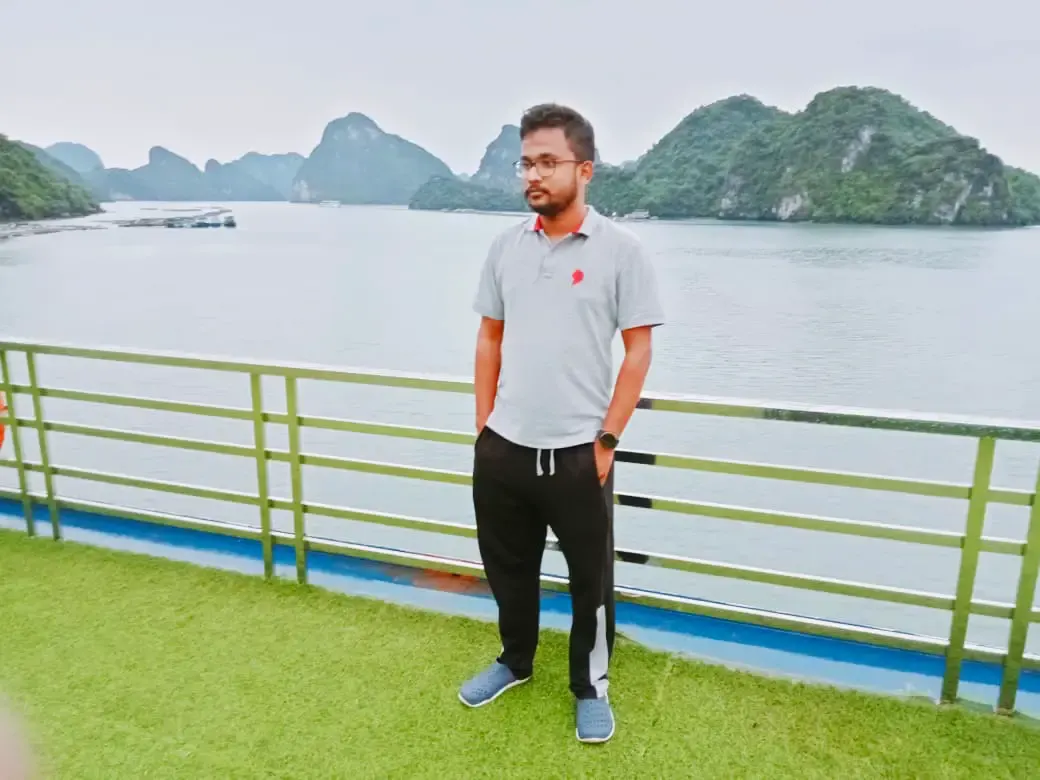 This is Surya. I am an experienced off-roader. I have been off-roading for many years across several terrains. I am passionate about 4×4 driving and want to share my knowledge and experience with others.
My goal is to provide you with the most comprehensive and unbiased information about off-roading.
I curated this article through my personal experience and expertise, and I hope it helps you with what you are looking for.