Specific requirements and changes in the vehicle are compulsory for a smooth off-road ride. One of them is the demand for mud tires. Sometimes, people complain that mud tires ride rough during off-roading, So the question arises: do mud tires ride rough?
Mud tires ride rough on unpaved surfaces. They are heavy and noisy compared to other tires and are challenging to handle. Off-road traction is easily achieved with these tires, but it is better not to use them for daily road purposes.
Mud-terrain tires are mainly used for off-road operations on muddy surfaces. These tires have more aggressive tread than other off-road tires and have more substantial blocks with wide channels. Usually, mud tires clean the debris, dirt, and mud through the tire grooves effectively.
Mud-terrain tires are also used on the deep snow and are considered ideal for all-year use, but still, sometimes they are difficult to handle and ride rough.
Mud tires are made up of soft rubber compounds that offer a better grip on virtually any surface. But these tires wear faster as compared to other standard all-terrain tires and are often ride harsh due to various factors.
Potential Factors for a Rough Ride:
Tires
As it is said that mud tires can cause rough ride and behind a rough ride the main reason is caused by a tire.

Uneven wear of the tire along with cupping of tread can cause a rough ride and noise.

It is important to address the issue right away associated with tires causing a rough ride because tires are primarily responsible for keeping a person safe during driving.
Suspension
The suspension in any car keeps the tires on road and maintains the proper braking distance. It also helps in a smooth ride but if you notice extreme and sudden bounces along with noises during driving the issue could be due to suspension problem.

It can lead to rough ride in case of mud tires too so make sure to check out the necessary repair requirements.
Brakes
If during your ride, you feel and hear unusual sound and feel a rough ride in case of mud tires, then there could be a problem with brakes.

The sounds are usually moaning and squealing. In such situation when brake pads are applied, the warped and damaged rotors cause the car to vibrate.
Roughness with respect to Load Rating:
| | | | |
| --- | --- | --- | --- |
| | | | |
| | | | Rough ride in unpaved road |
| | | | Rough ride in unpaved road |
| | | | Smooth ride in unpaved road |
Few riders like D and E Ratings where the tire is comparatively tougher.
Few riders like C Rating where the tire conforms to obstacles (rocks, potholes, etc.) better.
On smooth new pavement- no difference in ride.
But if you drive your vehicle across cracks, pot holes, the D,E tire will definitely ride with a harsh jolt and will cause a rough ride compared to the softer, lighter C tire.
Surfaces and Factors Contributing to a Rough Ride in Mud Tire: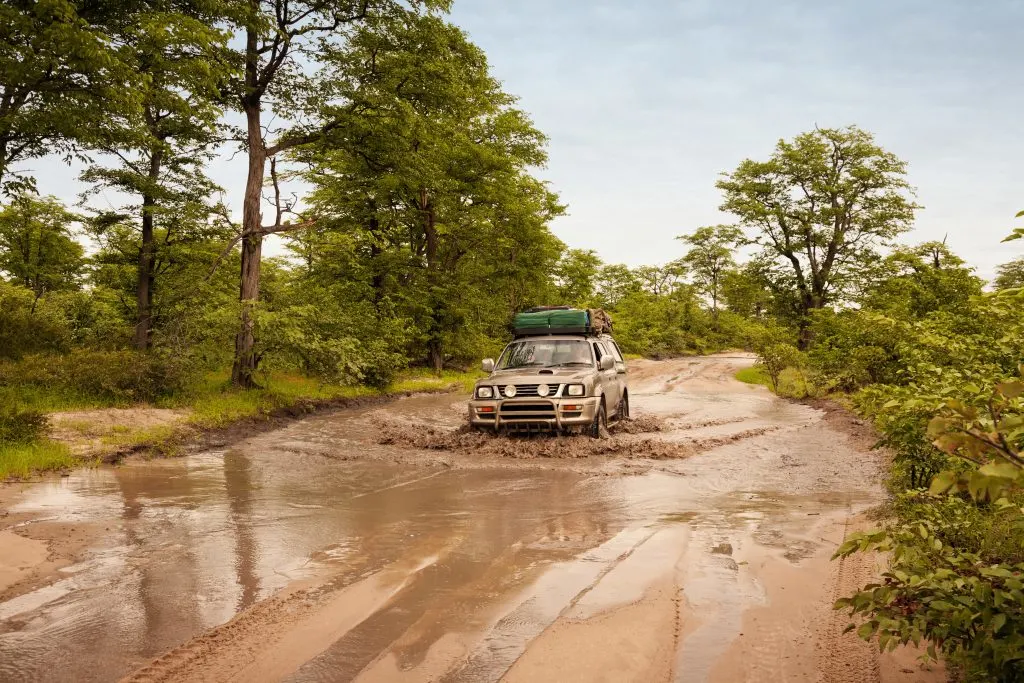 1. Mud:
Mud is considered one of the significant factors in a rough ride during off-roading. It is a great equalizer for off-roading, and this is why mud-terrain tires have larger tread blocks.
The tread blocks, along with the ground clearance and articulation, helps in dispelling the material which gets lodged in between the treads and tires.
The fast-spinning is required to clean out the tread voids if treads are tighter. Mud is a major contributing factor for a rough ride, but a mud tire can be cleaned out if used properly.
2. Sand:
Sand is a normal part of any rough and rocky terrain, and if you are planning for off-roading, then it is a significant thing in the wheeling landscape.
Mud tires, in this aspect, act as a wonder for keeping the ride to stay atop on the loose stuff, but sometimes this can lead to a rough ride.
The mud tires can provide a rough ride if sand is not expelled correctly out, and the aggressiveness of tires can hinder the off-roading experience. 
An all-terrain tire, having a tighter tread design with a nice balance and grip, is considered a better fit in this aspect. Tires having low air pressure are also a contributing factor in rough rides, especially on the sandy surface.
3. Snow:
The snowy surface is also a contributing factor for providing a rough ride in many aspects. Snow is surface-like sand where a tire with a specific specialty can stand out.
Mud tires provide grip and traction, such as the tire's winter-oriented choice, including the Nitto Exo-Grappler and Terra Grappler G2. These mud tires have a more compact design, preventing the snow from packing in the tread designs.
But still, all-terrains tires are hard to beat in winter weather and offer a less rough ride than the mud tire in snow.
Can You Hydroplane with Mud Tires?
4. Rock Crawling:
The selection and choice of tires are essential because tires are the ones that will provide traction and grip during off-roading.
High-traction is extremely important if the rider is planning to experience off-roading in the rocks, as rocks require a consistent tread pattern along with better traction and grip. For this purpose, all-terrain tires are best as they offer more miniature rough rides than mud-terrain tires. 
But if the rocky region holds a mixture of loose dirt and rocks, then mud-terrain tires are the better choice.
5. Desert:
The Desert is considered a unique off-roading area, and high-speed vehicles are standard here. Such terrain is brutal for tires, especially on the sidewall region, and mud tires sometimes offer a rough ride in such landscapes.
Not all mud tires work poorly in desert, but still, they can't compete against all-terrain tires as the desert region will eventually lead to rough rides if mud tires are used extensively in such terrain. 
All-terrain tires having thick sidewalls with heavy-duty carcass are suitable for such terrain having a more uniform design.
6. Road Noise:
Mud tires are also louder than the all-terrain tires. The mud tires produce a very unpleasant sound and can create hindrance during off-roading.
On the other hand, all-terrain tires make less noise and are a clear winner in this aspect. The quietest tire from the mud-terrain tire category, such as the Trail Grappler, still produces a considerable noise.
7. Sipes:
Lacking the sipes on tires is also a contributing factor in a rough ride experience. We cannot ignore the cons of tires if they are fully equipped with the best features, and sipes are the essential feature to look for when purchasing a tire.
Sipes are minor grooves on the tread blocks, especially on Nitto Terra Grappler G2. Sipes offer an increased grip in wet conditions, and tires with sipes are a major buying factor.
Among the tires category, all-terrain tires have a heavy amount of siping on their tires, which indicates that even if the tread block wears down, there are still the chances of grip and perfect traction due to siping.
8. Going The Distance:
When selecting a tire for off-roading either from the mud-terrain or all-terrain category, it is necessary to look for the life expectancy of tires.
Tread-wear warranty matters a lot in tire selection, and for this purpose, all-terrain tires last longer than usual compared to a mud tire.
For example, the Terra Grappler G2 offers a limited tread-wear warranty covering 50,000 miles and, in some cases, 65,000 miles for hard metric sizes.
Which Tires are Rougher? Mud-Terrain or All-Terrain-
Mud-Terrain Tires
All-Terrain Tires
These tires are designed to work best in off-roading conditions having terrains including mud, sand, loose soil, and rocks.
M/T tires cause significant rough ride on unpaved roads
All-terrain tires work best in snowy, icy, and wet conditions where mud tires cannot perform well.
A/T tires do not ride as rough as mud tires.
Mud tires have a large tread block design having wide voids in between them which help for better grip. However, it causes rough ride.
As a result of their design, they run better on-road and do not offer much raw off-road traction.
The spaces between the knobs eventually clear out all gravel, debris, and mud and provide enough room to dig into the most off-road surfaces.
All-terrain tires offer a smooth on-street ride giving less noise. They also offer much better handling than the mud-terrain tires as far as rough ride is concerned.
All-Terrain Tires Offering Less Rough Ride:
Tread design
All-terrain tires offer less rough rides than mud-terrain tires as they are different from road-going tires.

The specific tread design of these tires offers a less rough ride and provides an additional grip on rocks and mud, which mud-terrain tires cannot do.
Strengthened sidewalls
Strengthened sidewalls are considered one of the best features to carry the load over rough terrain.

All-terrain tires have strengthened sidewalls and offer less rough ride as compared to the mud-terrains.
All-year capability of operation
All-terrain tires are considered best for such regard as they provide an adequate amount of traction in snow and ice.

These tires offer an all-year operation capability and are best for all sorts of terrains.
Tips for Making the Rough Ride Smooth in Mud Tires:
Mud-terrain tires are seen to create a rough ride due to certain circumstances and factors. This rough ride can be made smooth by following tips and tricks and will help in improving the quality of the ride.
It is recommended to avoid using the bigger wheels in your vehicle if you want a smooth ride. Bigger wheels usually result in a rough ride.

Choosing the right tires is recommended as not all tires are created equally.

You can change the suspension parts according to your ease and ensure that your vehicle has mud tires have the right height.

If you want a less bumpy and less rough ride, change the shocks to a softer version. It will provide smooth action on bumps.

You can also add weight to the vehicle to smooth-out the bumps ad to change the sprung and unsprung weight ratio. A heavy unsprung weight will be hard for a LIGHT vehicle to control.

It is recommended to reduce the tire pressure as it also helps to get a smooth ride.
Also Read:
Do Mud Tires Cause Steering Wheel Shake?
Do Mud Tires Affect Gas Mileage?
Frequent Asked Questions (FAQs):
Are mud tires considered a good option for daily driving?
Mud tires are not meant perfect for daily use on roads. They are street legal, but still, these tires are not an ideal choice for everyday usage.
Do mud tires make the truck shake?
Mud tires can cause the vehicle to shake due to various reasons. When the tires become unbalanced on a muddy road, they bounce in the vehicle. You can use pressurized water to remove the debris from the tires.
Are mud tires hard to balance on a vehicle?
Mud tires are sometimes hard to balance and can chunk and wear in many ways. It becomes impossible to balance them as sometimes mud gets caked on the inner side of wheels, wreaking balancing havoc. It is necessary to dismount, clean, and remount the tire and bead surface in such a situation.
Are mud tires considered loud on the road?
Mud tires can produce a large amount of noise during driving which comes from the massive tread blocks and wide gaps associated with tires. These give an unrivaled grip on off-road surfaces, making a loud noise.
Do mud tires shake violently at high speed?
Mud tires are sometimes seen to shake violently at high speed unless or until the tires are in a balanced state. If the mud tires are flat, then the vehicle shakes less.
How much weight is required to balance a mud tire?
There is no specific industry standard for weight to balance the mud tires on the vehicle. But, 3.75 ounces in total is sometimes considered quite reasonable for balancing the total weight of wheel and tire on a car.
Can a person put too many balancing wheels in the tire?
It is not recommended to adjust too many beads in the tires as it can sometimes cause a slight imbalance. Too many beads can sometimes cause a traffic jam, forcing the dots to the wrong balance position, creating an imbalance.
Do mud tires perform well in the rainy season?
Mud-terrain tires do not perform well in the rain and on wet pavement because of their tread blocks. The tread blocks have wide channels, so they can't expel water like the basic all-season street tire.
Why do mud-terrain tires hum?
Mud-terrain tires sometimes produce a humming noise usually caused by a tread pattern. The same humming sound is produced if mud-terrain tires are placed on an unlifted truck.
Do mud tires perform well in snow?
Mud-terrain tires are less capable of performing well in snow than all-terrain tires. Wide channels between the tread blocks of mud-terrains get filled with ice and snow and hinder grabbing the road surface properly.
Do wide tires perform better in the mud region?
Wide tires perform much better in mud, sand, loose gravel, and snow regions, and it depends on the right tire size. On the other hand, narrow tires perform better on surfaces like rocks and hard-packed dirt.
How can a person rotate mud tires?
Periodically changing the tire position on the vehicle is called tire rotation. It is recommended that a person should rotate the tire every 5000 miles.
Are mud-terrain tires considered a good option in the sand?
Mud-terrain tires work best in the sand and create strong resistance even during an uncomfortable driving experience.
Can a person balance the wheel without weights?
Wheels can be balanced without weights, and on the contrary, a person can use the stick-on weights.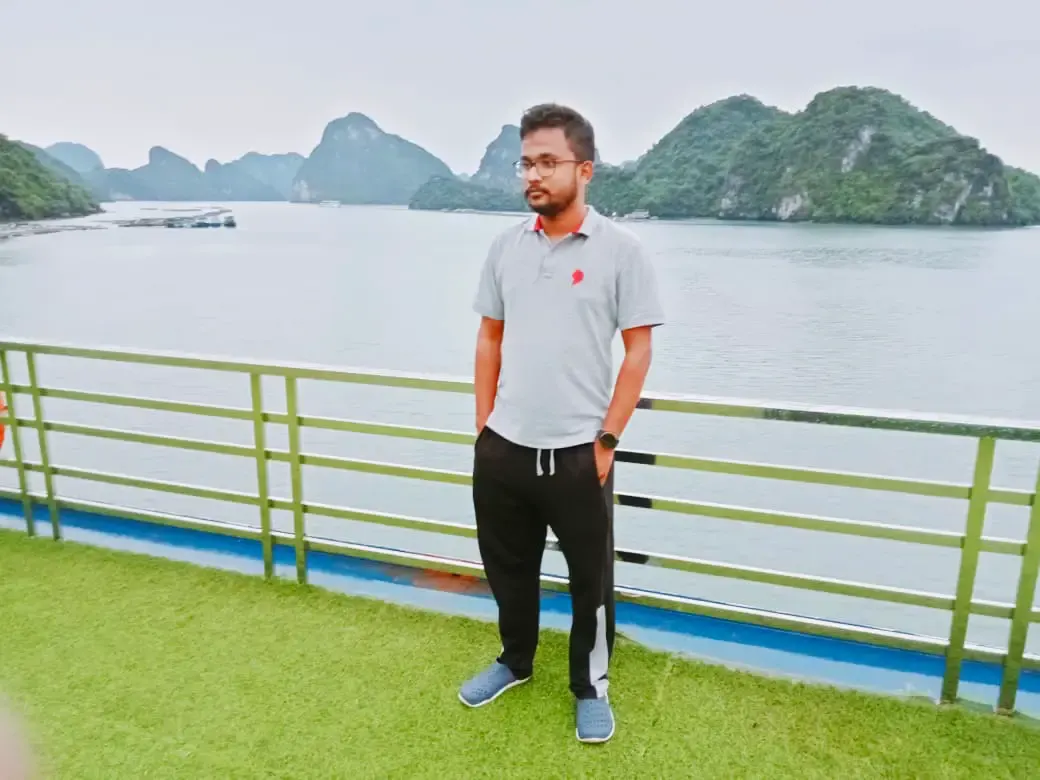 This is Surya. I am an experienced off-roader. I have been off-roading for many years across several terrains. I am passionate about 4×4 driving and want to share my knowledge and experience with others.
My goal is to provide you with the most comprehensive and unbiased information about off-roading.
I curated this article through my personal experience and expertise, and I hope it helps you with what you are looking for.