Have you ever planned to set off on snowy terrain with a mud tire? if so, here we are discussing the performance and issue a mud tire can pose on an icy track. Let's find out: How are mud tires in snow?
Mud tires work poor to moderate in snow and ice terrains, depending on the situation of the vehicle and tires. The type of tires and snow affect the ability of the off-roader to handle the vehicle on snow. Mud tires cannot achieve the required traction in the snowy terrain.
The triple-peak snowflake is the perfect mud tire that can work better than others in snow. It is a sign rated for mud tires' ideal snow and ice driving conditions.
How are Mud Tires in Snow?
Mud tires can be an issue when driving on snow or ice. The deep voids and chunky lugs of mud tires are designed to 'clean' themselves, throwing dirt and gravel out by centrifugal force.
Mud tires are made up of soft rubber compounds that make them best to perform on dry roads. The soft compound of the tires is not resistant to change according to the temperature. The rubber tires become hard in cold temperatures and deteriorate their performance.
The tread pattern on the mud tires is wide and is designed according to the mud. They are designed to flow through the channels without any blockage so the semi-liquid mud can flow. 
The mud is thrown out of the tread pattern according to the motion of the wheels. The snow becomes packed in the terrains as it is solid and reduces the traction. Mud tires lack the siping on them, which negatively affects their performance on snow terrain.
Different Types of Snow Affecting the Mud Tires:
There are different types of snow that can affect the mud tires and their performance.
| | |
| --- | --- |
| | |
| | The water vapors that skip the liquid phase and are turned into the ice directly are called hoar flakes. These flakes are seen as ice crystals on power lines, tree branches, and plant stems. A hoar surface is seen on the clear nights. The top layer of the hoar surface is not dangerous for off-roading. |
| | In the snow terrain, it is a common thing that hailstones and snowfall can be seen abruptly. The hail limits the visibility process which can slow down the performance of mud tires. |
| | The cloud droplets sometimes freeze into ice crystals that are called graupels. They are also known as snow pellets and soft hail. Snow pellets are made out of the snow while it is not dangerous to off-road in fresh graupel. |
| | Sleet is a mixture of rain and snow that is caused when snowflakes are melt partially. They form a warm layer of air and freeze through the cold air while passing in low temperatures. It is not easy to off-road with mud tires in such conditions. |
| Freezing rain and black ice | Freezing rain is started when snowflakes are turned into rain. These snowflakes turn to ice when they hit the ground and is dangerous for driving as off-roading. The sleet and freezing rain that is frozen is turned into black ice. Black ice looks transparent as ice and is invisible so it looks like pavement. |
Reason for Mud Tires' Poor Performance on Snow:
The mud tires are equipped with various features and specs, but still, their performance is poor on the snow and ice surfaces. It becomes challenging to off-road on such surfaces with these tires, and they do not perform well like the narrow tires.
The reason behind this is the surface area. These tires are wide in size and get less contact with the snow and ice surfaces. The tires on such surfaces push off the snow and slushy mixture ahead and resist the push of the tire. The large wedges offer more inertia and friction due to which tires lose contact with the snowy surface, and riding becomes difficult on snow surfaces.
How to Use Mud Tires Effectively on Snow Surfaces:
If you want to control the traction of your mud tires on the snowy surface, you can use snow chains. Snow chains are excellent for off-roading, especially on snowy surfaces. It helps to keep the vehicle's traction in control and allows the driver to perform well on the off-roading surfaces.
The tires break up the wedge equipped with the snow chains even on the ice, snow, and slushy surfaces.
It is recommended to read the vehicle's warranty for any restrictions regarding the tire chains and their usage. You can look at the owner's manual and place the snow chains according to the front and rear wheels.
Characteristics of Mud Terrain Tires:
Mud-terrain tires are designed for a specific purpose and for off-roading conditions to offer maximum traction on the different surfaces, including mud, ice, and snow.
There are massive tread blocks on the mud tires that help the tire to dig out more swiftly and do not block the tires. Mud-terrain tires provide more traction to the driver and have aggressive tread patterns.
| | |
| --- | --- |
| | |
| | Mud tires have large blocks in form of tread patterns that helps to clear out the debris out of the treads. The mud and stone-based ejectors inserter during the drive are ejected out through the mud tires |
| | Mud tires have a substantial form of tread depth that allows strong biting edges |
| | There are different patterns on different mud tires that varies according to the brands. But the main characteristic that is common among all is their feature of aggressiveness. |
| | Mud tires offer great endurance and have 3-ply sidewalls that helps to create puncture in the tires. These tires allow strong sidewalls that are beneficial for off-roading conditions. |
Can You Hydroplane with Mud Tires?
Top 3 Mud Tires for Snowy Terrain:
Mud tires are considered the best choice for vehicles used on unpaved roads. These tires can be used for road driving, but these tires are not recommended for daily use due to their noise issues. Tires are the main component that defines the longevity and easiness of your journey.
In snowy conditions, their worth is increased due to unfavourable conditions. There are many choices in the market regarding the mud tires for snow pavements, and one is left in a perplexed state when selecting the best one.
Here we will discuss the best mud tires that work excellently in snow conditions and are suitable for the vehicles like jeeps, SUVs, and trucks. Mud tires offer better traction and grip on the snowy surface due to their unique tread design allows the driver to move safely instead of being stuck.
1. BF Goodrich Mud-Terrain Tires: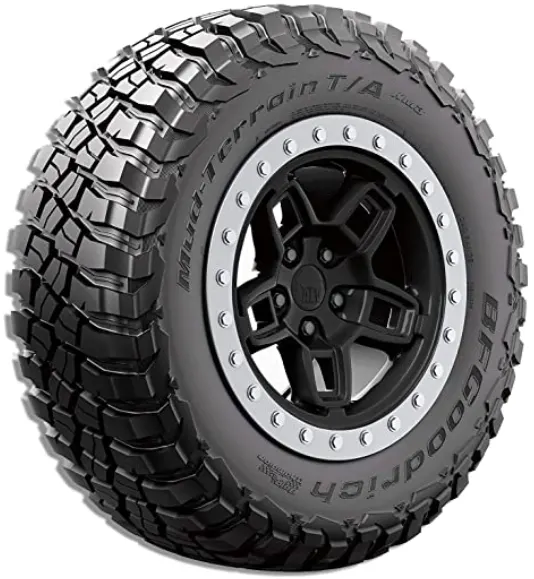 If you are looking for rugged and sturdy tires, then BF Goodrich mud-terrain tires are the best option. These tires are an excellent choice for snowy terrains along with mud terrains. These tires provide better grip and smooth traction on mud and off-road surfaces. The unique tread pattern of these tires makes them the best choice for the snow and mud terrains due to controlled driving. These tires are equipped with a linear contour that makes them easily traverse rough landscapes.
Key features of BF Goodrich tires
These tires are made up of unique tread compounds

These tires have large voids that require self-cleaning

These tires hold a sturdy build offering maximum traction

The features of these tires help them to perform well on snowy surfaces
2. Firestone Destination Mud-Terrain Tires: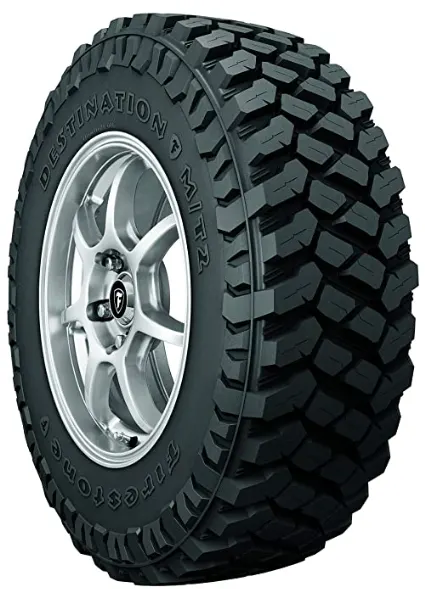 The firestone destination mud-terrain tires are designed for off-road terrains that perform exceptionally on snow and ice surfaces. These tires have exceptional specs and features that make them perfect for off-roading, especially on snow surfaces. These tires have large tread blocks with a 23-degree cut offering better slip resistance.
The offset shoulder block ensures a better grip on the snowy surfaces. Water ejecting sipes and ribs on these tires makes it easy for the driver to throw away the stones and snow on the road. These tires have 20% more biting edges that offer better traction on snowy and wet surfaces.
It helps them to perform well in the deep snow. These tires are durable and offer a 3-ply sidewall that helps resist the puncture and tensile steel belts. Different tire sizes are available in this mud tire ranging from 15-and 20 inches.
Key features of Firestone destination tires
These tires have 3-ply sidewalls that help in resisting puncture

These tires offer 20% more biting edges providing traction

The siping feature makes sure to provide excellent grip in deep snow and ice

These tires have the self-cleaning feature with them
3. Cooper Discoverer Mud-Terrain Tires: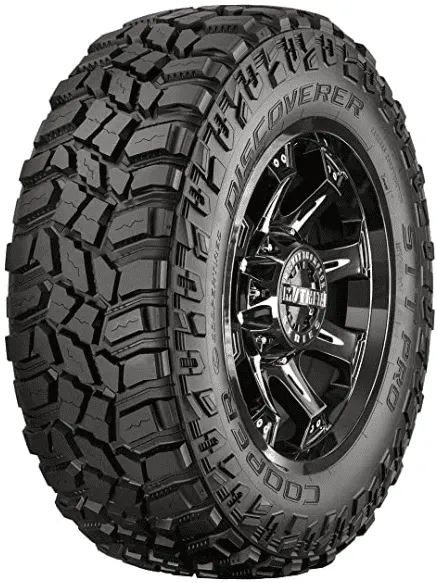 Copper discoverer mud-terrain tires offer a good grip and perfect steering control on the off-roading surfaces, including the uneven terrains and mud-based surfaces. These tires provide excellent off-roading traction and provide seamless experience off-roading.
Off-road enthusiasts find all sorts of features in this tire as they hold all the excellent features that help them stand out in the market. The tread block pattern of these tires offers good traction and helps to lessen the noise that is a severe issue with off-roading vehicles.
These tires are the favorite ones for off-roading enthusiasts and are best for models including jeeps, SUVs, and four-by-four vehicles. These tires are available in different sizes and models. They have to sipe and tread compounds that help them perform well in wet and dry conditions.
These tires become suitable to perform well even on rocky surfaces due to side biters on their lower sidewall. These side biters prevent them from abrasion and bruise on tires and enhance the quality and life of tires.
Their edges are chamfered, which offers better control during the driving on the off-roading surfaces, and the sipes are the in-depth position that helps them perform well in snowy conditions.
Key features of Cooper Discoverer Tires
There are variable sipes on these tires that make them perfect for the snowy conditions

The oversized shoulders on the Copper discoverer tires offer them better traction control

These tires provide the best traction even on the rough terrain and are durable

The side biters present on the tires prevent them from bruises
Top 10 Best Off-Road Mud Tires: Guide to Select The Best
Final Thought:
If you live in an area where winter conditions are common, it's unlikely that mud tires are the best choice for you. It can be challenging to get the proper traction on snow and ice with a tire like this, so a winter tire, all-season tire, or all-terrain tire will provide better traction.
Also Read:
Do Mud Tires Ride Rough?
Do All Terrain Tires Make Your Truck Shake?
Why are Mud Tires Loud? All You Need to Know
Frequently Asked Questions (FAQs):
How do mud tires perform in the snow?
Mud tires are not designed to perform in snow, but they can perform moderately in some cases. The snow and ice trap in the tires' tread pattern falls out as a liquid. The trapped snow packed in the deep channels reduces the traction and is like a racing slick.
Do big mud tires perform well in snow?
Mud tires perform less in snow as compared to other all-terrain tires. The oversized tread pattern in big mud tires blocks their performance due to the blockage of snow in them.
Do mud and snow tires perform well in snow?
Mud and snow tires are called all-season tires, represented as M+S on the side of their tires. These tires are perfect for temperate weather conditions and occasionally can be used on snow and ice.
Does the structure of mud tires affect their gas mileage?
Yes, the performance and installation of mud tires affect their gas mileage. The subject of fuel economy is discussed more than the tread design.
Can off-road enthusiasts use snow chains in the mud?
Snow chains are beneficial in their performance on muddy roads. The off-road tire manufacturers advertise many snow chains on the snow, mud, and ice terrain tires. Snow chains help get the traction on the mud that is not able with the average tires.
How long can mud tires last?
Mud tires can perform well around 40000 miles in a while. They are ideal for all-year use and applied on the deep snow terrain.
Do mud tires perform well in the rain?
Mud terrain tires do not perform well in the rain, but we cannot say they are the worst tires. These tires are more prone to aqua planning; so they can be dangerous in the shower. You can opt for all-season tires in the rain.
What do you mean by M on the tires?
The M on the tires written as M+S stands for Mud+Snow. This symbol indicates that tires are suitable for their use in winter. There is also a snowflake symbol on the tires that suggests that they are officially winter tires.
What is the cost of mud tires?
The mud tires at their lower can cost around $225- $275 per tire. The price of the tires depends on the style, pattern, size, and brand of the tires.
Is there a snowflake symbol on the mud and snow tires?
The mud and snow tires made as winter tires are marked as the M+S symbol. The sign indicates the snowflake symbol and has passed specific wire traction requirements and tests.
Do mud tires perform well on the highway?
Mud tires are legal to perform well on the road and streets. It does not indicate that they are always a nest option to consider. If you are an off-road enthusiast and seek extra speed, all-terrain tires are the best.
What are the three major types of tires?
The three major types of tires are :
Winter tires
Summer tires
All-season tires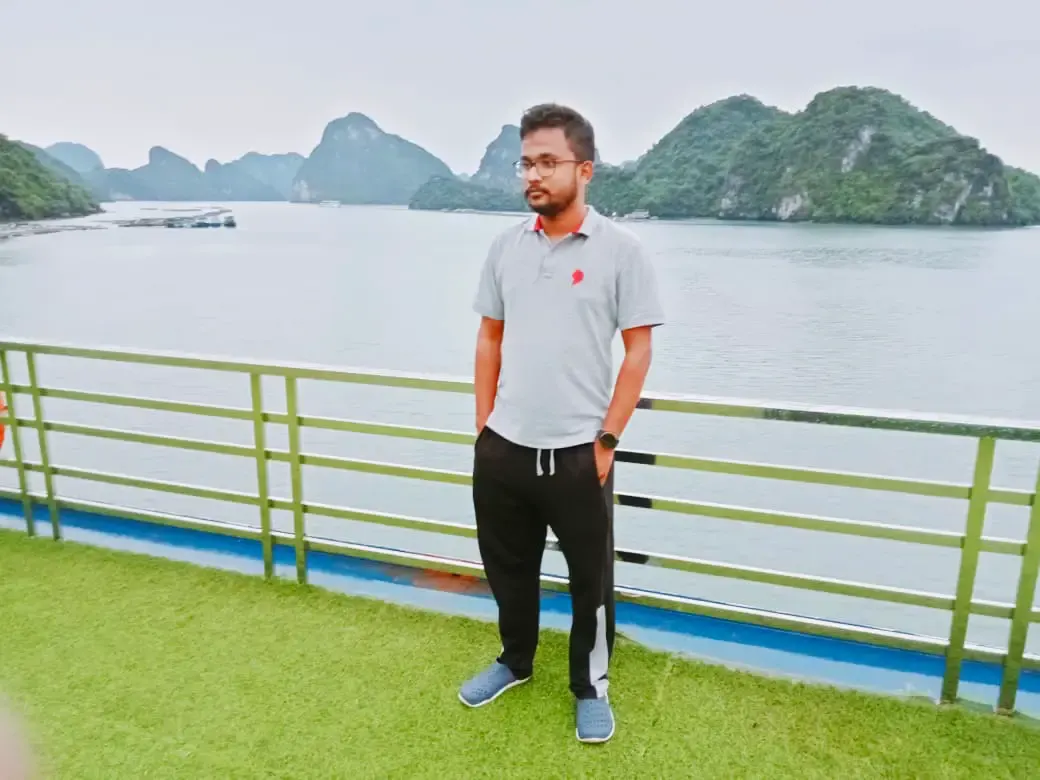 This is Surya. I am an experienced off-roader. I have been off-roading for many years across several terrains. I am passionate about 4×4 driving and want to share my knowledge and experience with others.
My goal is to provide you with the most comprehensive and unbiased information about off-roading.
I curated this article through my personal experience and expertise, and I hope it helps you with what you are looking for.