It is essential to pick the right engine to purchase an ATV either for yourself or for your kids. It determines the power and top speed of the four-wheeler, so this thing holds great importance. Whenever we talk about 125cc, it is considered a mid-range category as it can reach the top speed and offers enough traction, which can help you go through the mud without creating any problem.
If you are not aware of ATV engines and their speed, our guide will explain all these things below. How fast does a 125cc ATV go?
A 125cc ATV can go at the maximum speed of 40 MPH. It can be taken down to the speed of 10 MPH or, in some cases, even 5 MPH as per the situation. 125cc ATVs are recommended highly for older teens and adult beginners. Youth ATVs hold speed limiters so that their speed can be managed.
ATV is a short form of the all-terrain vehicle which includes all types of ground, giving ATV a wide territory. 125cc ATV is designed for youth and is a safer option for beginner riders eager to learn about handling the vehicle along with roads.
Top speed is the highest level of speed that a vehicle can reach while riding on the road. Top-speed is quite different from the bike, and it depends on things which include the types of materials and installed parts.
We have created the infographic below that shows how fast a 125cc ATV can go. (You are welcome to use and share but please credit us if you do so.)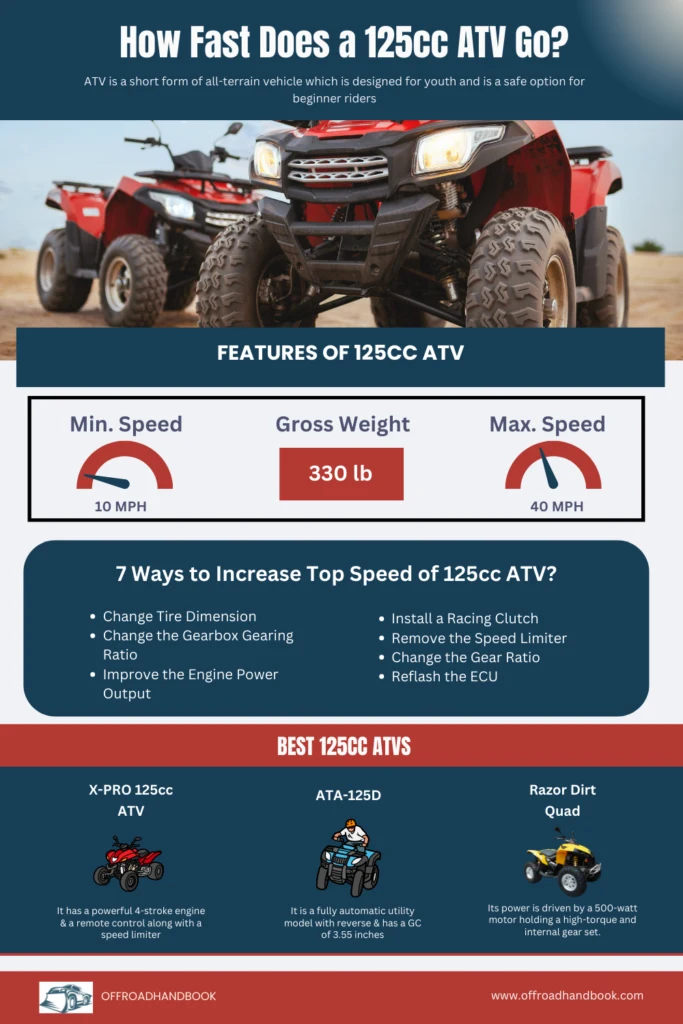 How to Increase Top Speed of 125cc ATV?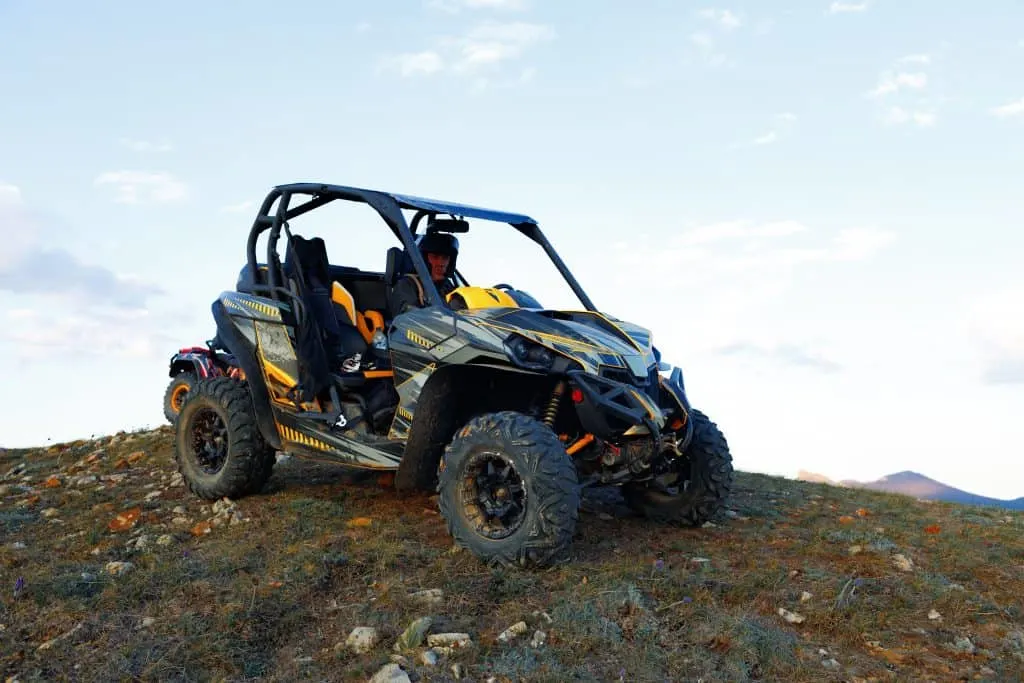 There are several ways to increase the top speed of a bike which we will discuss below:
1. Changing Tire Dimension:
Big tires have large circumstances. It means the tire travels farther per revolution, effectively increasing the bike's top speed.
You should install a clutch kit if you wish to increase the tire diameter by more than a couple of inches. If you do not attempt this step, you might lose a lot of power and may face belt slipping and burning belts issues. 
2. Changing The Gearbox Gearing Ratio:
You can change one of the sprockets to increase the top speed. Bile holds a gearbox with sprockets and chains and commonly helps reduce the top speed and improves acceleration by installing a smaller sprocket.
3. Installing a Racing Clutch:
You can choose to install a racing clutch that uses different dimensions of clutch sheaves. It can alter the bike's top speed according to your desires and needs.
4. Improving the Engine Power Output:
You can improve the top speed of ATV by increasing the power output of the bike's engine.
5. Removing the Speed Limiter:
You should install a speed limiter if you desire to improve top speed, but be aware of yourself and don't break or void the law regarding this.
You can reprogram the bike to disable the limiter if your bike has an electronic speed limiter. Mechanical speed limiters can be removed easily as they can be slightly disassembled and can remove the part which can limit your throttle.
6. Changing the Gear Ratio:
It is easy to alter the top speed if your bike has an open sprocket and chain. A higher top speed can be attained after increasing the size of the front sprocket and reducing the size of the rear sprocket.
You can tweak the gearing ratio to find out the optimal setup for each track into quad racing. Higher top speeds are required for the tracks having long stretches and at the expense of higher top speeds.
7. Reflashing the ECU:
Most bikes have an electronic speed limiter which prevents the riders from attempting speeds at a much higher pace. It has been reported that people have reached speeds in the range of 100mph after installing the flash of new software to their bikes' ECU.
The limiters installed on Polaris Scrambler XP 1000 have shown a speed of about 80mph. The Scrambler XP 850 has a higher stock top speed with a limiter set at 83 mph.
Engine Sizes and ATVs:
Engine size is the amount of cc mentioned along with the name and type of each ATV. cc is cubic centimetres and is the cylinder's volume. If we talk about 125cc ATV, it holds a cylinder volume of 125 cubic centimetres.
You will be able to select the right ATV for you, and it depends on the capacity of the cylinder.
| | |
| --- | --- |
| Up to 70cc | It is designed for kids under age 11. |
| 70cc to 90cc | These are designed for kids of age between 12 and 15. |
| 125cc to 250cc | They are suitable for both beginner teens and adults. |
Height is also considered a big factor in choosing an ATV. The 125cc to 250 cc category is considered the most suitable one for beginners new to the riding world. The range of 450cc to 700cc is convenient for medium or expert adults.
Weight Holding Capacity of 125cc ATV:
The right size engine depends on how much weight a quad can hold, and the majority of the people forget about this thing during their search.
Adult-sized ATVs can carry up to 250 pounds of cargo, and the maximum load capacity of 125cc ATVs is 132 pounds.
It is good to bring all the essentials for the trail as the loading capacity is not large enough to carry all your essentials. It is advisable to adjust the one-third weight on the front cargo rack while the rest is on the rear rack. In this way, the weight will be distributed equally.
Power of 125cc ATV:
This type of ATV is considered a moderately powerful ATV and holds a general speed of 40MPH. But it is guaranteed that you will feel speed and power when you go on full throttle. 125CC engine size is considered best for the older teens and adults in the beginning stage of operating ATVs.
125cc is equipped with many safety features such as a remote kill switch, an electric start, and flexible tire size.
The 125cc engine size models having four-by-four tractions are more expensive, and you can climb at any hill through muddy roads without any single problem.
What Size ATV Do I Need to Buy for Off-Roading?
Few Best 125cc ATVs:
X-PRO 125cc ATV Quad Youth 4-Wheeler ATVs:
This 125cc ATV is brought by Moto pro and includes a decorative plastic trim with separate black plastic trim. There is a large luggage rack in the front and rear of the ATV.
| | |
| --- | --- |
| Air-cooled engine | It has a powerful and stable 4-stroke engine with an electric start. This makes ATV a great choice for moving up. |
| Headlight | It includes a bright LED headlight and big tail light. This enables safe night riding mode. LED headlight holds a unique design that perfectly fits the style and shape of the vehicle. Taillights and brake lights are bigger than normal ATVs. |
| Speed limiter | It includes a remote control along with a speed limiter Remote control allows to control engine stop and speed governor handlebar allows to lead the way backwards. The remote control allows the parent to control the engine stopped from 30 feet away. |
| Luggage style and front bumper | It holds a utility-style which comes with a luggage rack on the front and rear. It allows to carry extra weight and make sure that everything is on pace. The front bumper protects the ATV in event of a frontal impact. |
| Large frame and wheels | This ATV includes a large frame with big 19 inches tires. They are much larger, higher, and wider as compared to regular ATVs. Comfortable riding in it provides more space with greater stability and better handling and provides ground clearance. |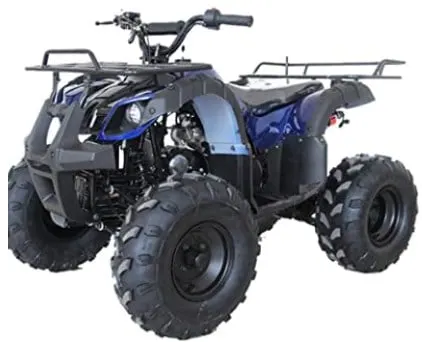 TAO TAO Brand new ATA-125D Utility model:
It includes unique features which are discussed below:
TAO TAO 107cc is a fully automatic utility model with reverse.
It has a tire front with a tire rear along with a suspension front and rear.
It also includes a ground clearance of 3.55 inches.
| | |
| --- | --- |
| Number of wheels | 4 |
| Wheel material | Rubber |
| Suspension type | Front, Rear |
| Brake style | Front braking and rear braking |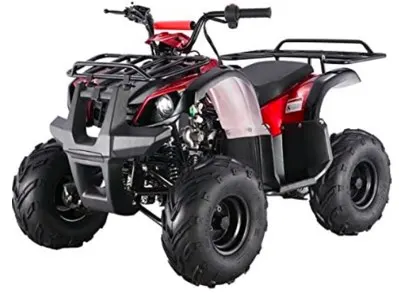 Razor dirt Quad 500-36V Electric-4 wheeler ATV:
This 4-wheeler ATV is the perfect step and is big enough to tackle rugged off-road terrain. It has a rechargeable battery with a quick-change compartment. The power is driven by a 500-watt motor holding a high-torque and internal gear set with self-adjusting chain-driven.
It has a twist-grip throttle control with a rear disc brake and front brush bar. It has adjustable riser handlebars with rear suspensions and soft rubber grips.
| | |
| --- | --- |
| Weight | 113 pounds |
| Maximum Speed | Up to 9 mph |
| Suitable for Riders | Age between 14 years and up |
| Battery | Lead-acid |
| Weight Limit | 220 pounds |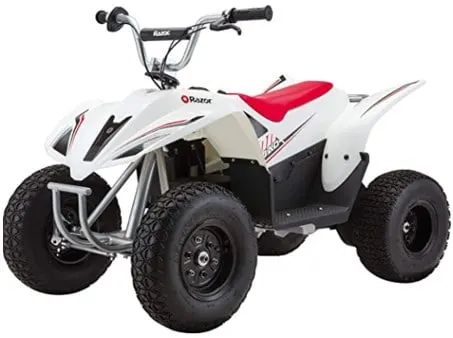 Also Read:
How Fast Does 110cc ATV Go?
How Fast Does a 150cc Dirt Bike Go?
What Is A Side By Side ATV?
Frequently Asked Questions (FAQs):
Is 125cc considered a fast quad?
125cc is a speed governor and is considered a moderate quad. It can run at the maximum speed of 25 MPH.
Which is the fastest and top-speed of the 125cc squad?
55-60 MPH is considered the fastest and top-speed of 125cc quad. The speed also relies on various factors such as rider experience, upgrades of motorcycles, and environmental conditions.
How fast can a 150cc motor scooter work?
150cc motor scooter can reach the top speed of up to 60 MPH. It is a huge speed advantage as compared to smaller 50cc engine sizes. Powerful motors are considered ideal if you reside in an area with shorter straits. At such a place, you can open throttle.
At what maximum speed, 400cc motorcycle can go?
A 400cc motorcycle can reach a speed of up to 140Kph.
What is the average weight limit on a 125cc ATV?
On a 125cc ATV, the average weight limit is around 286 pounds, with a maximum loading of 132 pounds and a gross weight of 330 pounds.
How can we make a quad work faster?
A quad can be made to work in a faster mode by following features:
Adjust the K&N filter as it gives good airflow. It is designed to increase acceleration on ATV.
Fix your new tires as their size depends on the size of the ATV.
Go for a new exhaust pipe and change the gear ratio. You can add or decrease the sprocket size on an ATV.
At what maximum speed can a 125cc 2-stroke works?
The maximum speed for 125cc 4-stroke revolves around 50 miles/hour, and for 125cc 2-stroke, dirt bikes can work at the speed of around 70 miles/hour.
What is the average top speed of the Tao Tao 110cc dirt bike?
The Tao Tao 110cc dirt bike has specific features like air-cooled and four-stroke single-cylinder with a 110cc engine. It works on the top speed of 40 MPH and is available in blue, green, orange, and red.
What is the maximum speed of a 700cc engine?
Models without displacement can work at a top speed of about 50 MPH. Quads with bigger engines can work at a speed of 80-90 MPH.
Which is the fastest 125cc 2-stroke?
The fastest 125cc strokes include:
Aprilia RS 125
Cagiva Mito
They have a top speed of 160+ Kmh and are not legal for restricted licenses.
How fast can 150cc Tao Tao ATV can go?
150cc Tao Tao ATV can reach a maximum speed of 40 MPH. With a 150cc scooter, a heavy rider can get about 50 miles per hour, around 80 kilometers per hour.
What is the age range for riding 50cc ATVs?
It is advisable, especially parents keep an eye on their children when there comes a time of riding an ATV. 50cc ATVs are suitable for kids at least older than 6 years of age. 50cc ATV contains 4 gears which can easily travel over the speed of 30MPH, and it requires physical strength to control the ATVs at such speed.
What is the maximum speed of Polaris Sportsman 450?
The top speed of Polaris Sportsman 450 is in between the range of 62 MPH. It also contains a dynojet, a K&N filter, and a clutch kit.
How fast can an engine of 200cc work?
A 200cc can work at a top speed of 75MPH as the speed depends on whether the engine is 2-stroke or 4-stroke.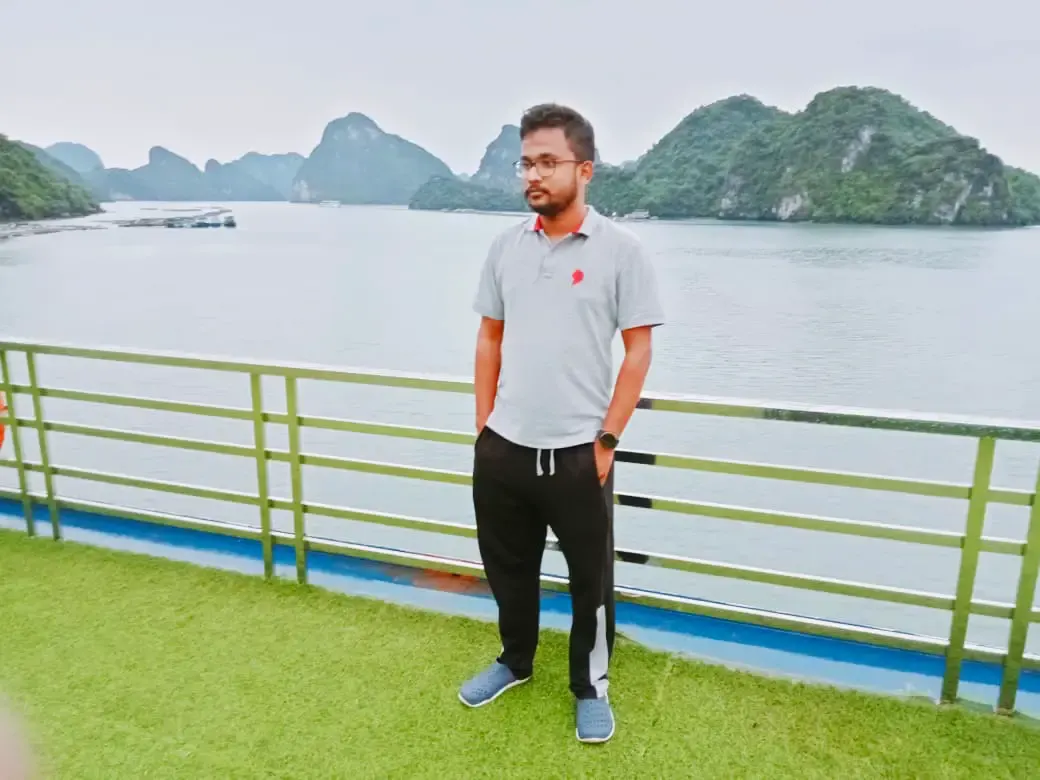 This is Surya. I am an experienced off-roader. I have been off-roading for many years across several terrains. I am passionate about 4×4 driving and want to share my knowledge and experience with others.
My goal is to provide you with the most comprehensive and unbiased information about off-roading.
I curated this article through my personal experience and expertise, and I hope it helps you with what you are looking for.