Jeep Compass is considered one of the best off-roading vehicles due to its features according to the demand of off-road enthusiasts. However, some people show a keen interest in lifting their jeeps, so a question arises: how long does it take to lift a Jeep Compass?
A good quality Jeep Compass will consume a maximum of 3-4 hours for lift kit installation. The time consumed for installation of the lift kit in the Jeep Compass depends on the model, and type of the lift kit.
It is recommended to Jeep enthusiasts to buy the lift kit, which can save their labor costs, and look for the one which falls in between their range. Go for the lift kits having adjustable track bars, coil springs, sway bar links, and control arms that can be installed in less time.
How Can Lift Kit Upgrade Performance of Jeep Compass?
Lift kits provide an excellent start to your vehicle, so here we will describe some modifications that can help you improve your Jeep Compass's off-roading performance.
| | |
| --- | --- |
| | |
| | These are the type of protective covers. They are designed in a way to protect and guard the under-carriage of your vehicle. These skid plates provide maximum ground clearance and protects the bottom region of your jeep from harmful environmental components including rocks and dirt. |
| | These tires are designed especially to handle the terrains of all types. These tires are big in size and are tough having a deep tread. |
| | This modification improves the off-roading capability of a vehicle. Jeep compass has a front-wheel drivetrain but its Trail-Hawk model should include an added traction for upgrading it. Jeep Compass has the 4-by-4 drivetrain capability of handling rocks, sand, deep snow and even mud. |
Jeep Body Lifts and Suspension Lift Kits:
A body lift kit can only change the frame set up and keeps the suspension system in its original position. On the other hand, the suspension lift kit canto changes the frame and the overall suspension system of the vehicle. 
As a result, it makes it easy for the vehicle to get large and tall tires without worrying about any hit and bump.
Suspension Lift:
A suspension lift is a kind of modification that you can implement in your Jeep Compass. It helps to raise the vehicle off from its original frame. Suspension lift kits can provide you with better clearance on the off-roading terrain.
It makes it easy to clear the obstacles coming along the way, like logs, rocks, and mud. In addition, suspension lift kits are easy to install and require no special modification for your Jeep's body frame.
This installation also helps save the overall installation cost as no need for new parts is required for the steering system. Ground clearance is affected by this system, but this is not a problem for the add-ons.
Body Lift:
A body lift is a kind of modification that can extend your vehicle's frame. It helps the person to add tall wheels and tires to the vehicle and increases the ground clearance on the vehicle. This gives the person much confidence while driving on off-roading terrain.
Body lifts are more convenient than suspension lift kits as they require less cost and installation time. There is no need to purchase extra premium parts for your vehicle.
A person can install their tall tires on Jeeps without replacing stock rims. A body lift kit is a good choice for drivers with large tires and those not happy with their ground clearance.
Difference Between Body Lift Kit And Suspension Lift Kit for Jeep Compass:
The body lift for Jeep Compass does not require any premium upgrades for the suspension of the vehicle. However, the upgrades for suspension are sometimes expensive for the Jeep owner.
Body lift kit requires the owner to purchase the tall tires for their vehicle compared to the original tires of the vehicle.
The body lift kit does not disturb the performance of the Jeep and other components associated with it. It does not affect the braking and power train, and the after-market products can easily fit into the vehicle.
The suspension lift enables the vehicle tires to come closer to the frame, which helps to draw less contact with the surface area. It alleviates the steering issues and helps provide traction.
A suspension lift kit can affect the height and rake of the Jeep and can change the vehicle's body style. However, the Jeep's body lift maintains the Jeep's original look. A suspension lift kit is helpful to cross bumpy terrain and is preferred for the off-roading terrain due to the lifting of the Jeep.
The body and suspension lift kit is sometimes costly in the installation process as their price depends on the brand and size of the lift kit. Therefore, both lift kits are available in different sizes, so owners can select the right one according to their needs.
If you are looking for a lift kit to help you in off-roading, then a suspension lift kit is the right option. A body lift kit is an option for those who want to retain the Jeep's original look and want to place slight pressure on the power steering.
Which Lift Kit is Better for Jeep Compass: Body Lift or Suspension Lift?
Among the body lift and suspension lift kits, the suspension lift kit is easy and is within budget for installation in the Jeep Compass. This lift provides an aggressive look to the vehicle and offers more ground clearance, which is helpful for the off-roading experience. However, this suspension requires full upgrading if a person wants access to the engine and powertrain.
On the other hand, the jeep lift kit provides excellent access to the driveline and engine but is more expensive than the suspension lift kit. The body lift kit retains the vehicle's originality and makes it look taller after installing tall tires.
The selection of body lift and suspension lift kit depends on the owner's personal preference according to their need and budget. The best choice is recommended as a suspension lift kit has a lower price and is easy to install.
Recommended Lift Kits for Jeep Compass:
1. Rough Country 2-inch lift kit for Jeep Compass: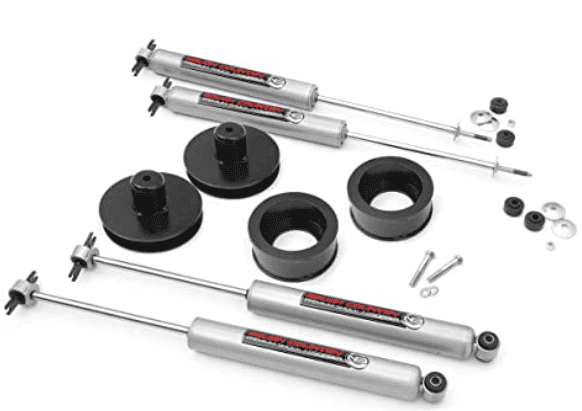 This lift kit is an innovative and easy-to-install kit that provides an aggressive look to Jeep Patriot and Jeep Compass. Additionally, this kit offers maximum ground clearance to the vehicle due to the large tires and levels on the rear and front sides.
The unique features of the lift kit have lower and upper strut spacers that provide an optimum amount of lift to the vehicle. This lift kit protects the overall geometry and CV angles of the Jeep. In addition, lower control arms in the lift promote a better lifespan and articulation.
These can handle the side load and are adjustable arms. These arms offer a perfect alignment and are easy to manage. In addition, this lift kit offers 100% installation and provides a lifetime replacement guarantee.
Features of Lift Kit:
Front components of vehicle

ListInner lower control arms Item 1

Jeep Compass (Model ranging from 2007-2016)

Jeep Compass Classic (Model ranging from 2007-2017)

Jeep Patriot (Model ranging from 2010-2017)
Are Rough Country Lift Kits Good? What You Need to Know
2. Off-Roading and Durable Lift Kit:
This lift kit contains notable features, including the strut spacers that add 40mm solid to the vehicle's ground clearance. These strut spacers and other components are easy to install and are durable that a person can easily afford.

This lift kit helps to increase ground clearance and can conquer the worst off-roading pathways.

This lift kit is helpful for driving over speed bumps and can be used in scrapping the ground on steep driveways.

This lift kit and its installation can act as a real show-stopper for the Jeep and lift the large wheels.

This lift kit helps to maneuver the off-roading tracks having snow and dirt.

Installing simple strut spacers in your vehicle helps replace the wear coils.

These struts also add some ground clearance to the rear side of the vehicle.
This lift kit is easy to install and can last longer than usual if maintained properly. This lift kit has the following components:
Strut spacers

Coil spacers

Fitting kit
This lift kit is compatible with the following Jeep models:
Jeep Compass (Model 2007-2015)

Jeep Patriot (Model 2007-present)
3. Front and Rear 2-inch Lift Kit for Jeep Compass: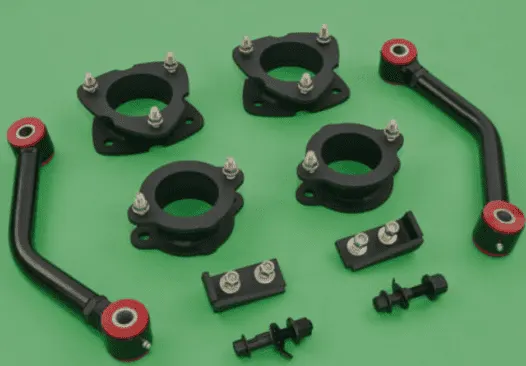 This front and rear lift kit for Jeep Compass offers excellent ground clearance and is installed without hassle. This kit has a front and rear coil spring that mounts extensions and features notable 100% installation bolt-on features.
This lift kit comes in packaging and includes a complete set of alignment kits. It allows the customer to retain their alignment spec of OEM. This 2-inch lift kit is a leveling system that does not affect the OEM ride quality of the factory or the comfort level.
The package content includes:
Front and rear lift spacers- 2 in quantity

Front and rear alignment chamber kit- 1 in quantity

Digital installation guide- 1 in quantity
Installation time required for fitting this level kit is about 2-4 hours and is perfect for the jeep models of Jeep Compass (Model 2007-2017) and Jeep Patriot (Model 2007-2017).
Also Read:
How Long Does It Take to Install a Lift Kit?
How Much Does It Cost to Lift a Jeep Wrangler?
How Much Does It Cost to Lift a Jeep Gladiator?
How Much Does It Cost to Lift A Jeep Liberty?
How Much Does It Cost to Lift A Jeep Renegade?
Frequently Asked Questions (FAQs):
Can a person easily lift the Jeep Compass?
Jeep Compass can be lifted to increase ground clearance. However, it is better to look for the lift kit types before installing them in the vehicle to save labor costs—good quality lift kits costs around $350.
How much duration is required to lift the Jeep?
A person can expect to wait about 3-4 hours for the installation process of the lift kit in a Jeep. The amount of time required for installing the lit kit depends on the size and type of lift and the purpose of the work.
How long can a Jeep Compass last on roads?
A Jeep Compass can last more than 10 years and can cover up to 200,000 miles. Jeep Compass was introduced in 2007 in the market, and people estimated its longevity is inaccurate. With regular maintenance, this Jeep can last for a longer duration.
Is Jeep lifting a worthwhile process?
Jeep lifting takes standard off-roading capabilities and provides more power to tackle the off-road terrain. In addition, it offers more crawling ability on the most challenging terrains. Jeep lifting is an excellent option if you want more off-roading capability on terrains.
Do the lifted jeeps ride rough on roads?
It is recommended that the Jeeps should not ride bumpy in the streets. Jeeps do not drive like regular passenger cars, and they should not be uneven. Jeeps must have good springs, control arms, shocks, and steering angles.
How can a person increase the ground clearance of the Jeep Compass?
It is a simple and easy process to increase the ground clearance of the Jeep Compass by using taller tires. Ensure that the tires do not rub against the body or components, and a person must alter the leaf springs, suspensions, and large tires.
Can a person put the lift kit on the trail hawk of Jeep Compass?
A lift kit is a simple solution for improving the quality of the ride and getting the maximum ground clearance. It enables a person to run large tires and wheels and reduces noise and vibration. A jeep lift kit is an economical way to lift the Jeep Compass trail hawk and allows one-size large tires on the stock wheels.
Does the Jeep Compass hold some value in the market?
Jeep Compass depreciate to a discount of 29% after 5 years, and they have a 5-year resale value of $24,113.
Does the Jeep Compass perform well in snow?
Jeep Compass has an excellent range of features that support well in winter driving. In addition, it has full performance capabilities to perform well on snow and ice. For example, the jeep Compass has rain-sensing windshield wipers which can automatically sense the moisture on the windshield.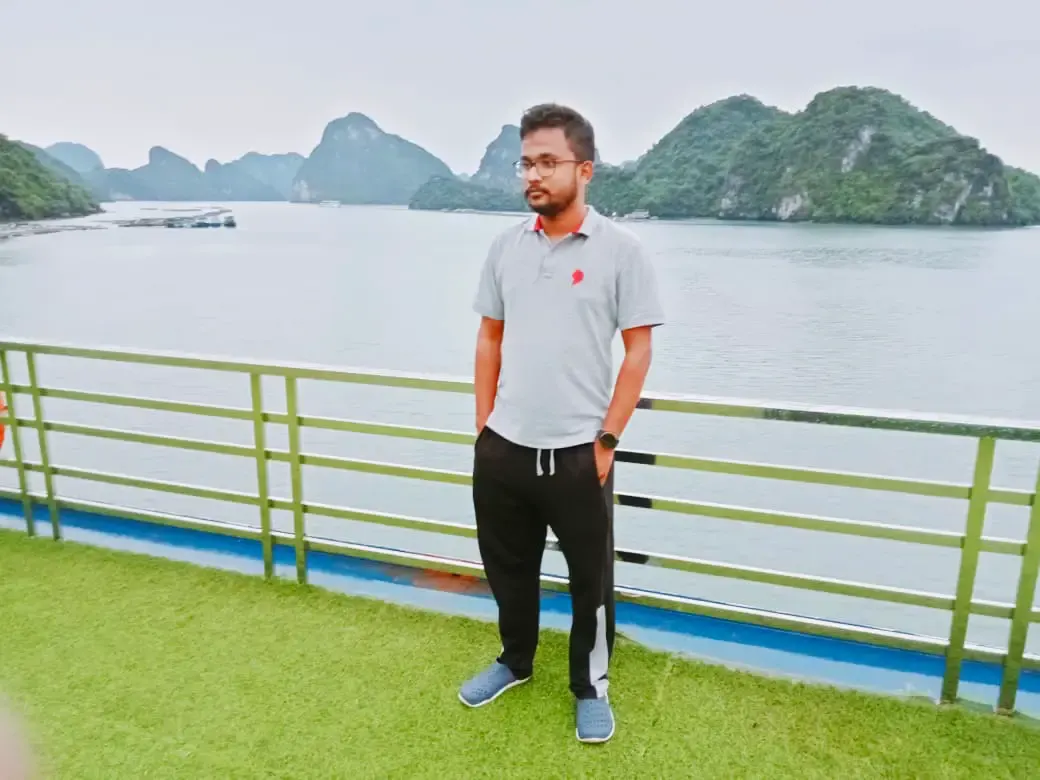 This is Surya. I am an experienced off-roader. I have been off-roading for many years across several terrains. I am passionate about 4×4 driving and want to share my knowledge and experience with others.
My goal is to provide you with the most comprehensive and unbiased information about off-roading.
I curated this article through my personal experience and expertise, and I hope it helps you with what you are looking for.