If you are looking to lift your Jeep Renegade, this article is for you. If it is the first time you are lifting your Renegade, you may be wondering about its cost and the other features of an excellent lift kit. So the question is: how much does it cost to lift a Jeep Renegade cost?
The lifting of Jeep Renegade can cost anywhere between $300 and $15000 and depends on the type of lift kit and raise of the Jeep. The suspension lift kit can raise the Renegade to 1-2 inches, and the cost may go way higher for the complex kits.
In addition, these kits require a proper installation method and are built for a specific category of vehicles, including Renegade. Stay along the article to find more details.
Choosing the Lift Kit Accessories:
The lift kit accessories may differ and depend on the type of Jeep. For example, the accessories are different for the Jeep Wrangler lift kit, Jeep Cherokee lift kit, and Jeep Renegade.
Therefore, a person should select the lift kits and accessories that make the most sense for the Jeep's performance and modification. Here are some of the options for Jeep lift kit accessories:
1. Body Lift Kit:
A body lift kit is considered an inexpensive option, primarily for cosmetics. A person should expect the following things from this lift kit:
Addition of 1-3 inches of space which is added in between the body of Jeep and its frame.

No change to the wheel or suspension
2. Coil Spring Spacer:
This jeep lift kit is also considered primarily cosmetic, and there are minimal suspension modifications if a person chooses this option. It is also known as a budget boost lift kit and allows for the addition of larger tires to the vehicle. A person should expect the following things from this lift kit:
Coiled spacers are placed at the top of the vehicle's coil springs

This coil spring spacer adds about 1.5-2 inches of the lift

Minimal changes are required for the ride quality
3. Coil Lift Kit:
The coil lift kit is excellent if you want to use your Jeep for McAllen off-road adventures. This coil lift kit includes the following features:
Long coil springs are added for 2-3.5 inches of suspension lift

These coil lift kits add an increased articulation
4. Short Arm Lift Kit:
A short arm lift kit is a popular choice and is used highly by off-roaders. This kit offers significant suspension modification and a coil spring lift.
A person should expect the following features with the short arm lift kit:
Long rear and front coil arms with over 2-6 inches of lift to the vehicle

Addition of large sway bar links and shocks

An increase in the ground clearance
5. Long Arm Lift Kit:
If you want to trust the service professionals, you should install the long-arm jeep lift kit. The long-arm jeep kit includes the following features:
Long control arms are mounted back on the Jeep frame

It provides 3-6.5 inches of lift or even more high lift

It offers better suspension angles

It gives better crawling abilities and articulation

It requires welding and fabrication for installation

The long arm lift kit sometimes gets caught on rocks
Choosing a Lift Kit for Jeep Renegade:
It is an essential requirement for selecting the lift kit that a person should research the types of lift kits for Jeep Renegade which can satisfy their needs.
Therefore, it becomes a cost-effective method to hold extensive shopping skills, making the lift kit selection process a budget consideration.
The lift kit for the Jeep Renegade offers 1-2 inch of lift to the vehicle and match the rear end of the vehicle. The lift kit for Renegade requires no suspension modification. The type of lift kit also matters; the coil lift kit offers a lift of 2.5 inches, which is an expensive choice. A coil lift kit, also known as a budget boost system, provides an upgraded suspension lift that is full-blown.
Among all the lift kits, suspension lift kits are considered the most expensive, which includes long-arm and short-arm lift kits.
Short-arm suspension lift kits offer lifts to vehicles that are under 4 inches. Long arm suspension lift kits offer a lift of up to 4 inches to the vehicle, allowing it to gain ground clearance with an approved approach and ground clearance.
Short-arm lift kits do not drastically change the factory ride and involve the installation of new coils, brake line extensions, shocks, truck sway bars, and adjustable control arms.
This help maintains the factory geometry and offers a better off-road advantage for a reasonable price with fewer problems maintaining the vehicle.
Long-arm suspension kits are in the factory control arm brackets of vehicles. They result in the expensive installation of lift kits and require extremely costly maintenance costs.
The long-arm lift kits require all the suspension and tire changes for the short-arm lift kit. In addition, this lift kit offers the drive-line component replacement, fabrication of radiators, and fender trimming that can be used for welding, steering links, and exhaust to maintain the factory-type geometry.
Pros and Cons of Different Lift Kits for Jeep Renegade:
Leveling kits help raise the front side of the vehicle to a maximum height of the rear side.

In addition, it helps provide maximum ground clearance for the oversized tires to a level of the stance that will eventually help make the vehicle look attractive.

In the case of Jeeps, the rear side of the vehicle is higher than the front end. Therefore, it restricts the usage of large tires.

Body lift kits for lifting the Jeeps are economical and budget-friendly but consume more time than suspension lift kits.

These kits can raise the vehicle to a maximum height and requires the process of bolting.

In addition, it requires the body to unbolt from the frame and install up to 3 inches of nylon spacers between the frame and body of the vehicle.

This lift kit can retain the geometry of factory suspension and alignment. This lift kit can create a gap between the frame and body of the vehicle.

Body lift kits can detract from the look of the vehicle and can make the frame visible. In addition, it can hinder the vehicle's performance by changing the center of gravity.

The coil lift kit for raising the height of Jeeps is less expensive than the suspension kits.

This lift kit can create a space between the body and springs of about 0.75-2.5 inches and is known as a Budget boost system.

Coil lift kits include the equipment of longer shocks, long sway bar links, shock extensions, and track bar brackets.

Coil lift kits offer tall spring spacers for the short and front spacers of the rear portion of Jeeps.

Suspension lift kits allow owners to raise their vehicles to reach their comfort level.

A person and driver can use the height to their larger tire size and wheel combination. These kits prevent the body squat and excess dive during braking and acceleration.

They work skillfully when suspension lift kits are correctly paired with shock absorbers and other components.

These lift kits have a factor of climbing to reach a monster SUV or truck that sometimes does not suit the people.

Suspension lift kits can offer a rough ride that can sometimes change the steering articulation.
Best Lift Kits for Jeep Renegade:
1. TeraFlex Renegade Budget Boost lift Kit: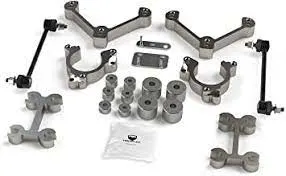 TeraFlex Renegade 1.5-inches lift kit provides an altitude adjustment for back-country explorations without compromising the highway ride or handling.
The offset front IFS, an independent front suspension strut spacer, accounts for the mounting angle of the factory struts. It ensures proper camber and caster angles up front.
The correct rear chamber and angled rear lower control arm spacers ensure the suspension alignment falls into the factory specs. In addition, this kit can maintain the wheel offset and include front sway bar quick disconnects.
Specifications of the Lift Kit:
It includes shock series and front shocks

It has a Rubicon express suspension

It has a direct fitment

There are rear shocks and lift components in it

This lift kit's height range is 0-3.5 inches.
2. 2-Inches Rough Country Jeep Suspension Lift Kit: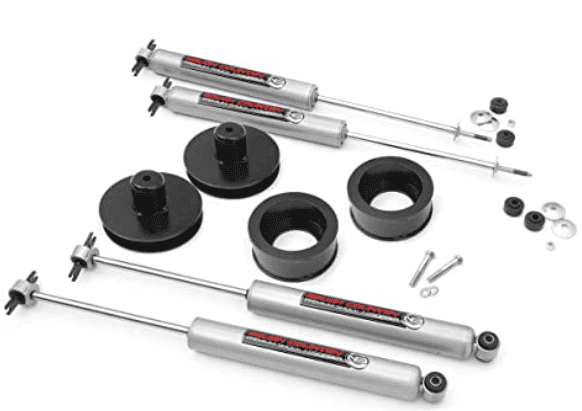 If you want to give your jeep an aggressive and commanding look, you can go for the 2-inches rough country Jeep suspension lift kit, which is best for Renegade. It offers a total transformation and provides an eye to the vehicle to set from the pack.
A vehicle gets an instant aggressive look when the vehicle is leveled from front to rear. This suspension lift kit allows an increased ground clearance that helps run the large tires and wheels, providing a customized look.
This suspension lift kit has a set of front, and rear strut spacers, laser cut, and powder-coated black for resisting the elements. The installation process of the rough country leveling kit is easy and provides a lifetime replacement guarantee.
Are Rough Country Lift Kits Good? What You Need to Know
Specifications:
It is a rough country suspension lift kit with a spacer rear lift.

It has a 2-inch suspension lift kit

The rear lift component is block-type.

The lift height ranges from 0-3.5 inches

No shocks are included in the kit, and the direct fitment is associated.
3. 1.5-Inch Daystar Comfort Ride Suspension Lift Kit: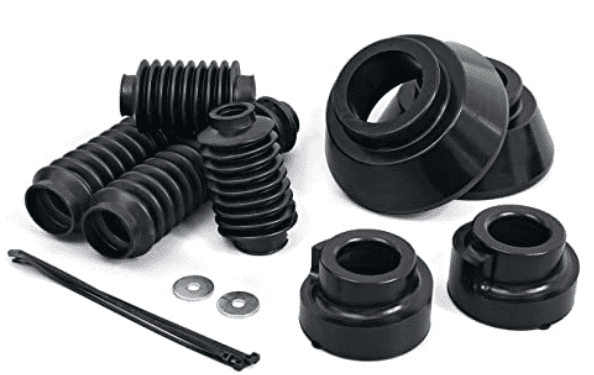 The suspension lift kit of 1.5-inch by daystar comfort offers some excellent lifts and leveling kits. They offer the best lift kit for Jeep Renegade in the 2015-16 year.
This suspension lift kit is easy to install, is 100% bolt, and can fit all Jeep Renegade models, including Trail-hawk, limited, latitude, 2WD, and 4WD models.
This lift kit maintains the factory ride and stability and can lift the Jeep Renegade to 1-1/2 inches. In addition, this suspension lift kit fits well to the two sizes of large tires that mount on the stock wheels.
Specifications:
This lift kit is manufactured by Daystar manufacturers and includes many models.

This lift kit offers a lift height range of 0-3.5 inches.

The fitment offered by this suspension lift kit is direct fit.
Also Read:
How Long Does It Take to Install a Lift Kit?
How Much Does It Cost to Lift a Jeep Wrangler?
How Much Does It Cost to Lift a Jeep Gladiator?
How Much Does It Cost to Lift A Jeep Liberty?
Frequently Asked Questions (FAQs):
Is it possible to lift the Jeep Renegade?
The Daystar Jeep Renegade lift kits include all the Renegade models and 4WD Sport, Latitude, Limited and Trail-hawk models. This kit is designed to lift the Jeep Renegade 1.5-inches and maintain the factory ride and stability.
How much cost is required to lift the Jeep?
A person can expect to pay an amount between $1000-$20,000 for a Jeep Renegade lift. The amount a person should pay depends on the lift kit they choose. Different brands of lift kits and suspension heights significantly impact the amount a person pays for lifting the Jeep.
Is it a difficult thing to lift a Jeep?
Unfortunately, jeep lifting is not as simple as it seems. The type of lift kit, no matter what kind of vehicle is used or installed, alters the suspension and steering geometry the way it was initially engineered to work.
Is Jeep Renegade considered good for off-roading?
If you plan for its dealership, you might wonder about the Jeep Renegade working. These Jeep models are deemed capable of off-roading, and you can select them, especially the Trail-hawk trim model.
How many miles does the Jeep Renegade last?
Jeep Renegade lasts between 100,000 to 150,000 miles. So the longevity of these models falls somewhere between 7-10 years.
What is the demerit of Jeep Renegade?
There were complaints filed against Renegade 2017 regarding the problematic engine. The engine problems include stalling to excessive oil consumption. In addition, owners complain that the engine stalls during driving with and without warning.
How much does the 2-inch lift kit costs?
The starting price of a 2-inch lift kit costs $371 for an economy lift kit. This price is affordable for those who want to improve their appearance cost-effectively.
Which thing is considered better: a body lift or a suspension lift?
A suspension lift is better than a lift kit if you select a vehicle for off-roading performance. This is because a suspension lift provides room for larger tires and increases ground clearance.
Which lift kit is considered the best for Jeep?
The Tera-Flex 2.5-inches suspension lift kit is the best for the overall jeep lift. It offers a solid amount of added height and excellent performance on paved roads and off-roading.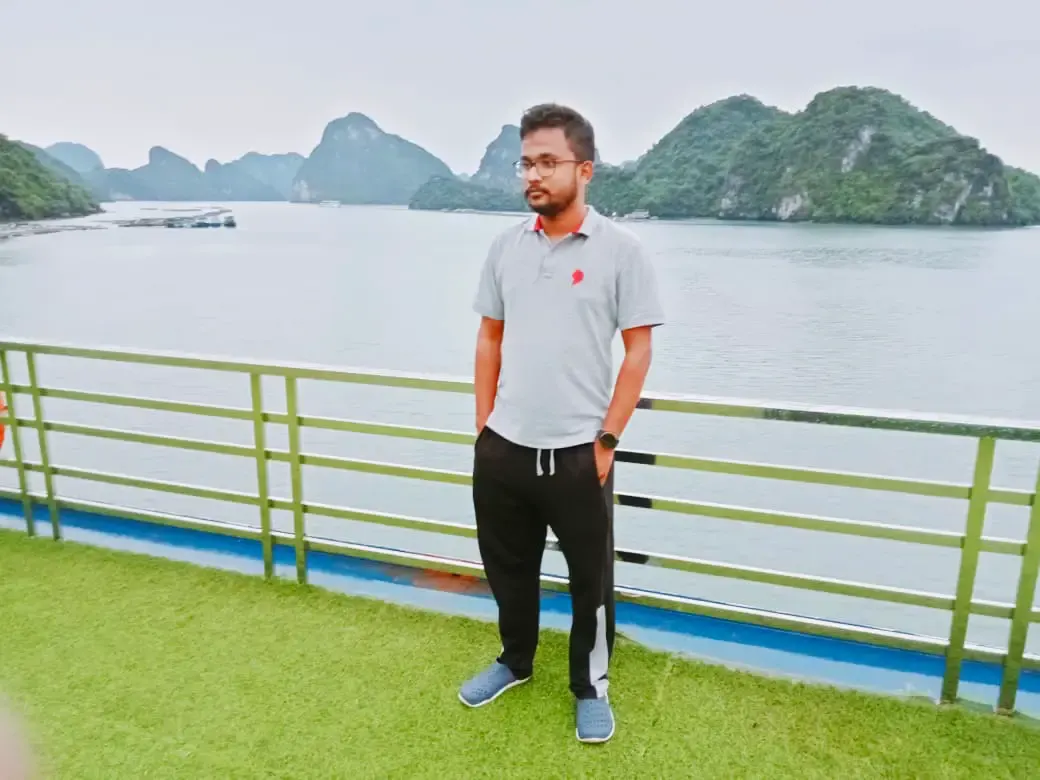 This is Surya. I am an experienced off-roader. I have been off-roading for many years across several terrains. I am passionate about 4×4 driving and want to share my knowledge and experience with others.
My goal is to provide you with the most comprehensive and unbiased information about off-roading.
I curated this article through my personal experience and expertise, and I hope it helps you with what you are looking for.