Roof rack for off-roading holds excellent importance for travelling and camping, but there are not too many 4WD's for such setup. There are unlimited options in the market, and before selecting them, we all should be aware of using them and their load-bearing capacity.
The roof rack is necessary if you need additional storage and want to make room to tie a few swags on top. The primary purpose of the roof racks is to gain more hold. Mainly they are used to place the items like fuel (petrol, diesel), LPG bottles, and portable toilets on top, which are considered unsafe and create a smell inside the vehicle. The main question revolves around the packing of roof-rack for off-roading. Let's see: how to pack a roof rack for off-roading?
To pack a roof rack for off-roading, the first step is to choose a quality platform roof rack that keeps the roof load as light as possible. Pack the heavy items forward and position the gear with accessibility. Load the light gear at the back and keep the weight of accessories and load in mind.
It is better to start the camping and off-roading by attaching a universal roof rack to your vehicle. Most people face a significant problem: they pile up the travel gear on the roof rack oddly and then start their journey. They did not realize the fact that it would eventually jeopardize the safety of the passengers and vehicle.
Here, we will discuss ways to help you pack the roof rack effectively for your future adventures and avoid all those mistakes you have made in the past.
3 Tips on How to Pack a Roof Rack for Off-Roading?
1. Organizing the Travel Gear:
You should analyze the entire storage space in your car before loading a bag of snacks in the vehicle so that you can manage the luggage and travel gear. It is advisable not to pack your luggage items randomly, including the rear boot and roof rack.
Place the things which fit conveniently and place those first that requires special attention. Separate all the perishable food items and another sort of fragile luggage so that you can place them at last. Any loose items placed oddly might injure the passenger, so organization before packing is vital.
2. Pack the Heavy Items in Front:
Start packing with the heavy items and load them up on your roof rack on the front side. Don't mistake filling them on the rear side as most vehicles are heavy at the back. Placing the heavy cargo items on the front side of the roof rack distributes the weight even on the rear and front axles.
Heavy items required for camping include an additional spare wheel, jerry can, camping stove, etc. Stacking the lighter luggage at the top and packing the heavy items firstly acts as a solid foundation.
3. Keep the Load Low:
Do not pile up the things on the roof rack, and it is a crucial measure to consider ensuring maximum safety as it increases the height of the vehicle. It becomes difficult to drive on uphill roads with such additional height.
To avoid such a situation, distribute and arrange the luggage accordingly, keep the vehicle's size in mind, and drive according to it. If you carry any sports gear on the roof rack, it is better to place any additional travel gear in the car's boot.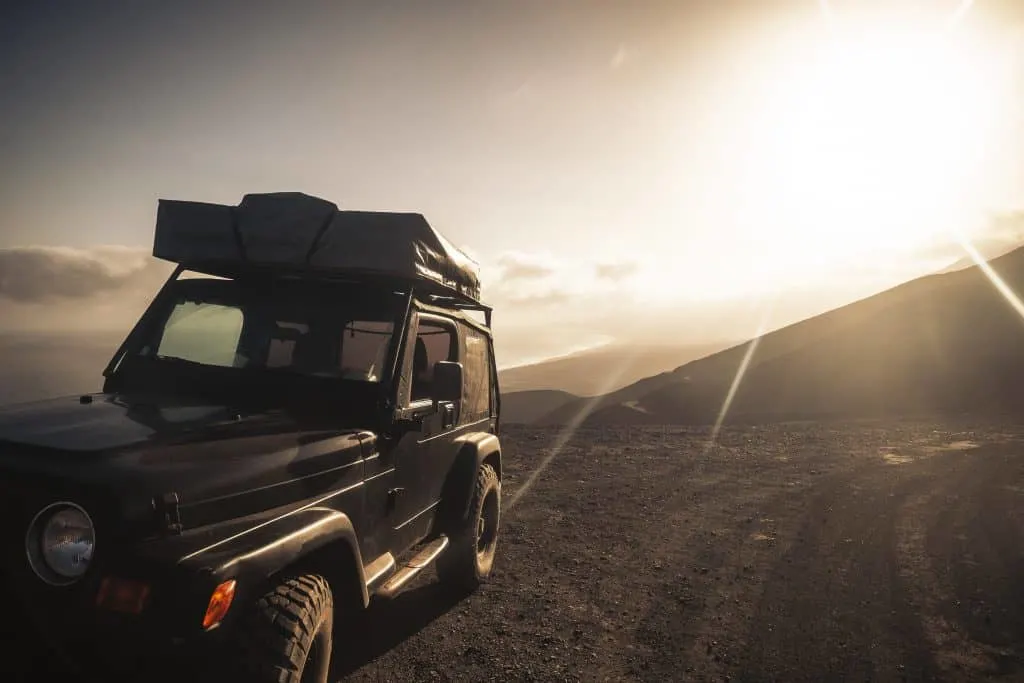 Types of Roof Racks Required to Pack for Off-Roading:
There are different materials available for roof racks. Here we will discuss some of them:
1. Roof Bars:
If you seek the best functional racks that are lightest in weight, roof bars are considered the best option! They are regarded as the perfect option for those who want to attach the fishing rods and other items on the top of bars. It has been seen that some vehicles come with roof bars that run lengthways down the car. But the good thing is that it is easy to adapt the length way ones to sideway ones.
2. Baskets:
Baskets are pretty light in duty and weight and are generally less than a meter in diameter. A metal basket is one in which you can put the various gear into with edges around that run side by side and mesh in between.
3. Full-Length Cages:
These are considered the most extensive roof racks available in the market. They are also similar to baskets but are much heavier in duty. They are available with a missing portion of the front and rear area or with missing sides. It allows for overhanging the more oversized items. It is the most popular option if you are touring around and have a lot of gear to carry around.
Maximum Weight Load for Roof Rack:
Every manufacturer designs the roof racks with a specific limit of weight-bearing. It is the most critical information people look for whenever they install the roof racks to their 4WD. Every 4WD has a maximum roof loading capacity based on the strength of the roof and its support.
Majorly, it is seen that 100kg is the roof loading limit of 4WD's and sometimes it exceeds 150 or 200kg's. It is the total amount of weight that a person can put on the roof and includes the importance of the roof rack. If the weight exceeds this limit and damage occurs, the insurance company legally declines and reduces the claim.
If you want to find out the roof loading capacity of your vehicle, ring your vehicle with VIN handy. Loading the roof up with more than what the manufacturer has set the limit is a recipe for going wrong, and this has led to plenty of instances in which roof racks come off the roofs. So, avoid overloading and prevent damage to your vehicles.
Attaching the Roof Racks:
The way a roof rack attaches is directly related to how strong that roof rack is. There are many ways to connect roof racks. Some people use gutters and clamp them around the roof racks, while some require holes to be drilled into the roof.
Other than this, there is also a method in which bolt is made directly in the factory lengthways of racks. Poor quality clamps slide easily and are often not designed for off-roading. The strongest roof racks do not spread the load over a large portion of the roof.
Find Out: How to Carry Bike on Car When Off-Roading?
What to Carry on Roof Racks?
Almost all drivers and off-roading enthusiasts make the significant mistake of overloading their roof rack, drastically damaging the vehicle. Overloading is a hindrance in off-roading, and it should be avoided. Roof racks should be kept as light as possible, and the bulky and light gear which are not adjusted inside the car can be placed on the roof rack. Other than this, solar panels and LPG bottles can also be placed on roof racks.
It is not a good idea to carry an excessive amount of fuel on your roof rack. Awkward items like surfboards, kayaks, and fishing rods not adjusted inside the vehicle can be taken via roof racks. Drive sensibly within the maximum rating of roof racks.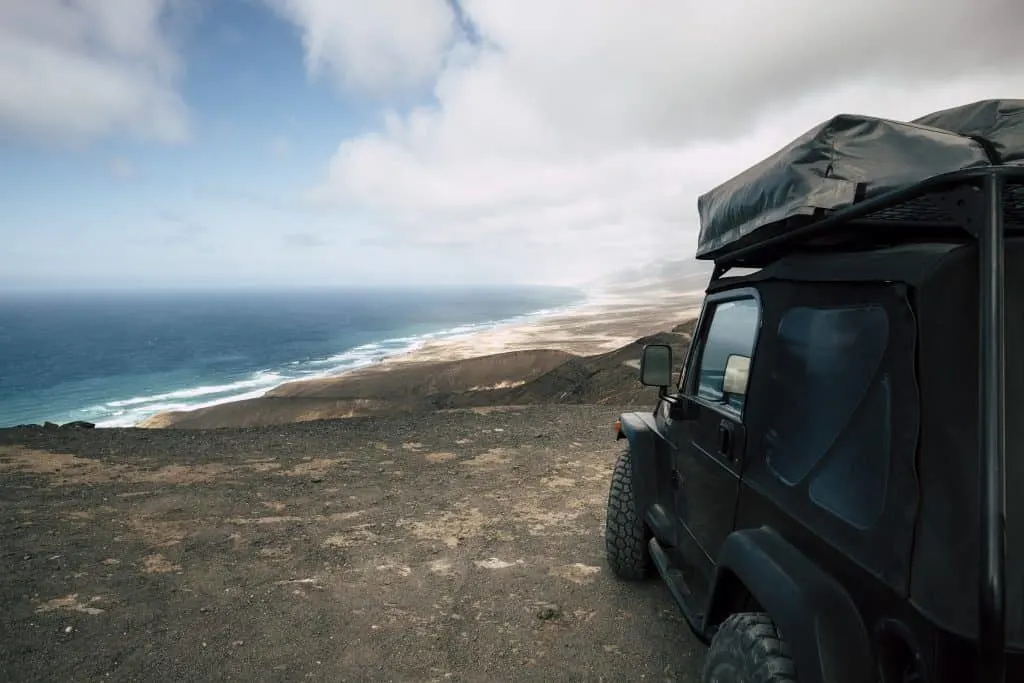 The Best Material for Roof Rack:
Most of the roof racks are made up of aluminium and steel, while some include plastic components. Steel is much cheaper than aluminium which makes it a popular one. It is also heavier than aluminium but has a bad habit of rusting even after powder coating. Rust spots appear on the roof, especially on the cheaper roof racks.
If you want a smaller-sized roof rack, then go for any material you desire. But whenever your roof rack limit exceeds 30kg, choose aluminium as a material. There are also full-length steel cages available in the market with a weight of around 70kg, and if you want to put that on your 4WD, then there is a tiny amount of weight available to use on the rack. Combine the steel rack with aluminium material as it will never rust and is a significant weight saving.
Some Best Overlanding Roof Racks
1. ARB 4×4 ACCESSORIES — Flat Roof Rack:
It is an aluminum-based flat roof rack that utilizes the ARB fit kits.
It provides a lightweight and robust storage solution without the bulk of a traditional rack.
The flat rack application of this item is robust which can support up to 330 pounds of static weight.
It can customize the load-carrying configuration with numerous tie-down points.
This flat rack comes with a zinc-rich primer, and there is also a millennium powder coat.
2. Addictive Desert Designs ADD-Lander Overland Rack:
This roof rack model is built by using a steel plate and tube construction.
It ensures that the jeep can carry all the weight to the rooftop tent with an accessory to the side rails.
It does not require any additional drilling or cutting and mounts to the stock rail system.
3. Front Runner — Slimline II:
Slimline adds versatility and a low-profile rack for cargo.
The kit includes foot rails and a powder-coated aluminum tray which does not require any drilling.
It is available for the most popular Overlanding vehicles.
4. Warrior Products — Universal Platform Rack:
This universal platform rack provides a simple and effective platform rack solution attached to standard overland vehicles.
This platform rack mounts to the roof using a single bolt.
It provides a buffer between metal as well as provides a seal to keep water out.
This rack comes with black powder-coating and is available in numerous sizes to fit most overland vehicles.
5. Garvin Industries — Expedition Rack, Jeep Wrangler JL 2-Door:
This expedition rack comprises a durable system available for old Wranglers and Jeep Cherokee, Toyota FJ Cruiser, and other SUVs and trucks.
This rack can haul a generous amount of gear and can support a tent too.
It is available for two and 4-door wranglers and can hold up to 300 pounds of gear and 600 pounds of static weight.
6. Rhino-Rack — Pioneer Platform:
This pioneering platform is ideal for overlanders with SUVs and needs to load tons of gear on the roof.
This brand is known for its longevity and offers excellent support.
It is made for both customers and the types of its accessories.
It is made up of non-corrosive aluminum, which provides excellent strength with less weight.
7. Baja Rack — G5 Utility Roof Racks:
This utility roof rack is the ultimate solution in maintaining a stock-like roofline. It also holds unique features such as:
It can fit easily in the garage and s able to support the gear on the roof.
It allows installation without drilling or cutting and utilizes the mounting locations.
The rack is built with one-inch tubing and is primed with a rust inhibitive primer.
It is coated with a black powder coat giving maximum longevity and durability.
8. Thule — Truck and Van Racks:
The truck and van racks of Thule consist of various models for different vehicles, which are simple and easy to install. Its features include:
This rack is highly durable and is fitted without drilling.
It is adjustable and can accommodate different cargo sizes.
These racks are made up of various pickups and vans and are best as fitted versions for Toyota Tacoma, Ford Transit, and Mercedes-Benz Sprinter.
Pros and Cons of Roof Racks:
| Pros | Cons |
| --- | --- |
| Better Accommodation Prospects | Roof racks can be noisy |
| Durable protection | Rubs of the crossbars of the vehicle |
| Easy to carry | Increase fuel consumption |
| Enhances overall look of the vehicle | Exhibit wobbling effect |
| Water retaining qualities | Heavy for a small vehicle |
Pros of Having a Roof Rack During Off-Roading:
Better Accommodation Prospects:
Roof racks provide anti-clogged space to ease up the travel experience. It is always an option to carry as much load as you want if travelling on wheels without worrying about space management. Roof racks having spacious, accommodating quality gives needed air to breathe inside the vehicle and is the best option to consider instead of over-stuffing the car.
Durable Protection:
Roof racks are made up of the most durable materials like alloys of aluminium and steel. These are considered weather-resistant and last longer than usual. These racks are likely to cover the journeys all-round the year. Some companies provide 3-4 years warranty too.
Easy to Carry:
Modern roof racks are convenient to carry, and their easy design allows easy transportation and installation over the car's roof. Some of the roof racks are easy to handle and allow easy transportation in areas of rough terrain.
Enhances Overall Look of Vehicle:
Roof racks are available in different colours and designs, which provide a unique look to premium cars and SUVs. Some additional facilities are associated with them, such as LED lights and protective nets that provide a homelike ambience.
Water Retaining Qualities
Roof racks provide overall protection to the valuable travel luggage, and the most crucial protection it gives is against heavy rainfall and frosty weather. Materials that are used in making roof racks are less prone to humidity, and thereby they protect the delicate items which are stored inside.
Cons of Having a Roof Rack During Off-Roading:
Roof Racks can Be Noisy:
You can opt for an optimized version of roof racks to minimize the noise effect, but it cannot be reduced to zero. Roof racks over the car are noisy, as the constant rubbing and cradling sound over the roof is trivial. It gets a real problem when you hit a cliff or terrain, and the whistling sound is quite disturbing for both the passenger and driver due to aerodynamic arrangement.
Rubs off the Crossbars of the vehicle:
Crossbars of the vehicle are an aftereffect of the constant friction between polymer material of roof racks and crossbar of vehicle. This rubbing effect causes crossbars and surfaces in contact to lose their paint and leaves and aberration.
Increases Fuel Consumption:
Increased weight on roof racks causes excess strain on the car's mechanical parts, such as steering and wheels. In such a case, the car consumes extra fuel to overcome stress and increases fuel consumption. Further air resistance is added by the rack's aerodynamic shape, leading to increased fuel consumption.
Exhibit Wobbling Effect:
Roof racks are the most significant aid if you want to manage the luggage and extra loads. Most vehicles have roof racks over the head, which wobble whenever the driver steers ahead. This effect might be a minimal one but gets irksome when you are on rough terrain.
Heavy for Small Vehicles:
All roof racks are made up of lightweight alloys, while some are made of massive iron staffs and steel. It gives some extra weight along with the load which the roof rack carries. This weight affects the driving and causes constant swaying.
Also Read:
Why Airbags Are Useful During Off-Roading?
Frequently Asked Questions (FAQs):
How can you pack the rooftop rack?
Five tips can help you to fill the car roof rack:
Check the load rating of vehicle and car roof rack
Pack heavy items in the car boot.
Distribute the weight in an even way.
Avoid the essential items on the roof rack.
Dustproof all items.
What should I carry in the roof rack?
You can include roof boxes for extra space for your gears, bike racks for mounting the bike racks quickly, water sports racks for mounting the racks for surfboards and SUP boards, and winter sports racks for skis and snowboards for getting ready for the action in minutes.
How fast can a person drive with a roof bag?
You should follow the speed limit of 90 MPH while driving with a roof or cargo bag. You should never exceed the line for safe road journeys.
How much weight can your roof rack hold?
The universal cap for the roof rack is estimated as 165 additional pounds. It means that the roof rack can have around this amount of weight.
How safe are the rooftop carriers?
The roof carriers are safe unless or until they are not overloaded. A loosely secured cargo destructive might slide or let the wind under the bag.
Are the rooftop tents bad for cars?
With rooftop tents, there are chances that you will break the rack and damage your vehicle. This weight can stress your car's suspension, which can cause the systems to wear out much quicker.
Which is the best position for the roof box?
The boxes are bulky items and are ideal for storing the roof box above the car in the garage.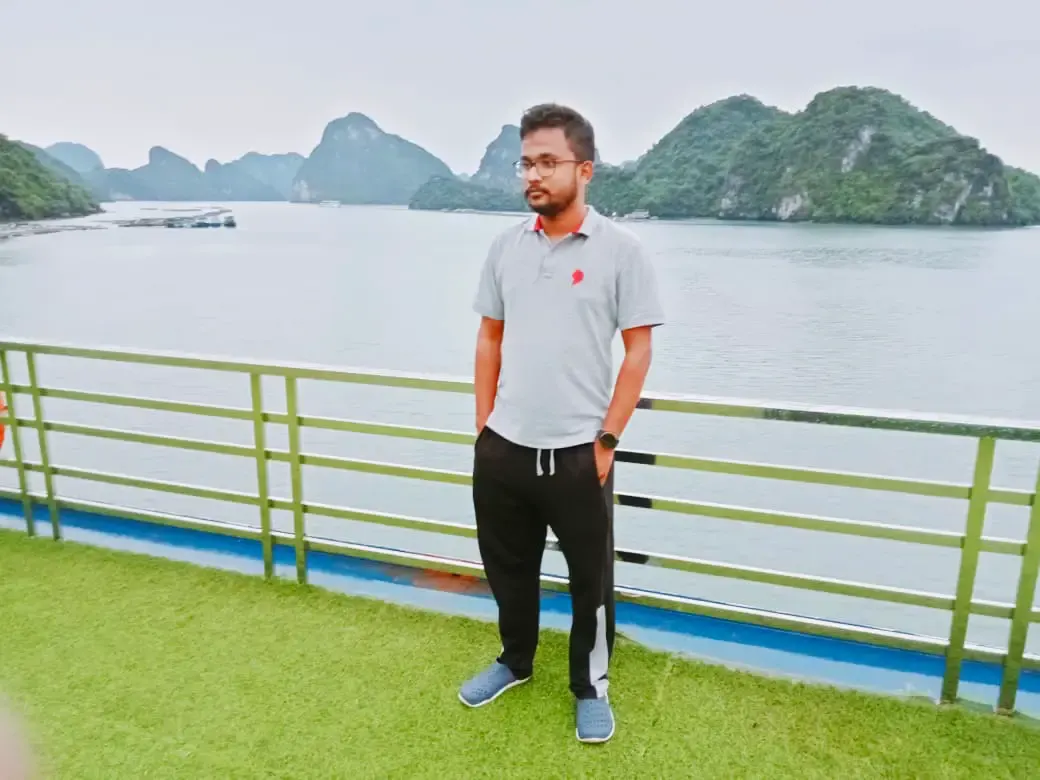 This is Surya. I am an experienced off-roader. I have been off-roading for many years across several terrains. I am passionate about 4×4 driving and want to share my knowledge and experience with others.
My goal is to provide you with the most comprehensive and unbiased information about off-roading.
I curated this article through my personal experience and expertise, and I hope it helps you with what you are looking for.