With Traxxas Slash's debut, racers have recognized the realistic driving dynamics, which have opened exciting and affordable ways to racing. It is now easy to enjoy the racing instead of spending large amounts on big-dollar gear, which are pretty expensive to play with and enjoy between race weekends. Slash spec emphasizes close competition and is always the most fun. The Traxxas slash is always considered the king of short course trucks and holds an incredible array of features with legendary durability.
Most people face problems in setting up slash 4×4 for off-roading. So, here our guide will help you in this aspect. Let's check: how to set up slash 4×4 for off-roading?
You can set up the slash 4×4 for off-roading by following ways:
Get your truck in order
Put the parts which you want to add in it
Set the basics such as toe, camber, ride height
Focus on tires and shocks
4 Ways On How to Set Up Slash 4×4 for Off-Roading?
1. Get Your Truck in Order:
For making your truck in order, check all sorts of bearings and set your endpoints in it.

Please make sure that none of the hinge pins is bent, and shocks have oil in them and are not in a bent state.

Make sure that your arms move freely by gravity alone and clean out the half shafts.

Spin the half shaft, axle, and wheel in the wheel bearings to move them freely.

Replace the bearing often as they go rancid quickly.

Make sure that the bell cranks move quickly and disconnect the servo draglink.

Roll the truck on the flat surface and remove the motor or pinion.

Turn one wheel while holding down the centre driveshaft and check that the other wheels turn smoothly.

It is impossible to tune the car if something is not moving smoothly.
2. Put Whatever Parts You Want On:
Tuning is considered as an iterative affair in which you will check all the working of the parts, make them work better, and then make a change and start it all over. It involves the process of lather, rinse and repeat. If you want to include LCG chassis or a lightweight battery, then put it now.
If you are thinking of forming a new heavy aluminum part or want to change tires, go for it, as you will often have to start over again. Put all the stuff you want to include, and then you can understand the tuning method.
3. Set the Basics Such As Toe, Camber and Ride Height:
| | | |
| --- | --- | --- |
| | | |
| Set the ride height so that arms can be at the level. | Set the camber to -1 degrees and for doing this, a camber gauge is required. | Set the toe into 0 degrees and front tires should point straight ahead. |
| Get a right height gauge and set the ride and height front and rear. | You will need various degrees of camber but -1 is considered a good safe number that works in almost 95% of cases. | Never settle for the front tires pointing inward. Pointing inwards is good in some situations but zero degrees is much safer and works in 95% of cases. |
| Set and stick with your normal race tires. | Check the car back and forth by dropping the car from foot, measure and then rolling the car back. | Set the rear toe in 2.5 degrees by using stock black plastic rear hubs. |
| Measure the height of the body under each diff as even 1mm can make a big difference. | Different spots on the tire measure differently as tires are not totally round. | 2.5 degrees is pretty close to the ideal in 95% of cases. |
| While setting, pick up the truck with body off and electronic on and check it by dropping the foot off a flat surface. | Make sure that the average of the different spots is about -1 degrees. | Make sure that your truck drives straight and set your steering trim which is not a bad idea to re-check EPA and dual rate. |
4. Focus on Tires and Shocks:
Tires are the most important thing whenever we talk about motorsports arcing. If you want a slash, you need the right pair of tires before messing with shocks and springs. For carpet or astroturf, you can opt for carpet tires, but the soft or super-soft compound will work for outdoor dirt.

For indoors, closed-cell foams work best as they are stiffer and support the vehicle in the best way by providing a higher traction surface. Other than this, if you are on loose bumpy outdoor tracks, open-cell is the best option as they are soft and shape well to the ground.

The majority of the tires come with appropriate foams for the terrains. It is also advisable to use a wheel balancer and lead tape for your 4×4 vehicle having big wheels and tires. You will notice a smooth run; just hold on to the air and give full throttle and brakes a few times.

The shock springs for Slash 4×4 are soft and are meant for all-purpose bashing. Shocks come in three categories, including Ultrashocks, GTR Shocks, and big bore shocks.
| Ultra-Shocks | GTR Shocks |
| --- | --- |
| These are the plastic shocks having a lower-end model. | This shock provides the front suspension with a more droop. |
| The shafts are more prone to bending and plastic caps pop off. It is advisable to get aluminum shock caps at a minimum. | These shocks are designed for buggy and stadium trucks and rear shocks in front allow front springs all around. |
| These shocks are designed for lightweight buggies and stadium trucks and slash is a heavy vehicle. | Shock springs are stiffer in front and heavier with oil as well. It depends on the track and shocks and it runs better with equal and slightly heavier weight in the rear. |
Check Out: What is a Good Ground Clearance for Off-Roading? Know in Detail
Overview of Traxxas Slash:
Original Traxxas Slash is considered the most popular 1/10 scale truck. This is one of the best electric trucks and features 2-wheeled motion, and its price is so attractive that it has become the most desirable RC truck to hit the market.

Slash comes with a ton of features which has made it stand among the others in the market. It includes extreme responsiveness and holds remarkable durability with a TQ 2.4GHz radio system. Zero assemblies are required for this slash and hold other specific features too.
| The Classic: Traxxas Slash 2WD | The New: Traxxas Slash 4×4 |
| --- | --- |
| This is the original Slash and is the first short-course truck and is the most iconic 2-wheel Traxxas Slash 2WD. | It is a true 4×4 monster truck at 1/16th scale within an incredible price Least expensive 4×4 RC truck. |
| It has an outstanding design with intuitive controls and an accessible price. | It provides the best performance and is durable with the best technology. |
| It has a programming training mode that is well-balanced and gives comfortable control at high speeds too. | Important features include its 100% waterproof design and modular chassis which allows easy upgrades and maintenance. |
| It has a brushed motor which is efficient and reliable. | It also features a Velineon brushless motor which gives a maximum speed of up to 60 mph. |
| Being strong and sturdy enough, it cannot still compete against more modern models. It has 2-wheeled motion which means less power and its weight-to-power ratio is not remarkable. | Traxxas Slash 4×4 is a solid choice that stands toe to toe with most other 4×4 RC trucks out there. Its features are top-tier providing overall performance. |
| It is still a solid choice for some off-road fun. | It has become one of the most popular choices as starter RC trucks and is suitable for adults and kids. |
Pros and cons of Traxxas Slash 2WD and Traxxas Slash 4×4:
Pros:
| Traxxas Slash 2WD | Traxxas Slash 4×4 |
| --- | --- |
| Less upfront Cost | Handles rougher terrain |
| Less maintenance cost | Higher quality diff and drivetrain |
| Easier to work and is slightly faster | Heavy-duty parts |
| Lighter in weight with more run time | Better weight distribution |
Cons:
| Traxxas Slash 2WD | Traxxas Slash 4×4 |
| --- | --- |
| Less traction | More expensive and stressful on electronics |
| More challenging on loose terrain | More maintenance cost |
| Less control | Front tires wear faster |
Spec Slash:
The spec in the spec racing means specification, which is elaborated that car must be equipped with a specific set of specs for being race-legal. All race classes have specs, and vehicles should stay within spec racing as rules are limiting.
It keeps racing close and reduces the costs, and puts more focus on driving skills. Spec slash rules require trucks to run entirely stock and allow tuning changes made only with settings available. No sort of drilling, cutting, or other modifications is permitted.
Shocks:
Everyone has the same amount of horsepower in a stock-slash race which is a well-sorted suspension system. It can give the machine on the racetrack. Here we will focus on spring preload, damping, and shock position settings as most spec slash rules do not permit the spring changes.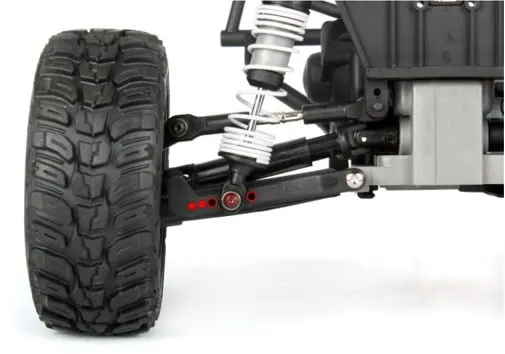 Damping (Oil Viscosity):
Slash arrives with 30wt oil in shocks and delivers relatively light damping for active suspension, responding quickly to bumps. Shocks can be filled with higher-viscosity, and thicker oil for increasing damping as most of the tracks have carefully prepared smooth surfaces. It reduces diving under acceleration and braking and prevents bottoming out on jump landings. It all eventually helps and improves in handling precision and helps the slash to feel more in control.
Spring Preload:
Ride height or spring preload is considered a distance between chassis and running surface whenever the model is at rest. Slash allows adjusting the height y placing the spacers above the spring retainer. This adjustment is also referred to as spring preload, as springs should be compressed or preloaded. Threading the collar or adding spacers downs the shock body and serves to raise the ride height.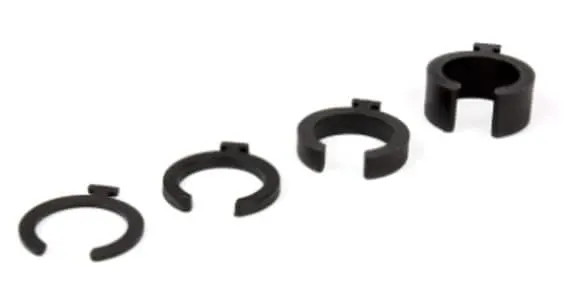 Tuning Notes:
Initially, set the ride height with the installed battery. Give the chassis a bounce and make sure the truck is settled on suspension. Check the settings too.
Ride height changes with battery weight. A heavy battery lowers the ride height, and a lighter battery raises it.
Set the front ride height 1-3 mm lower than the rear ride height. It helps to improve the steering response and counteracts the tendency for chassis. It shifts the weight rearward under acceleration.
Shock Position:
The position of shocks on suspension arms determines two things, including:
When the wheel hits the bumps and lands off of jumps, at that moment, the amount of leverage the arms apply to shocks.
The maximum distance that suspension arms can swing away from the chassis is known as down travel.
Arm leverage can be decreased by moving the shocks closer to wheels. It reduces down the travel and makes the spring rates and damping feel stiffer. It improves the handling of smoother and higher-grip tracks. Moving the shocks towards the chassis has opposite effects, such as suspension becoming soft and the down travel increases, which are better for rough and lose tracks.
Toe and Camber:
Toe and camber are associated with the angles of wheels which are relative to chassis. Toe is the angle of wheels that is close to the chassis centerline. Camber is the angle of wheels that is comparable to vertical. The front toe is adjustable on slash while the rear toe is fixed. Both camber and toe are set via turnbuckle suspension links.
The front toe is usually placed between the wheels leading edges pointing out and leading edges pointing in. Camber settings are generally between the wheels perfectly vertical, and the wheels lean towards the chassis.
The front toe is a valuable setting for altering steering feel, and an increase in the toe-in improves straight-line stability. It makes the turn-in less aggressive. Reduction in the toe-in has opposite effects, and it delivers responsive steering at the expense of stability. Wheels on the outside of the turn lean away from the chassis, but negative camber angles counteract this in the case of chamber tuning notes.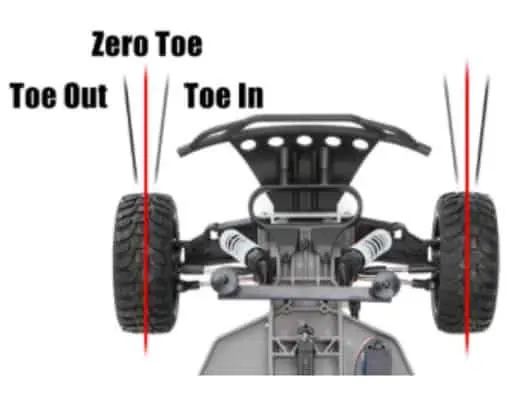 Gearing:
You need to consult the track's slash spec rules to check the gearing changes that are permitted or not. Most tracks specify which pinion and spur gear combinations are allowed. If you divide the spur gear tooth count by pinion gears, it will give us the ratio for gearing combination.
The higher the gear ratio number, the shorter the balance is, and the truck will have less top speed with more vigorous acceleration. Lower ration gearing will be the hot setup if the track has long straights and sweeping turns.
Differential:
Slash is not designed to hold silicone oil as it is equipped with a planetary-gear differential. If the track rules permit this thing, silicon oil can be used to tune the differential action. The diff action is free and efficiently transfers the power to the wheel, having less traction, which is known as diffing out.
It can upset cornering and power delivery, especially on loose tracks. Clean the grease out of the differential housing and off the gears to tighten up the diff action. Reassemble the parts and fill the differential halfway. In this way, thick oil will not leak out of the diff, significantly improving loose-track handling.
Body:
Bodies which are short-course are prone to parachuting while in a jumping position. The body capturing air slows down the truck, which causes it to land on the rear bumper. You can also vent the body by allowing the air to pass through it more easily if the rules permit it.
Tires:
If your slash is on preferred rubber, you should still pay for an extra set of tires to reserve for the race. It is necessary for the time when you might burn up the original tires with street driving and general off-roading. Swap the wheels left to right when the race tires begin to round the sharp edges off their lugs. It will offer more bite.
Also Read:
What Tire Pressure for Off-Roading Is Suitable-Tune the Tire
Does Off-Roading Void Warranty? How to Check Your Vehicle
Frequently Asked Questions (FAQs):
What do you mean by spec slash?
Spec in racing stands for specifications. It means each car must be built and equipped to a particular set of specifications. It keeps the racing close and reduces the cost, and puts the focus on driving skills.
Which size is the motor equipped in Traxxas Slash 4×4?
The slash takes any high-flying and all-weather adventure and is outfitted with a powerful TITAN 12T 550 motor which holds bulletproof reliability.
Is the Traxxas Slash four-by-four worth the money?
Nothing can beat the Slash four-by-four when it comes to choosing a good truck into racing. It is well worth the money.
How much horsepower does a Traxxas slash have?
A Traxxas slash holds a powerful 900+ horsepower racing engine with the best giant suspension travel and dirt-roosting power slides.
How much does the new Traxxas drag slash cost?
The latest price tag of Traxxas is $499. It gets you almost everything you need to go for racing out of the box and includes a radio and set of tools too.
How fast can a remote control go?
A remote control car can reach a speed of up to 70-miles per hour, whereas the modified remote control car can reach over 100 miles per hour at its maximum.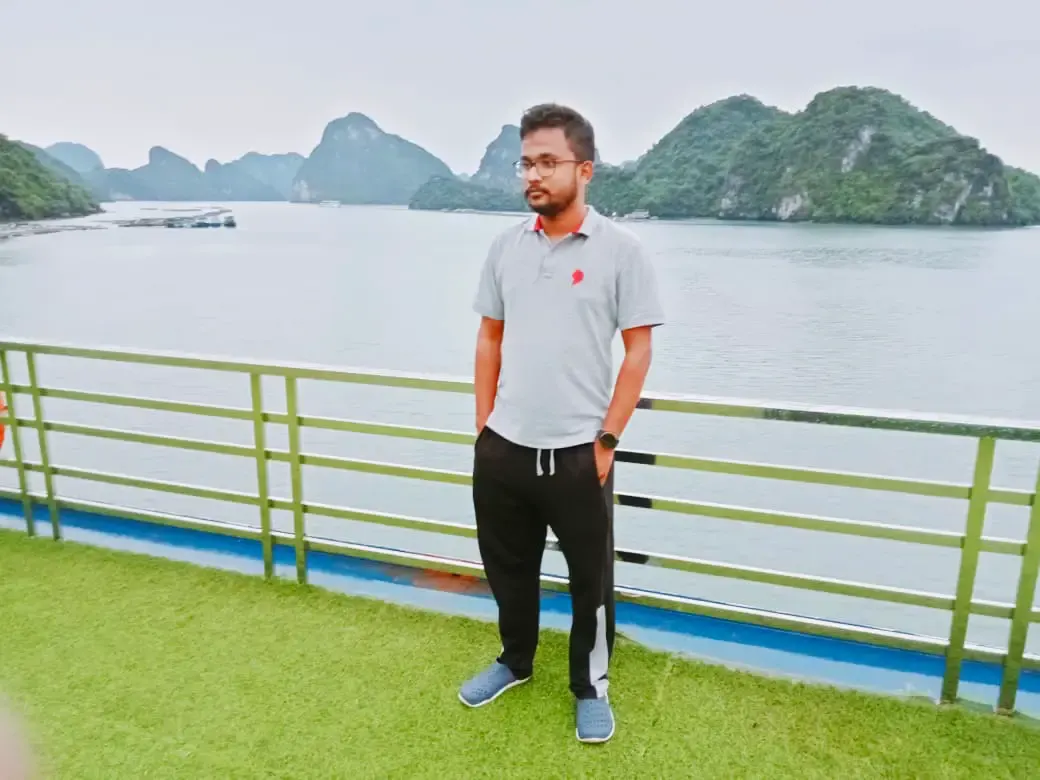 This is Surya. I am an experienced off-roader. I have been off-roading for many years across several terrains. I am passionate about 4×4 driving and want to share my knowledge and experience with others.
My goal is to provide you with the most comprehensive and unbiased information about off-roading.
I curated this article through my personal experience and expertise, and I hope it helps you with what you are looking for.