The Bronco Sport, smaller than the full-size Bronco, rides on a unibody platform but still holds to the Bronco name. In addition, the 2022 Broncos Sport SUV comes standard with four-wheel drive. I see people often ask: Is Ford Bronco Sport Good Off-Road?
Ford Bronco Sport is an excellent model for off-roading. It has updated suspension features and all-wheel-drive systems with a HOSS suspension and G.O.A.T mode. In addition, the monotube rear shocks have increased oil capacity that helps to dissipate heat over rough terrains.
Bronco Sport provides the ability to crawl up and has a fantastic interior that is best for adventure. The Bronco sport is highly recommended due to its robust suspension control arms and larger off-set wheels that help widen the track. Go along with the article to know in detail.
Off-Roading Features of Bronco Sport:
1. The Built Wild Phenomena for Unbridled Off-Roading:
The Ford Bronco off-roading vehicle holds world-class off-roading features that provide capability and durability to the car. In addition, the Bronco off-road offers unique off-road geometry that helps to get over the trail.
The HOSS (High-performance off-road stability suspension) system in the vehicle helps control the off-roading adventures.
It has a front stabilizer bar that disconnects the improved articulation. In addition, there are front and rear locking differentials that help to offer adventures in the remote corner of the off-roading terrain.
2. Underbody Rugged Protection Feature:
The Ford Bronco Sport offers steel bash plates and other protection feature that protects the critical hardware. In addition, it provides:
Front steel-based bash plate

Engine

Fuel tank bash plates that add high capability mode
The vehicle's side rock rails help support the weight on the rough and rocky terrain. The bash plates are seen in the Bronco sport model of Black diamond, Badlands, and Everglades.
There are heavy-duty bash plates in the Raptor model and fuel tank shields in all the 2-door models of Bronco Sport.
3. HOSS System:
Four types of HOSS systems are called High-performance off-road stability suspension in each model of Ford Bronco Sport off-roading vehicle.
The HOSS system offers finely tuned components, including the solid rear axle, shocks, and springs that support the Bronco and form the tires on the ground.
It is available in Bronco Sport model Base, Outer banks, big bend, and black diamond and has standard features such as:

Forged alloy A-arms with coil-over springs

Heavy-duty HOSS-tuned dampers

Solid rear axle with variable coil-over springs

It is available in Bronco model Badlands, Wild Trak, and Everglades and has standard features such as:

Conventional and passive damping system

Twin alloy A-arms with position-sensitive dampers having an end-stop control

End-stop controlling valves that can improve handles and provides a smooth ride

It is available in Bronco model Wild Trak and has standard features such as:

Internal bypass and semi-active dampers

Coated steel bumper with front powder

Steel bash plates and severe-duty steering racks

It is available on the model Bronco Raptor and has standard features such as:

Live valve technology with position-sensitive damping system

Internal bypass semi-active dampers

Integrated front reservoirs and remote reservoirs in the rear region
4. Feature of Electronic Front and Rear Locking Differential:
The feature of standard electronic front and rear locking differentials in the uneven, rugged, and slippery terrain allows both types of wheels on the axle to rotate at the same speed. It is an important feature that is used to traverse uneven off-road terrain.
The Bronco Sport has a solid rear axle of Dana 44 AdvanTEK and an independent front differential and non-locking. The Bronco Raptor has independent front suspension and Performa-Trak electronic locker.
| | |
| --- | --- |
| Electronic Front Lock Differential System | Electronic Rear Lock Differential System |
| The system of electronic front locking differentials is seen on the model Badlands and Sasquatch package. The package of Sasquatch is available on the Bronco trims, Wildtrak and Everglades. The Spicer performa-Tracl independent front axle is available on the Badlands and Wildtrak. | The Spicer Performa-Trak electronic rear-locking differential is seen in the Bronco models of Big Bend and outer banks. It also has standard features in Black diamond, Badlands, Wildtrak, and Everglades, and all these vehicles are equipped with the Sasquatch package. |
Technology Feature of Bronco Sport:
There are various sort of technological features in the Bronco Sport vehicle that brings adventure to the ride. There is a terrain management system having G.O.A.T modes that allows it to go over any type of terrain.
It helps a person to choose the right kind of driving mode that can fit according to the ground conditions of the terrain.
There is also Trail Control, trail turn assist and Trail 1-Pedal drive system having a built-in navigation system in the vehicle. There is also a Co-Pilot 360 technology and hands-free sync system that keeps a person on the lane with enjoyment.
Different Modes of Bronco Sport:
The feature of auto high-beam headlamps are necessary to unlit the roads, dark peripheries and other areas of low-visibility.

These headlamps can sense the poor condition of lighting and can switch on the high beams that can light the pathway of the driver.

These headlamps can sense the oncoming headlights too and dim in automatic way so that other drivers cannot face blinding.

Blind spot information system

BLIS called as Blind spot information system is associated with cross-traffic alert that helps to detect a person to vehicles in the blind spot regions.

The cross-traffic alert detects the traffic behind the person when a person slowly back out from a driveway.

The system of lane keeping includes the modes of lane-keeping assist, lane-keeping alert and driver alert.

It helps to keep the person in a lane during the distraction moment. It is a smart feature of vehicle that can scan the position of vehicle between lines on the road.

Automatic emergency braking

AEB called as Automatic emergency braking is a feature that can scan the road and gives an alert for the collisions with vehicles that can detect in our path.

The brakes can apply in an automatic way if corrective action are not taken. Brakes are activated only on demand.

The Bronco Sport vehicle has made back up easy and provides a clear picture of the area behind vehicle.

The off-roading vehicle has an in-built washer that keeps away the debris like snow or dust and makes the camera free.
Trail Toolbox:
There are three trail technologies that helps to elevate the outdoor experience of the vehicle. It offers the trail control, trail turn assist and Trail 1-pedal drive features.
Trail turn assist feature

It is an exclusive feature that assists the driver by reducing the turning radius of the vehicle in low-speed and off-roading technical.

environments. It requires a large steering input.

A driver can accomplish this through the application of negative brake torque in the inner region of the rear wheel.

The trail turn assist heightens the off-roading fun by reducing the effort of the driver that is required for negotiating the difficult off-roading terrain.

This feature is available in automatic transmissions and is a cruise-control setting.

It offers low-speed trail driving and helps in relieving the stress of constantly adjusting the throttle and brakes during off-roading.

Trail 1-Pedal drive feature

This feature is a good one for the technical terrain and enables the low-speed crawling feature. It has the ability to stop the vehicle without using a brake pedal.

It helps to apply the hydraulic torque when the driver lifts off the accelerator pedal.

This feature is available in the 2.7L and 3L EcoBoost engines having the option of automatic transmission.
Top Bronco-Sport Off-Roading Vehicle:
Bronco Sport Base Model:
The Bronco Sport Base model comes in the standard mode and AWD. The variants of the Bronco Sport, including the base model, are powered by a humble 1.5-liter turbocharged three-cylinder engine having 181 horsepower and 190 pound-feet torque.
There is an eight-speed automatic transmission option in it that is operated with a rotary gear shift present in between the front seats. There are five selectable driving modes: Normal, Eco, Sport, Slippery, and Sand.
The Ford Bronco Sport has Ford Co-Pilot driver assisting technology with automatic high beams, traffic alert, lane-keep assistance, and an emergency braking system. The outer region of the Bronco Sport base has front and rear bumpers with the door handle, rock panels, and the wheel arch.
The base model has 17-inch silver wheels, standard LED tail-lamps, and rear windshield wipers. There are manually adjustable front seats with a steering wheel that are not leather wrapped.
The front region of Bronco sport has floor mats with a feature of manual climate control. In addition, there are cargo area features and 60/40 folding rear seats. The technological features include the dual USB charge ports with a 12-volt cargo area.
There is an 8-inch touchscreen infotainment system with Android and Apple modes, Bluetooth connectivity, and a six-speaker audio system. Some of the decent tech features of the Base model are as follows:
All-wheel drive mode

17-inches wheels and roof rails

LED headlights and flip-up rear window

Adjustable driving modes

8-inch touchscreen mode

Smartphone integration mode having Apple CarPlay and Android Auto

Digital instrument panel display

Six-speaker audio system and remote monitoring
Bronco Sport Big Bend Model: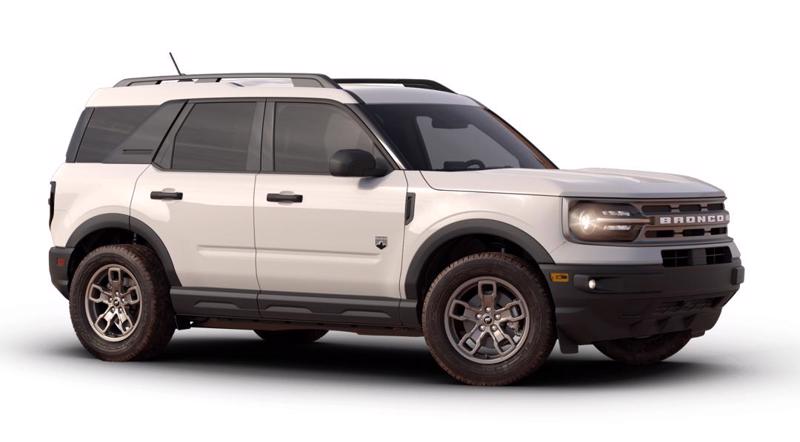 The Bronco Sport big bend model has notable improvements with a carbonized gray front grille. In addition, big Bend has privacy tinted glass with second-row windows and a lift-gate.
There are 17-inch wheels having side-view mirrors that offer heated glass. There is an additional sound deadening system with carpeted cargo floor having a rubberized surface.
The keyless entry and push-button mode makes it a unique option with an automatic climate control feature. A monochromatic interior region is silver-painted air vents with illuminated vanity mirrors.
Some of the other notable features of Bronco Sport Big Bend are as follows:
Cargo windows with heated mirrors

Automatic climate control

Tint rear passenger seat

Keyless entry and ignition mode

Rubberized surface and cargo straps

Rear fold-down center armrest and satellite radio system
Ford Co-Pilot360 Assist Model:
The Ford Co-Pilot 360-Assist model has Pilot-360 active safety features, making it a complete suite model. There are stop-and-go cruise control features with lane center and steering assist.
The Ford Co-Pilot assist model has integrated navigation with an 8-inch touchscreen infotainment system.
Some of the distinguishing features of the Co-pilot Assist model are as follows:
Frontal collision mitigation mode. It warns the person to impede collision during the application of brakes

Lane keep assist that steers the vehicle back to the lane

Blind-spot monitoring mode with rear cross-traffic alert.

Automatic high-beam feature
Convenience Package Model: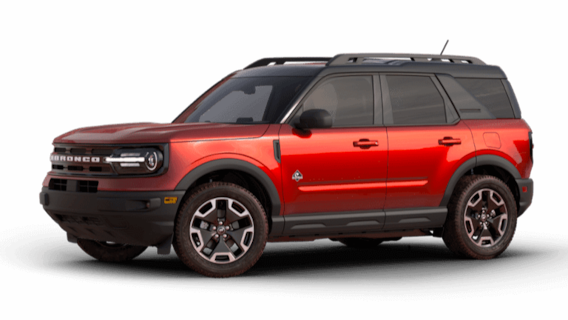 The convenience package model has the luxury feature of a keyless entry keypad. It has LED fog lamps, rear parking sensors, and a garage door opener.
The buyers can notice that the heated front seats in the model have a power driver's seat, leather-based wrapped steering wheel, and wireless charging pads.
Some of the other features of this model are:
Power-adjustable driver seat and LED fog-lights

Heated front seats and rear parking sensors

Leather-wrapped steering wheels

Smartphone charging pad and front seat-back

Cargo pockets and garage door opener
Bottom Line:
Ford Bronco Sport is sure to hold your attention with its sleek design, handling, and off-road capabilities. With a focus on city life as well as weekend adventures, the Ford Bronco Sport can take whatever you want to dish out.
Also Read:
Is Bronco 2 Good Off-Road? All You Need to Know
Is Bronco Sport a Good Car? What You Need to Know
Will The Bronco Hold Its Value? All You Need to Know
Is Bronco Sport 4×4? All You Need to Know
Is The Bronco Sport Good in Snow? All You Need to Know
Frequently Asked Questions (FAQs):
Is the Bronco Sport vehicle considered good for off-roading?
The Bronco Sport vehicle is considered excellent for off-roading having independent front suspension. In addition, it offers better wheel control with a high-speed off-roading feature and a solid rear axle.
Does the Ford Bronco vehicle ride rough on terrains?
The Bronco Sport can handle bumps and imperfections on the road and can leave the riders to dry out. However, it sometimes rides rough on the road due to broken pavements and bouncing roads.
Is Bronco sport considered a 4-by-4 vehicle?
Bronco sport is one of the most capable SUVs with a standard 4-by-4 capability and GOAT mode feature, which goes over any terrain with a HOSS suspension system.
Is Bronco sport considered the best-selling vehicle?
Ford Bronco Sport is regarded as the best vehicle that quickly sells out and is set up on sale for 12 months in the year 2021.
Does the Ford Bronco offer a smooth ride on roads?
Bronco Sport includes all-terrain tires having 17-inch wheels and a 1-inch suspension lift that adds ground clearance. In addition, it has shock absorbers that offer hefty steering and a firm ride on a smooth and steady highway.
Is Ford Bronco considered a quiet vehicle?
Bronco Sport vehicle is regarded as a super quiet vehicle. Sometimes it produces a rumbling noise whenever the engine is pushed, but the roaring voice is often muted.
Does Bronco Sport perform well in snow?
Although Bronco Sport offers a rugged and old-style look, it still performs well on snow terrain. It is a four-wheel vehicle that can work as 4-high and 4-low to get a person out of deep snow.
What does the Bronco Sport offer on the slippery mode?
The slippery mode of Bronco Sport offers a low throttle response. It optimizes the shift for slippery surfaces. There is also a sand mode for the Bronco Sport that offers the best off-roading experience on soft and dry sand.
Does Bronco Sports offer locking differentials?
Yes, bronco Sport offers the locking differentials in the rear locking differential mode having better off-roading capability.
Is Bronco Sport considered a small vehicle?
Bronco Sport is 172.7 inches in length and over 14 feet. The 2-door Bronco Sport is measured at 173.7 inches, while the 4-door Bronco Sport is estimated at 189.4 inches.
Is the Bronco Sport vehicle high in demand in the market?
The demand for Bronco Sport vehicles is high than other vehicles even in 2022. The sales of the Ford Bronco Sport have been estimated as 15,000 units.
Is Ford Bronco Sport considered a full-time 4WD vehicle?
Ford Bronco Sport is a 4-by-4 part-time vehicle that can be manually changed to 4-high or 4-low.
How much is the speed of the Ford Bronco Sport?
The Ford Bronco Sport has blocky designs that can reach an impressive rate of 120 mph. In addition, it has a small 1.5-liter cylinder mill offering excellent speed on the terrains.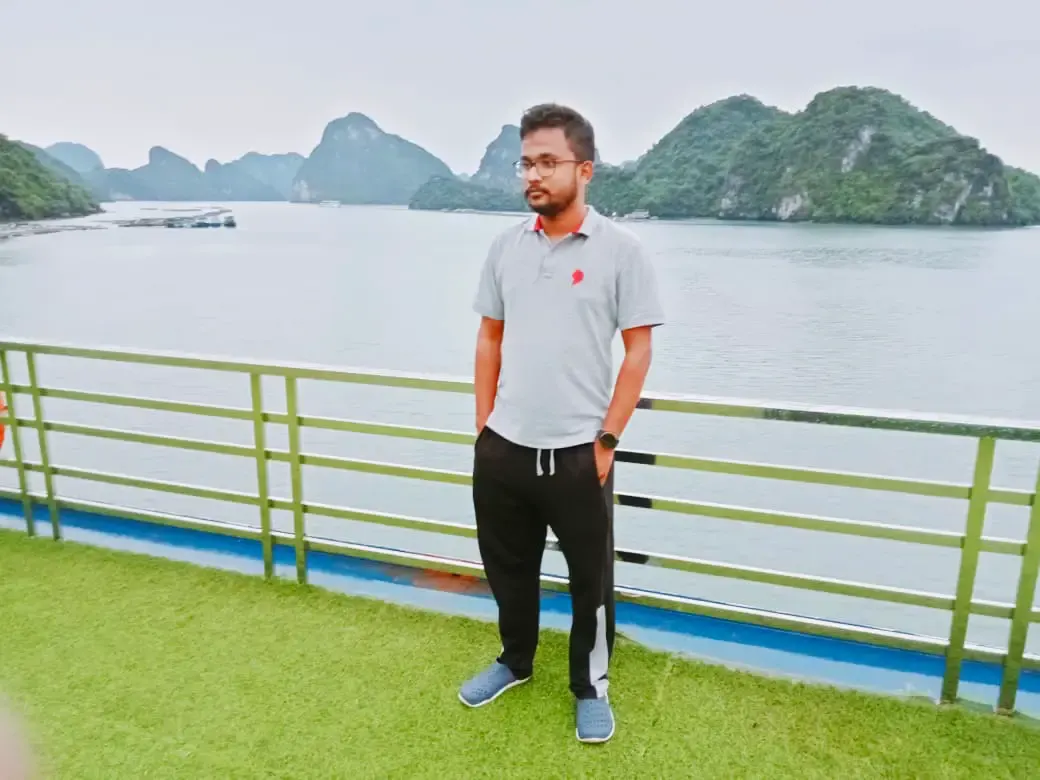 This is Surya. I am an experienced off-roader. I have been off-roading for many years across several terrains. I am passionate about 4×4 driving and want to share my knowledge and experience with others.
My goal is to provide you with the most comprehensive and unbiased information about off-roading.
I curated this article through my personal experience and expertise, and I hope it helps you with what you are looking for.