Off-roading, an adventurous leisure activity, may sound musical to one's ears but is a daunting hobby. Taking your vehicle on an uneven surface like mountains and deserts is no child's play. One needs to be a daredevil and extremely skillful in driving and managing inconveniences to fit this testing undertaking.
One of the prime challenges off-road drivers face is to find an off-road trail that can give them a good adrenaline rush. Though most of the off-road trails are man-made, this does not make them duck soup. However, it is not a piece of cake to find a good enough trial as most of them are largely unknown or insufficiently marked.
Furthermore, weather conditions also act as a limiting factor for this not-so-common interest. Yet maniacs, somehow, find difficult tracks to quench their thirst for adventure. Let's check out: What are the top 10 most extreme off-road paths/trails out there for you to challenge yourself?
The top 10 most extreme off-road trails all around the globe include:
Rubicon Trail

Devil Punch's Bowl

Holy Cross

Hell's Revenge

Poison Spider

Shafer Canyon Stock

Alexander Mackenzie

Whisper Trail

Canning Stock Trail

Binns Route Trail
All these trails are marked with a difficulty level above 5, and they are located in the USA, Canada, and Australia.
These trails are frequently trekked and have accessibility recommendations offered by authorities and expert off-roaders as well.
1. Rubicon Trail:
Our list of top off-roading trails starts from the number one extreme trail from Nevada, U.S.A, commonly called the Rubicon trail. The trail starts from the east of Lake Tahoe, moves along with it, and ends at the west corner of Sacramento.
This 22-miles long trail offers two trailheads, with the most popular head located at 'Loon Lake,' but you can start the trek from any two of the points.

Moving further, the trail offers a unique experience of off-roading by presenting several off-road hurdles and obstacles for drivers, including rock sand bed, cross-over rocks, fallen trees, and a narrow path with historical insight into the greatest country on Earth.
Additionally, the trail is designed to provide every off-road vehicle, including dirt bikes and ATVs, with the best off-roading experience.

Other than that, the weather conditions of these trails remain suitable for off-roading throughout the year. Unlike harsh winters and summers of other terrains, this trail can trek at any point in time. That makes it the most suitable trail for off-roaders in the world.
In case you are asking for vehicle recommendations. Then, I have listed a short table below to show you the bare minimum recommendations for this trial.
| Specifications | Required Standards |
| --- | --- |
| Crawl Ratio for automatic | 55:1 |
| Crawl Ratio for manual | 65:1 |
| Tire | 35-inch minimum |
2. Devil Punch Bowl from Colorado: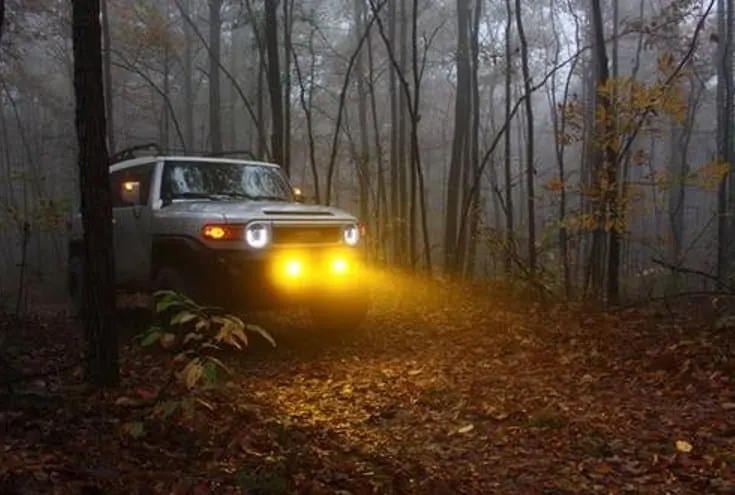 The next extreme off-roading trail is the famous 'Devil's Punch Bowl' of Colorado. The trail received the name Punch Bowl from the crystal clear natural swimming pool under a waterfall.
Other than that, the trail offers a breathtaking experience accompanied by an element of danger because of the extremely narrow vertical trek of Crystals Hills.
The track starts from the easy climb of Schofield Pass, then goes to the moderate climb and back of Crystal Canyon, and ends at the extreme back and climb of Crystal Hills.
In this way, the track covers mountain ranges, waterfalls, and the deadly valleys of Colorado.
Most drivers return from Crystal Canyon without making it to the end. The reason is the dangerous landslides and snow lingering that can cause the skidding of the vehicle to fall from the trek. 
The trail offers a positive and unique experience for novice or newbie drivers if they play it safe. Otherwise, this trail is not recommended for inexperienced drivers.
If you are an experienced driver and intend to trek this trail,, go with non-stock SUVs and low skid plates.
3. Holy Cross Trail: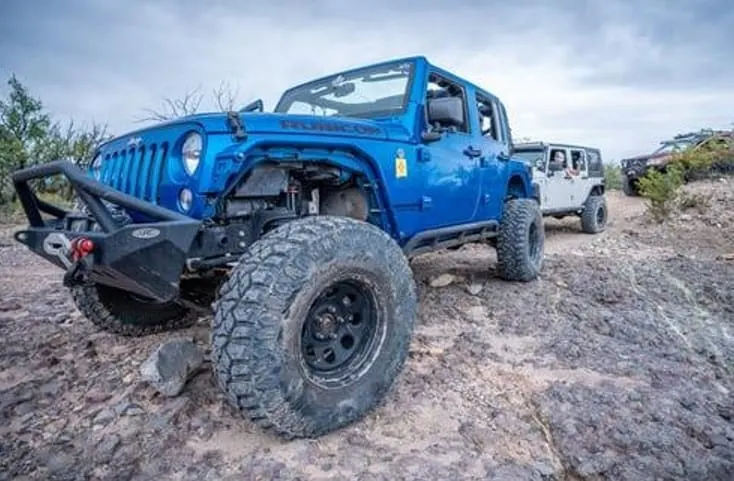 Again from Colorado, the next trail that makes its way to our list of most extreme off-road trails is Holy Cross Trail. It is located in central Colorado, near the nestled Sawatch Range, and after a trek of 3.8 miles, it ends at lake Cleveland.
The reason that makes Holy Cross Trail among the most extremes in the world is the trek of almost 11,570 ft of rough road. Resultantly, the chances are very high that the path, if not carefully driven, can lead to major accidents.
Bringing the optimism back, the trail, if dangerous, is also the most beautiful in the world. The track that moves along the heritage of Colorado Springs and Mining sites of the 19th century is still evident at many points.

Moreover, the swamp mills, the boarding school, a post office, and a population of approx 500 people living at the peak will serve you as a vantage point that you want to visit at any cost.
So if you have been off-roading for some time, you should attempt to trek this without proper guidance.
Lastly, to mention some important vehicle requirements:
Never attempt to trek this trail with stock SUVs
Wheels must be more than 33 inches
A powerful winch is mandatory
Locking Differentials and recovery gear are a must
If you have these installed in your vehicle and have a firm grip over the steering wheel, you will have the best experience of the world on this trail.
4. Hell's Revenge Moab Utah:
It is not untrue to say that the U.S has one of the most extreme off-road trails in the world and to prove it again, we brought Hell's Revenge to our list. Hell's Revenge is a 10km long trail located in Moab, Utah.
It makes the difficulty scale of 6/10 and is recommended for only experienced off-roaders with all their might.
Hell's Revenge offers you multiple steep heights on the trail, bedrocks loaded with dry sand, and deep descents that are there to make it no-for faint hearts.
The maximum speed limit on this trail is 15mph, and it is open throughout the year. What else it offers you is the accessibility of dirt bikes and UTVs - except ATVs.
Furthermore, the unique features of Hell's Revenge are the irregular turns and the regular ups and downs that give the feeling of an ultimate roller-coaster ride from Disneyland. Of course, Hell's Revenge roller coaster is a bit more dangerous, but for experienced off-roaders, it is a lifetime experience they will have.
Few recommendations to make your off-road journey on Hell's Revenge safe:
Stick your vehicle to the black stripes that are paved on the path.
The steeps are not as high as they look; they mostly are of 30 degree angles. So if you have experience of trekking at 30 degree, you need not shy away from them.
5. Poison Spider Mesa TrailHead: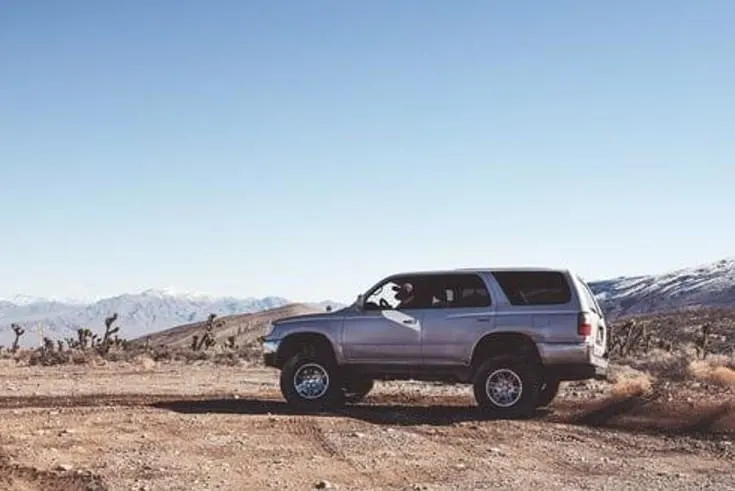 In our list, the fifth palace is occupied by the famous "Poison Spider Mesa Trail of Moab|. Poison Spider is ranked as a difficult trail and recommended for only experienced drivers.
The trail comprised 13.5 miles of slippery path, slick rock ledges, and irregular stones that make the way more challenging and dangerous. Above that, the trail completes in a loop with the Colorado River at North and La Sal mountains at the back - giving you one of the most picturesque scenes of Colorado.
Additionally, the trail is open throughout the year, but spring and fall offer the best experience as the weather is a little moderate by that time.
Likewise, it is suitable for off-road UTVs and dirt bikes, but the ones with the bike must be extra careful. So you have to keep your vehicle's pace (either a 4*4 or a dirtbike) under control to avoid any mishap.
An additional thing to remember on Poison Spider is that the pathfinding is not easy because of awkward ledges and tippy spots, and you have to stick with maps and signs laid out by other off-roaders.
Lastly, Poison Spyder has been marked with illegal off-roading and unlawful activities – making it a matter of concern for upcoming off-roaders. So be aware of all the requisites before setting your course over Moab Poison Spider.
6. Shafer Canyon Road: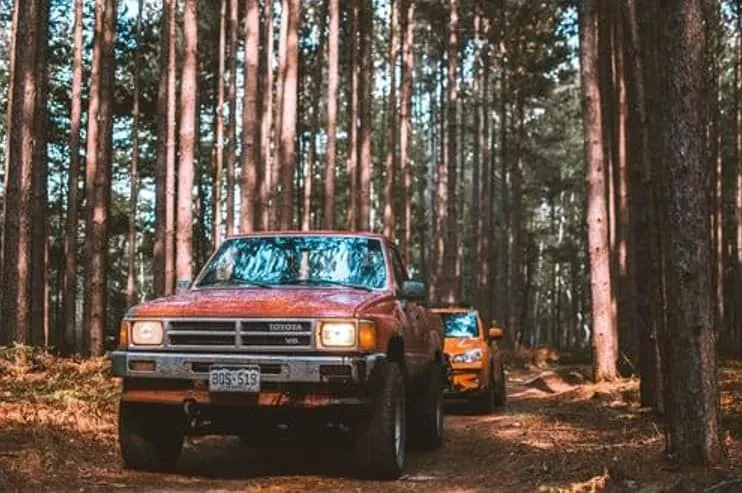 They Say, "Moab is a heaven for off-roaders." In our list, the next most extreme and challenging trail is also from Moab, Utah, and it is "Shafer Canyon Road – a 19.6 miles trail, longer as compared to most other trails, situated in Canyon National Park. The trails require a trek of more than 3 hours, and it has an elevation of around 3106 ft.
Other than the scenic beauty of Canyon National park and Dead Horse Points, where some beginners can be seen learning off-roading, the trail offers an intense experience of sheer top cliffs and slippery roads to challenging the gut of experienced off-roaders. It is rated among the most challenging off-road trails, with a difficulty level of 7/10. So for newbies, going there is a NO!
Talking about the availability of the road, the trek requires non-stock SUVs and dirt bikes with experienced drivers, and it remains open throughout the year except winters.
The reason is the harsh winters of Utah will make the track more slippery and dangerous for off-roaders. Likewise, the track is steep, and it covers several cliff tops that may not be suitable for people fearing height.

Lastly, to add a perk explaining Shafer Canyon road, there is a point called Thelma and Louise Point. The historical significance of this point is that the famous crime action film "Thelma and Louise" had a scene at this location where the hero throws the car into a canyon.
7. The Alexander Mackenzie Trail: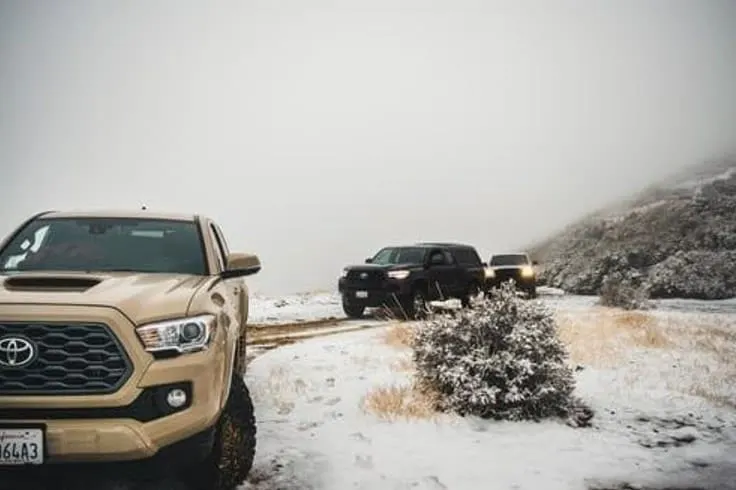 The number 7 position is occupied by the famous British Columbian Trail "Mackenzie Trail" in our list".
The trail spans over more than 240 miles, but the core of the rail is just 112 miles - ranging from Titetown Lake in the East and ending at Gatcho Lake in the west. 
Beyond that, the trail serves as an extreme off-roading location due to several interchanging geographical features.
For instance, the mud deadfall, the water reservoirs, and the bog crossings not only make this trail challenging but breathtaking as well. However, climate change is bringing rapid changes to this terrain in frequent forest fires, mudslides, and floods.

Coming towards the availability of the trail, it is accessible throughout the year with all its perks. Also, the entrances have been made through forest service roads, making going much easier. Make sure you bring a map to help in navigation.

Some vehicle add-ons for Mackenzie Trail trekking include mud-terrain tires and chainsaws. Mud terrain tires because the path is slippery and has damp conditions that may lead to your vehicle getting stuck in the middle – especially if you have sprinter's tires attached.
In the same way, the fallen trees and logs that may impede your journey, a chainsaw can help make the way. Additionally, you should be carrying complete recovery gear and an extra fuel tank for emergency use.

For buying mud terrains tires and other equipment, checkout from the recommended product links:
8. Whipsaw Trail: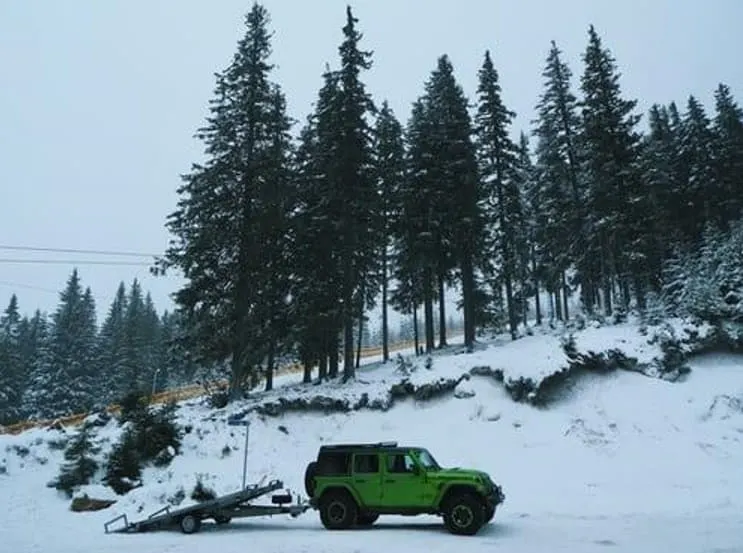 Another British Columbian trail has made its position in our list of most extreme off-roading trails. And that is the Whipsaw Trail of Princeton, British Columbia.
It's a 64 mile, moderately trafficked, and adventurous trail with several loose and steep slopes, irregular hikes, and water-crossings. All these serve in making the trail thrilling and challenging.
A point of concern here is that many off-roaders consider geographical features of the Whipsaw trail similar to that of the Alexander Mackenzie Trail, but that shouldn't lead to the prioritization of one over the other.
Likewise, the mud paths, the alpine trees, and the crystal clear mountains have no substitute when compared with other trails. , you will find the uniqueness if you are looking for it. We have listed some of the stark differences between these trails – based on their geographical leverages.
| Mackenzie Trail | Whipsaw Trail |
| --- | --- |
| Dangerous but with more off-road rush due to deep water crossings, mud deadfall | Less dangerous but offers more scenic beauty |
| The track is about 112 miles for off-roading | The track is about 64 miles, just |
| No point-to-point route | The route is point-to-point |
| Elevation of 3000ft approx | Elevation of 9980ft |
| Not a loop trail | Not a loop trail |
Moving towards the difficulty level of the Whipsaw trail, it is characterized as 6/10. The drivers are recommended for following a slow-going approach over the trail because the paths are damp and your car may get stuck in the mud.
Along with this, the trail is accessible from June to October, and going in winters is heavily discouraged. However, if you have a track record of going in extreme winters, you can make your way into Whipsaw Trail with GPS and safety equipment.

You can have your recovery gear, safety equipment, and GPS by following the recommended product links:
9. Canning Stock Trail: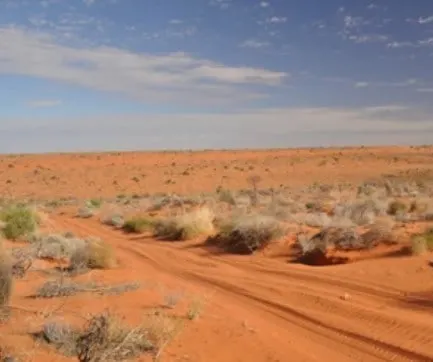 Among the most remote and hardest off-roading routes globally, the name of Canning Stock Trail is on the top. The Australian-based route starts from the Halls Creek in the Kimberley Region and then moves to the midwest region, covering more than 1850km. It is the longest off-roading trail and with the longest historic stock route as well.
Moving towards accessibility of Cannon Stock Trail, the trail is open throughout the year, and it requires almost a journey of 21 days of remoteness, aloofness, and dunes bashing. It implies that you have to remain self-sufficient along with your vehicle.
Along with that, you need to have it in your mind that the track lacks any hometown, any hospitals, and any communities – except a few – to ask for an emergency. But, tourists usually have tours in this area, and if you are a group of experienced off-roaders, you will experience the true essence of off-roading.
10. Binns Offroad Trail: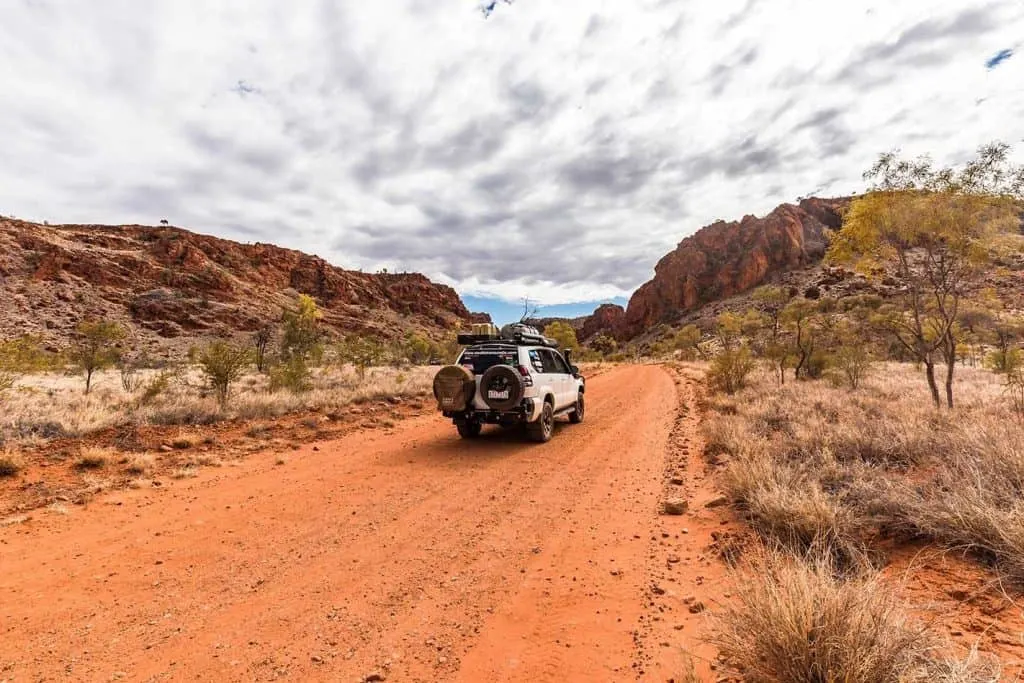 The last trail in our list of most extreme off-road trails worldwide is again from Australia.
Binns Off-road route spans over 2230 km with an exclusive off-roading trail of 2.191 km at the Australian Border. Adding with it, the trail requires a journey of 21 hrs from mount Dare to reach it.
The exclusive off-road track is named after Bill Bins – a ranger, and travellers and tourists moderately visit it. The entire trail offers a unique experience for off-roaders in terms of the rugged land and dunes that pose extreme challenges for them.
Also, the remoteness of the land, the lack of human interference with nature, and the presence of Australian flora and fauna will mesmerize your experience. It will challenge your survival skills as well.
The Binns off-road trail is accessible throughout the year, but the authorities discourage travelling in harsh summer due to heatwaves and other problems related to the weather. The off-road trail, other than the route, is marked with a difficulty of 6/10 for off-roaders.
Some recommendations regarding Binns Off-roading trail include 33-inch tires, active locking differentials, and a good suspension system to sustain the ruggedness of the path.

For buying the requisites for Binns Off-roading trail, we have attached recommended product links:
Also Read:
Is Off-Roading Fun? Everything You Need to Know
Is Off-Roading Expensive? Reality and Recommendation for You
15 Best Off-Road Trails Near Atlanta
Top 20 Off-Road Trails Near Arizona
Top 20 Off-Road Trails in Bay Area
20 Best 4×4 Off-Road Trails in Ohio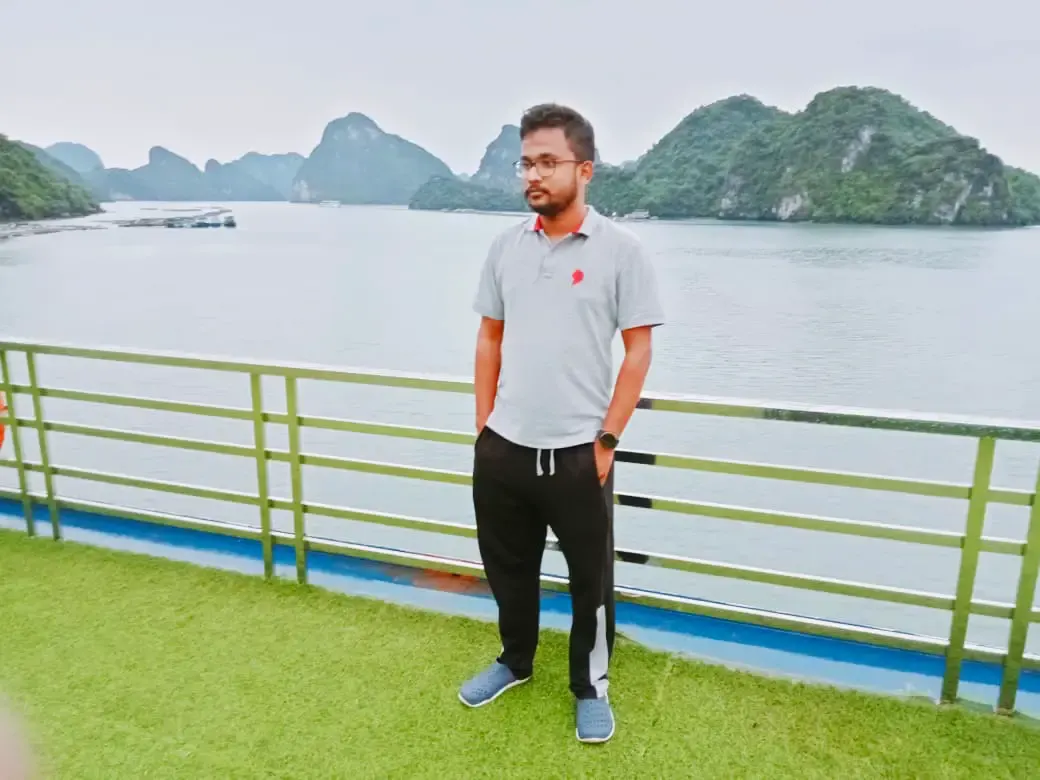 This is Surya. I am an experienced off-roader. I have been off-roading for many years across several terrains. I am passionate about 4×4 driving and want to share my knowledge and experience with others.
My goal is to provide you with the most comprehensive and unbiased information about off-roading.
I curated this article through my personal experience and expertise, and I hope it helps you with what you are looking for.