It often becomes an exciting and adventurous task whenever we have to decide between an all-terrain and utility terrain vehicle, commonly called ATV and UTV. The shopping and purchasing of the best vehicle require profound devotion and s time-consuming task. It becomes challenging to choose the best one among others as there are various brands associated with them.
UTV is designed specifically for two to four riders. They are majorly used for work purposes. On the other hand, ATV is used commonly for recreation. It is designed specifically for single riders. The most common ATVs are quads or four-wheelers.
UTV vs ATV:
What is an ATV?
ATV is an all-terrain vehicle having a straddle seating position, handlebar steering. It can maneuver across a variety of off-road terrain conditions. Although there are a variety of customizations and modifications available for ATV, the majority of ATVs share three main features as follows:
1. Wheels and Tires:
All the ATVs have either three or four wheels. The tires of ATVs are kept at lower pressure rather than UTV tires.
2. Steering:
The operator of ATV can operate it using a handlebar.
3. Seating and Passenger Capacity:
The operator is positioned and seated in a straddled position on an ATV. ATVs are made to carry one passenger and an operator and are built for just one rider.
Some Other Features for an ATV:
1. Speed:
ATVs offer quick and handy service when it comes to the mode of transportation over a variety of off-road terrains. ATVs are not one-size-fits-all and need proper fit according to their size for operators.
2. Braking and Acceleration:
It is easy and possible to modify the ATVs by using a twist throttle. It allows the operator to control the vehicle's acceleration by twisting the handle of the ATV.
The majority of the stock ATVs come with a thumb throttle, and with the help of this thumb, throttle acceleration can be controlled. Twist throttle can make it dangerous to control the vehicle due to the unpredictable nature of terrain ATVs. 
Operations can either use a brake handle or a foot pedal to brake, depending on the type of ATV being operated.
3. Safety Equipment:
Most of the ATVs are not equipped with safety equipment. Some of the ATVs hold steel pipes around them, forming a cage-like structure that protects the operator if the vehicle rolls. It is advisable to wear protective clothing, boots, and gloves during ATV operators and always wear a helmet.
4. Cabin:
ATVs do not hold a separate cabin and are open. Some of the ATVs have roll bars.
5. Uses:
ATVs are a valuable tool as they are quick means of transportation over rough ground. They are mainly used for recreation purposes.
What Size ATV Do I Need to Buy for Off-Roading?
6. Cost of ATV:
ATV is a budget-friendly option as compared to UTVs. A potential buyer should make sure that you invest in an additional cost for safety gear and insurance.
ATV prices range from $2,299 for the Youth Outlaw 70 EFI, to $14,999 for the Scrambler XP 1000 S. The least expensive model for adults is the Sportsman 450 H.O. at $6,399.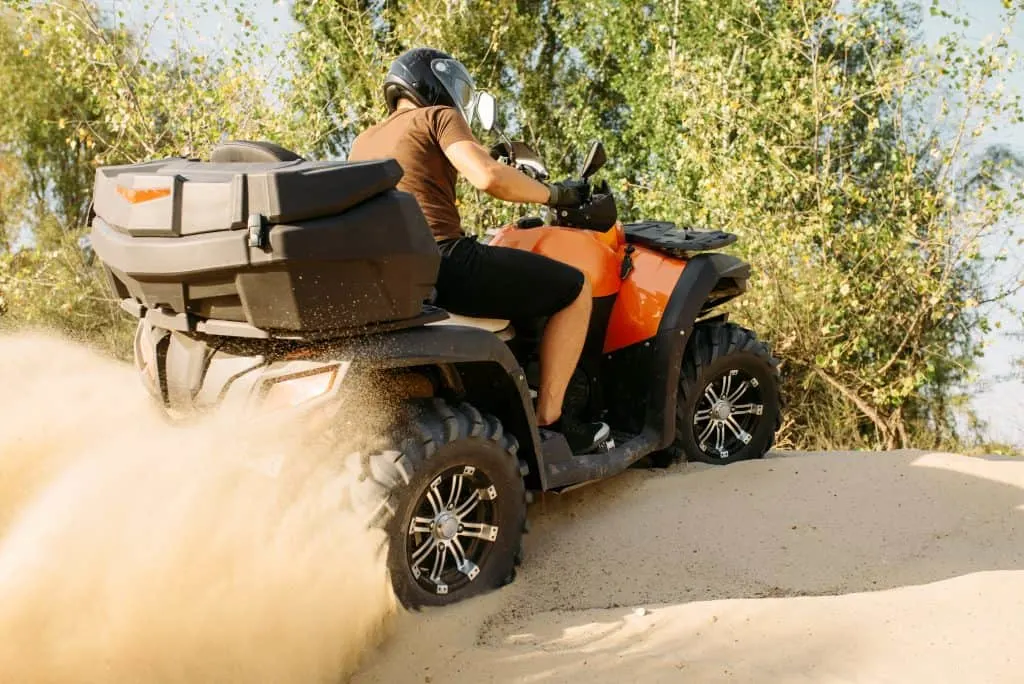 Characteristics of ATV:
Here we will discuss some characteristics of ATVs that are compared to UTVs:
ATVs are all-terrain vehicle
They are also known as a quad, bike, four-wheeler, and three-wheeler
They have one straddle seat just like a bike
There is no roof or roll cage associated with it
There are no seat belts in it
When to use All-Terrain Vehicle?
1. You Need to Be Nimble:
ATVs are considered as best when you want to make quick turns. They work best in tight woods and are best for the situations in which a vehicle hops in an on and off situation or hauling small cargo loads. These vehicles can move quickly and can be towed by a truck towards a riding venue.
The rider must use the balance to manipulate and control the vehicle as ATVs are more physically demanding to ride.   

ATVs are fun to ride and are small enough to manhandle around. UTVs are larger than ATVs and are not active as compared to ATVs.
2. You're in a Race:
ATVs are available in different forms, including sports quads, Yamaha raptor 700, Polaris MXR450, Suzuki LT-R450, and Kawasaki KFX45OR. They are smaller and lighter in size and are designed for high-speed performance for riding and racing.
The branded ATVs like Polaris, Yamaha, and Kawasaki protect the riders from mud, debris, and water on the trail. These ATVs are highly capable of towing heavy loads and holding racks for strapping down the cargo and tools. They can also be ridden on trails and are modified for high-performance riding.
3. You're On a Budget:
ATVs are much cheaper than UTVs and are high-tech in the market. They hold additional power steering features, with electronic fuel injection and four-wheel independent suspension and complex four-wheel-drive systems. These modifications in ATVs are cheaper than UTVs.
What is a UTV?
UTVs (called Utility Terrain Vehicles) are used more for work rather than just for recreation purposes. Utility terrain vehicles are used more for work rather than just for recreation purposes. They are more powerful, robust, and hold abilities to seat the passenger's side by side and are built with a lot of storage space as they can haul equipment. They contain specific features, just like ATVs.
Features of UTVs: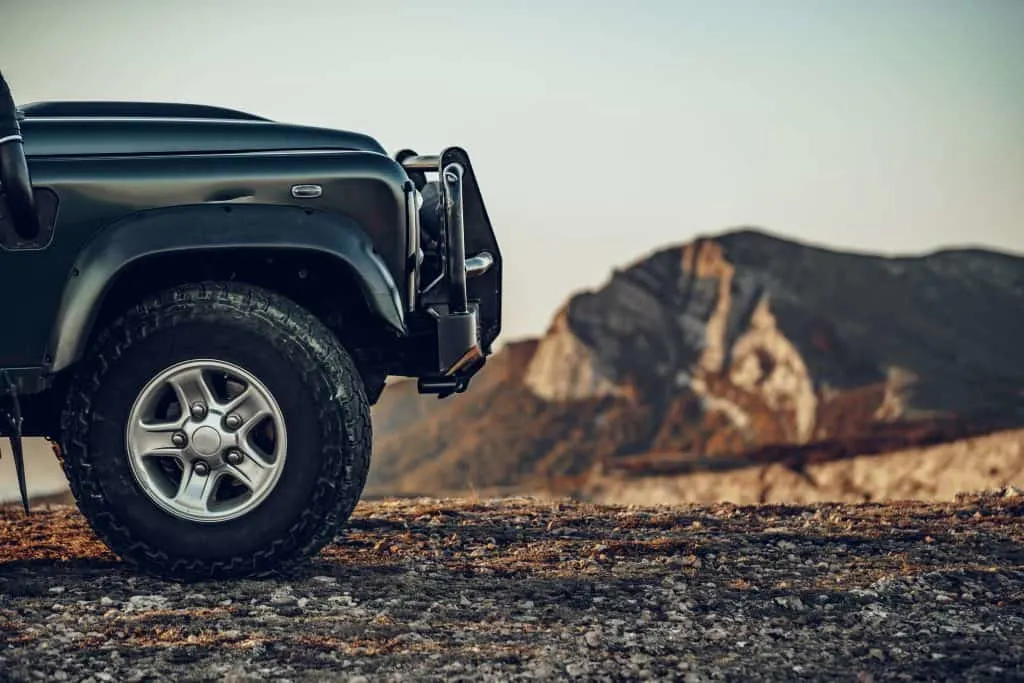 1. Wheels and Tires:
UTVs also have a standard base, including four wheels, but more wheels can be adjusted with them for specialized purposes.
2. Steering:
UTVs are more like a car, so they are steered through a steering wheel.
3. Seating Capacity:
In a normal UTV, there is mostly the seating capacity of two or four passengers. Passengers can sit side-by-side that is why UTVs are also referred to as SxS according to their seating arrangement.
4. Speed and handling:
UTVs are faster and powerful than ATVs and are not nimble. They hold a maximum speed between 25 mph and 50 mph.
5. Braking and Acceleration:
In UTV, braking and acceleration are controlled by foot pedals.
6. Safety Equipment:
UTVs tend to hold more safety features like ATVs, such as the option of windshields, roll bars, and seatbelts.
7. Cost of UTV:
The average price for UTV is comparatively higher than that of the ATV counterpart.
RZR is a polpularly used UTV under sports category. Base prices start at $5,299 for the RZR 170 EFI for young riders. The least expensive model for adults is the two-seat RZR Trail 570 at $10,599. At the top of the range, the RZR Pro XP 4 starts at $25,699.
Characteristics of UTVs:
UTVs known as utility terrain vehicles are utility task vehicles.
They are also known as side-by-side and recreational off-highway vehicles.
They hold bucket seats for two to six people.
They have a standard steering wheel.
They have seat belts and have a roll cages around them.
Uses of UTVs:
UTVs hold ample storage space and are known for hauling feed, hay, and supplies on the farm. They are becoming more popular in non-agricultural communities. They are also expected at schools where they are used to transport water jugs, sports equipment, and athletes.
They are a perfect source of transporting equipment in many industries. They are highly versatile and are customizable. They hold a unique price range and are more expensive than ATVs.
1. Hauling:
UTV has a bigger engine and offers more payload. Its beefed-up towing capacity makes it a perfect machine for hauling. Utility-style UTVs are designed especially for work and include handy features like large dump cargo boxes and winches.

The rear cargo in UTVs provides a larger room for carrying the load as compared to ATVs without even attaching a trailer. They include truck-like cabs and seats which allow the rider to sit in an upright position. UTVs are considered more comfortable for older riders.
2. Specialized Work:
Side by side, UTVs offer advantages for tackling heavy-duty jobs and chores of all kinds. They are known to perform duties associated with carious work-oriented accessories like sprayers and front loaders. They can transport more people in a single machine and are perfect for work crews.
3. Hunting or Fishing:
UTV can provide you with excellent access to remote and hard-to-reach hunting and fishing grounds. They are a means to transport gear and games. They can easily handle poorly maintained access roads and trails and provide cargo space and payload for hauling.
The North American ATV and UTV market was valued at USD 5.69 billion during 2020, and it is expected to touch USD 7.54 billion within 2026, registering a CAGR of about 4.82% during the forecast period (2021 – 2026). [As depicted in the diagram].
Pros and Cons of ATVs and UTVs:
| ATV Pros | ATV Cons |
| --- | --- |
| More affordable | You drive while straddling the motor |
| Faster and lighter | Not as suitable for passengers |
| Maneuver better | Lack roll cage and other safety features |
| Take up less garage space | Less pulling power and cargo/storage service |
| UTV Pros | UTV Cons |
| --- | --- |
| Have side-by-side passenger seating | Much higher price tag |
| Come standard with safety features like roll cages and seat belts | Bigger turning radius |
| Better suited for labor such as hauling and landscaping | Lesser agility, maneuverability, and handling |
| Provide more space for cargo | More weighed down, making sharp turns a safety concern |
ATV Vs. UTV—The Most Fun Vehicle:
ATVs having a smaller size can easily maneuver through tight spaces. It makes them easy to go off the path for rough riding. The small build of ATVs makes them more popular in racing as they are better suited for jumping and tight cornering.
Four-wheelers are considered more demanding as they involve hand controls, and you have to keep your balance at all once. This type of challenge might be a good thing for you and depends on a person.
On the other hand, UTVs are larger machines, and larger vehicles will provide more comfort. These vehicles are easily customizable and offer plenty of options for upgrading the aftermarket parts and accessories. UTVs provide higher top speeds than ATVs, and if you are looking for sports models, then UTVs are the best option to consider.
Are UTVs Safer than ATVs?
UTVs offer more protection than ATVs because of their design. A robust roll cage surrounds them, and in some instances, doors and windshields are also seen. They also offer seatbelts that keep a person safe from being ejected in case of any wreck.
ATVs offer little protection as compared to UTVs but are not bad at all. They offer an open design which means that a person can jump off if things start to go out of control. 
You can take up the safety factor by wearing the right gear and by riding responsibly no matter what vehicle you choose.
Using An ATV Or UTV For Common Activities:
You can use ATV and UTV for countless everyday activities like:
Hunting or fishing
Racing
Camping
Plowing and gardening
Patrolling property
Hauling equipment
Cargo
Which Vehicle is Right For You? UTV or ATV:
There are a lot of characteristics associated with the vehicles having positive and negative drawbacks. It depends on personal preference and the intention to use the vehicle. Here we will discuss some factors, including size, location, and feeling, to choose which vehicle is the right option for you.
1. Size:
It is an open choice to select whether a person wants a small or a large vehicle. An ATV is a good choice if the turns are prevalent, but UTVs are the best option to consider if you demand more haul.
2. Location:
The location also matters a lot while choosing the type of machine. If your whole squad is up for off-roading on ATVs, then you should also choose an ATV for this purpose. On the other hand, if they tend to choose side-by-side, then you should go for it.
3. Feeling:
ATVs are more open in structure and provide a complete feel of airflow. A rider is more connected to the outdoors no matter where you ride. UTVs allow little outdoor experience as compared to ATVs, and if you are riding using windshields, roofs, and doors, then it is a good option for safety and protection.
ATV or UTV for Hunting and Trail Riding:
There are a lot of things to consider when selecting a UTV or ATV for hunting and trail riding. AVs have lower cargo capacities than UTVs, and you should think about the process if you are going to haul it out. ATVs offer adequate towing capacity, and it may seem that a trailer is attached to them.
It might diminish the handling and agility capability of your machine. UTV can be customized with plows, scrapers, loaders, and mowers and can be made suitable according to one's demand. ATV is a better choice if you are dealing with rough terrain and navigation as it has superior maneuvering capabilities as compared to UTV.
Also Read:
What Size Dirt Bike Should I Get? Make Off-Road Amazing
25 Extreme Campers Built for Off-Roading
Frequently Asked Questions (FAQs):
Which one is better? ATV or UTV?
ATVs are smaller in size as compared to UTVs. They have a narrow frame, and a person can enjoy better maneuverability during challenging terrains. They also provide access to areas and spaces which are hard to reach. They leave more minor damage to the environment due to their smaller size.
Is an RZR a UTV or ATV vehicle?
RZR is a sport UTV that is built in a specific way. It provides an unforgettable off-road experience and is famous among off-roaders.
Is ATV safer or UTV?
Four-wheelers are considered safe, so UTVs and ATVs are considered safer options rather than dirt bikes. Utility vehicles come with unique design features which make them safe for all-terrain vehicles.
What does a utility terrain vehicle look like?
A side-by-side vehicle comes in small to medium-sized off-road vehicles, consisting of a body frame surrounded by a roll cage protecting its passengers. Majorly six persons can easily sit in this vehicle are powered by motorcycle-sized engines.
Do the UTVs offer seatbelts?
UTVs offer seatbelts and other safety features due to their main priority, which is the safety of the rider. Seatbelts keep the ridders firm at their place, and the protective roll cage helps to ride smoothly on rough terrain.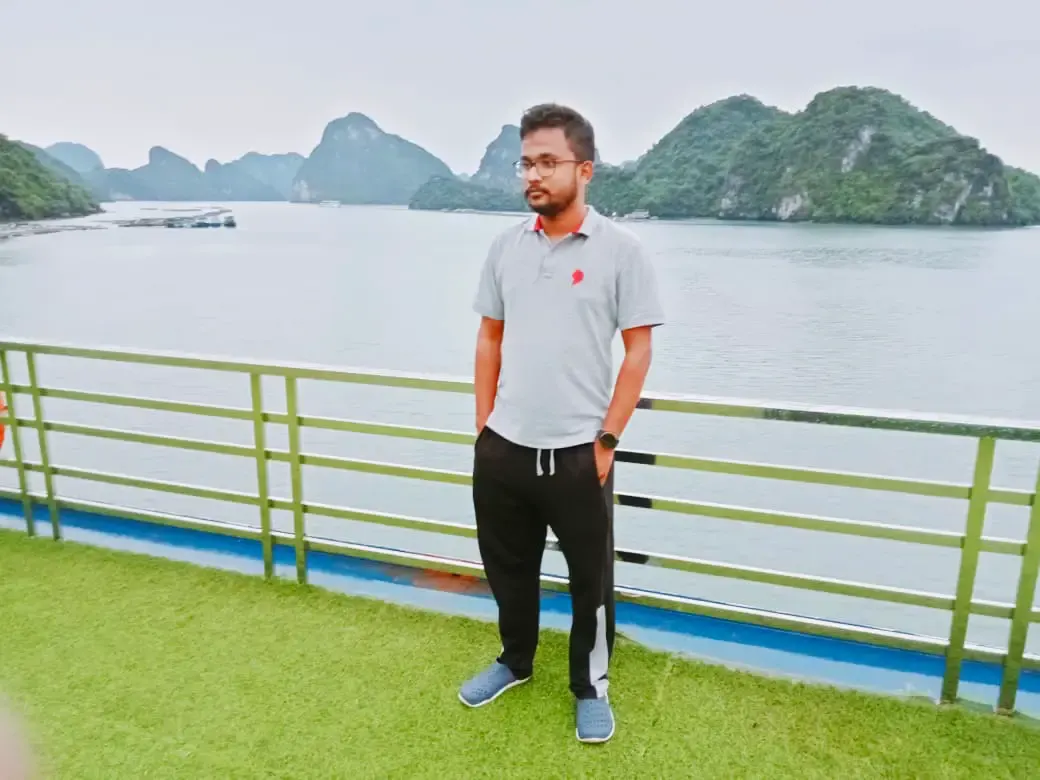 This is Surya. I am an experienced off-roader. I have been off-roading for many years across several terrains. I am passionate about 4×4 driving and want to share my knowledge and experience with others.
My goal is to provide you with the most comprehensive and unbiased information about off-roading.
I curated this article through my personal experience and expertise, and I hope it helps you with what you are looking for.