After the production of the first-ever automobile, a race started in the world with the development of different companies under different names. Some produced cars; some had two-wheelers, others produced three-wheelers, and some companies produced all of these.
One of these types is what we refer to as ATVs. The history of ATVs is ancient; they also had to undergo an evolutionary process before getting into the modern designs we observe today. So, what is an ATV?
ATV stands for an All-Terrain Vehicle. An ATV appears to be a vehicle that travels on tires with low air pressure, contains a seat that the driver straddles, and handlebars that work as a steering wheel. ATV can be driven on all types of terrains, whether rocky, snowy, or regular track.
ATVs are traditionally four-wheeler vehicles similar to motorbikes but are not motorbikes. However, the similarity these vehicles possess with motorbikes is that these are operated similarly to that motorbikes. According to the American National Standards Institute (ANSI), an ATV is designed for only one person.
However, there are now some ATVs that accommodate a single passenger alongside the driver. Those which accommodate a person other than the operator/driver are known as "Tandem ATVs."
What is An ATV? History Of ATV:
Quadracycle by Royal Enfield
In 1893, an ATV was produced by a renowned automobile manufacturer called the "Royal Enfield"; however, that production was entitled the "Quadracycle."

It contained components as same as that which were used in bicycles.

It couldn't gain much acceptance in the market.

Royal Enfield is an Indian multinational company based in Chennai, India.

It is famous for globally being the oldest motorcycle production company to date.
Sperry Rand tri cart
The first-ever ATV was manufactured in the year 1967 and was known as the Sperry Rand tri cart.

This first-ever three-wheeler was designed by John Plessinger, a graduate of the Cranbrook Academy of Arts near Detroit.

The design of this three-wheeler was such that the operator would sit "in" the cart, rather than "on" the cart as that form which we get to observe today.

After a year, the patents and design of this vehicle were sold by John Plessinger to a company named Sperry Rand. This company is based in Holland and has been producing ATVs commercially ever since then.
US 90 By Honda
After entering the All-terrain vehicles market, Honda introduced their first ATV in 1969 and named it US 90.

By the nineteen eighty, Honda had captured the market a little manipulatively, the reason being that Honda had plenty of designs and patents ready in the market, as compared to other automobile manufacturers.

At that time, Honda was paid patent royalties by other big companies, including Yamaha and Suzuki.
Tri Moto YZ125 By Yamaha
Following the footsteps of Honda, Yamaha produced their first-ever ATV In the year 1980 and named that model the Tri moto YZ125.
KLT 200 By Kawasaki
Kawasaki made their first-ever ATV in 1981, named KLT 200.
ALT 125 By Suzuki
Suzuki came up with it in 1982 and named it ALT 125.
Sports ATVs
In the year 1984, sports ATVs were introduced by big companies, including Kawasaki and Suzuki, which were considered to be a trendsetter in ATV productions.
ATVs By Polaris
Not forgetting the American producers, companies like Polaris were also making their place in the production market of ATV's which were received warmly by the users.

However, they could not compete with the big giant companies, including Honda, Suzuki, and Kawasaki due to their limited resources and production.
Types Of ATV: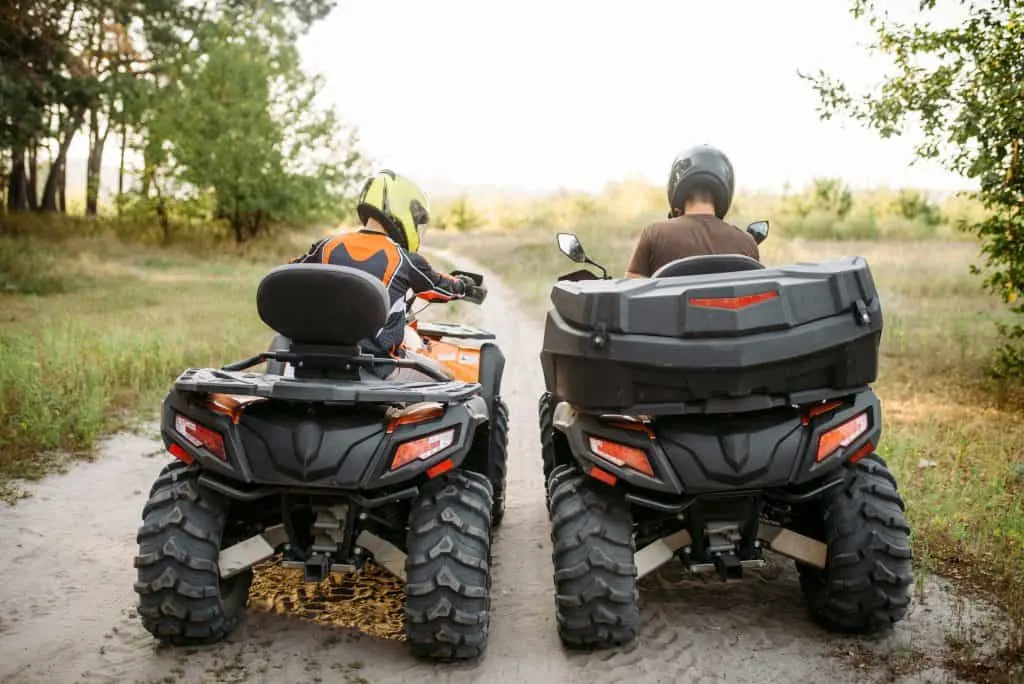 Here we will discuss some significant types of ATV as follows:
Youth models
Entry-level four wheelers
Utility Quads
Sports/Utility ATVs
Sport Quads
High-performance ATVs
1. Youth Models:
The youth model is considered one of the best off-riding and is designed for children and teens. It holds excellent features some of them are:
Youth model ATV is much cheaper as compared to other models and is specifically designed for adults.

The main priority revolves around the safety of the person who is traveling. So, for this purpose, the engine is designed to tend to stop if a person falls off of the vehicle. It prevents the person from being dragged with the car.

Youth model engine ranges from 50cc-125cc in size basis.

Some youth models include Pitster PRO FXR 125 R, Pitster Pro quad, KingQuad 500 Axi and Mongoose 50 4T.
2. Entry-Level Four Wheelers:
Entry-level four-wheelers are known as recreational trail class and also holds great significance. Some of the best features include:
The engine of Entry-level four-wheelers ranges between 125cc to 250cc.

The main feature of this model is an automatic transmission.

Those people who prefer casual pace should go for entry-level four-wheelers.

Some entry-level four-wheelers are Yamaha Raptor 250, Yamaha Blaster, Polaris Phoenix 200, Suzuki Ozark, Can-Am DS250, Kawasaki Bayou, Honda TRX250X.
3. Utility Quads:
Utility Quads are a popular choice for those who have agricultural businesses and construction workers. This type also includes specific features, including the following:
Utility quad is primarily designed for heavy-work purposes, including plowing fields and hauling cargo. It is also used by scientists, law enforcement agencies, and factories.

This machine was considered a favorite for hunters, campers, and fishers in the 1980s.

Engines are robust and run at any environmental condition, including rocks and steep hills, as their suspension level is limited.

The engine size of utility quads ranges between 250cc-700cc.

Some of the utility quads available in the market are The Yamaha Grizzly 300 2WD, Polaris Ranger diesel, and the Polaris Ranger RZR 570
4. Sport/Utility ATVs:
Sports ATVs are sports machines and trailer hitch and hold specific features:
Utility Quads combined with sporting characteristics considered necessary for racing give rise to sports or utility ATVs.

Sports ATVs hold a wide range of flexible models and are four-wheel drive equipped with powerful engines.

The size of the engine of sports ATVs ranges between 250cc-800cc.

Some examples of Sports utility ATVs include Yamaha Wolverine 350, Polaris Scrambler 500 4×4 ATV, Kawasaki Prairie 650.
5. Sport Quads:
Sport Quads are considered the best ATVs designed explicitly for jumping, hitting, and sliding around the corners. These ATVs holds specific features, including:
Sport Quads are zippy engines and hold long-travel suspension.

Sport Quads have good handling features, which makes them unique.

The engine capacity range falls between 200cc-400cc.

Some examples of Sport Quads include The Yamaha Raptor 700R, Suzuki Z400, Suzuki QuadRacer R450, Kawasaki KFX 450, Can-Am DS 450, and the Honda TRX 450R.
6. High-Performance ATVs:
If you are looking for a model in the entire range of ATVs as swift as a Ferrari, then high-performance ATVs should be your main priority! It holds one of the best features, including the following:
High acceleration speed is the main feature of high-performance ATVs, which helps them cruise along dunes and the woods.

Their ultimate goal is to provide a race-like handling feature, and manufacturers have equipped the vehicle with this feature.

Their engine size ranges between 350cc-700cc.

Some of the high performance engines include KTM 505SX, KTM 450SX ATV, KTM 525XC
If you are looking to get the best reliable 4×4 ATV to kickstart your off-road adventure, check this guide for detailed information.
Different Brands OF ATVs:
The brand of an ATV holds tremendous significance for off-roading. The best ATV for any beginner is considered the one which they control easily. That ATV will be best for you, which weighs appropriate for you. Some of the top-notch and best ATV brands include:
Honda
Yamaha
Polaris
CAN-AM
Suzuki
Kawasaki
Arctic Cat
KTM
Check out: What Size ATV Do I Need to Buy for Off-Roading?
DS 250

DS 450

DS 650

Renegade 500 Renegade 800

Outlander 400 Outlander 500 Outlander 650 Outlander 800

TRX450R

TRX700

Honda TRX 250EX Honda TRX 400EX

Foreman Honda Rancher 420

Recon

Honda Rubicon 500

Kawasaki Mojave 250

Kawasaki Lakota 300

Kawasaki KFX 450R Kawasaki KFX 700

Bayou

Brute Force 650 Prairie

Outlaw 450 MXR Polaris Predator 500

Outlaw 525 Scrambler

Big Boss Sportsman 300 Sportsman 400 Sportsman 800 Sportsman 850 XP

LTR450

QuadRacer 250 Quadzilla

Z250

Z400

Mini Grizzly

Mini Raptor

Raptor 50

Yamaha 125 Breeze

Yamaha Banshee Yamaha Blaster Yamaha Warrior 350 Wolverine

YZF 450

Grizzly 350

Grizzly 450

Grizzly 700

Big Bear 400

Rhino
Side by Side ATV:
A side-by-side- All-terrain vehicle (SxS) is a specific type of ATV used in any kind of terrains for several purposes, but the difference is that SxS features two seats.
Usually, an ATV has one seat only, which is meant specifically for the driver. In contrast, Side by side ATV contains two seats, which might be side to side, or front and behind, depending upon the frame of that vehicle.
Find here all the details of Side By Side ATV
Tips for Buying the Best ATVs:
Owning an ATV is a whole new world of fun and opportunity which allows one to push their limits and to challenge themselves. Although purchasing your first ATV seems an interesting and exciting process, it also holds some complications!
There are many options to consider while doing so, including financing options, warranties, and much more. Here are some tips for buying the AV to become easier for you.
1. Finding Great Features:
As there is a wide range of collections available in the market related to ATVs, different ATVs are suitable for other riders. While selecting an ATV, take some time to think about the features which suit best for you.
Some riders prefer speed demons to crave the thrill of their ride, while others prioritize the functional components. Some riders demand to hit the trails alone, while others prefer to bring their passenger with them. If you are new to off-roading and this sport, you can make use of the following tips as a new rider:
Use high-intensity headlights, which can add visibility along the way. This thing is preferable if the weather catches you off-guard.

Go for towing capabilities for increased visibility factor. It helps you to handle the unexpected conditions on the trail.

If you want a quick assessment of how the ATV is faring, go for a digital dashboard.

Use automotive-grade paint, which is vibrant and long-lasting in the case of ATVs.

Equip your vehicle with heavy-duty front and rear bumpers as they protect your vehicle.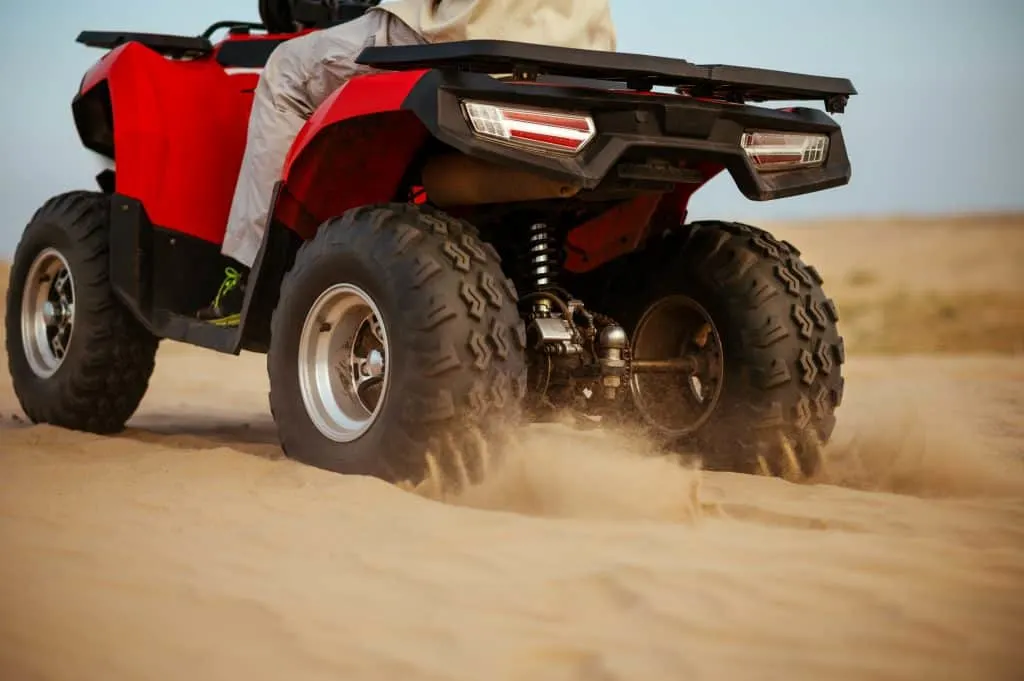 2. ATV Warranties:
ATV also demands repairs like other vehicles. The replacements and kind of rehabilitation depend on the individual model's warranty and its manufacturer. Go for the car, which offers a limited one-year warranty as it acts as additional protection. Ask the dealer about the warranty of the specific model you prefer to purchase. Some of the points which you need to consider are as follows:
Look for the features which the warranty covers. Get a broad understanding of repairs covered and the conditions under which warranty comes into play.

You can also go for extended coverage. Some companies offer expensive warranties and grant you and your vehicle more excellent protection. Discuss with your dealer regarding such points which option is the one for you.

If you have bought an extended warranty, make sure to use most of the contract. Stay away from all sorts of situations which can render it null.
Find Out: What Is The Most Reliable Off-Road 4×4 ATV?
ATV Vs UTV:
UTV (Utility Terrain Vehicle) is designed specifically for two to four riders. UTV is used for work or recreation and also holds an alternate name as side-by-side.
On the other side, ATV stands for the All-Terrain Vehicle and is used commonly for recreation. It is designed specifically for single riders. The most common ATVs are quads or four-wheelers.
Find here all the differences between ATV and UTV
Weight of An ATV:
ATVs generally weigh in the range of (dry weights) 220 pounds and1170 pounds (100 kg to 531 kg). This is the machine's weight, excluding liquids, cargo, or passengers.
Find here all the details regarding the weight of an ATV
Utility Of ATV:
Ever since their production, all-terrain vehicles have been widely accepted by the public and the number of users and ATV lovers seems to increase day by day. All-terrain vehicles are used for numerous purposes, which are elaborated as follows.
1. Sports Activities:
Due to their high off-road capacity, All-terrain vehicles are accepted widely by sports enthusiasts who love to participate in different moto-racing categories, including cross country racing, desert safari, or desert racing, ice racing, and drag racing, along with a lot of other tracks.
The most important thing that motor enthusiasts have to consider while choosing an ATV for sports activities is that the vehicle must be lighter in weight, higher in power, and have a low center of gravity.
The reason is that these vehicles are made for performance, not for utility and comfort. If the centre of gravity of an All-terrain vehicle happens to be on a higher side, there would be a significant risk of toppling over the car, which might put the driver's life and even of the spectaculars at considerable risk.
2. Construction Industry:
All-terrain vehicles are widely used in construction industries. The purpose of the utility of these vehicles on job sites is that they help transport workers from one place to another and are used to transfer minimal cargo.
They allow minimal load sharing because ATVs do not usually have a cab to carry more luggage; however, a small amount of luggage or construction stuff can be easily transported in construction sites from one point to another.
3. Agricultural Industry:
An all-terrain vehicle has made its vast place when it comes to terms of utilities in different industries. At first, there was a concept that these vehicles are made for thrill purposes only, and they have no utility and practicality in daily life. However, with time, this concept faded away.
People realized it is easy to travel in ATVs in areas where it is hard to take a four-by-four vehicle. However, there is no place where a four-by-four cannot go, except for sites with insufficient space or narrow roads. That's where ATVs found their place in this agricultural industry.
When farmers have to examine the crops or the livestock, they cannot take a four-by-four truck in the fields. It has to be something light and smaller in size, which can be easily manoeuvred as well. The all-terrain vehicles appeared suitable for the job and played as an easy substitute for horses and pickup trucks.
They are considered a time saver for farmers who had to walk up to the field to inspect the irrigation systems, apply chemicals and fertilizers to the crops, and do several other activities.
Another significant advantage of using an ATV in farming is that when the land needs to be plowed for harvesting new crops, the attachment of a chisel plow at the rear end of the vehicle makes it easier to get the job done.
4. Fire Fighting:
All-terrain vehicles are used for fire-fighting purposes in areas that are hilly or are rough in terrain. More oversized cars find it difficult to make their way when it comes to muddy or hilly tracks, as compared to these ATVs. These are life and death situations, and the response units have to reach the emergency zone within minimum time.
On the other hand, worse traffic and road conditions are also observed in towns and big cities. It might take a longer time for fire-fighter trucks to reach the destination in case of emergency.
However, all-terrain vehicles are smaller and can easily make their way through the traffic to the emergency site. That is the reason ATVs are used for faster response in emergencies.
5. Landscaping Jobs:
All-terrain vehicles are best for narrow tracks, where more oversized vehicles do not intend to reach properly. When it comes to a job like landscaping, the first thing that comes to mind is narrow tracks, narrow tracks mean more oversized vehicles cannot reach the point, and even if they do so, they'll probably damage the surrounding environment.
Nature is precious; one definitely cannot afford to destroy it at any cost. In such situations, the ideal machine that can be used with minimum harm to the surrounding land and environment is ATV.
A trailer can also be attached at the rear end of the vehicle if necessarily needed. These terrains are often uneven, and it is difficult for a dump truck to make its way through. A car with adequate off-road capacity and excellent speed is considered suitable for this job, and an ATV meets all these needs.
What to Wear During ATV Riding? 7 Must-Have Things to Wear
Safety Protocols While Using ATV:
Even though riding an ATV is excellent and gives a rush to the adrenaline in the blood, many safety factors need to be observed before riding the vehicle. Many people do not abide by the proper safety guidelines and regulations to ride an ATV.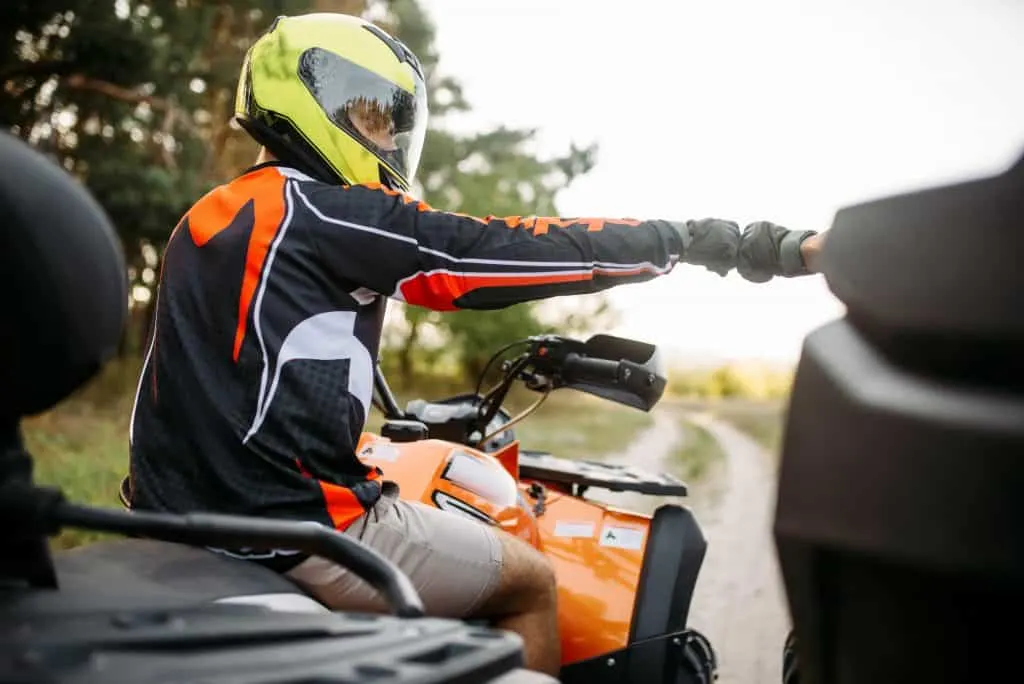 Accidents caused due to riding of ATV lead to head injuries which eventually lead to paralysis or death. It is essential that while enjoying the ride, the rider must abide by the safety regulations. Some of the critical safety measures which are needed to be taken care of are discussed below:
The most crucial safety protocol that needs to be observed first is that children below the age of 16 should never be allowed to ride the vehicle.

One must never attempt driving the vehicle without proper training and practice. Going without adequate training might lead to life hazards; the driver might be putting other lives in danger along with his own life.

Proper gear to wear while riding is a must. One should never ride a bike without wearing the appropriate safety gear, including a helmet, gloves, and pads. Wearing backpacks provide safety and provide a feeling of satisfaction to the driver.

ATVs are not made for paved roads. One should avoid driving these vehicles on paved roads.

Speed limit: this is the key to safety. Driving within the safe speed limit ensures safety.

Three-wheelers are tagged as unsafe vehicles all over the globe. They are not as stable as vehicles and risk getting toppled over at higher speeds or sharp turns. Therefore, riding three-wheelers should be highly discouraged.

ATVs are made for riding at designated terrains. These vehicles ride on balloon-shaped tires with air pressure different from other cars. Due to these balloon-shaped tires, it becomes easy for them to move at irregular terrains without any problems.

In case of poor visibility, one should refrain from driving.
As mentioned above, most of these safety protocols are the same as those defined by the state for driving any vehicle; however, some of these are related strictly to all-terrain vehicles. The driver must always abide by the state rules and regulations to keep his life safe and ensure the general public's safety.
Tracker ATV:
Tracker ATVs are manufactured by a couple of leading industries in a collaboration- Textron and Bass-Pro Shops.
Tracker ATVs are made for off-roading, providing riders with maximum satisfaction. They are built to handle all sorts of tough terrains and provide steady travel over rough grounds. These vehicles are amazing for all-terrain sports such as motocross and off-road racing.
I have written a detailed guide here: Who Makes Tracker ATV? All Necessary Details of Tracker ATV
Final Thought:
ATVs are a great way to explore off-road trails. They are durable and can handle a variety of terrain. -ATVs work by using a series of gears that transfer power from the engine to the wheels. This allows the ATV to navigate over rough ground and through obstacles. Off-roading with an ATV is a fun and exhilarating experience. It's a great way to explore new terrain and see nature up close.
Also Read:
How Fast Does 110cc ATV Go?
How Fast Does a 125cc ATV Go?
How to Read ATV Tire Size?
Frequently Asked Questions (FAQs):
What is the major difference between an ATV and a quad?
An ATV is an all-terrain vehicle having three or more wheels and includes four-wheelers and quads. On the other hand, a quad is an ATV equipped with four wheels and is either two-wheeled or four-wheeled drive.
Is an ATV a car?
ATV is an all-terrain vehicle having a straddle seating position, a handlebar steering, and holds the ability to maneuver through a variety of terrain conditions.
Which is considered safe: ATV or UTV?
UTVs and ATVs are considered safe than other power-sport vehicle options such as a dirt bike. So, four wheels are considered safe as compared to the two-wheelers.
How do an ATV works?
An ATV engine works by pulling oxygen and fuel into the combustion chamber, allowing the piston to push upward and combust the mixture. The controlled explosion propels the vehicle forward and backward by releasing exhaust through the outlet.
Is a Polaris an ATV or UTV?
Polaris includes ATVs and UTVs, designed for recreational, utility, and sports use, having separate brands for different categories.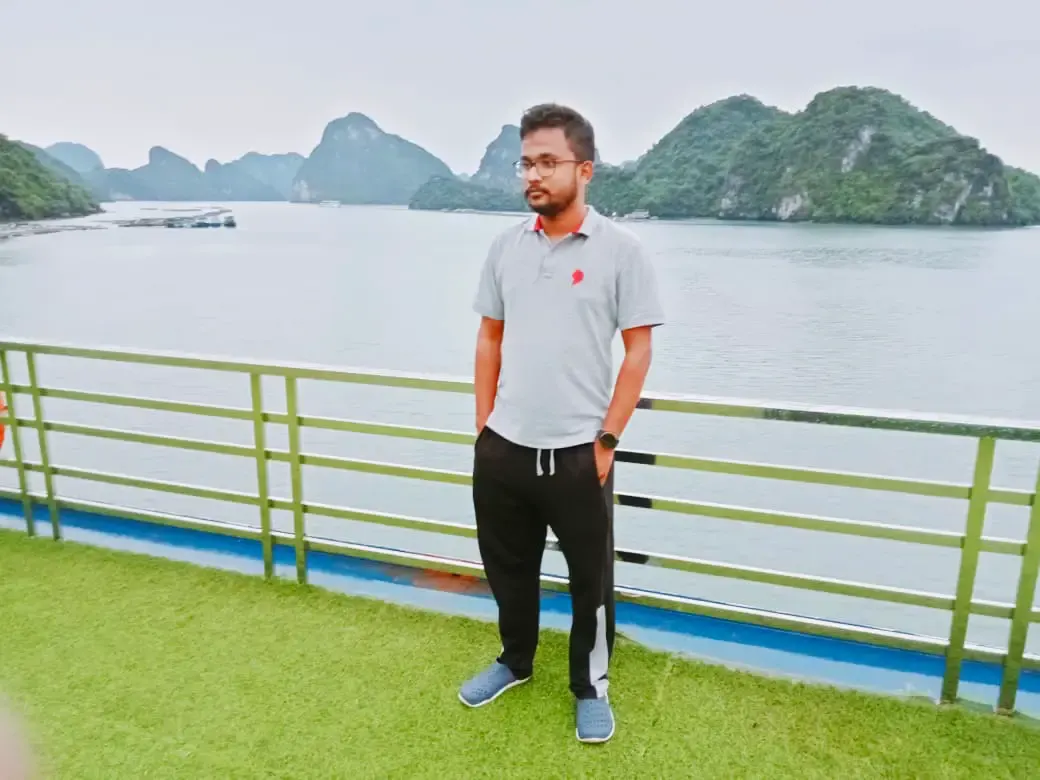 This is Surya. I am an experienced off-roader. I have been off-roading for many years across several terrains. I am passionate about 4×4 driving and want to share my knowledge and experience with others.
My goal is to provide you with the most comprehensive and unbiased information about off-roading.
I curated this article through my personal experience and expertise, and I hope it helps you with what you are looking for.