Over time, the off-road industry is flourishing, and everyone wishes to ride on their very own ATV, a four-wheeler. There are unlimited options we come across the ATV size and power. It just requires a little help to find the perfect machine out there as there are many four-wheelers on the market.
Whenever we come across the physical stature of ATVs, these machines are available in different sizes. There are many reasons behind this, as a shorter individual is not comfortable sitting on a massive four-wheeler, and the tall person is not satisfied with a smaller model. So the main question which many people ask is: what size ATV do I need to buy for Off-roading?
There is a bit of variance as most four-wheelers fall into specific range and size categories. The average ATV is around 83,'' and the average width is 47''. Most of the machines with which we come across have measurements close to these ranges. Other than this, the measures are also broken down according to ATV type, which helps choose the best ATV size.
Youth ATV size (50-60'' inch long and 30-40 inch wide)
Small ATV size (65-70'' inch long and 440-43 inch wide)
Standard ATV size (70-85 inch long and 43-45 inch wide)
Large ATV size (85-95 inch long and 45-48 inch wide)
ATV and Four-Wheeler:
ATV is considered one of the best off-off road vehicles and features four low-pressure all-terrain tires with a robust suspension to tackle rugged terrain. This four-wheeled drive capability allows an ATV or four-wheeler to travel over the rough ground. ATV is an all-terrain vehicle that works and plays hard to open a new world of off-road adventure.
ATVs are great for single roads and off-road trails. ATVs are equipped with straddle seating position, handlebar steering and provide the ability to maneuver them through a variety of terrain and conditions. ATVs share the most critical three features: a seating position, handlebar position, and all-terrain use.
They are commonly used for practical transportation and recreation, such as racing and trail riding. An ATV can be used in an equally appealing way, such as hunting and fishing, farming and ranching, lawn care and landscaping, snow removal, general utility tasks, and recreational trail riding.
Different Types of ATVs:
There are different models of ATVs available in the market from which you can choose from and is divided into a few key categories:
Sport ATV (Includes models like Polaris Scrambler 850 and Scrambler XP 1000, which represents sports performance quad with a race-proven power, handling, and suspension)
Recreation and Utility ATV (Offers a wide range of versatility and is best for any adventurous trail-riding, camping, mudding, or hunting)
Youth ATV (Several youth model ATVs are available and are designed with safety features, sized suitably for age and ability)
Most ATVs or four-wheelers are offered a broad range of power options. The need and demand of power depend on the use of ATV and on the experience level of the rider too.
There are full-size models available which offer a wide range of power offerings. If an experienced rider craves peak performance, then ATVs with higher horsepower and displacement are the best option. Here below, we will discuss some types.
1. Recreational and Utility ATVs:
Utility and Recreational ATVs are designed for versatility and include a variety of critical features such as:
Integrated hitches required for towing
Racks and storage
Independent rear suspension
High-ground clearance
Electronic power steering
Nearly all kinds of ATVs available in the market are designed to deliver some degree of utility. However, these four-wheelers named utility ATVs are engineered to do more work and have excellent trail rides. Utility quads and recreational ATVs are the most popular ATVs in the industry.
The duo of Sportsman 450 HO and Sportsman offers an incredible value and features a legendary ride when we talk about utility ATVs.
They offer reliable and efficient fuel injection and are considered as the industry's quickest engaging all-wheel-drive system. They are the best-selling automatic four-wheelers of all time.
2. Sport ATVs:
Sports ATVs are the performance first machines that are built to deliver key performance attributes, including:
Precise handling
Premium suspension performance
Speed
Acceleration
Sports ATVs range from four-wheel-drive models, which are designed for trail performance in wide-open deserts. This class contains pure-race type ATVs with manual shift and automatic transmissions.
Whenever we talk about Sport ATVs, Polaris Scrambler XP 1000S is considered the best performer, offering more suspension travel and the most significant ground clearance. It also delivers unprecedented stability and performs excellently even in the most challenging terrain.
How Much Does An ATV Cost? Complete Guide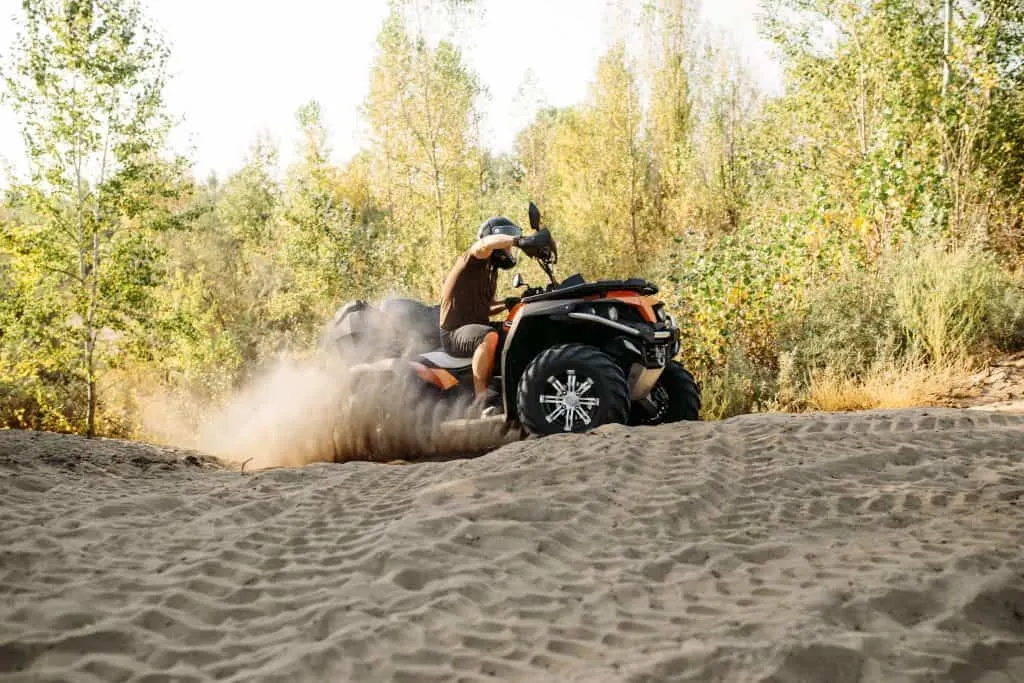 3. Hunting ATVs:
Hunting ATVs start life as utility ATVs and specialize in unique features and accessories to improve hunt category performance. Some of the hunting options and features include:
Gun Scabbard
Heavy-duty winch
Hand Warmers
Thumb Warmers
Premium camo paint
Rack extenders and bumpers
Youth ATVs
Youth ATVs are considered the final category and are available in various sizes and power options. They are fun to get children and young riders into the sport with the best size-right approach. Whenever we talk about Youth ATVs, we consider the Polaris youth ATV line-up as the best one.
It is designed for six riders and is packed with safety features; other than this, Outlaw 110 and Sportsman 110 are also perfect-suited for riders older than ten years. For riders more senior than 14 years, Phoenix 200 with a 196cc engine delivers the best performance.
Check Out: What Size Dirt Bike Should I Get? Make Off-Road Amazing
Features to Consider When Finding ATVs:
We cannot purchase an ATV just based on size. There are also some other features and accessories associated with it to find a perfect machine. While buying an ATV, look for the one having features of:
Air-cooled and liquid-cooled
Carbureted and electronic fuel injection
Single and twin cylinder
Power steering and no power steering
Storage racks for hauling gear
Bumpers for extra machine protection
Snowplow for clearing parking lots
Types of ATV Accessories
As ATVs hold importance, so is the significance of the accessories attached to them. The accessories decide and elevate the capability, performance, and convenience of the ATV. Some of the popular accessory categories include:
Wheels and tires
Racks and extenders
Bumpers and plows
Lighting and winches
Audio components and speakers
Windshields
Track kits
Hunt accessories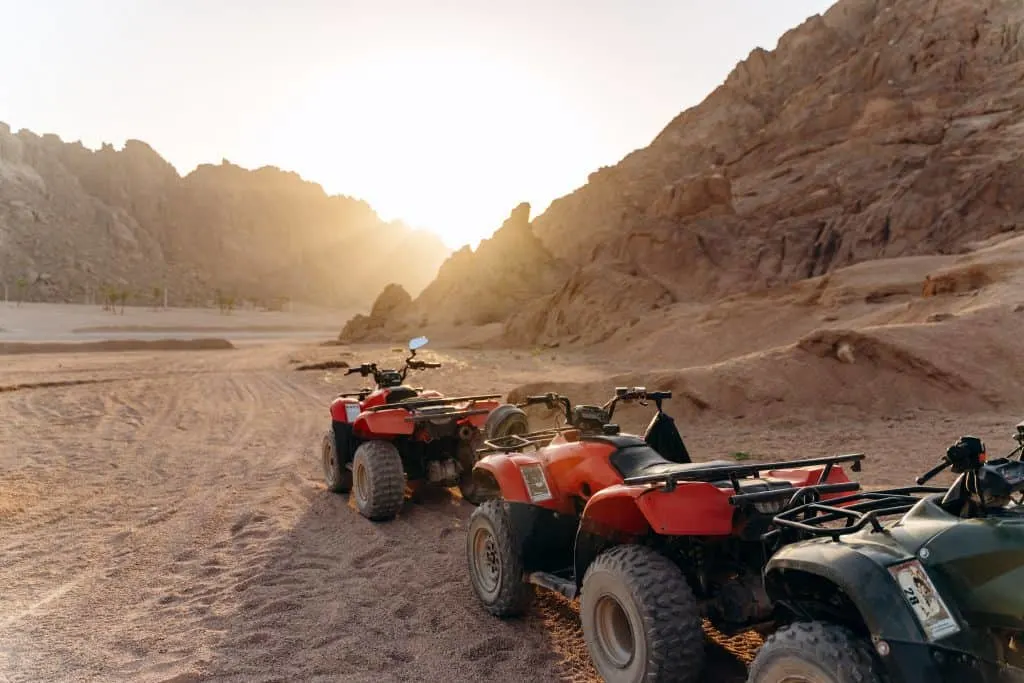 Brands of ATVs and UTVs:
ATV and UTV manufacturers try their best to make great vehicles for on and off-road use so here we will discuss some most popular ATV and UTC brands.
Polaris
1. Some of the top UTV manufacturers in the world

2. More chiseled looks

3. Trail-ready power and performance

4. Loaded with styles

5. Includes Sportsman, Scrambler, RZR, the General
Can-AM
1. Perfect combination of industry-leading performance

2. Precise-engineering handling

3. Rider-focused design

4. Includes Outlander, Renegade, Maverick, and the Commander
Yamaha
1. Durable and reliable all-terrain and utility vehicle

2. Best for trail riding, racing, working, faming and hunting

3. Includes Grizzly, the Kodiak, the Viking and the Wolverine
Honda
1. Built for both fun and work

2. Includes FourTrax Rancher, Pioneer, the Talon, the TRX
Kawasaki
1. Powerful user-friendly ATVs and UTVs

2. Increase recreational capabilities

3. Includes Brute Force, the KFX, the Mule, and the Teryx
Suzuki
1. Industry's first four-wheeled ATV

2. Ready for work and play

3. Includes the King Quad and the Quad Sport
Textron
1. Built on power and performance

2. Great lineup of vehicles

3. Includes the Alterra, the Mudpro, the Widcat, and the Prowler
ATVs and UTVs: Gear You'll Need:
Here we will discuss some gears which you will need before heading out to trails.
Off-road riders should wear protective clothing, including long sleeves, pants, and over-the-ankle boots during riding. If you don't want to rock to the knuckle, motocross gloves are also a must.
During off-roading, accidents are a must thing. It is essential to have a high-quality ATV helmet that can keep you café from road injuries. Helmets must be durable and comfortable with proper fitting and certified by SNELL.
Motorcycle goggles hold great importance as they are the best ones to protect your eyes. They protect you from wind, dirt, rocks, dust, and branches that could affect your eyes on the trail.
A simple toolkit is helpful during off-roading and includes some essential items. Items such as a swiss army knife, duct tape, wrenches, tire pressure gauge, trail map, and multifunctional screwdriver are included in a toolkit. Other than this, some other items like tire plugs, air pump, and vice grip can help you get back to the trail.
It is good to have a first-aid kit with you which could be helpful during emergency needs. Your first-aid kit should include the items like bandages, ointments, gauze to handle any scrapes and injuries.
It is good to include a winch in your ATV, which helps to exert a force to pull the object towards another using cable. Winches are the best items that allow you to get out of any sticky situations.
Get the detailed guide on What is UTV vs ATV?
Difference Between ATVs and UTVs:
Great for racing and trail riding

Smaller and easier to handle

Straddle the seat to ride

They have benches or bucket seats

Use handlebars to steer like traditional bikes

They have steering wheel like cars or trucks
Types of tires required for ATV Wheelers:
Tires truly define the vehicle's capabilities, and specialized designs are required for the ATV or 4-wheeler. They include:
Performance for All-Terrain
Loose and desert sand
Mud and water
Rock climbing
Hard packed trails
Soft loam trails
There are hundreds of specialized tires available in various tread patterns and sizes, which enhance the performance and traction for multiple types of terrain. A right tire truly defines the all-terrain capability of ATVs and serves as a vital contact patch between ground and ATV.
Working on The Off-Road ATVs:
ATVs, called off-terrain vehicles, are powerful and compact machines that intend to handle various jobs. ATVs are found in multiple professional racing series, providing hours of enjoyment on riding trails and tearing up motocross tracks. ATVs vary in size and power and are include models which are suitable for young riders too.
Technically, ATVs are not intended for "all" terrain and are used chiefly on non-paved terrain, dirt trails, snowy and muddy paths. Their knobby rubber tires with high centres of gravity make them unfit for paved surfaces. There is no real distinction between off-road and other ATVs. Other than ATVs, there are also vehicles called UTVs, known as utility terrain vehicles, that work slower than ATVs but have large cargo areas and are mainly meant for work.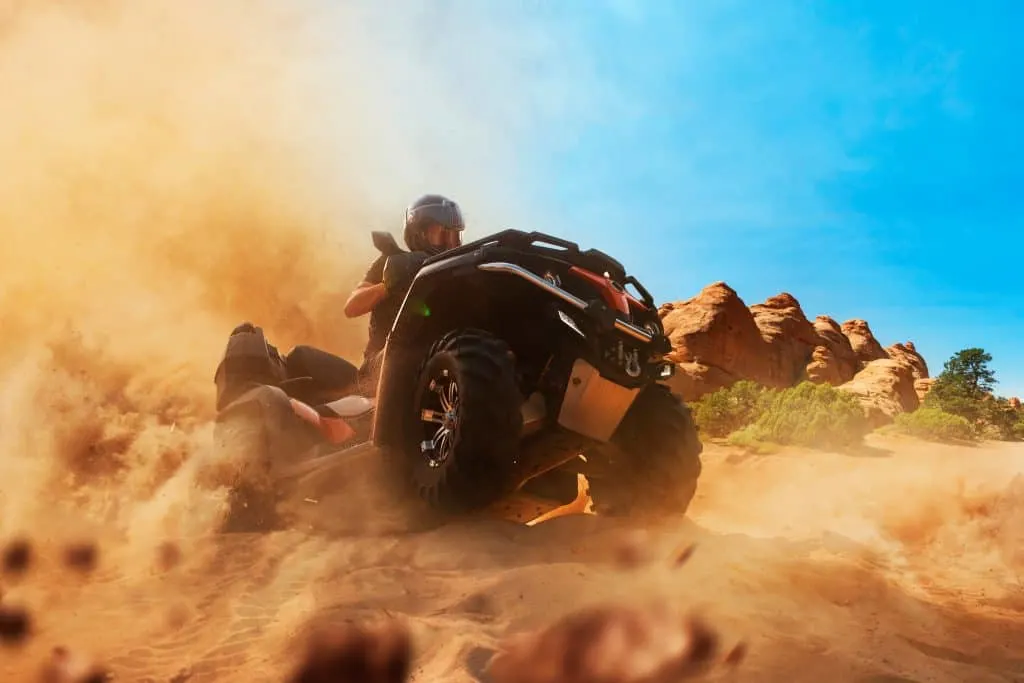 ATV Engines:
When ATVs were introduced, they were pretty primitive and used two-stroke engines. They used to offer less convenience and comfort and were not much better in performance. Honda, in 1970, introduced the first ATV, which was mere seven horsepower. The popularity of ATVs grew further over time, and today there are ATVs available having more than 50 horsepower, and racing ATVs have even more power.
There are still those ATVs available in the market having two-stroke engines but are more advanced than those in the 1970s. These two-stroke aims to provide more power and hold a higher power-to-weight ratio than modern four-stroke engines. In modern ATVs, the machines are linked to CTV, also known as continuously variable automatic transmission.
The rider does not have to worry about shifting the gears, and the vehicle automatically selects the best gear ratio for speed, grade, and effort. If an ATV does not have a CVT facility, it may contain a foot-pedal shifter or shifter on the handlebars.
ATV engines also come with either one or two cylinders and displacements, often measured between 100 and 800 ccs. ATVs' size and power should be matched according to the rider for the safe ride, as ATVs require a specific amount of body weight and physical strength.
ATV Batteries:
Running of the batteries is the main issue of concern with ATVs. The battery is required for using headlights, winch, or some other kind of attachment to supply the necessary power. The battery also powers the electric starter. Mostly, ATVs use lead-acid batteries, but you can also choose conventional and AGM varieties.
AGM batteries require less maintenance and power and cost more as compared to other choices. ATVs are a good option and provide a brief energy shot, but their long-term use drains the battery, such as leaving the headlights on without running the engine.
Make sure to charge up the battery before you shut down the ATV as, without a full charge, sulfates are built inside the battery, reducing its efficiency. The ATVs charging system usually charges up batteries, so batteries drain faster whenever the engine is running. An external charger can also charge up ATV batteries. It is advisable to choose a charger which is designed for power-sport batteries.
Also Read:
What to Wear During ATV Riding? 7 Must-Have Things to Wear
What Is The Most Reliable Off-Road 4×4 ATV?
Frequently Related Questions (FAQs):
How to know about the best size ATV?
If you are looking for an ATV to ride around or for a leisurely trail ride, then 550 cc is plenty big enough option for you. If you plan for aggressive trail riding, such as climbing a steeper hill, then the 500-700 cc range is the best.
How much does the off-road ATV cost?
The average cost of the new side-by-sides is around $15,000. Every model is unique and is built by using a specific application to spend according to your budget and needs.
What size of ATVs is preferred for adults?
For maximum comfort, it is advisable to look for a machine that matches your physical stature. If an adult is up to 5'10", then a smaller ATV is a good fit. But, for taller adults, ATVs with 500cc machines and higher are preferred.
How much weight can a 150cc ATV bear?
Adult-sized ATVs can hold weight about 250lb of cargo. You can place 1/3rd of the weight on the front cargo and the remaining 2/3rd on the rear rack.
How long does an ATV last?
The average lifespan of an ATV could be around 20 years if well maintained. It has been noted that most automobiles cause problems once the driver hits the 10,000-mile mark.
Which ATV is considered the most reliable one?
Honda ATVs are regarded as the most reliable ones as they have a bomb-proof transmission with metal gears. This ATV is resilient to rugged terrains and is durable. Some of the other reliable ATV brands are Polaris, Yamaha, SYM, Kawasaki, and Can-AM.
How many miles can an ATV work on just a tank of gas?
An ATV can ride up to 180 miles averaging 20MPG with a 5.4 gallon ATV tank. Factors that affect the gas mileage are the type and age of ATV, tank size and terrain, engine size, and maintenance upkeep.
Which is the best gas for ATV?
The best gas which can be used for ATV depends on the specific model. Most ATVs guzzle on regular 87 octane gasoline and work in optimal condition on 91 or 89 octane fuel. The higher the quality of power, the better the engine will perform.
Does high octane gas hurt the engine?
Higher octane gas gives premium gas more excellent resistance for early fuel ignition. It can result in potential damage, which is sometimes accompanied by audible engine knocking.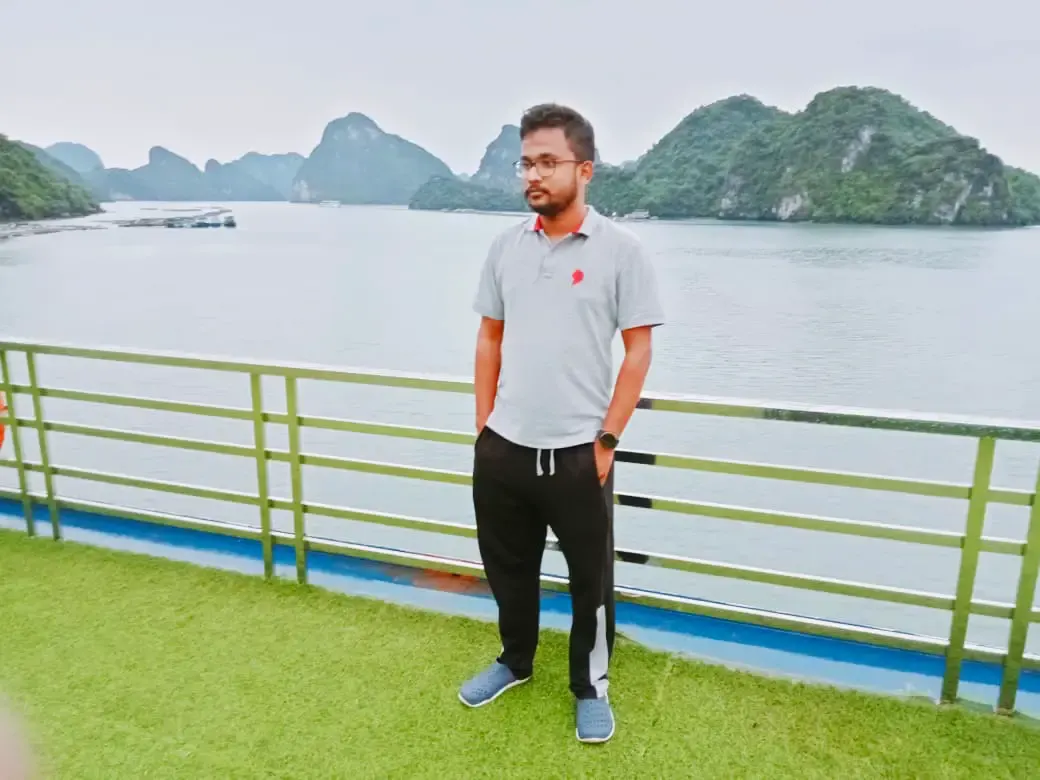 This is Surya. I am an experienced off-roader. I have been off-roading for many years across several terrains. I am passionate about 4×4 driving and want to share my knowledge and experience with others.
My goal is to provide you with the most comprehensive and unbiased information about off-roading.
I curated this article through my personal experience and expertise, and I hope it helps you with what you are looking for.