Introducing "Unleashing the Wild: The Ultimate Guide to Off-Roading Adventures"
Are you ready to embark on an extraordinary journey of off-roading discovery? Look no further! We proudly present "Unleashing the Wild: The Ultimate Guide to Off-Roading Adventures," an eBook that will ignite your passion for exploration and equip you with the knowledge and skills to conquer rugged terrains like never before.
Why should you invest in this eBook?
Simple. It's your ticket to unlocking the exhilarating world of off-roading and experiencing the great outdoors in a whole new way. Whether you're a seasoned off-roader or a curious enthusiast, this comprehensive guide is designed to meet your every need.
What sets "Unleashing the Wild" apart from other off-roading resources?
Our mission is clear: to provide you with the most engaging, authoritative, and practical content available. We've meticulously crafted this eBook to ensure every page resonates with the spirit of adventure while offering you invaluable insights, techniques, and expert advice.
What can you expect from "Unleashing the Wild"?
Prepare to be captivated from the first chapter as we delve into the essence of off-roading. Discover the rich history behind this exhilarating pursuit and gain a deep understanding of off-roading terminology and concepts. Uncover the diverse types of off-road vehicles and their capabilities, and learn the art of building your own off-road-worthy vehicle.
But that's just the beginning. Dive into the heart of the eBook, where we guide you through the essential preparations for off-roading. Assess trail conditions, plan your route with precision, and master crucial off-road driving techniques that will elevate your skills to new heights.
We leave no stone unturned as we delve into topics such as choosing the right tires and suspension systems, equipping your vehicle for the adventure, and ensuring your safety with thorough precautions and emergency preparedness.
As you progress through the eBook, you'll unlock the secrets of mastering off-road techniques. Handle different terrains with confidence as we explore mud, sand, rocks, and snow. Gain a comprehensive understanding of four-wheel drive systems and learn to conquer steep inclines with ease.
Navigate water obstacles and streams with finesse, and equip yourself with the knowledge to recover from even the most challenging situations.
But "Unleashing the Wild" goes beyond technique and exploration. We take a deep dive into the world of off-road racing and competitions, providing you with insights into the thrills of the sport, tips for participating in competitions, and essential safety measures and competition etiquette.
Is That All?
Our mission doesn't end there. We empower you to become an environmentally conscious off-roader, emphasizing responsible off-roading and environmental stewardship. Learn how to maintain and upkeep your vehicle, protect its exterior and undercarriage, and understand the importance of off-road recovery gear and equipment.
To top it all off, we guide you on a virtual tour of famous off-road trails across the USA, from the majestic Denali National Park in Alaska to the breathtaking Sedona in Arizona. Immerse yourself in the beauty of these destinations and plan your next off-road adventure with confidence.
What Else?
"Unleashing the Wild: The Ultimate Guide to Off-Roading Adventures" is not just an eBook; it's a companion that will fuel your passion for off-roading and open doors to new and unforgettable experiences. So, gear up, embrace the wild, and let this authoritative guide be your key to unlocking the world of off-roading like never before.
Don't miss out on this opportunity! Grab your copy of "Unleashing the Wild" today and set your off-roading journey in motion. Adventure awaits!
With over 500 copies already sold, this eBook has been met with overwhelming praise. For a limited time, we're offering "Unleashing the Wild" at the exclusive price of only $11.99. 
Take advantage of this unbeatable offer and grab your copy today to set your off-roading journey in motion. Adventure awaits!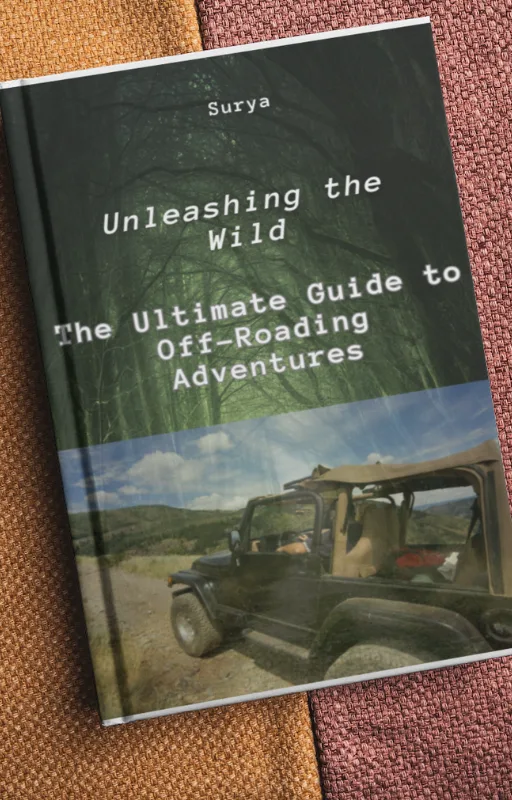 Here is a list of chapters and pages included in the eBook so you know exactly what you are getting:
Chapter 1- The Essence of Off-Roading
1.1 Understanding Off-Roading: A Brief History
1.2 Off-Roading Terminology and Concepts
1.3 Types of Off-Road Vehicles and Their Capabilities
1.4 Building an Off-Road-Worthy Vehicle
Chapter 2- Essential Off-Roading Skills
2.1 Off-Road Driving Techniques and Tips
2.2 Understanding Off-Road Terrain and Conditions
2.3 Off-Road Safety and Preparedness
2.4 Navigation and Trip Planning
2.5 Off-Road Etiquette and Respect for the Environment
Chapter 3- Mastering Off-Road Techniques
3.1 Handling Different Terrains: Mud, Sand, Rocks, and Snow
3.2 Understanding Four-Wheel Drive Systems
3.3 Ascending and Descending Steep Inclines
3.4 Crossing Water Obstacles and Streams
3.5 Recovering from Challenging Situations
Chapter 4: Off-Road Vehicles
4.1 Off-Road Vehicle Selection
4.2 Off-Road Vehicle Modifications
Chapter 5- Maintenance and Upkeep
5.1 Vehicle Maintenance Tips for Off-Roaders
5.2 Protecting Your Vehicle's Exterior and Undercarriage
5.3 Off-Road Recovery Gear and Equipment
5.4 Environmental Stewardship and Responsible Off-Roading
Chapter 6- Off-Road Racing and Competitions
6.1 The Thrills of Off-Road Racing
6.2 Participating in Off-Road Competitions
6.3 Safety Measures and Competition Etiquette
Chapter 7- Things to Note
7.1 Know Your Recovery Plan
7.2 Know Your Vehicle's Limits
7.3 Bring at Least Two Vehicles
Chapter 8- Technology is Changing the Off-Roading Game
Chapter 9- Famous Off-Road Trails to Explore in the USA
9.1 Alaska – Denali National Park
9.2 Arizona – Sedona
9.3 California – Death Valley National Park
9.4 Colorado – Pronghorn Ranch
9.5 Connecticut – Ragged Mountain State Park
9.6 Delaware – Rehoboth and Bethany Beaches
9.7 Florida – Dante's View
9.8 Georgia – Itta Bena State Park
Chapter 10- Off-Roading Tires and Wheel Specification
Before You Leave
GLOSSARY OF OFF-ROAD TERMS
"This eBook is a game-changer! It's packed with valuable information, practical tips, and captivating stories. It has truly elevated my off-roading skills and opened up a whole new world of exploration. Highly recommended!"

– John R
"I can't thank the authors enough for putting together such a comprehensive guide. From understanding the history of off-roading to mastering advanced techniques, this eBook covers it all. The writing style is engaging, and the visuals are stunning. It's like having a personal off-road mentor guiding you every step of the way."

– Mark T
"I purchased 'Unleashing the Wild' as a beginner off-roader, and it has been an invaluable resource for me. The explanations are clear, and the step-by-step instructions have given me the confidence to tackle challenging trails. The chapters on vehicle maintenance and environmental stewardship are an added bonus. It's worth every penny!"

– Emily
Please note that "Unleashing the Wild: The Ultimate Guide to Off-Roading Adventures" is available as a downloadable PDF document. Upon completing your purchase, the eBook will be delivered to you via email.
We recommend checking both your inbox and spam folder for the email download link. In some cases, it may take 1 – 2 hours for the email to reach you.
Rest assured; our team is dedicated to ensuring a smooth and timely delivery of your eBook so that you can dive into the exciting world of off-roading as soon as possible.