It is known that the reflector size, so the chrome reflector inside, directly controls and aims the light. It is known that reflectors capture many of those spilled light sources, so we know that using wider and deeper ones will allow us to have better control over the light itself.
LEDs have largely replaced incandescent bulbs in off-roading, and modern manufacturing techniques have enabled various sizes, shapes, and outputs of the LEDs. Recommended off-road LED is 6,000 lumens to get the brightest light. These lights will enable you to see clearly during off-roading.
Are LED Light Bulbs Road(Street) Legal?
It is never legal to use off-road lights on the street. In most cases, a LED bulb would not be allowed on the road for three main reasons.
Firstly, the bulb is just too bright. LED bulbs specially designed for off-road use, such as those used in light bars, are likely to be brighter than those used for headlamps.
Too bright LED bulbs can easily blind oncoming motorists when used on a normal road.
It's easy for a driver to be blinded by the lanes, the barriers, and other cars on the road.

Secondly, the LED bulb's colour is important. Although all headlights are technically white, they range from a yellow to a more blue-looking shade.
Kelvins measure color temperature, and LED bulbs are generally between 4300K and 6000K.
It is always best to use a white LED bulb in the 6000K range for optimum performance on or off-road.

Finally the off-road only LED lights might be illegal is because they are not certified for use on roads.
You can be pulled over by the police and fined if you use off-road LED bulbs while driving on the road.
Why Do LED Bulbs Say 'for Off-Road Use Only'?
Some LED light bulbs are marked as "off-road use only" because they have not been tested in all vehicle applications. This does not mean the bulb will under-perform. In many instances, it will out-perform a traditional incandescent bulb.

LED Bulb labels state that they're for off-road use only and are not meant for road use – they might be too bright, the wrong color, or simply untested. Using such LED bulbs on the road is illegal, and you might be fined.

Many LED lighting manufacturers have an off-road use label that they add to the packaging of their bulbs. This means you shouldn't drive on roads with them, but it can also mean racing in a controlled environment like at your private track or car showcase where there is no usage restrictions for public attraction.
Due to the super bright lights, users can see what's coming up but temporarily blind others.
In addition, the additional lighting can create a false sense of security, which encourages drivers to drive faster.
How Many Lumens Do You Need for Off-Road Lights?
There are hundreds of lumens in headlight bulbs. Nonetheless, the number of lumens in a car headlight bulb depends on its type and how bright it shines. Car headlights are measured in lumens.
In the same way that electricity is measured in watts, car bulbs are measured in lumens. Since LED lights emit less heat and last longer, they are preferred over other types.
A Comprehensive Comparison Between Incandescent and LED:
Top 10 Best LED Bulbs for Off-Roading:
The following are some of the best-LED Bulbs for off-roading:
1. KC HiLiTES Gravity LED Pro6 Light Bar:

The new Pro6 LED 50″ Universal 8 Ring Light Bar from KC Automotive is an unrivaled LED off-road lighting system that provides superior visibility while being highly configurable and modular.
It looks old-school but beats vintage lights in performance with its 50-inch-wide bar of eight LED lights. In addition to its normal driving, spotlight, and wide beam patterns, the Pro6 produces 18,400 lumens. The lights can be removed and submerged. There is no problem lighting up the trail using these lights.
2. Rigid Industries SR-Series Pro 30-Inch:

A durable powder-coated finish is available on the SR-Series PRO lights, which utilize aluminium housings. Aside from the improved LEDs for better output, the SR-Series PRO features new branding on its end caps and black circuit boards for a more refined look. They provide reliable and efficient lighting on demand and feature the same superior build as RIGID's other lighting products.
This 30-inch-wide LED light bar is six inches tall and six inches deep, allowing it to fit into tight spaces between the grille and front bumper of a vehicle or where a roof rack meets the windshield. One of the best on the market, its light output is 18,810 lumens. There is a lifetime warranty on the bar, and it weighs only 12 pounds.
System for integrated thermal management
Powder coat of UV-resistant polyester
EMI/RFI protected
3. Baja Designs Squadron Pro: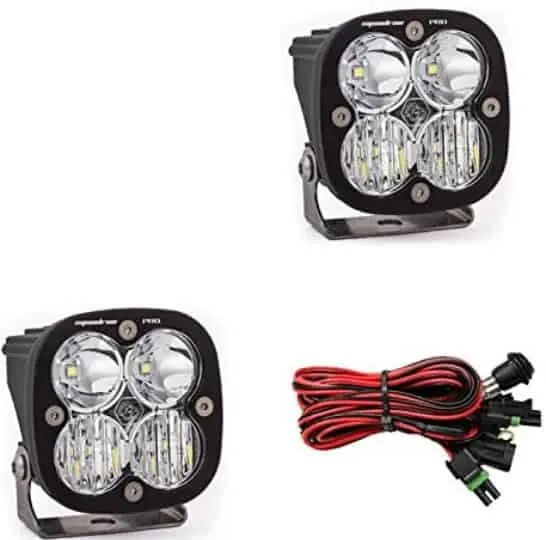 Baja Designs Squadron Pro is a top choice for off-road lights thanks to its simple design, advanced lighting, and affordable price. Each of the two lights produces a total of 4,600 lumens.
The manufacturer claims the 5,000K colour temperature chosen by Baja Designs can reduce driver fatigue by mimicking daylight. These lights are fully submersible, weigh only 12 ounces each, and can be replaced by the manufacturer.
Powered by 42 watts, the Squadron Pro has a powerful light output of 4,900 Lumens.
The Squadron Pro outperforms the competition in terms of both performance and appearance.
4. Hella Value Fit 500: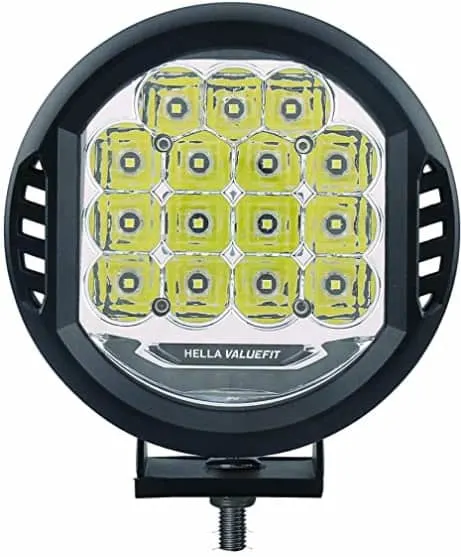 Despite being very reasonably priced, the lamps (LED clusters mounted in two small pods) are large enough to fit in many places most other lights cannot.
Featuring a 6,000K colour temperature, which is close to daylight, these driving lights (1,080 lumens) and spotlights (3,090 lumens) can function as driving lights or spotlights. The Hellas are very energy efficient because their ribs dissipate heat.
Featuring high-power LED auxiliary driving lights and a striking accent light design; the Hella ValueFit Design 500 LED Driving Lights Kit is the ultimate in LED auxiliary lights. The front is printed with "HELLA VALUEFIT" and features a full-surface reflector.
Mounting the headlight in various positions is possible with the bracket – rotating it 180° permits the headlight to be oriented forward. A mounting kit includes brackets, hardware, stone shields, relays, wiring harnesses, and switches.
5. Nilight LED Light Bar Set for Off-road ATV Boat Lighting: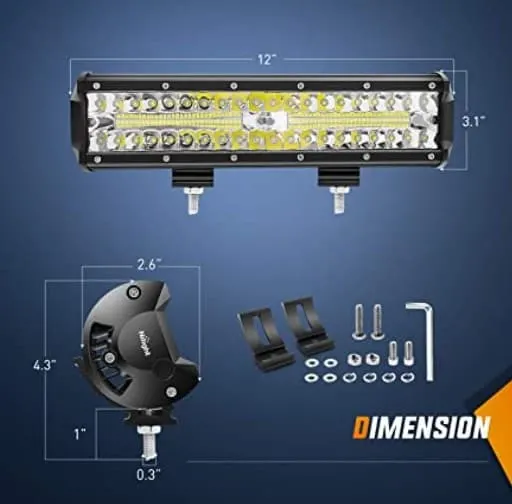 Features:
Long-distance illumination is provided by both spot and flood beams.
Protection against water in multiple ways:
The light bar can be effectively protected from water by a waterproof soft strip, a silicone seal, and a waterproof rubber pad.
Thanks to high-quality cooling fans and die-cast aluminium housing, heat is dispersed quickly.
It leads in three directions:
Wiring harnesses with three sets of output connectors can simultaneously connect up to three LED lights within 180W.
Power relays use high-quality materials for safety protection and circuit conversion. They provide effective circuit and lighting protection.
6. Auxbeam 4 Inch LED Light Pods for Wrangler Truck (2 Pcs):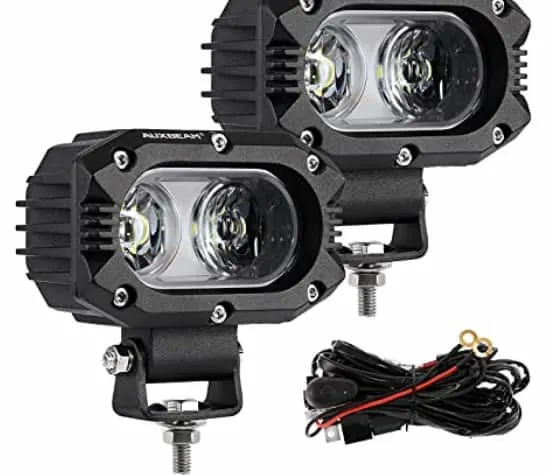 Features:
This LED driving light has an upgraded industrial 12D corrugated optical lens design which replaces the original Auxbeam floodlight.

With 4inch floodlights, you can create 3590LM of super bright white light, producing longer and wider lighting. It features two 30W high-intensity 5050 LEDs for better visibility during the day and night.

The angle can be adjusted.
The round fog light's mounting brackets can be adjusted up to 90 degrees, making it easier to change the direction of the beam.
Wiring harness for a 4 inch LED floodlight

Pod Lights for ATVs & UTVs

Motorcycle off-road lighting

Jeep Wrangler 30W LED light pod.

Cooling rapidly

The longer lifespan of the lights is due to better heat dissipation. The mounting bracket is low profile and includes stainless steel hardware.

Waterproof rating of IP 68

With its IP68 waterproof rating and low power consumption design, you'll be able to enjoy a safe and enjoyable ride in the rain or snow.

This 4-inch led floodlight pod with wiring harness complies with the IP67 international standard and has a strong ability to withstand harsh environments and weather. So an LED floodlight 4 inches in diameter can be used in the rain or snow.
7. Cutequeen 4 X 18W 1800 Lumens LED Spot Light for Off-Road ATV: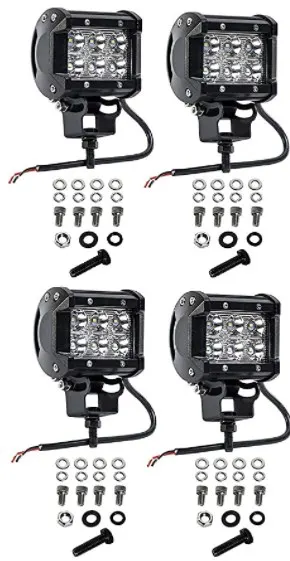 LED power: 18 watts

Ten to thirty volts DC is the input voltage.

Lumens: 1800

30-degree spot beam

6000K-6500K Color temperature

Alloy casing; stainless steel mounting bracket

Lighting for trucks, trailers, boats, construction sites, and gardens. Variety of uses – Back up light, interior and exterior lighting for trucks and trailers; Off-road lighting; Boat lighting; lighting for construction sites; outdoor lighting.
8. 7 Inch LED Pods Spot Flood Combo Beam: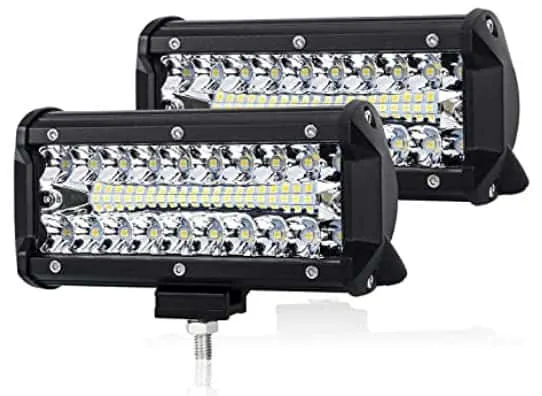 Design of Spot Flood Beam:
An entirely new light distribution structure, including centred 170° flood LEDs surrounded by dual rows of 30° spot diodes, gives a powerful light beam with a great range as well as wide visibility.
In addition, the LED bar with superior-quality chips emits 6000k cool white light, delivering 24000 lumens, and the particular beam design allows drivers to distinguish objects at approximately 50 meters. The driver has a wide field of vision to spot potential dangers.
Heat Dissipation That is Efficient:
Supper thin thermal fins ensure effective heat dissipation for the light bars. High-quality aluminium alloy heat sinks maximize surface area for optimal cooling
Installation And Application:
Includes Universal Mounting Brackets, easy mounting to any mounting holes and openings, suitable for 9-30V automotive vehicles, boats, trucks, tractors, off-road vehicles, Jeeps, pick-ups, SUVs, ATVs UTV, motorcycle, and heavy machines, etc. A 2-year warranty provides quality assurance for the 7 inches LED light bar.
Lenses that are impact resistant
Improves energy efficiency
Cree LEDs with high brightness
9. Nilight ZH016 12 Inch 72W Spot Combo Bar with Off-Road Wiring Harness-2 Leads: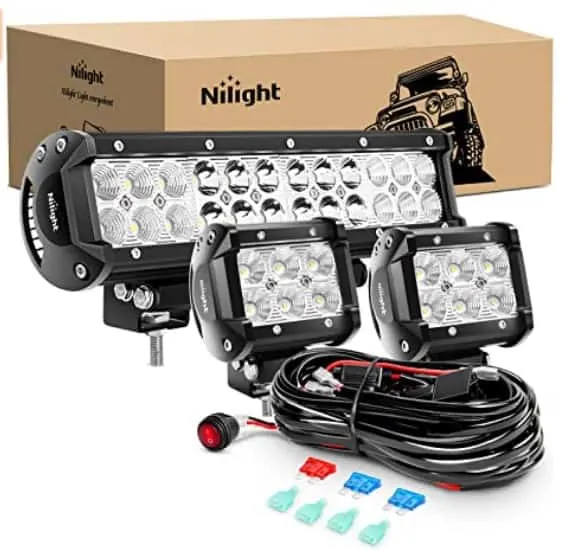 Specs:
Power consumption: 72W (24 x 3W High-Intensity LED); Beam Pattern: Flood Spot Combo Beam

Working Temperature: -40*85 degrees Celsius. Voltage: 9-30V DC (suitable for 12V, 24V vehicles).

Working Lifespan: Over 30,000 hours, LED Color Temperature: Pure White 6000K-6500K.

The product is made of 6063 Aluminum Alloy Profile, LED Chips, and PC Lenses.

In addition to three-pin on-off rocker switches, this kit includes a DC 12V automotive relay and a blade fuse with two extra fuses.
Features:
As an industrial-grade aluminum alloy housing and as a waterproof rubber pad and silicone seal as second protection, the light can handle different types of weather more effectively.
Performance of the highest quality

High-quality LED chips to emit white light. Flood beams and spot beams provide wide-spread and long-distance illumination, illuminating dark areas.

Adjustable mounting brackets

LED lights are equipped with adjustable mounting brackets, allowing the mounting angle to be adjusted according to different mounting positions, providing the best effect according to the mounting location.

Wiring harness for off-road vehicles.

Wire 16 AWG
Light fixtures are compatible with wires up to 180 watts in 16 gauge.
A relay keeps protecting the whole circuit while the wiring kit is used. It prevents excess current from flowing through the circuit.
10. LIGHTBOSS LED Light Pods for Trucks ATV SUV 4×4 car Work Scene Lighting: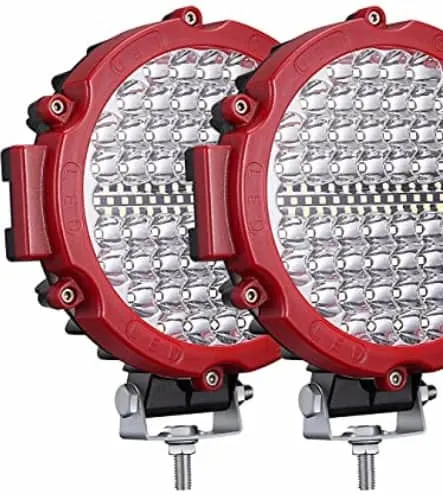 There are two waterproof 7-inch round LED off-roading lights, two kits of mounting brackets, and accessories.
You get more brightness for the same amount of money!
Upgraded from 51W LED work lights to LIGHTBOSS 210W LED pods with the same size of 7inch. Ideal for driving, farming, and working.
Lighting pods with a wide range of applications:
This LED offroad light can be used as a driving light or as a work light, or as lighting for off-road scenes for all kinds of vehicles.
Anodized Aluminum Bracket:
Lightboss LED off-roading lights to have adjustable 316 stainless steel mounting brackets that can be rotated 90 degrees vertically and 360 degrees horizontally.
Working in all weather conditions:
With aluminium housing, high-transparency PC lens, and silica gel cable, these light pods work at temperatures ranging from -40 to 80 degrees Celsius in the rain, snow, and salty air.
Lightbox has been designing and manufacturing LED car lights for ten years or more. They aim to satisfy customers with stable quality, fashion design, high-quality LED car lights, and good service.
Frequently Asked Questions (FAQs):
What is the significance of LED bulbs being intended for off-road use only?
Labelled 'off-road use only' LED bulbs are not designed for road use – they may be too bright, too dark, or simply untested. You could be given a ticket if you use them while driving on the road.
Isn't it too bright when LED headlights are used?
There may be a variety of causes of glare, including improperly aimed headlights, aged-hazy headlight lenses, non-compliant unsafe upgrades, or a combination of all of these. When installed properly, they are designed to prevent dangerous glare by focusing light where it is needed on the road, rather than into oncoming traffic's eyes.
LED bulbs are waterproof, right?
LED bulbs can be waterproof. Since it is used in different terrains, waterproof LED bulbs are needed for off-roading.
How should I choose the colour of the LED bulb for my vehicle?
Incandescent bulbs have a different colour spectrum than white LEDs. You should select LEDs based on the colour of the lens that covers the bulb. The easy general rule is that the LED bulb should match the colour of the lens.
Depending on the application, a clear lens can be used with either a white or an amber bulb.
The red lens should always be paired with a red LED. The light will appear pink/orange if you place a white LED behind a red tail/brake lens.
An amber LED bulb should always be used behind an amber lens. In the presence of an amber lens and a white LED, the light will appear green.
Does a fan cool LED Bulbs?
LED bulbs with better performance require active cooling, so they are designed with fans when necessary.
What is the reason for multiple part numbers on some of your LED bulbs?
There are standardized bases for incandescent lamps originally installed in OEM light fixtures, and these bases are shared across different lamp types and numbers.
The lamp bases are designed with standardized electrical connections to ensure compatibility with the fixtures. There may be similarities between the incandescent lamp numbers, but they may differ in rated life, output, color, etc. A "also fits" refers to the LED lamp fitting within the intended light fixture.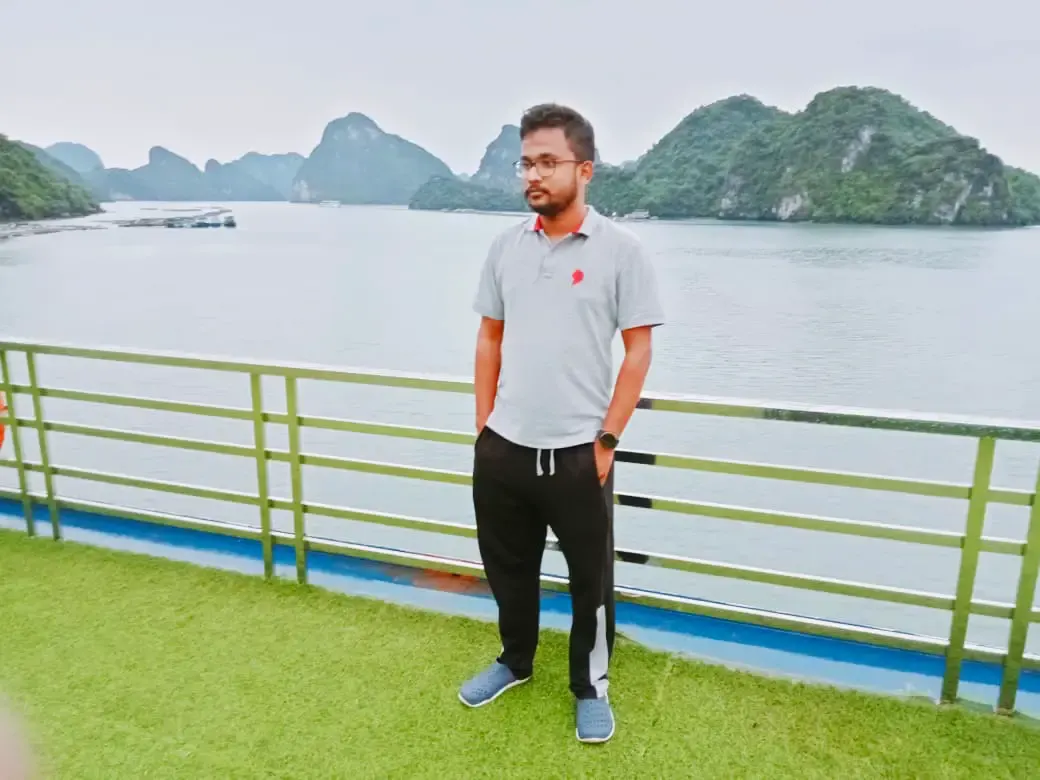 This is Surya. I am an experienced off-roader. I have been off-roading for many years across several terrains. I am passionate about 4×4 driving and want to share my knowledge and experience with others.
My goal is to provide you with the most comprehensive and unbiased information about off-roading.
I curated this article through my personal experience and expertise, and I hope it helps you with what you are looking for.