The ability to communicate with other drivers is vital when you're off-roading in a vehicle that has been outfitted with huge wheels and tires, a higher suspension, and steel bumpers. Every off-road vehicle should be equipped with a CB radio or HAM radio. What are the best radios for off-roading?
CB and HAM radios being more trustworthy than mobile phones in certain situations, we've chosen the finest CB Radio and HAM radios for Off-Roading below. Considering the performance and reliability, below are the best radios for off-roading.
The first five radios are CB radios, while the last five radios are HAM radios.
CB Radios:
The Uniden 980
Cobra 29 LX Max
Galaxy CB
Uniden Professional
Uniden PRO510XL
Ham Radios:
BaoFeng BF-F9HP
BaoFeng UV 5R
ICOM 2300H
Yaesu FT-604
Kenwood TH-D74A
You Need a CB and Ham Radios for What Purpose?
In long-distance trucking, CB or Citizens Band and HAM radios are a popular way of wireless communication. Even in the age of wireless mobile phones, they're still a valuable tool for long-distance communication. This is because you can't obtain a WIFI connection everywhere, particularly while driving your off-roader in isolated, off-the-beaten-path locations that also happen to be some of the most fantastic off-roading places.
You can keep in touch with your party even if you're travelling through the woods, away from cell towers, thanks to the CB or HAM Radios aboard. This is crucial for the sake of safety.
When Should You Use A CB or Ham Radio?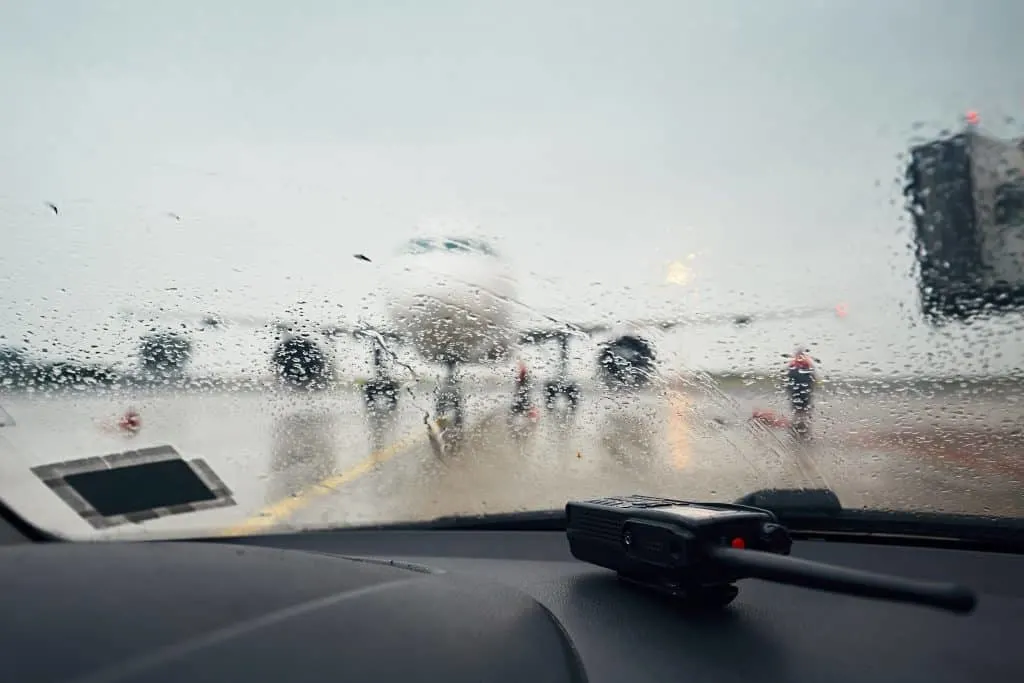 What if someone gets away from the group, has an accident, and requires assistance using a winch installed on a steel bumper to lift their car out? You may also want to let a vehicle on a shared path know you're approaching. Cb or Ham Radios are the most reliable way of communication in these situations.
Before purchasing a CB radio, consider the following features.
Squelch control determines when the signal is emitted. It effectively prevents the operator from listening statically and only activates the speaker when a message is received. This is a standard feature found on practically every CB radio on the market.
Allows the operator to filter the transmission that the Radio receives based on the signal's strength. When conversing with someone who has a powerful message, it's helpful to shut out weak communications to remove background noise. When utilized to pull in and better hear weak signals, this is also advantageous.
Filters static, motor noise, and other interference from the receiving signal to improve the sound quality of Radio reception.
Quick access to two of the most popular channels: Channel 9 (emergency) and Channel 19 (road/truckers).
For smooth evening operation, many more costly models have a backlit radio display. This is a handy feature if the Radio is used often at night or in dark conditions.
A CB channel scanner works similarly to a radio scanner. It looks for activity across all available channels. When it discovers people conversing in a chain, it stops scanning and lets you listen in. This makes it much easier to find and tune into discussions without manually switching between the channels all of the time.
Find Out: What is The Best Rim Size for Off-Roading? The Top 5 Rims
CB Radios and HAM Radios – Comparison at a Glance:
| HAM Radio | CB Radio |
| --- | --- |
| operates at 50 watt | Operates at 8 watts |
| requires dual battery setup for functioning | single battery source is enough |
| Have long-range of up to 300kms | operates in between 50kms |
| expensive | cheaper ($50 or less) |
Top 5 CB Radios for Off-Roading:
1-The Uniden 980: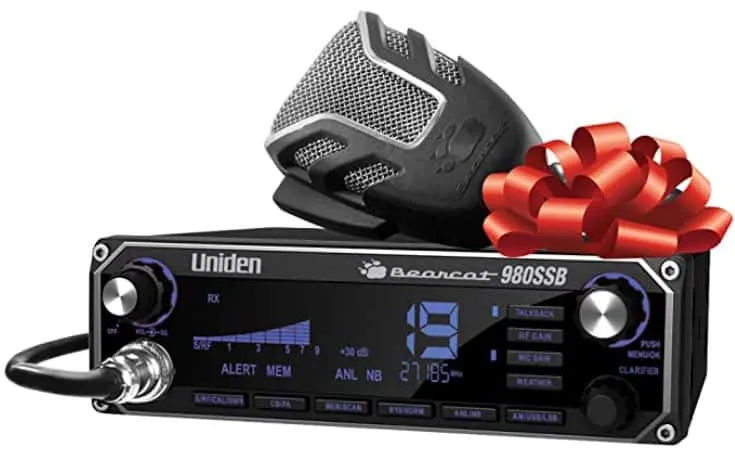 CB Radio has evolved into a modern design. You may check your concentrations with the large digital S / RF / SWR meter. The backlight screen may be adjusted to brighter or dim as required or desired.
The Bearcat 980 CB Radio has a noise-canceling microphone, and RF Gain increases the driver's hearing and who they converse with. The antenna is well-matched, thanks to the inbuilt SWR.
It also has a backlit display with seven different colors for easy viewing. This is one of the Best Cb Radios For Off-Roading because the bright screen makes it easy to read and alter settings while maintaining your attention on the road.
Pros:
It receives well, similar to an ancient Uniden grant or a cobra 148 gtl. Good single for the end of the Radio.
Power is adjustable to a degree, but as factory radio, it's perfectly enough.
Excellent for use as a base station and in mobile applications. ANL/NB.
With the standard mic, you can get decent sounds.
Cons:
Even when set, the backlight is inadequate in direct sunshine.
2-Cobra 29 LX MAX: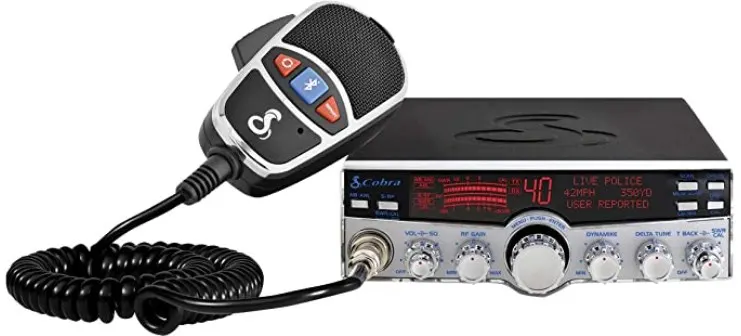 With Bluetooth Wireless Technology and upgraded smartphone functionality on their smartphone, the Cobra 29 LX MAX offers a legal means for professional motorcyclists to engage safely and quickly. Because the CB radio synchronizes calls to your mobile phone, the Bluetooth capability allows drivers to have better on-road phone conversations.
Furthermore, the noise-cancelling microphone allows for loud and clear calls, even over a noisy engine. Incoming audio is channelled via the Radio's speaker, allowing the driver to hear who is calling through audible caller identification easily.
The system has a one-touch compliance procedure that allows the driver to stay focused on the road by replying, placing, and ending calls with a single touch. The patented iRadar APP connection will enable you to get and report live police, speed traps, road hazards, and red light camera intersections linked to a society of radar detectors and dashcam users that give a mechanism to accomplish this.
Pros:
The battery on this CB radio is constantly draining.
The weather station altered the screen color since it has additional functions and a built-in SWR to configure the antenna.
Cons:
To avoid it from depleting your battery and self-destructing, you'll need to add a power shunt between it and the source.
3- The Uniden Professional: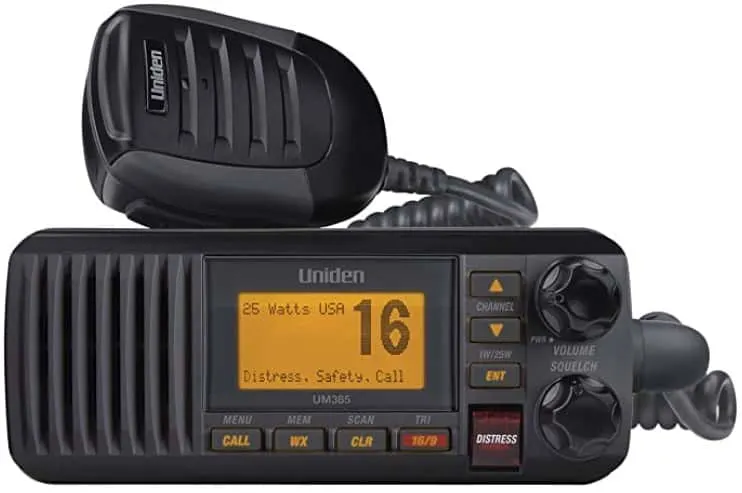 This CB radio offers 4 watts of transmit power, RF gain control, and 40-channel operation in a small, rugged CB radio package. It includes a front-mounted 4-pin electret microphone with an extra-long coiled wire, an S/RF LED meter, direct emergency channel 9, transmit indication lights, Automatic Noise Limiter switch, a Public Address switch, Volume control, Squelch control, and more.
Frequently used in industry, commerce, and off-road. It also fits into practically any automobile due to its compact size. With its built-in External Speaker Jack, you may connect to an optional internal speaker, and you can utilize the Public Address capability to be heard outside your car with an external PA speaker.
Pros:
When speaking with other truckers, be loud and clear.
Robust transmission and reception.
It is reasonably priced and ideal for use in an emergency.
4- Galaxy CB: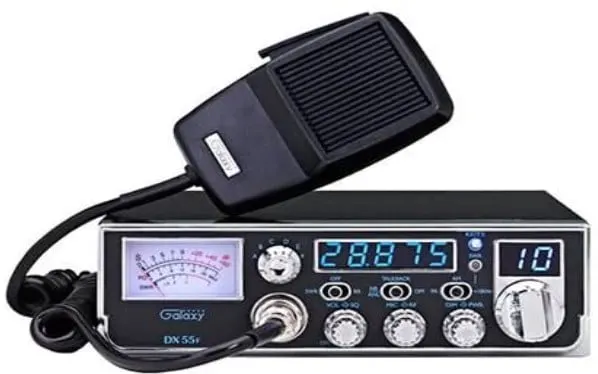 Radios are designed with features that may be appreciated by a seasoned CB operator while also being easily understood by a novice. The Cb Radio function is laid up in a driver-friendly fashion that allows you to keep your eyes on the road ahead.
Each button or knob controls its function, reducing the need to go through many menus to see a screen or cycle. The DX-959 has been a reliable performer for almost 15 years. It's the pinnacle of our mobile CB series, with a slew of useful radio functions.
This is the finest Radio for those who don't care about menus or even have to glance down to activate it while driving. The built-in SWR meter makes it simple to adjust the antenna and track its progress over time.
Pros:
Excellent receptor and transmission properties.
Everyone may benefit from it in many aspects of life.
Cons:
The blue display is overpowering! It is dazzling at night, even when turned down to the lowest setting. The glare in the taxi is excessive.
The meter's blue lighting makes it almost hard to read.
A terrible 500hz whine comes from the power source for the EL face panel lighting. Even at highway speeds, it's loud enough to hear in the car, and it's simply annoying/unacceptable while stopped or parked. This equipment couldn't possibly be used as a base station.
5- Uniden PRO510XL: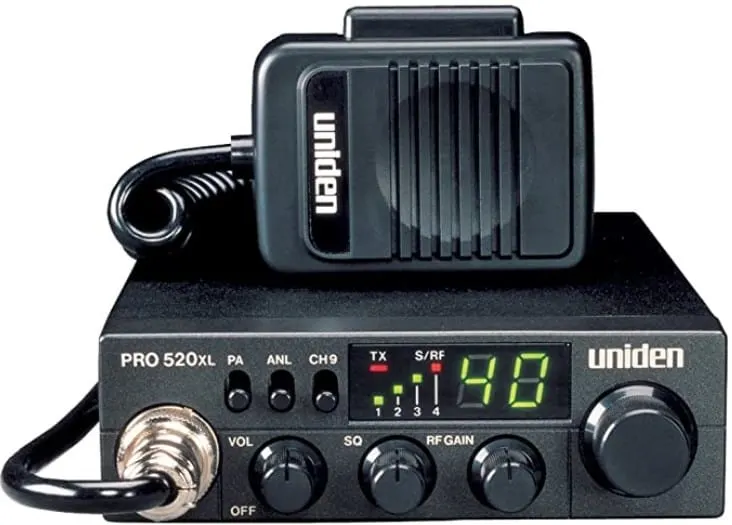 Uniden's Professional Series is a popular choice for industrial, commercial, and off-road applications. It can work on any of the FCC's 40 AM frequencies, and its S/RF meter and red-lit LED indications make it easy to keep track of activities at a glance.
The front-positioned 4-pin microphone features an extra-long coiled wire for simple usage, and it includes a built-in noise limiter, ANL switch, and squelch control to fine-tune performance and reduce noise.
When speaking, turn on the ANL (automatic noise limiter) to assist remove background noise, such as that from the vehicle engine/etc. The squelch control also aids with noise reduction.
Top 5 Ham Radios for Off-Roading:
1- The BaoFeng BF-F8HP:
It is a beautiful alternative if you're just getting started with ham radio communications and don't want to spend a lot of money on your first device or if you need a backup device. Basic two-way radios, portable two-way radios, waterproof two-way radios, and, of course, ham radios are among the communication equipment offered by BaoFeng.
The BF-F8HP (UV-5R 3rd Gen) is an improved version of their UV-5R, with 8 watts of power instead of 4 watts, providing double the output power. It also includes a 30 per cent bigger battery and a new and better-reinforced radio casing for greater endurance.
While it is an improved model, it was created with rookie users since it is straightforward to operate and comes with a comprehensive user manual and unique customer and warranty service.
This portable ham radio has three power settings: high (8W), medium (4W), and low (2W) (1W). The frequency extends from 65 to 108 MHz, although it can only receive commercial Radio.
It has a built-in flashlight as well as a built-in radio. You'll get everything you need to start utilizing and making the most of this device, including a V-85 antenna, a power adapter, an earpiece, a belt clip, a hand strap, and a battery charger.
2- BAO-Feng UV 5R: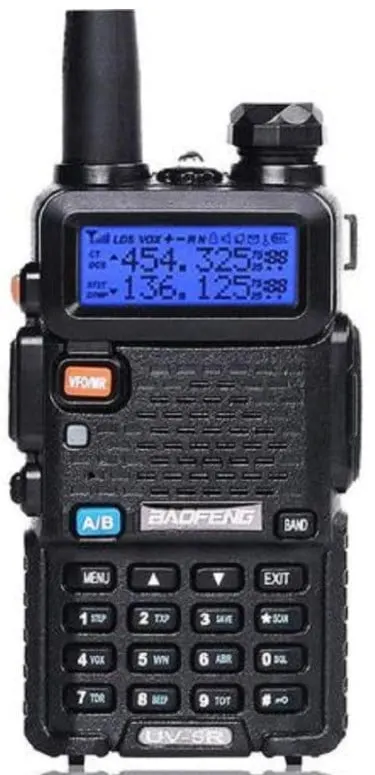 Another BaoFeng radio is last but not least in our list of the most fantastic amateur radios. Their UV-5R is the cheapest ham radio on our list, but because it's cheap doesn't mean it's unreliable; because BaoFeng builds it, you can expect it to be just as high-quality and dependable as the rest of the company's products.
With a maximum output of 8 watts, this ham radio provides plenty of power. The speaker output is a whopping 700mw, so you'll have no issue hearing in even the most challenging situations. The VHF frequency range is 136 to 174 MHz, and the UHF frequency range is 40 to 520 MHz, standard for portable ham radio.
3- The ICOM 2300H 05 144 MHz:

This Amateur Radio is a beautiful alternative if you're looking for a sturdy, easy-to-use ham radio to use in your car. It has a small profile and is simple to install so that it can be mounted to the dashboard of almost any vehicle. It also has a high wattage, which means it has a lot of power and is effortless to operate.
Thanks to the LCD monitor, the 207 alphanumeric display on this ham radio is quite apparent (which can be set to amber or green, depending on your preference). It has a variety of scan functions, including full, bank, programmable, memory, skin, bank link, tone, and priority, so you may choose the one that best suits your requirements.
Last but not least on our list of the best ham radios is another option from BaoFeng. Their UV-5R is the most affordable ham radio on our list, but just because it's low priced doesn't mean that it isn't reliable; since BaoFeng makes it, you can be sure that it's just as high quality and reliable as all of the other devices that this manufacturer offers.
This ham radio has a maximum output of 8 watts, so it offers plenty of power. The speaker output is an impressive 700mw, which means that you'll have no trouble hearing in even the harshest conditions. The frequency range is 136 to 174 VHF and 40 to 520 with UHF, standard for portable ham radio.
4- The Yaesu FT-60R:

The following Radio is on our list of the most excellent amateur radios. Yaesu is known for its high-quality radios, and the FT60R lives up to that reputation. This portable amateur Radio is made of robust materials, is simple to use, and has a lot of functions, making it a good choice for both new and seasoned ham radio users.
This dual-band VHF/UHF ham radio transceiver includes more than 1,000 memory channels, 10 memory banks, and nine DTMF auto dialer memories are included in this dual-band VHF/UHF ham radio transceiver.
It receives frequencies between 108 and 520 MHz and 700 and 999.99 MHz and broadcasts between 122-148 MHz and 430 and 470 MHz.
It can also be used as a weather radio since it has one-touch access to NOAA weather and the capacity to receive and scan severe NOAA severe weather warnings, so you'll be aware of any impending storms.
Mono-band and memory-only operation modes, two programmable buttons on the front panel, and an RF squelch that only passes signals that exceed the specified level to guarantee clarity are other significant features.
5- The Kenwood Original TH-D74A: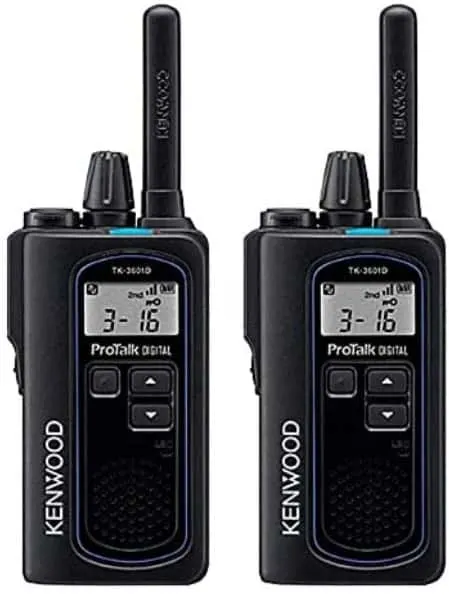 Among Kenwood, Radios TH-D74 is the first on our list of the finest amateur radios. Kenwood is a well-known maker of communication, navigational, and other electronic devices. Police scanners, radio detectors, long-range walkie-talkies, and much more are among their offerings. Their TH-D74A is one of the best ham radios on the market.
This Radio has everything you could want in ham radio, and it's also highly dependable and straightforward to use. It works with D-STAR digital amateur radio networks in digital/voice mode, and it has wide-band and multi-mode reception, so you'll have no problem connecting and speaking.
It also has packet communication, which allows it to communicate real-time GPS positional information and messages, making it a two-in-one device that functions as amateur Radio and a portable GPS.
Conclusion:
Ham radio and CB radios are fantastic tools to invest in, whether you want to explore and have some fun or you want to remain connected so you can keep up with the newest news happenings. In this evaluation, we provide five solutions in both aspects that will meet a wide range of requirements; each is of excellent quality and is reasonably priced.
Also Read:
Toyota RAV4 in Off-Roading- Does it Live Up To The Name?
Is Manual Better for Off-Roading? 4×4 Transmission
Frequently Asked Questions (FAQs):
What kind of Radio is used for off-roading?
There are two types of radios used for off-roading: CB and Ham radios. Both these radios are rugged and can maintain effective communication lines even when phone lines do not work.
Are CB radios good for off-roading?
Yes, CB radios are good. They are compact and require significantly less battery power to operate. Other than that, they are very reliable in maintaining g communication lines for long ranges.
What radios does Jeepers use?
Usually, most of the jeepers have HAMs and CB radios installed in their vehicles due to their compactness and reliability.
Are rugged radios legal?
Yes, rugged radios are legal. But, in some states, they may require a permission letter to be operated at particular frequencies.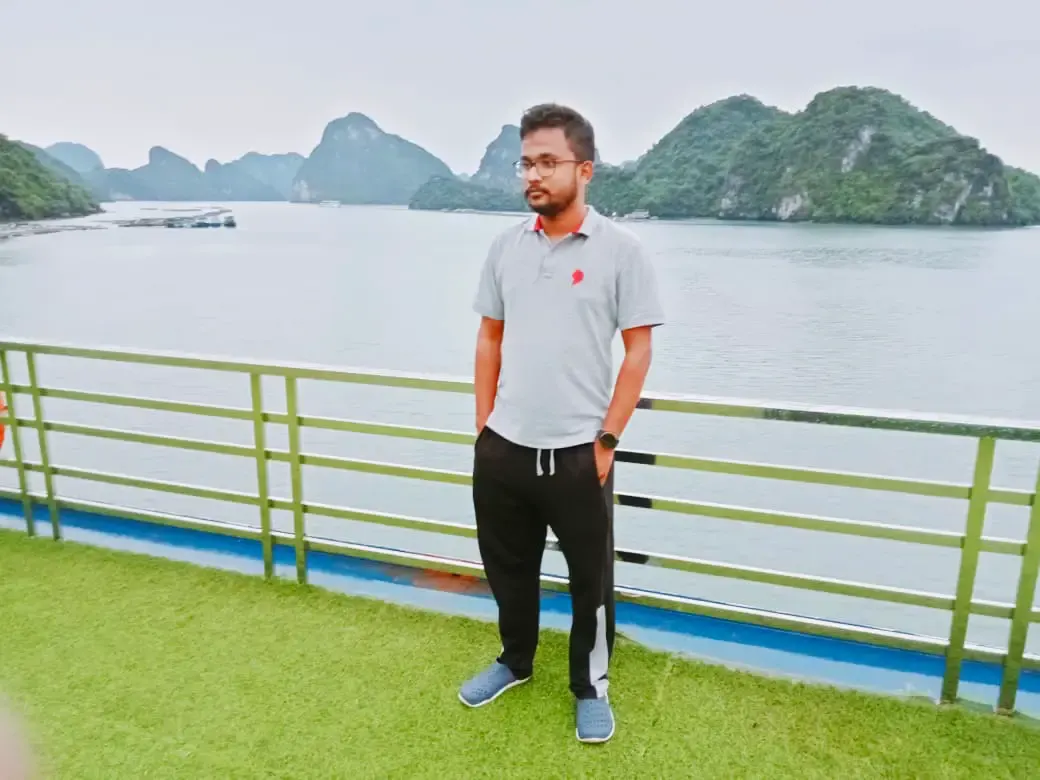 This is Surya. I am an experienced off-roader. I have been off-roading for many years across several terrains. I am passionate about 4×4 driving and want to share my knowledge and experience with others.
My goal is to provide you with the most comprehensive and unbiased information about off-roading.
I curated this article through my personal experience and expertise, and I hope it helps you with what you are looking for.