We're all quite good at keeping a complete set of tools on hand to fix our Jeeps on the trail. And I'm sure you have something sturdier than the weird tiny jack that came with it. There are stores stocked with goodies such as tire repair kits, spare parts, and other items to assist you in repairing what is damaged.
But what about you and your passengers? Almost every Jeep we've seen on the path has a fire extinguisher, but what about a first aid kit? I don't recall seeing more than a couple of rigs out on the rocks with more than a few little bandages in the glove box. What you need is a fully packed first aid kit stowed somewhere in your Jeep and easily accessible to assist crises (or at least mild ones) until you reach expert medical care or it reaches you. What contains the first aid kit for off-roading?
For off-roading, the first aid kit is a vital box to carry with you as it is going to be the first medical assistance available to you if any mishap happens. The things that your first aid kit should include are divided into three main sections:
Bandages and Wound Dressings
Vital Medicines – that include painkillers, antihistamines, etc.
Additional medicines may not be called lifesaving, but they help, like antiseptic creams, hand sanitizers, etc.
So, all of these sections are explained, along with subheadings of each medicine and its usage. In the last quarter of the article, we have attempted to overview how to use a first aid kit in times of crisis.
What Does Off-Road First Aid Kit Contain?
1. Bandages and Wound Dressings: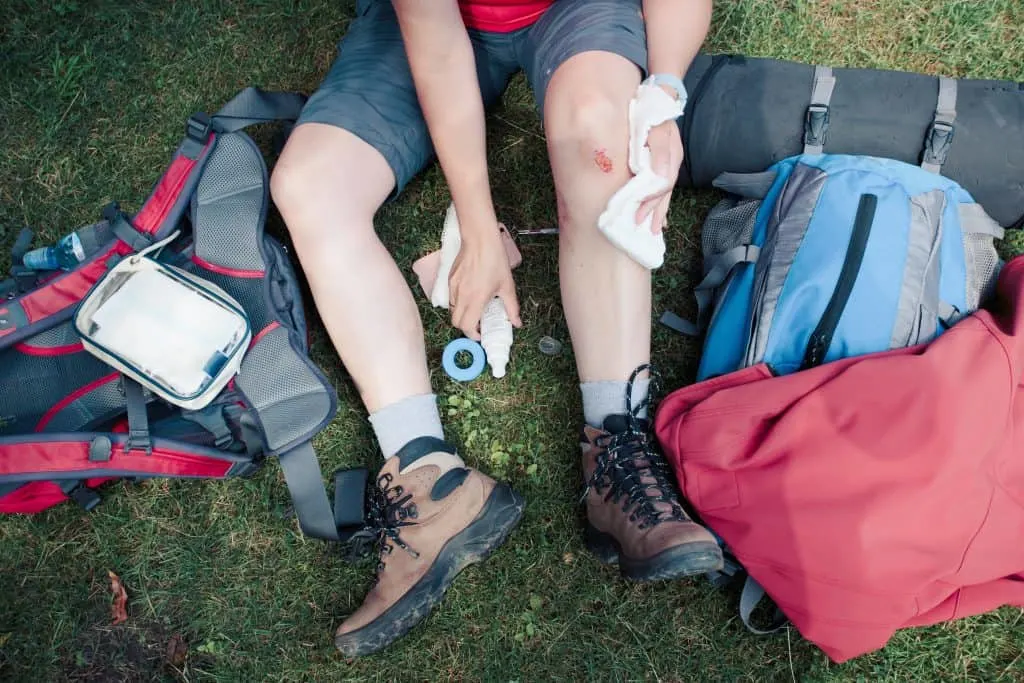 Treatment comes into close touch with a wound to aid in healing and avoid future problems or complications. Depending on the type of wound, different wound dressings are utilized, but they all try to decrease infection. Wound dressings can also help with the following issues.
Gauze Pads in Sterile Wrappings:
Sterile gauze pads or cotton balls can be used to apply pressure to the venipuncture site after the needle has been withdrawn. They can also absorb and clean up any tiny blood droplets that may have leaked during tube changes.
Fingertip Bandage:
A fingertip bandage is a kind of bandage used for first aid. It is an adhesive wound dressing that is custom-made to match the shape of a fingertip. It features an hourglass shape to minimize unpleasant folding and lack of adhesion when wrapped around a finger. When folded correctly, it resembles a thimble.
Elastic Wrap Bandages:
A compression bandage is a long, stretchy piece of material that may be wrapped around a sprain or strain. It is sometimes referred to as an elastic bandage or a Tensor bandage. Because the bandage's mild pressure helps reduce swelling, it may make the damaged region feel better.
Medical Tape:
Medical adhesive tape, often known as surgical tape, is used to secure bandages, gauze, and other dressings to the skin around wounds. Most adhesive tapes are pressure-sensitive tapes, which means they adhere and stay in place with firm pressure. There is no requirement for heat activation or the use of a solvent.
| Type of Bandages | Usages |
| --- | --- |
| Elastic Wrap Bandages | Wrapped around the wound to stop swelling |
| Medical Tape | Wrapped to maintain constant pressure on wounds |
| Fingertip Bandages | Wrapped around fingertips to avoid bleeding |
2. Vital Medicines to Carry with You: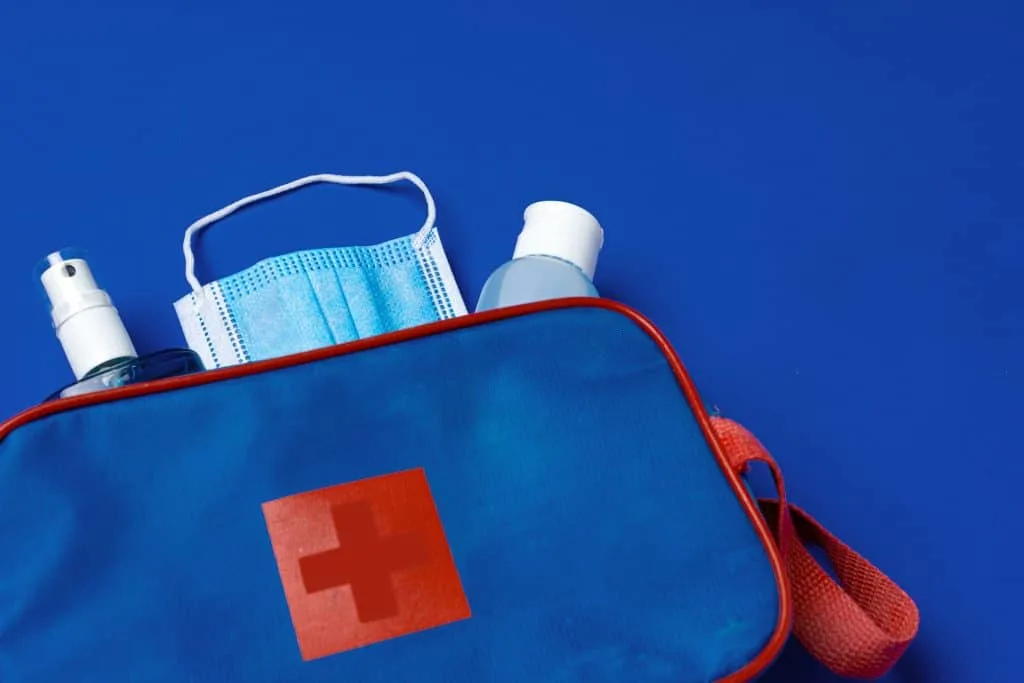 Painkillers:
For minor discomfort, simple over-the-counter pain relievers such as paracetamol and ibuprofen are frequently used. Opioids, often known as morphine-type medications, are commonly used to relieve mild to severe pain. Codeine and tramadol are examples of such medicines.
Antihistamines:
Antihistamines are medications commonly used to treat allergy symptoms such as seasonal allergies, hives, conjunctivitis, and responses to pest bites or stings. They're also sometimes used to alleviate motion sickness and as a sleep duration aid.
Cold and Sinus Medications:
This combination drug is intended to treat symptoms caused by the common cold, influenza, allergies, or other respiratory ailments for a short period. Decongestants reduce symptoms of blocked nose, clogged sinuses, and ear congestion. Paracetamol (APAP) is a painkiller and fever reducer that is not paracetamol.
Medication for Stomach Ailments:
This drug is prescribed to alleviate occasional stomach distress, heartburn, and nausea. It is also used to treat and prevent travelers' diarrhea.
The most common medicine for stomach ailments includes Pepto Bismol. Pepto Bismol can help relieve stomach discomfort symptoms such as nausea and diarrhea. Medications such as Penicillin Bismol, Gas-X, Gaviscon, Tums, and Rolaids can alleviate stomach pain. Pepto Bismol relieves nausea, Gaviscon relieves heartburn, and Gas X relieves stomach pains caused by excess gas.
AntiSeptic and Topical Medications:
A topical antiseptic that is used to treat and prevent infection in wounds. In a therapeutic environment, an antimicrobial agent is used for disinfection and the prevention of the spread and growth of bacteria, fungi, and mildew.
Point of Concern – Regarding these Medications:
Because repackaging pharmaceuticals may be problematic from a legal standpoint, not to mention that it may diminish their efficacy if they aren't correctly wrapped, it's a good idea to buy single-serving containers of the above.
Consider your medical requirements as well as the needs of individuals you usually travel with. For example, you may require backups of specific drugs that you use daily.
| Types of Medication | Usages |
| --- | --- |
| AntiSeptic | Used to stop infections created by fungus and bacteria |
| Cold and Sinus Medications | Used to treat Flu, cough, and other viral diseases |
| Antihistamines | Best to treat allergic diseases |
3. Additional Medications – That Can Prove Vital: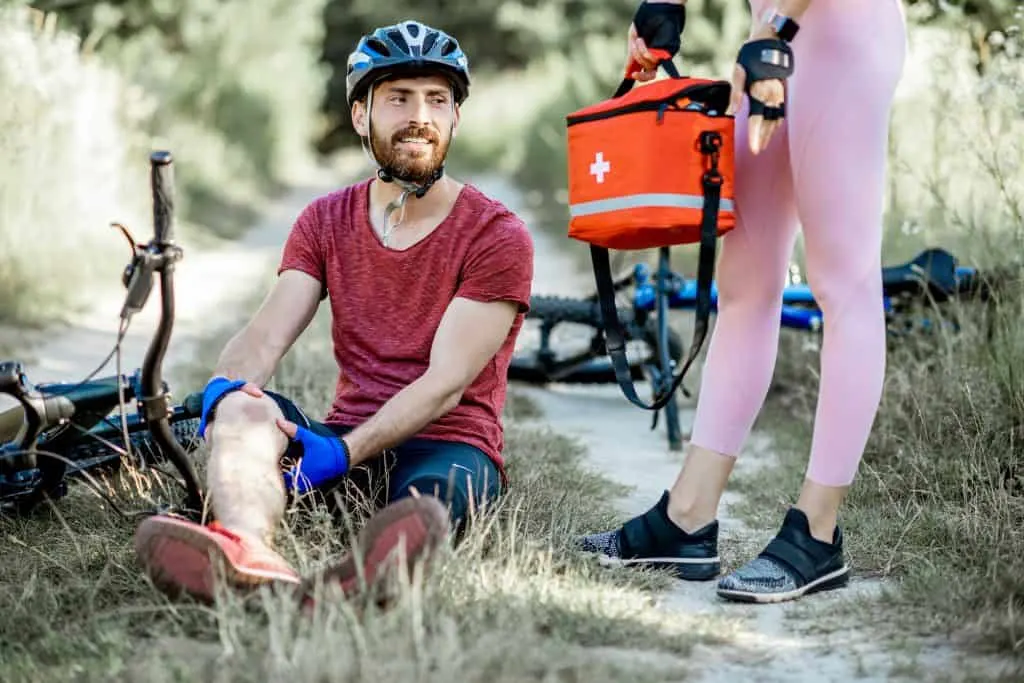 Antibiotic Cream:
This combination solution is intended to heal minor wounds (such as cuts, scrapes, and burns) and help prevent or treat minor skin infections. Minor skin infections and wounds heal without therapy most of the time, although some minor skin wounds may heal quicker if an antibiotic is administered to the afflicted region.
Check Out: Best Off-Road Fog Lights for Cars and Bikes- Complete Guide
Hand Sanitizers:
Hand sanitizer, also called hand antibacterial, hand rub, or hand rub, is an agent applied to the hands to eliminate common infections (disease-causing organisms). Sanitizers are widely available in foamy, liquid, or liquid, or solid form.
When soap and water are insufficient for hand washing, or when repeated washing hands weakens the natural skin barrier, they should be used. Although hand sanitizer's effectiveness fluctuates, it is used as a basic form of infection control in many contexts, from daycare centers to hospitals and care clinics, supermarkets, and cruise ships.
Wet Wipes:
Wet wipes are used for cleaning purposes such as personal hygiene and domestic cleaning; each is a different product based on the chemicals employed, and medical or office cleaning is another. Wipes are not designed to be used for skin hygiene.
Topical Analgesics:
Topical analgesics treat both acute and chronic pain (varieties, fractures, tendinitis, critical back problems, muscle pains).
Itch Relief Cream:
It works by inhibiting the effects of a naturally occurring chemical (histamine) that causes itching. Other components (skin protectants such as allantoin, zinc acetate) in this product may help reduce dry skin, weeping, or seeping symptoms.
Insect Repellent Creams:
Insect repellents are used to keep mosquitoes, parasites, flies, and other stinging insects away. Mosquitoes may spread illnesses including Dengue, Malaria, and West Nile. Ticks may spread Lyme disease, Rocky Mountain Spotted Fever, and other infections.
Sunblock:
They aid in the prevention of sunburn and premature aging (such as wrinkles, leathery skin). Sunscreens can assist in reducing the risk of skin cancer and sunburn-like skin responses (sun sensitivity) induced by some drugs.
Some Other things to Include: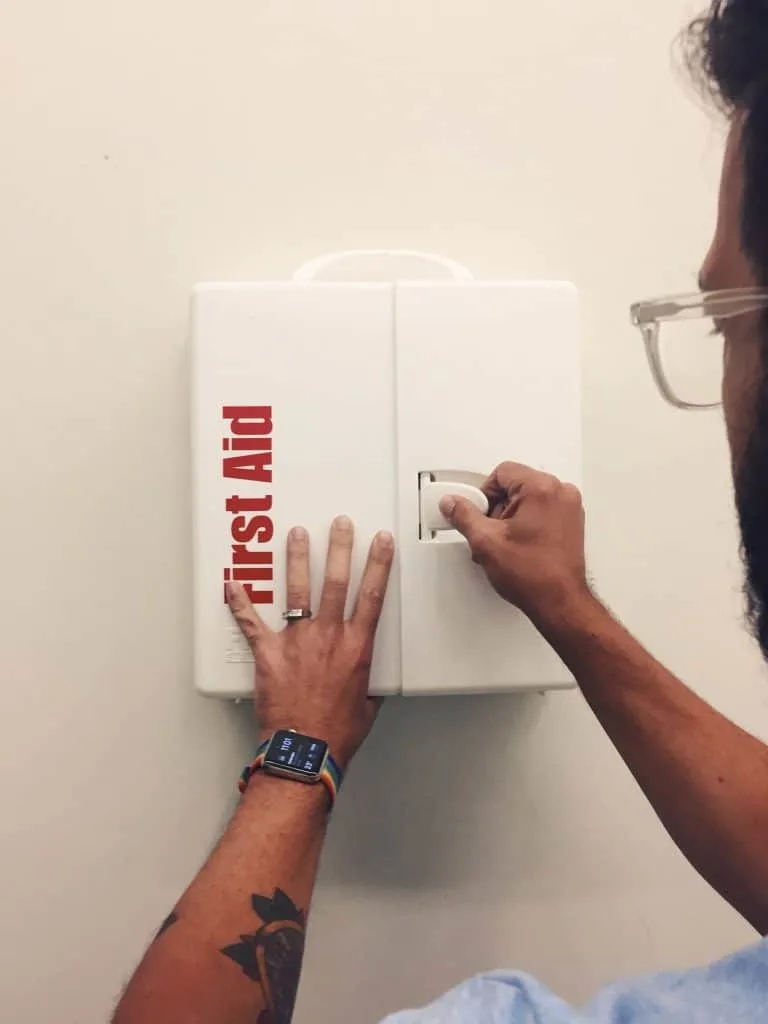 In addition to the materials mentioned above, there are several additional items you may include in your pack that will be very useful during an emergency, such as:
Tweezers and Pluckers:
Tweezers are tiny instruments used to pick up too small things to be readily handled by human fingers. Since the beginning of recorded history, tongs, pincers, or scissors-like pliers have been employed to grip or hold wild things.
Duct Tape:
Duct tape may be helpful in temporarily patching up a bumper, but only if the automobile is safe to drive to the repair shop. It should not be utilized as a long-term repair option. Broken bumpers may be dangerous on the road. Duct tape is rigid, but it's not indestructible.
Trauma Shears:
Tuff Cuts (a brand name) trauma shears are a kind of scissors used by paramedics and another emergency medical staff to rapidly and safely cut garments off, wounded persons. A solid set of trauma shears is vital equipment whether you operate in a hospital, an ambulance, or on the battlefield. Trauma shears are used to cut through various materials, including fabric, metal, and, on occasion, bone.
Nitrile Gloves:
These gloves are an excellent option for anybody who has to work with potentially toxic and corrosive substances. They are also ideal for most medical settings since they are very puncture-resistant and eliminate the potential of latex allergic responses.
High Tensile Strength Rope:
A high tensile strength rope can be used on multiple occasions at off-roading. For instance, the car or truck needs to be towed, or there can be equipment tied to the vehicle's roof. A good rope can do the job.
Flash Light with Good Batteries:
Do not ever attempt off-roading for the night if you don't have a good pair of flashlights with batteries in your backpack. This implies that off-roading requires extensive comprehension of the trail, and without lights, you cannot see the trail; you cannot move further.
Likewise, multiple times there comes a malfunctioning of any part of the vehicle, and drivers have to get beneath the vehicle to make a fix. Having a good flashlight can be a potent tool.
Permanent Markers:
Permanent markers are used to create markings, flashcards, warnings, and route signs for the drivers. So it is better that you keep a pair of permanent markers with you.
How To Use First Aid Kit:
In case of Bleeding:
Put on protective gloves or create a barrier between you and the sufferer before giving treatment to decrease the possibility of disease transmission when aiding the wounded individual. When you're done, wash your hands thoroughly with soap and water to remove any remaining dirt.
The following are the fundamentals of first aid:
In Case of Bleeding and Wound Bandaging:
Cleanse the wounded area with soap and water, then wipe dry with a clean cloth to prevent infection.
Minor cuts and scrapes should be treated with antibacterial ointment and covered with a sterile bandage dressing or a slightly bigger bandage than a physical wound.
In Case of Burns:
First-Degree Burn: The skin may seem red and puffy, and it may also be painful. In most cases, there is no need for medical intervention.
When you have a second-degree burn, your skin will be red, blistered, and swollen. You may need medical treatment.
Third-Degree Burn: The skin will be noticeably burned and may even be white at this point. Usually, this is uncomfortable. Appropriate first aid treatments for 1st burn wounds and specific 2nd-degree burns include the following steps:
Soak the burned area in cold water as soon as possible till the pain subsides. If the afflicted region is large, cold, wet cloths should be used to cover it. Blisters should not be broken if they are present.
Medicated first aid cream or gel should be used and covered with a sterile covering if the discomfort continues, but no medical attention is required. If medical treatment is needed, do not use any topical medications. Simply cover the wound with a dry, sterile covering and seek medical attention as soon as possible.
For 3rd degree burns and specific 2nd-degree burns, the first line of treatment is to dial 911. Third-degree burns must be treated as soon as possible by a medical professional. Please do not attempt to remove any clothes that have been attached to the burnt area. Cover the wound with a sterile dressing or a fresh sheet. DO NOT use any creams or gels on your face.
In Case of Biting by an Animal:
Direct pressure or elevation may be used to control any bleeding that may occur. Close the wound as soon as possible to reduce the danger of infection.
Holding the bite under flowing water will allow you to rinse it thoroughly. Cleanse with soap and water, and then submerge for another five minutes under running water.
Avoid applying ointments or medications to the wound. Cover with a dry sterile bandage or gauze to keep the damage clean.
Seek medical attention as soon as possible.
Please remember to report any animal and human bites to your local police department and/or health authorities.
In Case of Poison:
Call your local Poison Control Center or 911 for emergency medical assistance if you suspect you have a poisoning.
The antidotes on the labels may be incorrect! If you have not been ordered to do so by a physician, do not follow them.
Never provide anything by mouth (milk, water, Ipecac, etc.) until you have first spoken with a medical expert about the situation.
If you have an emergency, have a one-ounce bottle of Ipecac available at all times. Only provide Ipecac if directed to do so by a medical professional.
If the poison has gotten on the skin, flush the skin with water for 15 minutes before washing and rinsing with soap and water to remove the poison.
If you think you have poison in your eye, flush it out for 15 minutes with lukewarm water. Adults are permitted to stand under the shower with their eyes open. When an eye injury occurs, it is essential to seek medical attention as soon as possible.
Conclusion:
The article attempts to offer a comprehensive understanding of first aid kits in terms of off-roading. It shows the possible medicines that can prove vital in life-saving, as off-roading can sometimes get dangerous. The article also has a list of recommendations on how to and where to apply these medications in times of crisis.
Also Read:
Essential Off-Road Accessories for Trucks
Does Off-Roading Void Warranty? How to Check Your Vehicle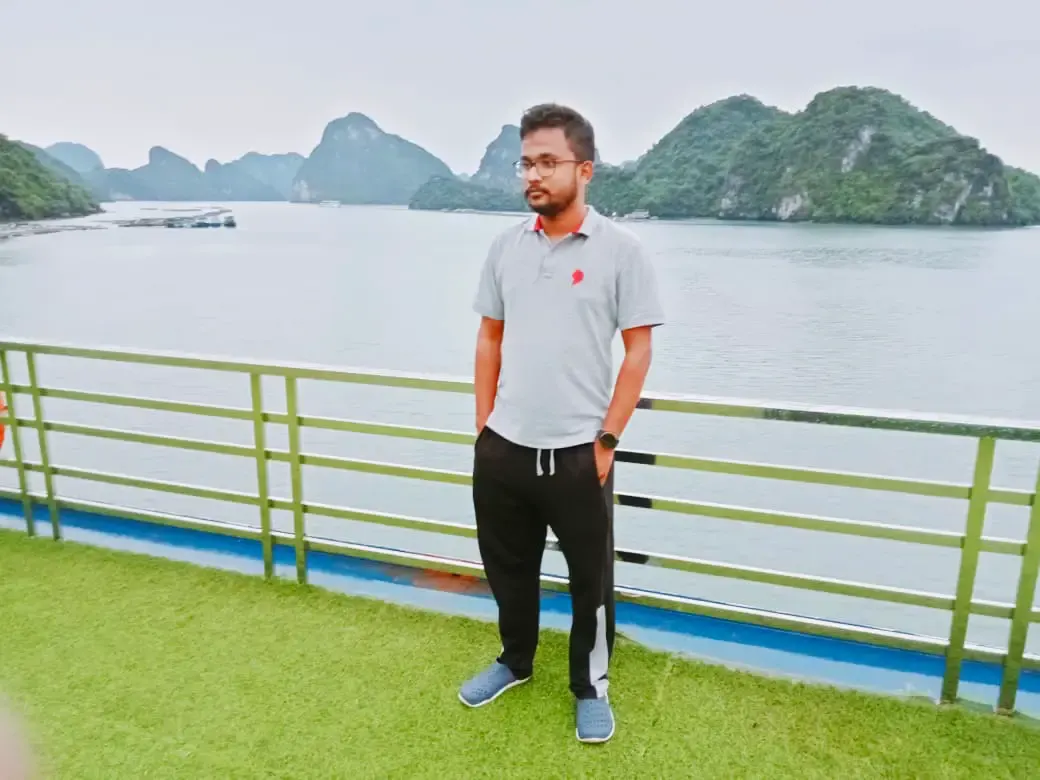 This is Surya. I am an experienced off-roader. I have been off-roading for many years across several terrains. I am passionate about 4×4 driving and want to share my knowledge and experience with others.
My goal is to provide you with the most comprehensive and unbiased information about off-roading.
I curated this article through my personal experience and expertise, and I hope it helps you with what you are looking for.