Back-country trailer sales have exploded in the United States since the turn of the century. Rather than just one or two manufacturers, dozens of companies now produce off-road platforms of all shapes and sizes.
A trip halfway around the world is often enough to cover costs! It usually takes a long time to find a good used trailer and then plenty of time to customize it to your requirements. Why are off-road trailers so expensive?
Off-Road trailers are so expensive because of their high demand and limited supply. The manufacturers have had difficulty producing the parts needed. Shipment delays and a lack of warehouse space are also factors. Most fully kitted units cost between $15,000 and $60,000.
Why are Off-Road Trailers So Expensive?
Several factors contribute to the price of a trailer and its components, so the real answer is not straightforward..
There have been a lot of changes in the trailer industry over the past year. Purchasing a trailer means that you're either having trouble finding exactly what you're looking for, waiting longer than you'd like to, or paying more than you would like to.
The manufacturers announce their price increases every month, it seems.
In addition to steel and wood, their suppliers provide air conditioners, awnings, generators, and other commonly used items. In 2020, the Covid-19 shutdowns and the China tariffs were to blame.

United States iron and steel shut down many of its blast furnaces last April, reopening some of them in the summer. The result: a $920 million loss for the full year for United States Steel.

Sales of trailers have not slowed despite shortages of both steel and wood. With so many industries competing for limited resources, prices are rising. The current reality can be summed up by saying supply and demand dictate everything.

The COVID-19 pandemic is causing raw materials shortages in industries worldwide, including lumber, steel, aluminium, tires, suspension parts, and wiring harnesses, which has a detrimental impact on trailer production and pricing.

Materials and components account for over 20% of overall costs.

Over the years, the industry has struggled with component supply. Availability may still be affected by other factors, such as shipping delays and warehouse space, even when material capacity is available.

Due to high demand, 2021 requests have essentially blended into 2022 requests. Equipment is needed as fast as possible. The numbers we see for 2022 are just as good as those right now for 2021.
The caveat to this line item is that you don't have to spend a fortune. If you're willing to do the work, you can get an off-road trailer for very little.
How Much Does an Average Trailer Cost?
The average price of a new travel trailer is between $10,000 and $40,000. It costs approximately $24,000 for a 24' trailer of decent construction.
Many factors influence the price, not the least of which is the size and construction quality.
Used Utility Trailer Buying Guide:
Titles free of liens and clear of encumbrances.

The frame of the trailer.

Flooring.

Electrification and wiring of electrical systems.

They are tires.

You need brakes.

Shock Absorbers.

In essence, bearings.
What Makes Teardrop Trailers Expensive?
New or used, a teardrop trailer's final asking price can be affected by several factors. Here are a few to consider.
You will pay more for the teardrop trailer if it occupies more space.

Materials can also increase the price of your vehicle besides what's inside and outside. Most teardrops are made of aluminium, which is a relatively inexpensive material. Some of these vehicles might have stainless steel components for stability, but overall, they shouldn't be too expensive.

A trailer brand is often named after the type of wood used in its construction. Teardrops are expensive because of the time and work needed to make them.

When you order your trailer, there will be a bunch of cool add-ons, bonus packages, and amenities you select.

As soon as you start adding solar panels, clotheslines, upgraded cabinetry, and other amenities, you're spending several hundred or thousand dollars per month.

A tent's fabric will not be able to keep in heat as long as a trailer's walls. Trailers have weatherproof walls.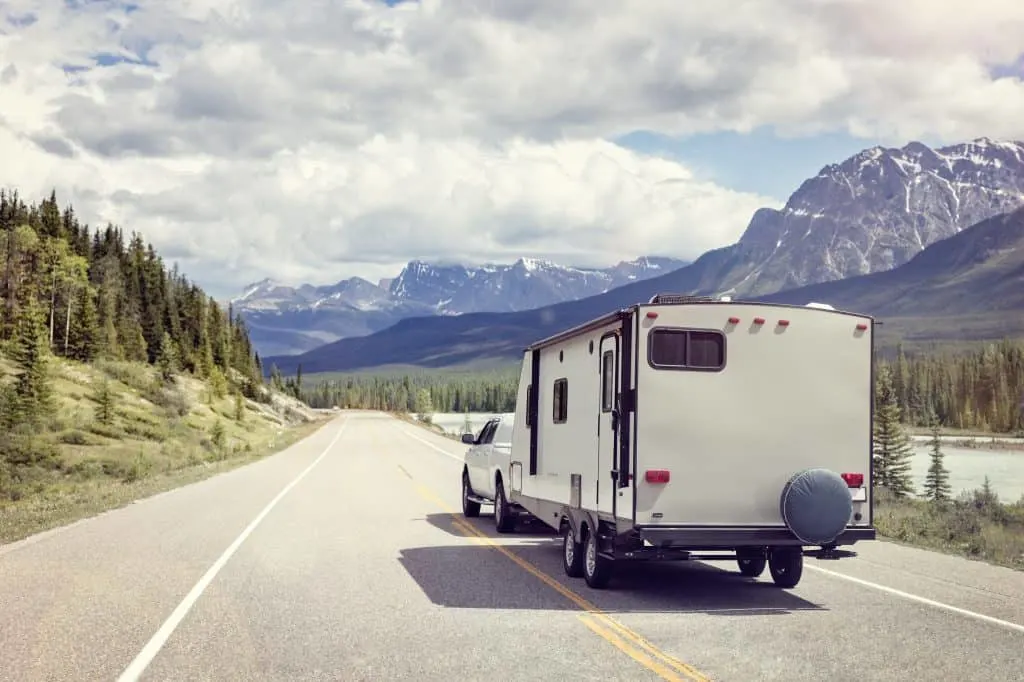 Teardrop Trailer for Less Than $10k:
You'll love the small, simple design of Do-Drop. Sporty teardrops come in either a 3 1/2 ft wide or 4 ft wide version. This version is ideal to be towed behind a side-by-side utility vehicle, like a Rhino or Arctic Cat. Using narrow roads and trails, Do-Drop can be transported into the woods. Great for adventure seekers and athletes.
With a slightly larger bed than a twin size, the 3 1/2 ft version is perfect for a single occupant but could work for two. Although still small, the 4 ft version is ideal for dual occupancy.
Price:
With a few highly effective upgrades and options, the DO-Drop can be customized for a starting price of $6150.
| | |
| --- | --- |
| Specs | |
| Weight | They weigh about 550 pounds, while more complex models can weigh 700 pounds or more. |
| Weight of the tongue | The weight of the trailer is 10% |
| Size of the body | 4 feet long, 3.5 feet wide, and 7 feet tall. |
| Dimensions overall | There are 120 inches in length, 66 inches in width, and 60 inches in height. |
| The base price | $6750 |
| Framework | Steel square tubes |
Off-Road Trailers Less Than $5k:
1. Peewee Campers Small-Fry: $4,995 (Might go up to $6895):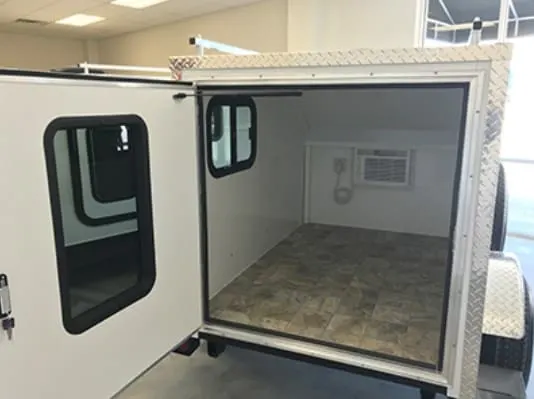 A four-by-six-by-44-inch box comes with this vehicle. It's a teardrop trailer of extraordinary size.
| | |
| --- | --- |
| Specs | |
| Height | The roof vent top is 59 inches high. |
| Width | 64 inches |
| The harness connector | Seven-pin wiring for a two-inch ball hitch |
| Clearance | It measures 13/ 12 inches |
| Tires | It's six-ply |
| Diameter | Approximately 27-inches |
| Size | It has a bolt pattern of 5 x 4 11.2 inches. |
Features:
Vinyl-coated plywood flooring

At each corner of the trailer, there are dual stabilizer jacks

An optional three-speed fan (not included) can be added to the roof vent to provide ventilation; the fan also features a vent screen and a hand crank for opening and closing the vents

With a deadbolt, keyed lock, deadbolt handle, and screen on the back door, it measures 26″ by 36″.

Turn signals, brake lights, and running lights are all LEDs

Stabilizer jacks that are wheeled

Diamond plate fenders with a natural curve; the outside of the Small-Fry also features diamond plate aluminum edge trim
2. Hiker Trailer Highway Deluxe: $3,795: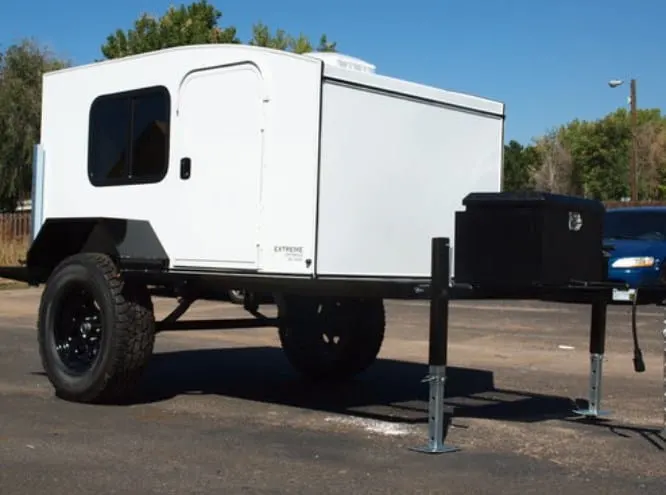 Although Hiker Trailer has more affordable models than the Highway Deluxe, I think this is a great mid-sized teardrop for a reasonable price. Cost of the 4×8 is $3,795, the 5×8 is $4,795, etc.
Features:
Power strip with 110-volt exterior plug

Floor coverings made of vinyl

A completely aluminium exterior

Aluminium fenders that are also round

An automatic roof vent

A towing light

Cabinets on the front and back of the refrigerator

Each wheel is 14 inches in diameter

There is a curbside door

The four-pin wiring
Conclusion:
Because of this, Do-Drop is simple, light, and affordable, but it has everything you'll need. There are many ways to set it up. If you are looking for a simple way to go camping without towing a large vehicle, then this camper trailer is the solution for you.
Due to its 78-inch bed length and 47-inch interior width, DoDrop is the perfect choice for couples or a single occupant. DoDrop offers everything you need when equipped with a chuck box/camp kitchen.
Also Read:
25 Extreme Campers Built for Off-Roading
Frequently Asked Questions (FAQs):
What makes trailers so expensive?
There has been an increase in the prices of steel, wood, and other common parts like air conditioners, generators, and awnings. A chain reaction is occurring due to the Covid-19 shutdowns of 2020 and the China tariffs. Steel and wood shortages have not dampened trailer sales.
What makes mini-campers so expensive?
Another type of trailer uses a particular wood named after the brand. Making these teardrops takes time and effort, which raises the price. Many teardrop businesses build their trailers from scratch by hand.
A nice trailer costs how much?
A new travel trailer typically ranges from $11,000 to $35,000. The average price of a 24′ travel trailer is around $23,000. Many factors influence the price, not the least of which is size and construction quality.
Is it worth buying a trailer?
There is less maintenance required for trailers. Since trailers are compact or smaller, they are easier to store during the off-season (although fifth-wheel trailers can be up to 40 feet long). So it is worth to buy a trailer.
Trailers are used for what?
Trailers are unpowered vehicles towed by powered vehicles. Materials and goods are commonly transported using trailers. RVs, travel trailers or mobile homes with limited living space where people can stay or camp are sometimes trailers.
What are my options for building my camper?
Homemade campers come in an endless variety of styles! The box could be painted bright colours, covered in aluminium for a sleek and modern look, or reinforced with fibreglass for a clean and durable look. There are many ways to customize a homemade camper to suit your tastes.
How much does a small teardrop camper cost?
A small teardrop trailer will cost between $5,000 and $10,000, a midsized teardrop trailer will cost between $10,000 and $15,000, and a large 4 person teardrop trailer will cost over $15,000! You may have to pay even more if you choose to buy a bathroom for your teardrop camper.
Is it because camp trailers are so expensive?
Materials and parts for a large camper are more plentiful. Therefore, they are more expensive to produce. This applies to all types of campers. An RV will cost more than a teardrop camper, for example.
Why do teardrop campers have value?
Compared to popup campers or expensive RVs and motorhomes, teardrop campers tend to hold their value better. Teardrop campers are becoming increasingly popular, which could help you keep your teardrop longer.
What is the cost of tab teardrop campers?
Pop-up tents can cost about $4,600, TAG teardrops about $17,000, and TAB campers about $21,000. It would help to consider whether your current vehicle could safely tow the camper you choose. It's not good to have a towable camper and nothing to pull it with!
What makes teardrop trailers so popular?
It is because of their lightweight nature that teardrops are so popular. You'll be able to tow more, travel farther, and you won't need to upgrade to a gas-guzzling truck.
Travel trailers: are they a good investment?
Travel trailers can lose about 20% of their value during the first year. Damage to the trailer will increase this percentage. You may want to consider the possibility of purchasing a used travel trailer to offset its depreciation.
Do you think you could live in a teardrop trailer?
I live in a teardrop trailer, which is easy to transport and maintain, allowing me to live deliberately.
What are the steps involved in negotiating a travel trailer?
Tell the dealer you will buy it today if they lower the price. Tell the dealer you will buy it today if they lower the price. Dealers want you to complete the purchase the moment you enter the dealership. If you leave, there is a possibility that you will take your business to another dealer.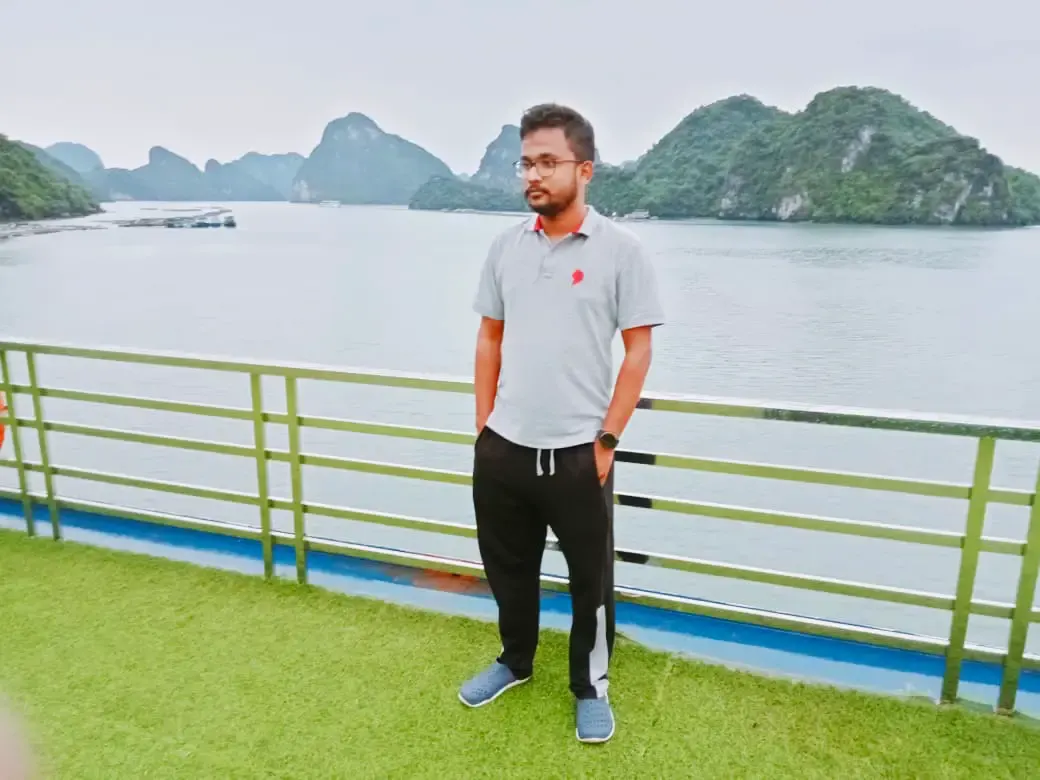 This is Surya. I am an experienced off-roader. I have been off-roading for many years across several terrains. I am passionate about 4×4 driving and want to share my knowledge and experience with others.
My goal is to provide you with the most comprehensive and unbiased information about off-roading.
I curated this article through my personal experience and expertise, and I hope it helps you with what you are looking for.