Jeep Wrangler is a giant when it comes to off-roading. Let's see: What makes a Jeep Wrangler so good off-road?
Jeep Wrangler is so good for off-roading because of the dynamic 4×4 drivetrain and hardy front and rear axles. They are supported by powerful transmission and a coil-over suspension. It is easier to climb the steep terrain when the wheels get close to the front and back of the vehicle.
We all know that jeep Wranglers are considered one of the most popular and best SUVs in the off-roading scene. Many market competitors claim that their vehicles have better characteristics for off-roading. But a professional off-road enthusiast will mostly choose among the Jeep wrangler category.
What Makes a Jeep Wrangler So Good Off-Road?
Jeep Wranglers and associated models have the trail-rated badge due to their grueling trading grounds and based on the different criteria for the trail-rated badges, including:
The jeep wrangler can easily handle the traction in the most challenging driving conditions.

It has electronic brake differentials, traction control, and electronic stability control. Jeep wrangler helps to stay in control of the off-road conditions.

The jeep wrangler offers dynamic maneuverability at high speeds to harness impressive power.

These jeeps are equipped with branded FOX aluminum-bodied 2-inch diameter shocks that enhance the performance. They provide steady handling in the toughest off-road environments.

The jeep wrangler provides a larger ground clearance of 10.3 inches with a two-inch lift for providing plenty of room to maneuver.

A person needs plenty of room between the vehicle's underside and rocks. Break-over angle, approach angle, and departure angle are optimized, giving an option to go over.

The jeep wrangler helps to conquer all the depths you can easily come across through streams and shallow ponds.

The jeep wrangler is protected through the sealed electrical connections and body openings with a higher-positioned air intake. It will protect the vehicle from creeks, streams, and deep puddles.

It is the ability that keeps the tires in contact with the ground. Jeep Wrangler keeps up with the best and has many features.

It has an electronic sway bar disconnect that allows the massive articulation of the front tires. It ensures that wheels remain in a stable and engaged state.

Jeep wrangler has in-built versatility, and a person can remove the doors, take the roof off, and tilt the windscreen down.

It makes access to the vehicle and offers an open-air experience. Another benefit of improved visibility is important to traverse the trails.

The jeep wrangler is highly adaptable with huge after-market offering upgrades and enhancements.

The lift kits associated with the jeep wranglers allow to increase the ground clearance of the wrangler and add more suspension travels. It offers more ground clearance and prevents the underside of the jeep from being damaged.

Jeep wranglers have an intangible fun factor that other vehicles in the market lack. They provide a design that allows the owner to strip the things back to a pure off-road experience.

It has some iconic looks and has unique specifications and technical details best for the 4-by-4 off-road experience.
Jeep Wrangler Off-Road Specs:
Jeep Wrangler has specific specs and features and is a highly coveted off-road SUV. It is equipped with features, systems, and accessories and is considered the favorite vehicle on trails. Let us discuss the engines in the jeep wranglers.
1. Wrangler Engines:
There are two dynamic engines associated with the Jeep wrangler. These engines provide unique performance, and you can determine them according to their specifications:
| | |
| --- | --- |
| 2.0 L direct injection with e-torque | 3.6 L Pentastar V6 Engine |
| This engine offers a horsepower of 270 HP. | It offers a horsepower of 285 HP. |
| It has torque in the range of 295 pounds. | It has torque in the range of 260 pounds. |
| It has a towing capacity of up to 3500 pounds. | It has a towing capacity of up to 3500 pounds. |
| It has an MPG value of 23. | It has an MPG value of 17. |
2. Off-Road Technologies:
Jeep Wrangler also has powerful off-road technologies that boost its performance. These technologies ensure to offer the best off-road experience exceptionally.
| | | |
| --- | --- | --- |
| | Command-Trac 4-by-4 system | |
| Selec-Trac 4-by-4 system provides optimum traction for nearly any surface. | Command-Trac has a shift-on-the-fly system with a low range that is perfect for rock crawling. | Rock-Trac 4-by-4 system provides the strongest grip and offers more control and torque. |
| It has a full-time mode that automatically switches 2WD or 4WD to relevant road conditions. | It has a neutral range for available flat towing. | This system has an off-road transfer case with a low gear ratio, electronic front, and rear differentials, and electronic front sway bar disconnect. |
3. Off-Road Parts and Accessories:
Jeep Wrangler also has a few off-road accessories and parts that make it good for off-roading. Some of the key accessory options are below:
| | |
| --- | --- |
| Rock rails | It protects the sills from jagged edges. |
| Off-road tires | It has 330inches off-road tires that heighten the upcoming adventures to the next level. |
| Steel bumper | It has steel front and rear bumpers that are winch-ready and has removable endcaps. |
| Tow hooks | It has red tow hooks that add style and function to the jeep. |
Jeep Wrangler- An Ultimate Off-Road Machine- Top 5 Off-Road Models:
The jeep wrangler is an outstanding off-road vehicle that can take your trail experience to an amazing level. It is better to look for the features related to safety, options for comfort, and other things in your vehicle before going off-roading. Here we will discuss some best Jeep Wranglers and the features that make them the best among others:
1. Wrangler Sport: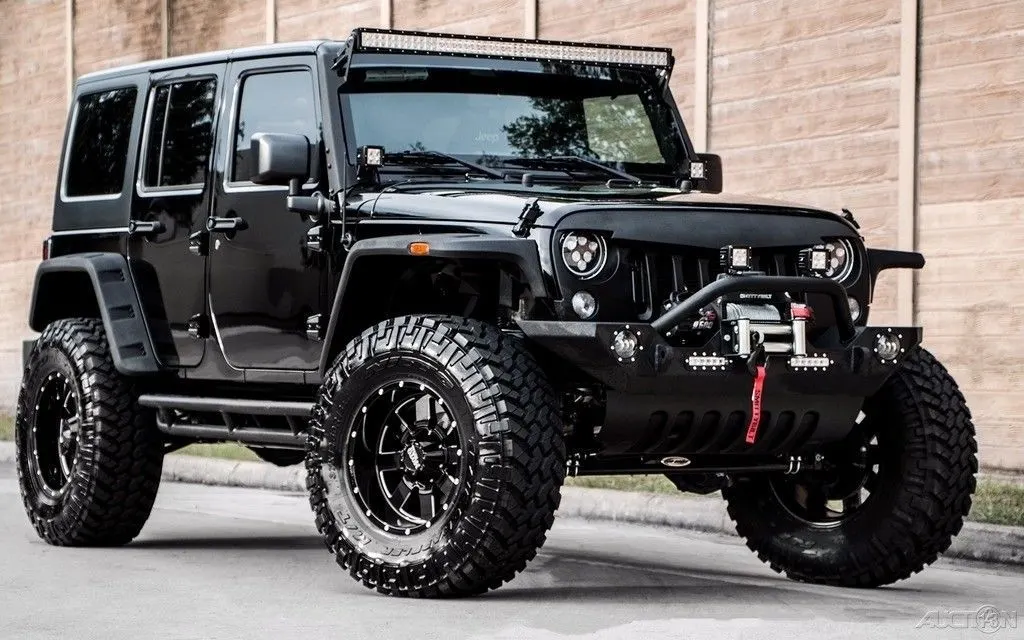 Wrangler sport is known as a good starting vehicle for the sport. It has some best features that make it a good option for off-roading:
Wrangler sport has a V6 engine model with a manual transmission of 6-speed.

It is loaded with a command track of a 4-by-4 system and skid plates.

Wrangler sport has the width of wheels around 17 inches and is one of the fine options as an off-road machine with multiple options to choose from for optimization.

If you are a starter, you can go for a mild-hybrid version of a V6 engine and a Turbo I-4 engine of 2.0L. There is also a limited-slip differential that provides an experience of improved off-roading performances.

If you hit up the trail in the mountainous track, there is an engine block heater in wrangler sports.

If you want to take the camper to the trailheads and other similar places, you can go for the heavy-duty electric group and trailer-tow option.
2. Wrangler Sahara: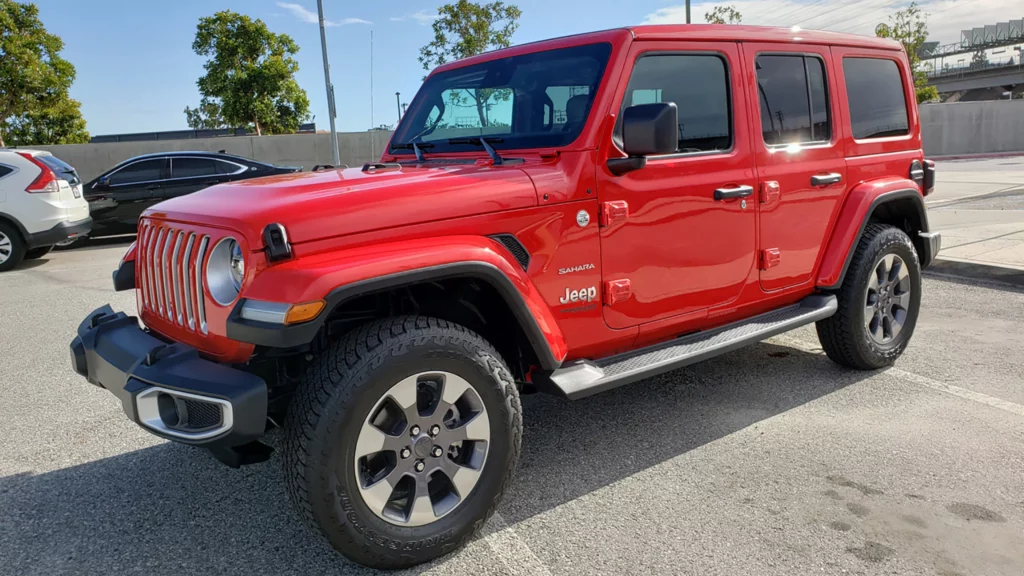 Jeep Wrangler Sahara is built on the specs of the Sport Wrangler and offers the same engine, skid plates, and other associated structures. This wrangler Sahara has specific features that we will discuss here:
The Wrangler Sahara is equipped with wheels of 18-inch width and all-season tires of Bridgestone. These tires help the vehicle in boosting its performance along with the traction.

Wrangler Sahara has many options for better off-roading performance and has features that Wrangler sport cannot offer.

The Sahara Wrangler has a 3.0L diesel V6 engine for a kind performance and an I-4 engine of 2.0L Turbo, a mild-hybrid version.

This vehicle is also equipped with an integrated off-road camera that offers better visibility during off-roading. It also has a 4WD system for improved standard 4-by-4 technology.

An electric group is also available for Sahara that is heavy-duty in nature and is suitable to offer the best towing capacity with LED lighting. It includes the LED fog lamps and tail lamps that help illuminate the pathway during off-roading.
3. Wrangler Rubicon: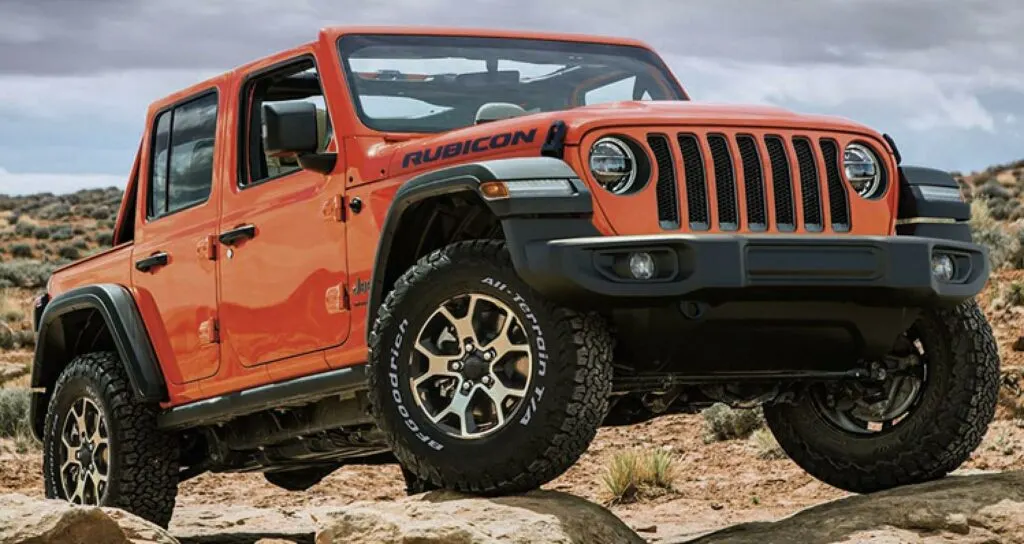 Jeep Wrangler Rubicon is one of the top-notch SUVs in the market, and one must go for it due to its features, which we will discuss here:
Wrangler Rubicon is equipped with a V6 engine holding 3.6 L, and an improved track 4-by-4 system further improves its performance.

Wrangler Rubicon has heavy-duty axles that are 44 in number, with the locking differentials on a front and rear basis. It has a suspension system, front fender flares offering high clearance, and a sway bar disconnect with halogen head fog lamps.

Rubicon has wheels of 17 inches with off-road tires of the width of 33-inches that are known for boosting the clearance and traction.

Like Sahara, Wrangler Rubicon has the best engines, making it the best off-road powerhouse. It can help you to choose the best performance on the track.

Rubicon Wrangler has a camera that works off-road basis with an automatic transmission of 8-speed and is preferred over the six-speed manual.

The heavy-duty electric group is necessary to achieve improvement in towing with LED lighting and the steel-bumper group.

It has a front steel bumper that is winch capable and is integrated with fog lamps.
4. High Altitude Jeep Wrangler: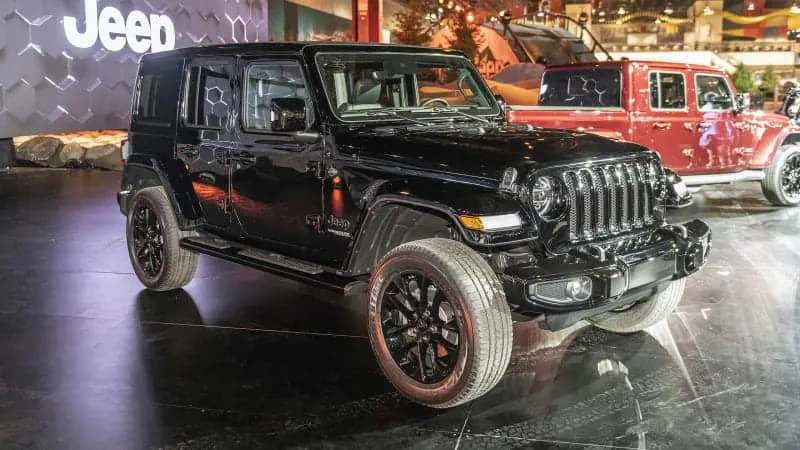 The High Altitude Jeep Wrangler is similar to the Wrangler and offers the best technology. It also has the best features, including:
This vehicle has a V6 engine with a 3.6L and an automatic transmission comprised of 8-speed.

It is equipped with anti-locked disc brakes with a command-track 4-by-4 system and a sports suspension.

Wrangler High Altitude features excellent performance through its front and rear axles. They are loaded with skid plates, and wheels are wrapped in all-season tires that are 20-inch in width.

High Altitude has an LED lighting group that provides excellent illumination on the track during off-roading.
5. Jeep Wrangler Rubicon model 392:
Wrangler Rubicon 392 is one of the most powerful and impressive performances in the entire range. It offers excellent features, including:
Rubicon 392 offers a V8 engine with 6.4 L delivering 470 horsepower with a 470 torque and is one of the most powerful Wrangler.

This jeep can move from 0 to 60 in just a time limit of 4.5 seconds. It can show excellent running performance in just 13 seconds and can run up to a quarter-mile.

Rubicon 392 has an electronic sway bar. It can disconnect the articulation up-front and can easily tackle the trail.

It has aluminium-bodied shocks that are 2-inch and offers enhanced performance. Beadlock-capable wheels have 17-inch width and are wrapped in mud-terrain tires of 33-inch size.

This vehicle is equipped with a hydro-air induction system that gives water fording of about 32.5 inches. It is considered one of the most powerful off-road jeeps.
Also Read:
The Top 10 Jeeps for Off-Roading
Can All Jeeps Go Off-Road? All You Need to Know
Why Does My Jeep Wrangler Keep Beeping? All You Need to Know
Why Does My Jeep Shake At 40 MPH?
Why Do Jeep Wranglers Have Two Batteries?
Why Does My Jeep Wrangler Smell Like Antifreeze?
Can Jeep Patriot Go On Beach? All You Need to Know
Frequently Asked Questions (FAQs):
Why are Jeep Wranglers considered so goof for off-roading?
The Jeep Wranglers are equipped with a dynamic 4-by-4 drivetrain with hardy front and rear axles. The major components of the jeep are equipped with a powerful transmission with a coil-over suspension. These all characteristics make them best for off-roading.
Is Jeep Wrangler considered the best for off-roading?
Jeep Wrangler is considered the king of off-roading vehicles. The Rubicon from the Jeep Wrangler category is the best trim for the 4-by-4 category and is much stronger, powerful, and capable of off-roading. It has a more robust material and design.
Can you do off-roading in a Jeep Wrangler?
A person can easily do off-roading in a Jeep Wrangler as it offers a legendary off-roading capability. It has an advanced traction system with electronic locking differentials and an electronic front sway bar disconnect.
Which jeep is better for off-roading?
Wrangler Rubicon is considered better for off-roading. Different brands have modified their jeeps for a great off-roading experience. But Wrangler Rubicon is best to tackle the trails effectively.
Which sort of person can drive a Jeep Wrangler?
A common person can easily drive a Jeep Wrangler, including homeowners. Most Jeep Wranglers have their jeeps at their homes. 94% of the Jeep Wranglers are homeowners.
What are the best 4-by-4 vehicles for off-roading?
Here is the list of some best four-by-four off-roading:
Jeep Wrangler

Toyota land cruiser

Mercedes-Benz G-class

Ford Ranger Raptor

Land Rover discovery

Suzuki Jimmy

Ford Bronco
Is Jeep Wrangler a four-by-four vehicle?
Jeep Wrangler is a 4WD vehicle that is an excellent choice. It is a durable SUV designed to accommodate a 4WD system's weight and thrive in road conditions.
Are Jeeps the best option for off-roading?
Jeeps are an excellent option for off-roading and are great for the outdoors. The Jeep Grand Cherokee Summit is a vehicle that works as a crashing vehicle through rivers.
What are the problems associated with a Jeep Wrangler?
There are various problems associated with a Jeep Wrangler and including:
They may face a death wobble.

They have some gas overflowing complaints

They have a window regulator failure

They have TRW crash sensor defect and faulty Wranglers welds.
Are Jeeps a good vehicle for mudding?
Jeeps are good for mudding, and a person can easily climb steep rocky inclines. Rubicon is ideal for off-roading adventures having many characteristics.
Is Wrangler Sahara a good option for off-roading?
You can go off-roading with a Wrangler Sahara. They offer good traction to mild tires and a rear limited-slip differential.
How long do Jeep Wranglers last?
A typical Jeep Wrangler can cover a surface of 280,000 miles before showing problems. These are well-maintained models that can exceed more than 20 years and over 400,000 miles. They are best outdoors and designed to tackle the terrain and offer longevity.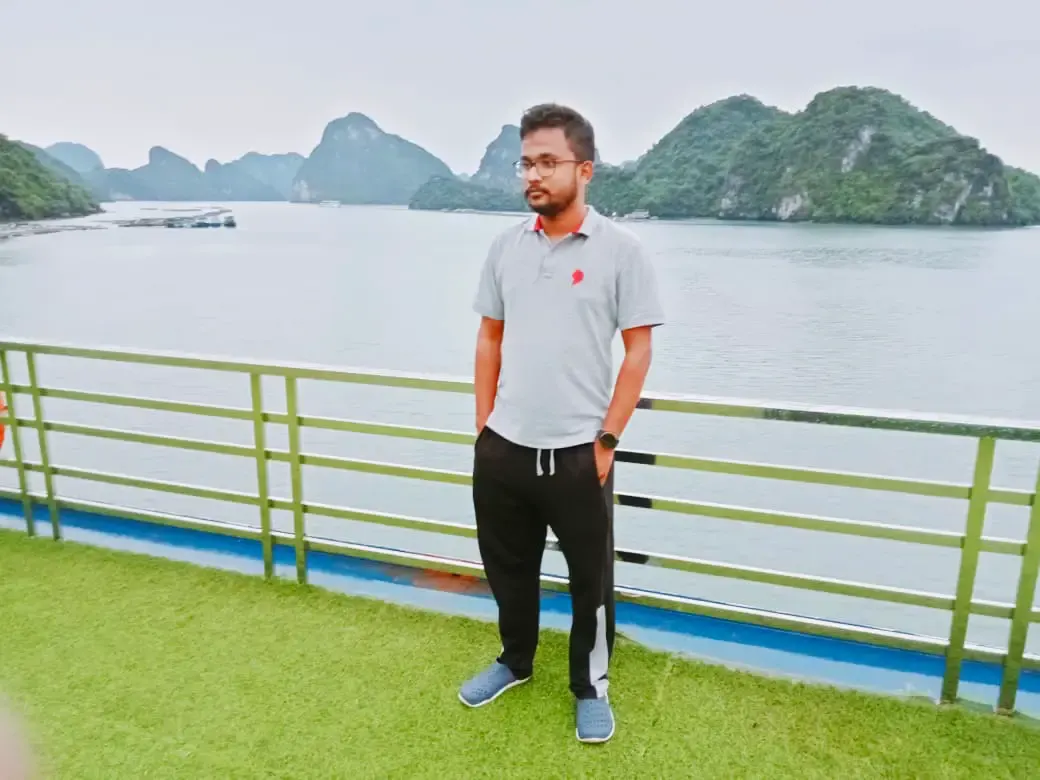 This is Surya. I am an experienced off-roader. I have been off-roading for many years across several terrains. I am passionate about 4×4 driving and want to share my knowledge and experience with others.
My goal is to provide you with the most comprehensive and unbiased information about off-roading.
I curated this article through my personal experience and expertise, and I hope it helps you with what you are looking for.