Majority of the folk's tool around the average 4-by-4 when it comes to off-road adventure. If you want to make your experience enjoyable, you can hear up your ride with extra goodies like a rooftop tent or a winch. But if you want an extreme vehicular experience, these four wheels are not enough. In that case, you can opt for a 6×6.
6×6 trucks and vehicles are designed to tackle the rough terrain and dominate the outlandish trails. They are considered the gnarliest automobiles ever envisioned.
6×6 is an AWD of three axles. It has at least two wheels on each axle, which can be driven simultaneously by the vehicle's engine. 6×6 conversion provides extreme off-road demands of battlefield service. 6×6 turns out to be a capable rig for most occasions during your off-road journey.
Let's start with a few top 6×6 offroad vehicles in the market today.
6×6 Off-Road Vehicles:
1. Arctic Trucks AT44 6X6: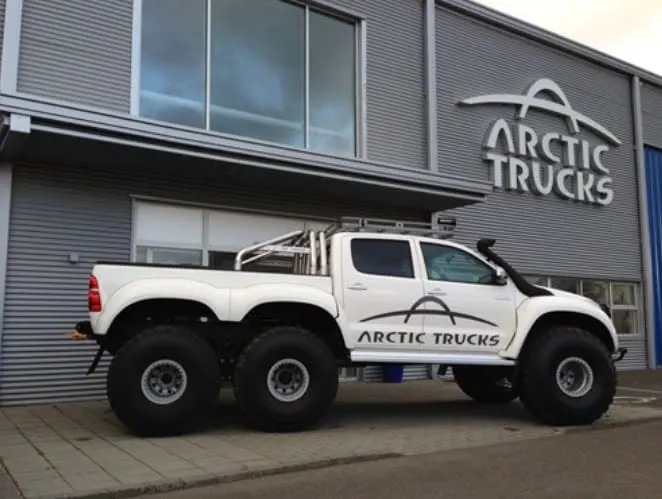 If you are looking for the powerful all-terrain monster which can take you up to the ends of the Earth and back, then go for Arctic Trucks! These are considered as one of the beefiest and most off-road capable 6×6 trucks to exist.
These provide you with the beautiful yet unforgivable punishing landscape journey on which you can off-road. You can have your own customized Hilux truck to drive to the North Pole and traverse Antarctica. This vehicle is powered by a 3.0-litre diesel in a standard rail engine.
2. Bruiser Conversions 6×6: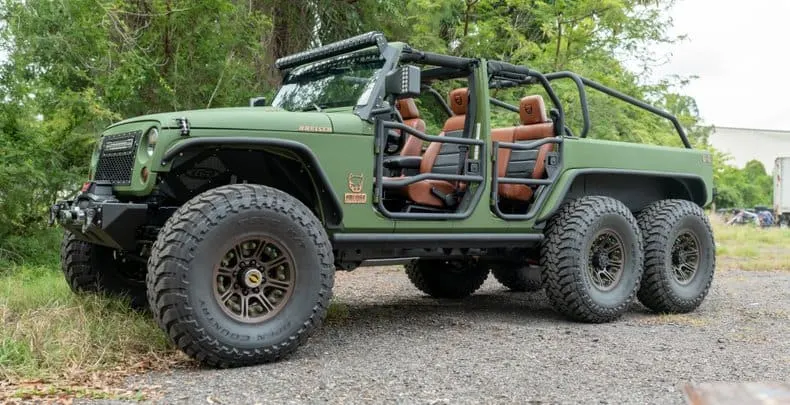 Bruiser conversions have transformed the legendary 4-by-4 vehicle to a 6×6 off-roading monstrosity and are a stampede of steers in its appearance. Other than appearance, it also performs to match too.
It holds a Turn-Key performance LS engine and an impressive 600 horsepower with 545 foot-pounds of torque. It also contains a supercharger, custom exhaust, new axles, and a FOX suspension.  
3. Carlex Design Exy 6×6: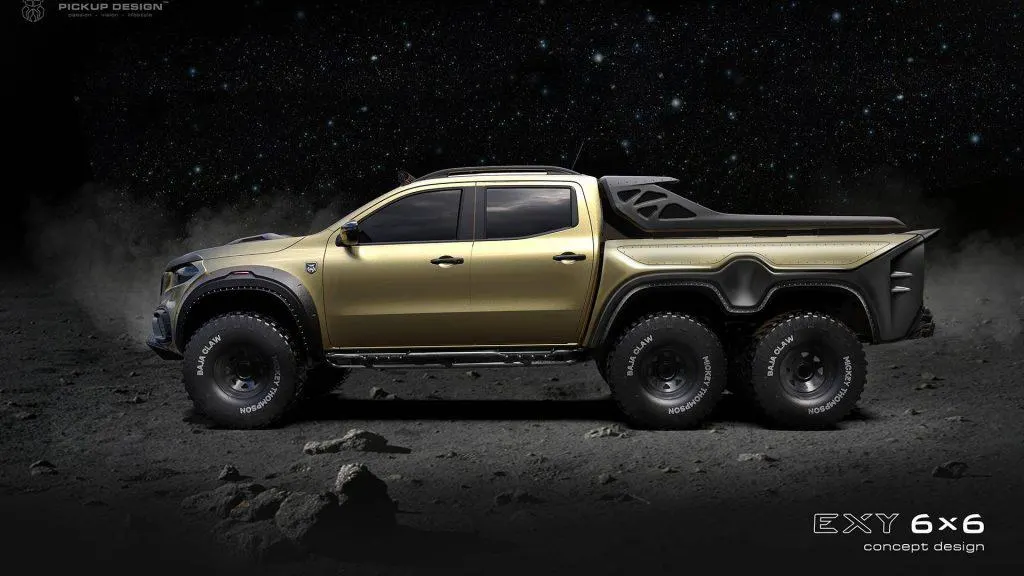 Carlex Design Exy 6×6 is a magnificent-looking Mercedes Benz X-class pickup truck. It has been noted that Carlex has managed with a wide array of trucks in the past, which has led them to pull trust this time.
Exy 6×6 is an actual vehicle and holds beefed-up suspension with many exterior detail upgrades such as LED light bar, winch, and tip styling mesh.
4. Ferox Azaris Advanced ATV: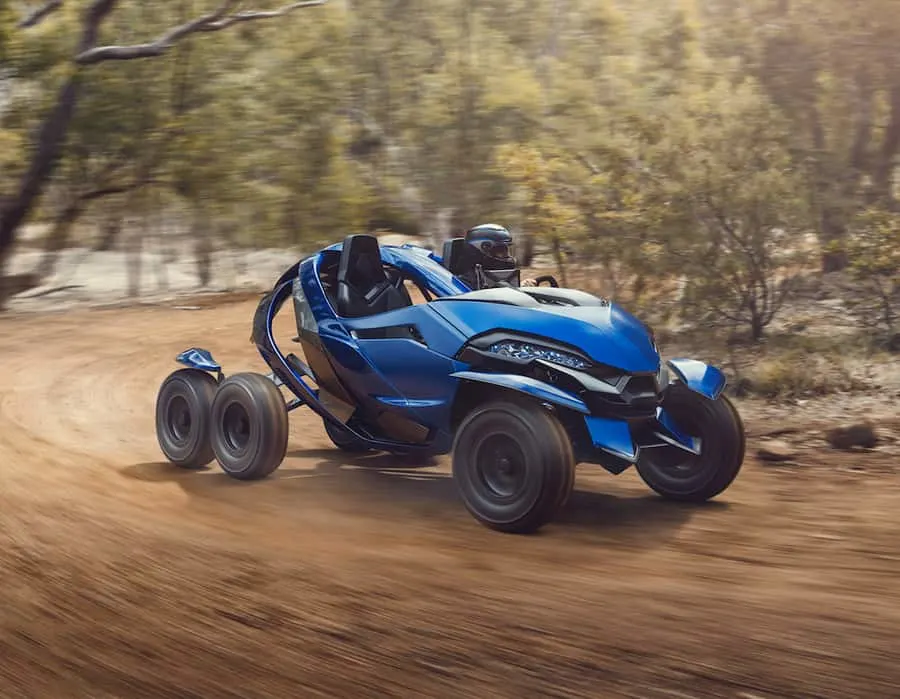 If you are looking for a vehicle providing sci-fi levels of performance and tech to match the appearance perfectly, then Ferox Azaris is considered the best option to consider. It has a class of its own and holds the core engine in which you can choose among the gas or electric-powered rig.
On the back of four of its six wheels, it also sports a quartet of in-wheel all-electric motors driven by a liquid that is 95% water. It holds a horsepower rating in the mid-700s.
5. Hennessey VelociRaptor 6×6: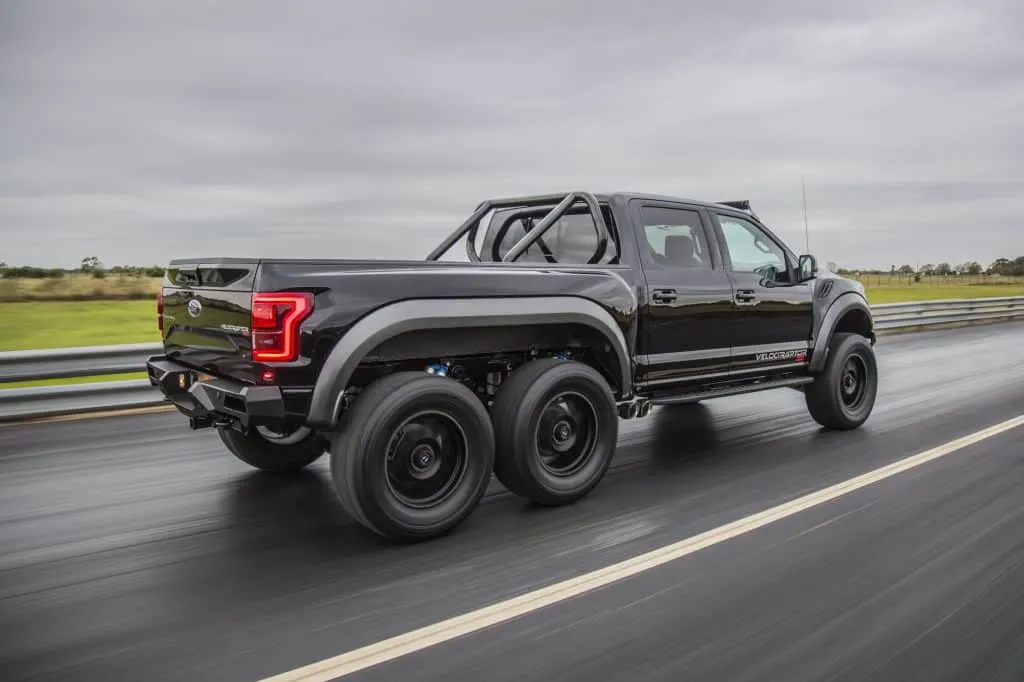 If you are looking for pure aggression on all six wheels, then Hennessey VelociRaptor 6×6 is the best option to consider! It holds an enormous size and includes a twin-turbo engine upgrade that garners the truck over 600 horsepower.
It also has the opportunity for Brembo brakes, beefier wheels, and tires with a bespoke interior, an upgraded lighting system, and armouring systems.
6. Kahn Design Flying Huntsman 6×6: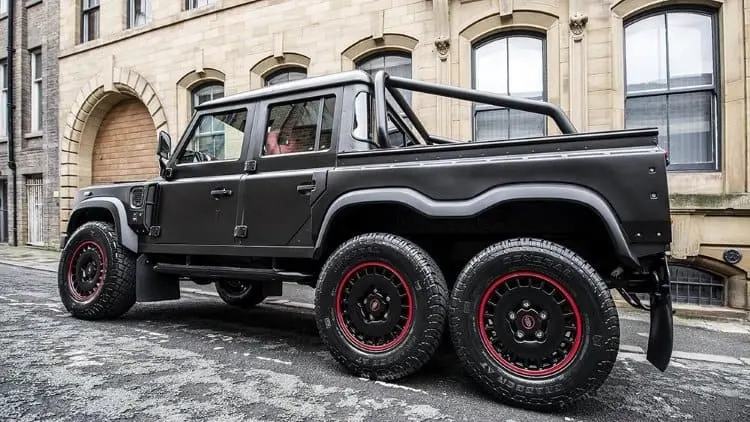 If you are looking for an all-around automotive icon, then go for Kahn Design Flying Huntsman 6×6. A staff of forty designers spent thousands of person-hours to transform it into something entirely new.
It holds behemoth benefits and includes a particular six-wheeled drive system having pneumatic actuation, retro alloy wheels, LED lighting, and comfortable cabin upgrades. A 6.2L V8 gas engine also powers it.
Vehicle
Features
Arctic Trucks AT44 6X6
1. Vehicle-powered by 3 Liter diesel

2. Beefiest off-road vehicle
Bruiser conversion 6×6
1. Turn-key performance LS engine

2. Impressive 600m horsepower

3. 545 foot-pounds of torque

4. Custom exhaust and new axle

5. FOX suspension
Carlex design Exy 6×6
1. Beefed-up suspension

2. Exterior detail upgrades

3. LED light bar

4. Winch

5. Tip styling mesh
Ferox Azaris Advanced ATV
1. Provides sci-fi levels of performance

2. Gas and electric powered rig

3. Horsepower rating in mid-700s
Hennessey VelociRaptor 6×6
1. Pure aggression on six wheels

2. Twin-turbo engines with 600 horsepower

3. Beefier wheels

4. Tires with bespoke interior

5. Upgraded lighting system

6. Armoring systems
Kahn Design Flying Huntsman 6×6
1. Automotive icon

2. Particular six-wheeled drive system

3. Pneumatic actuation

4. Retro alloy wheels

5. LED lighting

6. Comfortable cabin upgrades

7. 6.2L V8 gas engine
Safety Rules for 6×6 Off-Roading:
Four-wheeling and six-wheeling are considered among the best and exciting hobbies that a man can ever experience! It opens up the eyes to places which we haven't even wondered about in life. It also helps us to know a lot about terrains as off-roading is quite different from regular driving. Here we will discuss some essential rules for a safe and enjoyable ride.
Always keep your near and dear ones aware of your adventurous tour regarding off-roading, even if it is not challenging. It is good to do so because you might get stuck or lost even in easy terrain. So, in such a situation, you can call someone for your help.

Always try to keep another vehicle along with you. It will ensure to use transportation when your car gets stuck or damaged, and no one can fix it at that moment.

Have a pack of survival gear with you. You can keep proper equipment along with you to handle the medical emergencies which can occur.

Try to tie all the items down inside the vehicle. It is good to have all the things in one place in your car to prevent their overlaying all around the vehicle. It could prevent the loose items from becoming missiles which can further injure or kill anyone inside.

Always wear a seat belt during off-roading and even in simple driving. There are chances that you will be jostled around quite many times on the trail. You can even come intact with a big rock which can suddenly hit your car.

It is advisable to keep your legs and arms inside the vehicle. Arms and legs hanging outside the vehicle can easily be torn off by passing by trees, cliff walls, and even rocks. If you cannot stop the urge, roll your windows up.

If you feel tired, quit at that moment and have some rest. Off-roading and four-wheeling is an arduous task and requires utmost concentration. If you feel fatigued and want some rest go for it instead of facing an accident in this state which can even cause injuries and death!

Lockdown you're vehicle when you are not driving. During off-roading, the car is seldom on the ground. Apply the emergency brake and turn off the engine when you stop.

Do not hang on the vehicle if the vehicle gets stuck in a precarious position. Do not try to pull it down, and don't even try to climb on the car. Always use proper tools and techniques and stand at a safe distance away from the vehicle.
How is 6×6 Different from 4×4 Counterpart?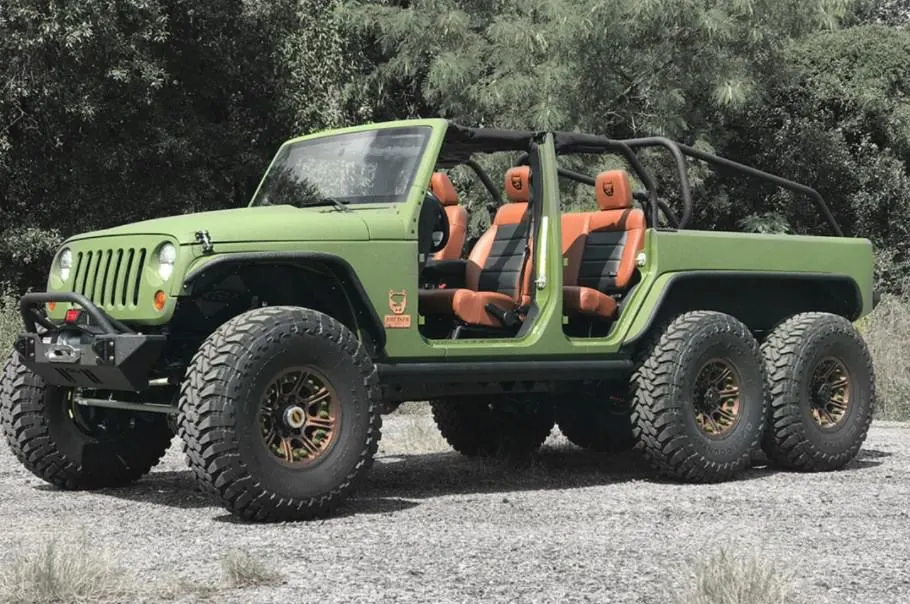 6x6 gives better weight distribution and are primarily heavy goods movers.

An extra set of powered wheels is helpful.

4x4 as compared to the 6x6 provide less weight distribution.

Traction and Load Capacity

6x6 provides more increased traction and load capacity with two wheels.

There will be more traction and they provide better articulation on undulating terrain.

4x4 as compared to the 6x6 provide lesser traction and load capacity.

Being a 6x6 off-roading vehicle, it is better designed to go off-road. In a scenario, if the first two wheels get stuck in sand/slush, the third set of wheels being gripper on the ground will rescue.

There is no scope of such type of grip in 4x4 off-roading.

6x6 holds added mechanicals and will amount to:

Increased maintenance costs.

Increased drive-train loss lower fuel efficiencies and Increased length.

4x4 does not hold added mechanicals like hubs, driveshafts, diffs which leads to:

High fuel efficiencies and Decrease in length

Low production costs and Low drive-train loss.
Some of the Basics of Heading into the Wilderness on 4X4:
1. Traction Control:
All sorts of modern four-by-four and six-by-six vehicles are equipped with some level of traction control. A car, according to its conditions and on or off settings, can have different traction situations.
Traction control ensures that torque is transferred from tire to trail and uses either brakes or four-by-four mechanicals for limiting the wheel slip. Traction control helps to monitor the wheel spin according to which it keeps the brake accordingly to keep the vehicle moving.
2. 4WD High vs. 4WD Low:
Low and high speeds are associated with the gearing of the transfer case. 4WD high is the drive around daily and allows a better top-end rate with lower torque to wheels whenever they stop. For the 4WD low, more torque is seen on low-end speeds, but top speed is maxed out pretty quickly.
If you want low-end power at low rates on the trail, you can go for 4WD low. But if you're going to travel at a fast pace while keeping an eye on momentum, go for 4WD high.
3. Locking Differentials:
Locking differential is a necessary item that locks the turning of the left and right wheel together. On an everyday on-road driving, the wheel inside the corner turns slower as it travels at less distance than outside if you want wheels to turn at different speeds. The computer constantly makes adjustments in the all-wheel-drive system and shifts the power needed the most.
On the trail, the inconsistent speed between left and right sides leads to losing traction, and the power goes to the wheel with the least resistance. It is why 4-by-4 is recommended. During such force, both wheels spin simultaneously, which ensures that power remains within the wheel with the most traction. New 4-by-4 allows having a look at the differentials by using a button push.
Check Out: Do You Need a 4×4 for Off-Roading? Know the Pros and Cons
Need of Special Equipment:
Tires
1. It is important to have a good set of tires so that you can match the common types of surfaces and terrain.

2. Tires ensure traction between vehicle and terrain.

3. If you don't have good tires it will be feckless.
Suspension
1. Suspension is one of the biggest foundational elements to build your vehicle

2. The more the suspension can handle the easier your trek will be.

3. Don't go for a cheap body lift kit and go for a most important off-road reliable vehicle which is a shock absorber.
Bumper
1. They are also known as bull bars. Front bumpers protect the front of the vehicle from rock, tree, brush and animal strikes, and unavoidable trail obstacles.

2. Back bumpers are also considered and depending on the sort of driving.

3. Aftermarket bumpers allow you to relocate the spare tire from underneath the vehicle and put it on the back of the vehicle.
Maxtrax
1. Maxtrax helps to regain traction and to get up out of whatever you are stuck in. It gives you momentum back

2. It is a traction device that allows crawling out of the hole by regaining traction and momentum. Whenever you lose traction, you will likely lose control too and you cannot regain momentum.
Winch
1. The winch is an essential recovery system. It requires some specific skill sets to use them safely

2. You also need some training to operate the one in an effective way.

3. When a vehicle is in a precarious situation then a winch becomes invaluable.

4. Always go for a high-quality winch that can prove its best working in the hour of need.
Snatch Straps
1. They are a dynamic recovery strap and are different from a tow strap. The recovery vehicle backs up with little momentum and loads the stretch into the snap strap.

2. The energy stored in the snatch strap will pull and release the vehicle out of the mud and snow.
Preparation for Worst-Case Scenarios While Driving 6×6:
First aid kit
1. It is important to carry a first aid kit.

2. It is a good initiative in emergency situations that can help simply to clean and patch the wounds. It is also helpful to stop the blood and tide the wound until the real help arrives.
Seat belt cutter and glass breaker
Sometimes the scenario demands to cut the seat belt and break the window for emergency exit. The ashtray is an easily accessible place whenever you want to get out of the vehicle in a pinch.
Fire extinguisher
It is good to have a fire extinguisher in your car for emergency situations of fire damage and to tackle such situations.
Warm clothes
1. Keep a pair of warm clothes, rain layers,s or cold-weather insulation in the car for emergency situations.

2. Prepare your vehicle for the conditions it might encounter.

3. It is recommended to have adequate clothing to survive in the outer environment.
Food and Water
1. Always carry enough water and food for a maximum occupancy of the vehicle.

2. You should at least have a minimum of a granola bar and a water bottle in your car

3. Iodine pills are also good to carry but increase your access to drinkable water
Also Read:
Can 2WD Go Off-Road? Understand the Dynamicity
Top 20 Off-Road SUVs in 2021- Everything You Need to Know
Frequently Asked Questions(FAQs):
Is 6×6 considered good for off-road?
6×6 are considered good for off-roading, but the only drawback they hold is their length. It makes it difficult for them to maneuver in a tight turn in the middle of the forest. It is a considerable lift as long as an extra axle is joined with it. 6×6 turns out a capable rig for most occasions.
What are the benefits of a 6×6 truck?
6×6 truck or vehicle gives less traction in specific conditions than a 4×4. In other low traction situations, you have way less traction.
Which is considered better, 4×4 or 6×6?
The load capacity of 6×6 is considered better, having a range of 20,834 pounds. It is much more than 4-by-4 and has 64-78% more load capacity.
What does the 6×4 axle configuration mean?
It is a vehicle with a drive train of three axles which delivers power to two-wheel ends on two of them. It is a form of four-wheel drive.
Why is it considered 6×6?
It is deemed to be 6×6 as they are built to run an all-wheel drivetrain featuring three axles having at least two wheels driven by the vehicle's engine.
How much does a 6×6 conversion cost?
As far as the customizations go, the 6×6 conversion cost and pricing kick off at a mere $132,000.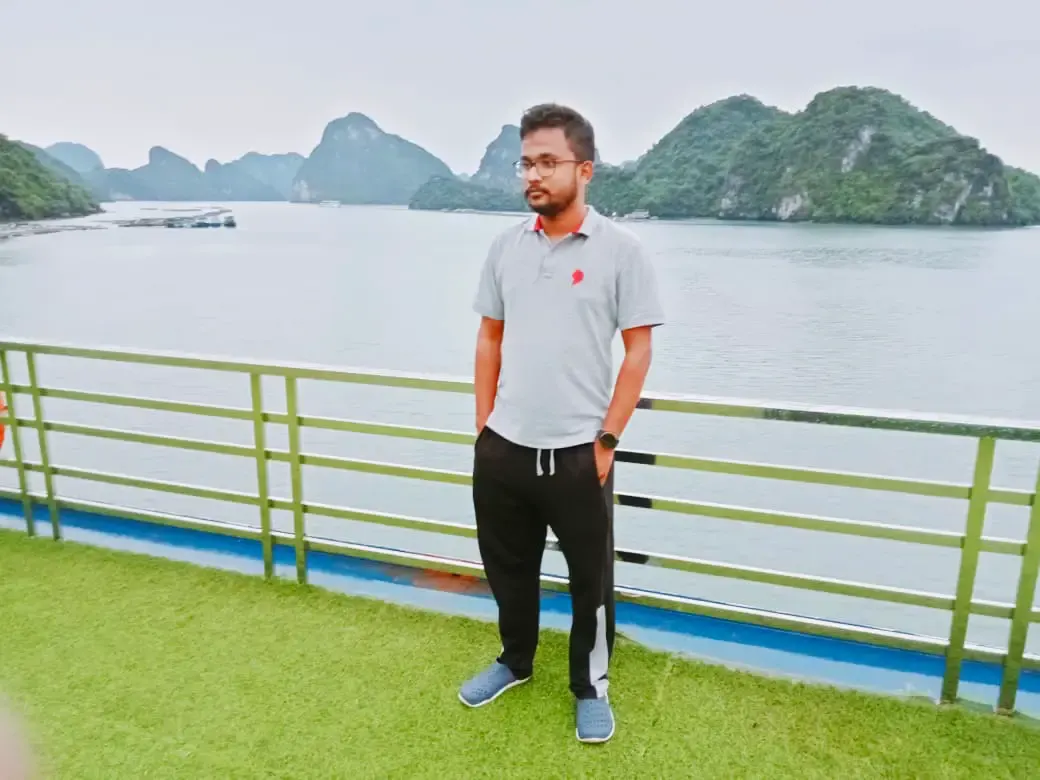 This is Surya. I am an experienced off-roader. I have been off-roading for many years across several terrains. I am passionate about 4×4 driving and want to share my knowledge and experience with others.
My goal is to provide you with the most comprehensive and unbiased information about off-roading.
I curated this article through my personal experience and expertise, and I hope it helps you with what you are looking for.