Unfortunately, off-roading from day one has remained hostage to lavish four-wheelers and some rich lads driving them. This has created a narrower image of this amazing motorsport that only those who have filled pockets can enter into it.
So we consider it our responsibility to share some cool information that not only enables you to buy an off-road vehicle for as low as $5K but also how you can modify your normal vehicle into an off-road one. Is off-roading expensive?
Off-roading is not expensive and it is considered one of the least costly motorsports. You can prepare your off-road vehicle within $5K. If it is above your budget, any regular vehicle with slight modifications; such as a lift kit, a winch, a light bar, and a snorkel can do the job quite well.
Going further, off-roading does not actually mean to drive crazy over rocks, muds, or dunes but to discover nature, to feel its essence, and to take in most of nature while driving. That's all.
Thus, the common conception that off-roading requires some hardcore 4*4 or limitless money to spend on wheels is pretty out of context. Of course, if you have all that is above mentioned, it will be a luxury, but that shouldn't be considered essentials of off-roading.
Is Off-Roading Expensive?
From buying an off-road vehicle to modifying your ordinary vehicle for off-roading, in this article, we are going to show you the complete process of becoming an off-roader in Just 5K bucks so that you can have a limitless off-road journey without having a strain on your pocket.
Top 5 Off-Road Vehicles Under $5K (Least Expensive Off-Road Vehicle):
Taking this philosophy, we have brought some of the cheapest off-roading vehicles that come under $5K for the people who don't have a lot of bucks. These trucks and cars are suitable, and in fact, most of these are designed for off-roading, just.
So if you have any second thoughts in your mind, rest assured these vehicles will give all the perks of off-roading without putting strain on your pocket.
1. Jeep Cherokee XJ: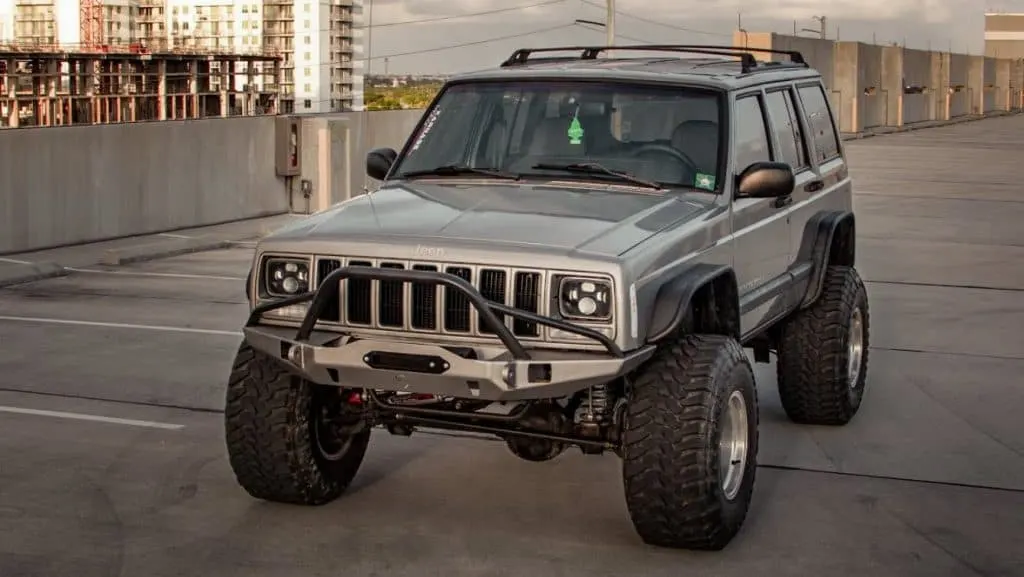 The Jeep Cherokee XJ is often regarded as a capable off-road vehicle, especially considering its affordable price range. Here are some factors to consider when evaluating the Jeep Cherokee XJ as an off-road vehicle under $5000:
Off-Road Capabilities: The Cherokee XJ has solid off-road capabilities due to its rugged construction, high ground clearance, and solid axles. It features a traditional body-on-frame design, which contributes to its durability and ability to handle rough terrains.

Four-Wheel Drive: Many Jeep Cherokee XJ models have four-wheel drive systems, allowing for better traction and maneuverability in off-road conditions. Look for versions with a two-speed transfer case for improved low-range gearing, which helps with steep inclines and tricky obstacles.

Suspension: The Cherokee XJ's stock suspension can handle moderate off-road trails but may benefit from aftermarket upgrades to enhance its performance. Upgrading to sturdier shocks, springs, and other components can improve articulation and off-road capabilities.

Aftermarket Support: The Cherokee XJ has a robust aftermarket support system, which means you can find a wide range of affordable upgrades and modifications to enhance its off-road performance. These include lift kits, larger tires, skid plates, and more.

Reliability: The Cherokee XJ is known for its reliability and longevity. Many owners have reported high mileage and years of dependable service. Its robust construction and simplicity contribute to its durability, which is crucial for off-road adventures.

Potential Considerations: While the Cherokee XJ has its strengths, a few factors must be considered. Some models may have rust issues, particularly in regions with harsh winters or near coastal areas, so it's important to thoroughly inspect the vehicle before purchasing. Additionally, fuel efficiency may not be as high as more modern vehicles, and some older models may require additional maintenance and repairs.
Overall, the Jeep Cherokee XJ is often considered a reliable off-road vehicle within its price range. Its off-road capabilities, four-wheel drive, aftermarket support, and reliability make it an attractive option for those seeking an affordable off-road adventure vehicle.
However, it's crucial to carefully inspect and evaluate any specific Cherokee XJ you're considering to ensure it meets your requirements and is in good condition.
2. Nissan Xterra: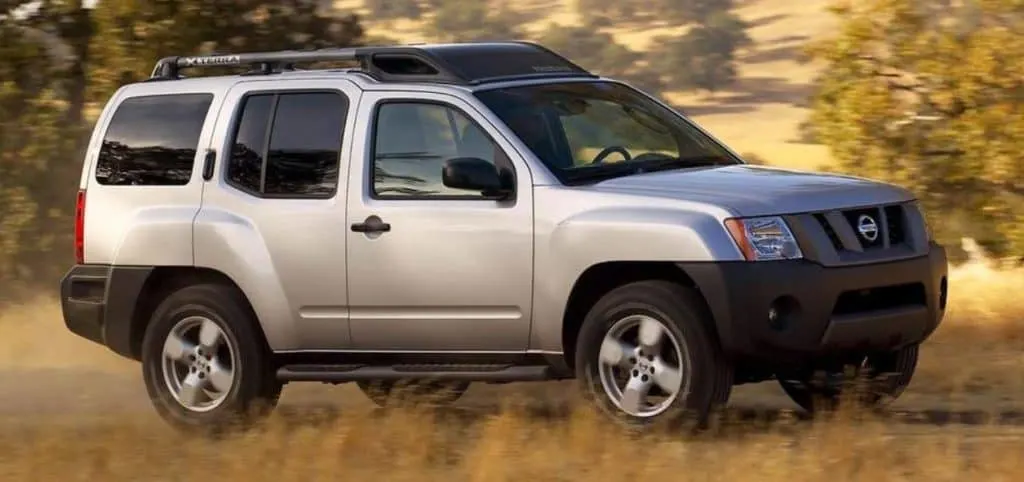 Nissan Xterra was first launched in the late 90s, and it comes with a strong chassis, an exceptional low-wheel drive system like the Jeep Cherokee, and above all, the reliability of Japanese vehicles – a one-pack solution for nearly all the problems of off-roading.
In terms of price, Nissan Xterra is pretty cheap (up to $5K) considering its underpowered engine of 180 horsepower w.r.t 4000 pounds of its weight. Although with some additional modifications, you can enhance its power. But, with the given price tag of 5k bucks, Nissan Xterra is a good off-road vehicle.
You can have your Xterra (2000 and 2001 model being the cheapest) with a v-6 engine and manual gear transmission in less than 5k bucks (Available on eBay). Then, you can spend some money on tires and other external modifications to make it just right for you.
Likewise, if you want to go extreme, you can replace the bumpers or the locking differentials in order to reduce the weight and improve the approaching angle of it.
3-Land Rover Discovery II: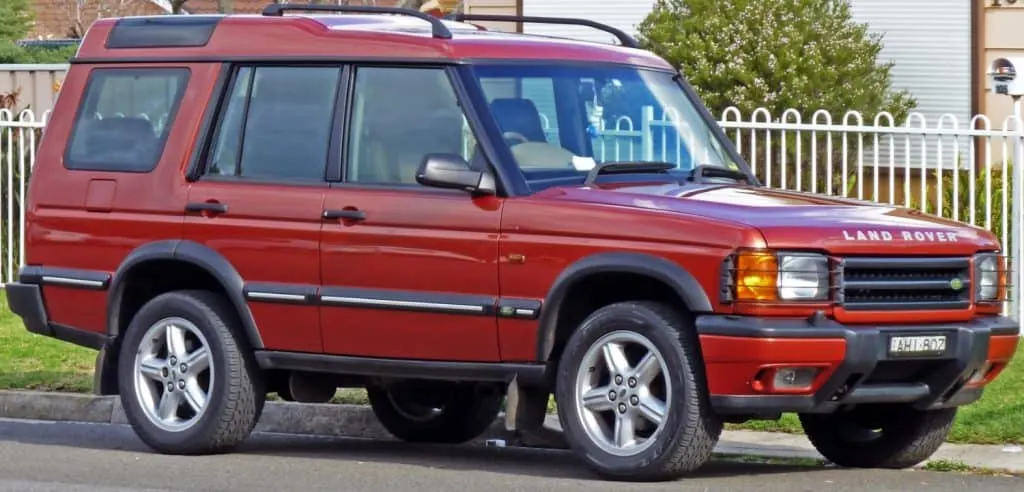 After the Japanese Xterra, we take you to an English masterpiece that is 'the land rover discovery II.' Landrover makes it to 3rd place in our list, and it is available with adjustments in the price bracket of $5k.
Made up of a strong exterior, the Discovery II makes an excellent choice for off-roading. Its central differential locking system, hard undercarriage, and powerful td5 diesel engine can conquer almost any terrain. 
Furthermore, it comes with seven seats and a pretty luxurious interior, as compared to other off-road SUVs, for you to take your family with you. This will be a plus for your off-road journey.
However, there has been a lot of news and notorious attention regarding the faulty interior of Land Rovers, and also that Land Rover parts are difficult to attain.
It is true for Discovery II as well. But, in your case, since you are buying an old landrover, there is already a major fan base of Discovery II that exists on different digital and local platforms.
You can have almost any part of it through them, and they will help you a lot. Also, if you are the person who can manage without some electronic fuzz and luxury of the Land Rover; then, there is no need to worry. You will enjoy every bit of off-roading with Discovery II.
4-Ford Ranger: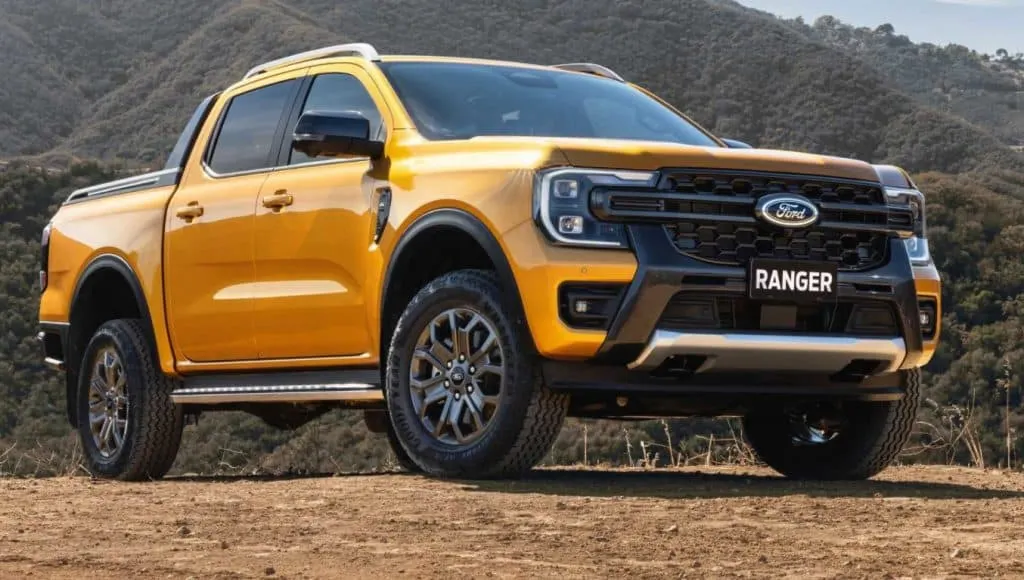 On number four, we have an evergreen off-roader from North America, and that is the " Ford Ranger." Ford launched a series of Ford Ranger, a mid-size pickup with three generations in North America and other parts of the world. And from the day a Ford Ranger was manufactured for the first time in 1983, it has managed to stay on roads. 
Ford Ranger has some exceptional capabilities for off-roading, and it has a manageable price tag as well. For instance, it has an active locking differential mechanism under guard to protect its bottom.
The strong chassis with a rugged interior will make it sustain off-roading for a longer period of time. Furthermore, the Ford Ranger comes with a fox suspension system which is quite suitable for off-roading.
For the price tag, older versions of Rangers are still available, but their price is ever rising. So you need to be careful about that. If you are lucky enough, you will find a Ranger in the price bracket of 5K bucks.
5. Jeep Wrangler YJ: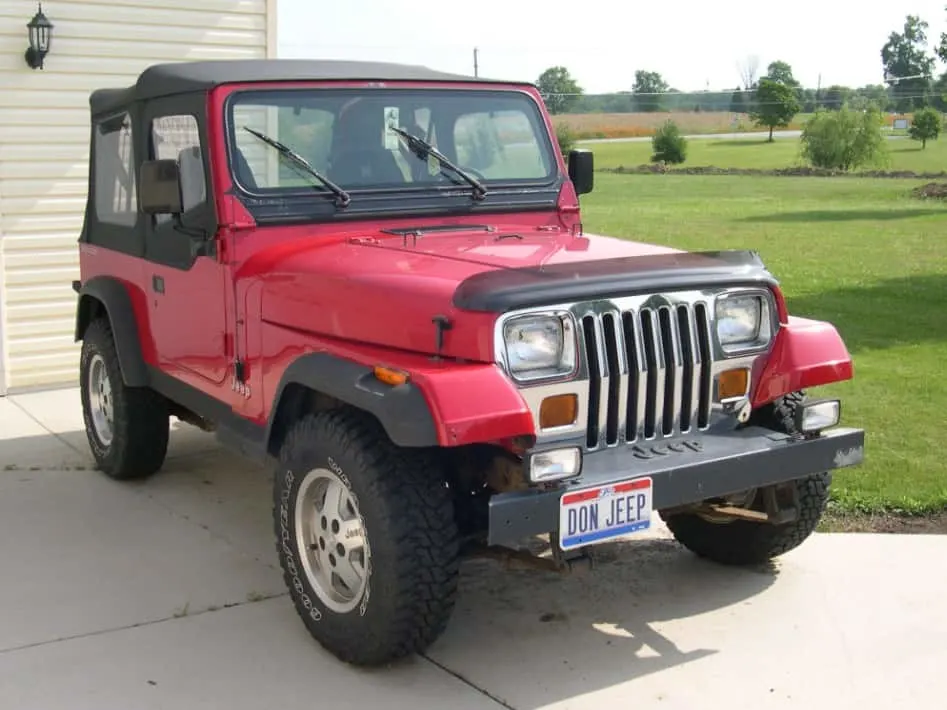 No list of off-road vehicles can conclude without any variant of Jeep Wrangler being mentioned in it. So we took the YJ variant of the Jeep Wrangler that came with square headlights (The only Jeep to have square headlights) in our list. And the reason for it is the fall of YJ price with time, making it a desirable off-roader for people with tight budgets.
Jeep Wrangler YJ is a sturdy vehicle with a six-cylinder diesel engine similar to that of Cherokee. In fact, the 1995 model does have an upgraded version of suspension, and its anti-lock brakes system makes it unique from any other vehicle we have mentioned above. 
So if you are seeking the true feel of off-roading and can go the extra mile for this; then, a full-fendered Jeep Wrangler YJ is the vehicle you should have.
Compiled Expense Table with Specifications:
Yet to make your choice easier, we have compiled all the information regarding these five vehicles and have articulated them into a table. The Table has four sections to address your concerns, and on accounting for all of them, you can make your choice.
Modifications to Convert a Normal Vehicle into an Off-Road One:
Now that we have mentioned some of the cheapest yet suitable off-road vehicles for the people who want to buy an off-road vehicle. Our next priority is to share with you some external modifications that can convert your ordinary two-wheel drive into an off-road vehicle.
These modifications range from choosing the right tires to adding a lift kit and a winch to pull you out if your car gets stuck in the middle. And for these, you don't need to change your vehicle or buy an extra one for off-roading.
What you need is a mechanic and a good store to buy these. After that, you can take your vehicle to any kind of moderate off-roading terrain at a much lower price.
Find out What to Know Before Going Off-Roading? Tips from the Expert
Tires:
The first modification is a good off-road tire set. In your case, an all-season tire set can do the job quite well. These tires are made with hybrid tread and grooves that are suitable on any type of terrain, ranging from streamlined roads to hard rocks and mud beds.
What else comes with all-season tires is their enhanced capacity to sustain in rough terrains and to bear stress. Additionally, these tires have rigid outer walls that make them less prone to puncture.
The checkout links are provided below from the tire section of Amazon Store from where you get the best tires that fit your vehicle:
Lift Kit:
For an off-road vehicle, the only thing that ensures its smooth movement on rocks or mud is its ground clearance. The more the ground clearance, the more your car will sail on off-roads.
Now in a normal vehicle, the ground clearance is quite low, and if you take them off-roading, the bottom of your car will be ripped apart, and chances are you are going to get stuck in the middle. So to improve ground clearance, you need to attach a lift kit at the place of suspension. 
The lift kit also has upgraded springs and bushings that provide enhanced support against the shocks your car will bear, and also they will provide greater stability. Lastly, if you want to ice the cake, you can replace the rubber bushing with polythene bushings with greater tensile strength.
With regressive checks, we have listed below the Lift kits best in the business that is readily available on Amazon. You can have yours from the given checkout link:
Winch:
After choosing tires, you need to add a Winch to your vehicle. The winch is a cable or rope pulling drum that is attached to the front bumper of the vehicle, and when the need arises, the drum is turned through a motor to pull the vehicle.
In simple words, it is a rope pulling system to aid your vehicle when it gets stuck. Winch will not be helpful for your vehicle, but it will also help you to pull out others by attaching the rope with their vehicles. This makes this tool an important and must-have for your vehicle.
To ease your struggle in finding a premium winch, we have attached our recommended winch that you can buy by clicking below:
Light Bar:
Usually, the activity of off-roading takes a long time to complete, and many times it gets dark. So for you to drive safely or to conquer the terrains in the dark, you need a light bar in your vehicle.
The light bar is similar to a stadium-flood light mounted on the front or top of your truck, and it can light up the whole path making every inch clear for you to drive through.
You can buy a premium light bar within around 50 bucks for your vehicle through the below check out the link:
Disclaimer: Do check out in the specification whether the light is suitable for the battery or not.
Snorkel:
The major difference between a normal vehicle and an off-road vehicle, after ground clearance, is the air-intake of the engine.
A normal vehicle has a simple air-intake system in which the engine receives air from the front grill. But, while off-roading, the front grill can get clogged with water or dust, disturbing the air intake of the engine. 
To solve this, a snorkel is mounted on top of the vehicle to get air from above the vehicle while mitigating any chance of disturbed air intake. So you have to fit a snorkel over your car.
How Does an Off-Road Snorkel Work? Detailed Guide
For you to have a premium snorkel for your vehicle, we have attached our recommended snorkel from Amazon Store.
Maintaining an Off-Road Vehicle: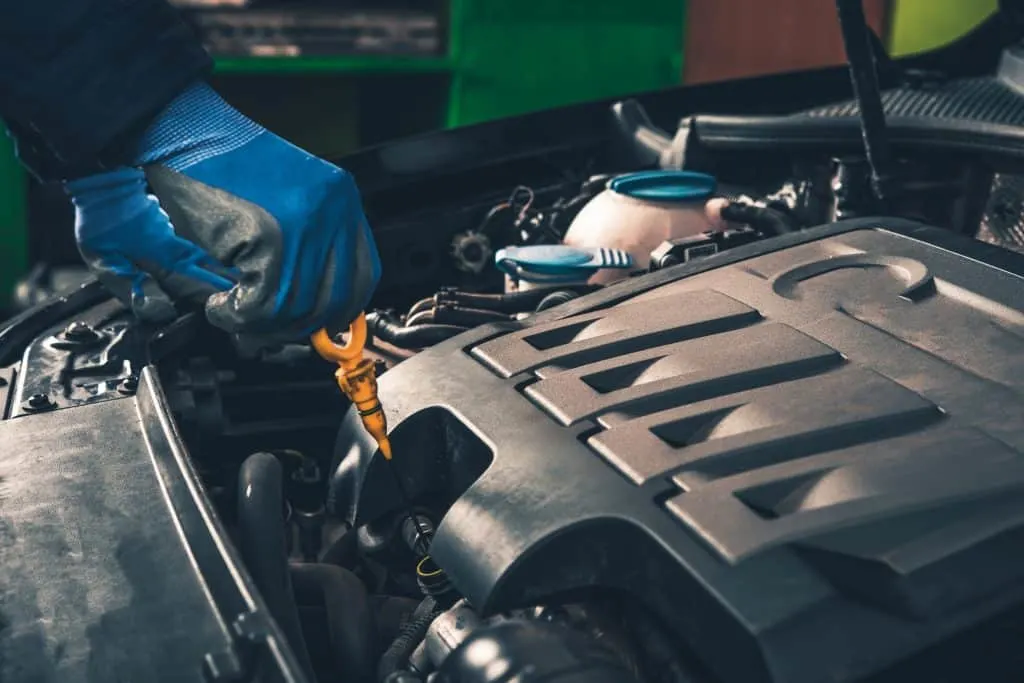 After that, you have an off-road vehicle either from buying one or from some modification of an old one, the next thing to learn for you is how to maintain it properly.
Off-roading vehicles, whether new or old, require full-fledged maintenance after some period of time. And this maintenance is more complex than any usual vehicle.
In this section, we will be sharing all the prerequisites that go into the maintenance of an off-road vehicle. Also, we will share with you some tips to reduce the cost that goes into maintaining your vehicle.
So before we start, we will be clarifying two of the major questions regarding off-road vehicle maintenance:
1- What is meant by off-road maintenance?
So, in this case, maintenance of an off-road vehicle is about maintaining each part of the vehicle that is being added to it externally or is in-built in it for keeping the vehicle fully functional.
For this, every part has to be checked regularly, and if any part contains fluid, it has to be recuperated to the optimum level as any lacking in it can prove fatal for the vehicle during the journey.
2-How off-road vehicles are different in maintenance?
Off-road vehicles are different in maintenance as compared to normal vehicles because they have some additional components fitted in them like a prop shaft, differential system, and a transfer case that is linked with all four wheels of the vehicle.
These parts are complex and have intensive jobs to perform, which makes their maintenance different than usual.
Managing Off-Road Maintenance Cost:
Now that we have learned what goes into the maintenance of off-road vehicles, the next step is to share with you some tips that can save you a lot of money while maintaining your off-road vehicle.

The first tip is to buy genuine parts even if they cost double the duplicate. That is because genuine parts are made specifically for the vehicle, and they are tested both qualitatively and quantitatively within the vehicle. So, in the long run, they are going to be more sustainable than any of the duplicates available in the market.

The next tip is to do extensive market research while finding the parts for maintenance. Usually, off-road vehicles are old, and their substitute parts have to be bought from local markets or, in some cases, scrapyards. In this case, the quality and price of the part may vary with every place you choose to buy from. So it is advised to always do a complete market analysis before buying any part because it will save your money and can yield better quality.

The third tip is related to your driving style. You should choose a streamlined driving style for your off-road vehicle that enables you to drive your vehicle with a calm and clear mind so that your vehicle tires, brake pads, and suspension are less prone to any danger. In this way, they will sustain more and save your money.

The fourth tip that can save the maintenance cost of your off-road vehicle is the in-depth knowledge of your vehicle's manual. At times, the mechanic tries to rob you with some additional charges that you can avoid if you know your vehicle very well.

You should be capable of doing smaller jobs like changing the filters, coils, plugs, and electronics on your own. This will save you from a lot of spending that you are going to have in the form of labor work on your vehicle.

Lastly, you should look for owner-managed garages that are run by mechanics on their own. These small-scale garages are cheaper than the regular chains of auto repair companies, and they can do the job quite effectively. Plus, you can have some other perks like receiving additional information or guides regarding your vehicle functions from these garages.
Also Read:
What is The Point of Off-Roading? The Craze Behind It
What is Off-Roading? Definition and the Significance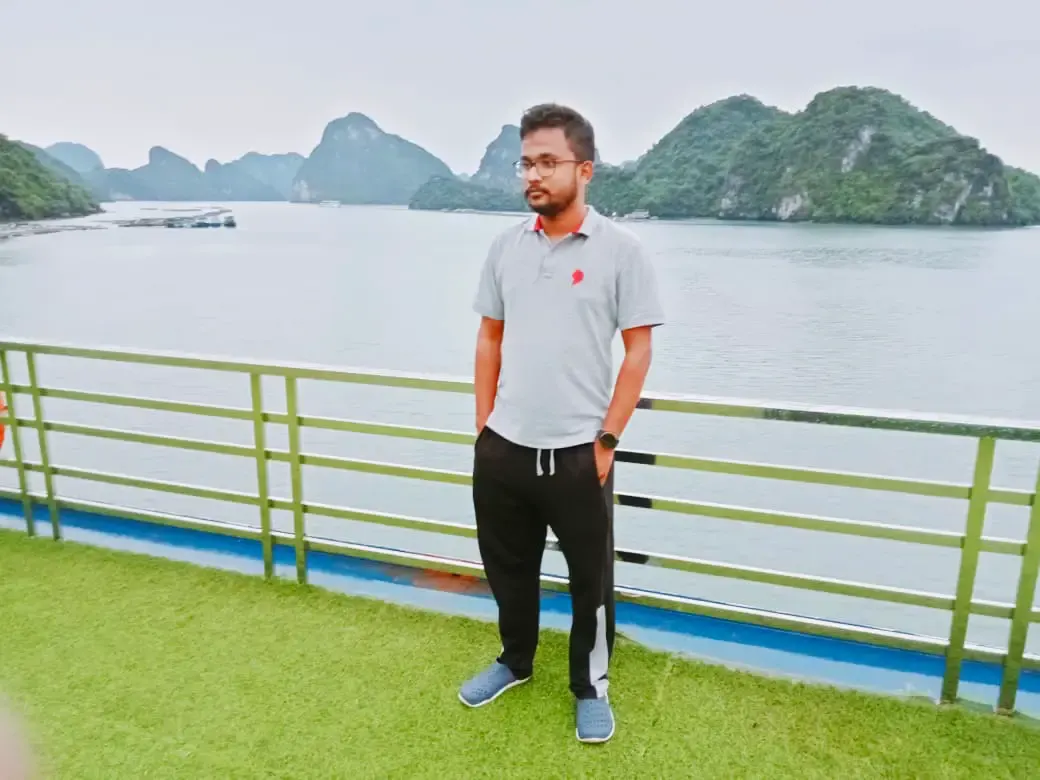 This is Surya. I am an experienced off-roader. I have been off-roading for many years across several terrains. I am passionate about 4×4 driving and want to share my knowledge and experience with others.
My goal is to provide you with the most comprehensive and unbiased information about off-roading.
I curated this article through my personal experience and expertise, and I hope it helps you with what you are looking for.