Off-roading is a fun and adventurous activity. However, the fun ends badly if you get lost in the wild without any support. Now, in this case, the riders are asked to install some navigation apps on their mobile phones to get the idea of their location and get back safely.
These apps are equipped to work offline, so having no internet service does not have much impact. This article covers the best of the 15 navigation apps that are perfect for off-roading.
The 15 best navigation apps for off-roading include:
All-in-one Offline App

Gaia Maps

Trail Offroad

Alpine Quest

OsmAnd

Avanza Maps

Locus Maps

BackCountry Navigator XE

ExploreOz

Hema 4×4

Polaris GPS

SpyGlass

Komoot

ViewRanger

OnX
Comparison Chart of Off-Road Mobile Apps:
| | | | | |
| --- | --- | --- | --- | --- |
| | | Availability on Platforms | Geographical Areas Covered | Does it Work on Ofline as well? |
| | | | Every trail map is availble | |
| | Easy user interface, available search option for trails, point of interests' option | | Across the world maps available | |
| | Inclinometer, maps for beginners as well | | Majority of the major trails are covered | |
| | Topographical, classical and satellite maps available | | Maps of all terrains are available for download | |
| | Contour Lines, shading hills ,tracking or routes, sharing of the maps | | Maps of all major terrains are available | |
| | Store for Maps to be downloaded region wise | | Every trail map is available to be downloaded (Regularly Updated) | |
| | Turn-by-Turn Navigation, Beeline Connect Option, share, track and record of routes | | Cover ever major area of the world | |
| | Cloud uploading feature, Map Overlaying | | Every trail map is available | |
| | Turn-to-Turn Navigation, sharing, locating of trails | | Regular updates of maps of across the world terrains | |
| | Over 100,000 points of interests | | Covers major areas of the world | |
| | | | | |
| | GPS, Gyrocompass, ViewFinder, Range Finder | | | |
| | Maps for hikers, travellers and off-roaders | | | |
| | | | 23 countries maps included | |
| | | | | |
I have created the infographic below that covers the 15 Best Off-Road Navigation Apps. (You are welcome to use and share but please credit us if you do so.)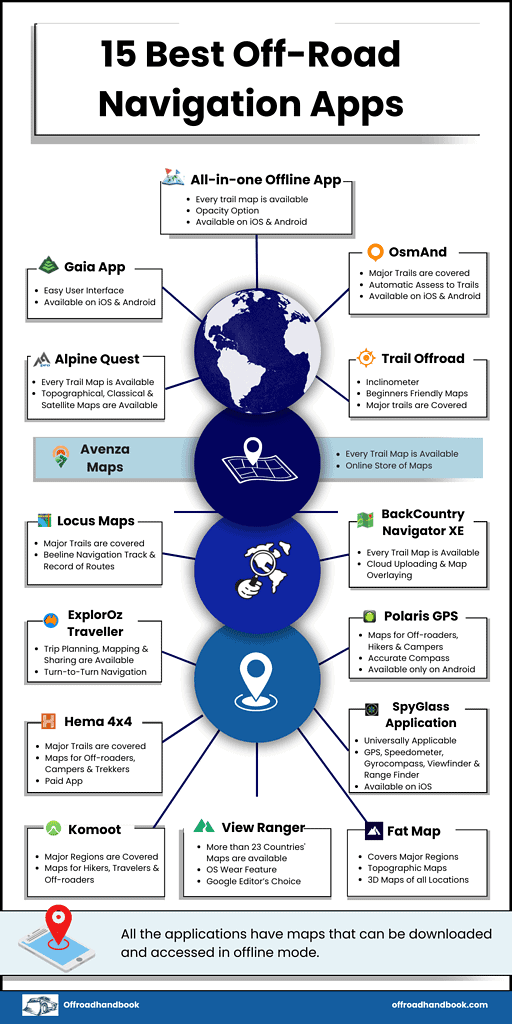 1. All-in-One Offline App: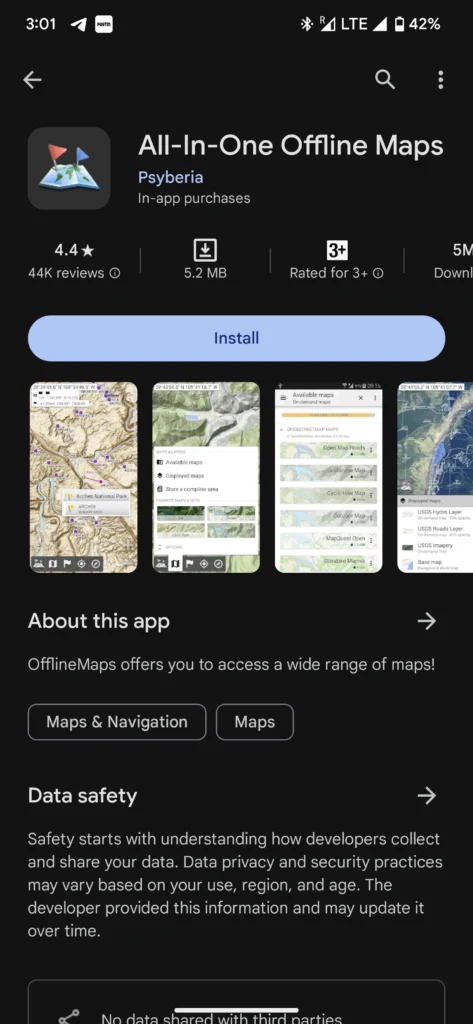 The number one on our list is All-In-One Offline App. The app includes all the major areas that are being explored for off-roading. So, the drivers can check the app regarding the active location of the track they are going.
Another feature that All-In-One navigation app offers to off-roaders is the availability of different kinds of maps. That includes classic maps, satellite maps, and topographical maps of almost all locations.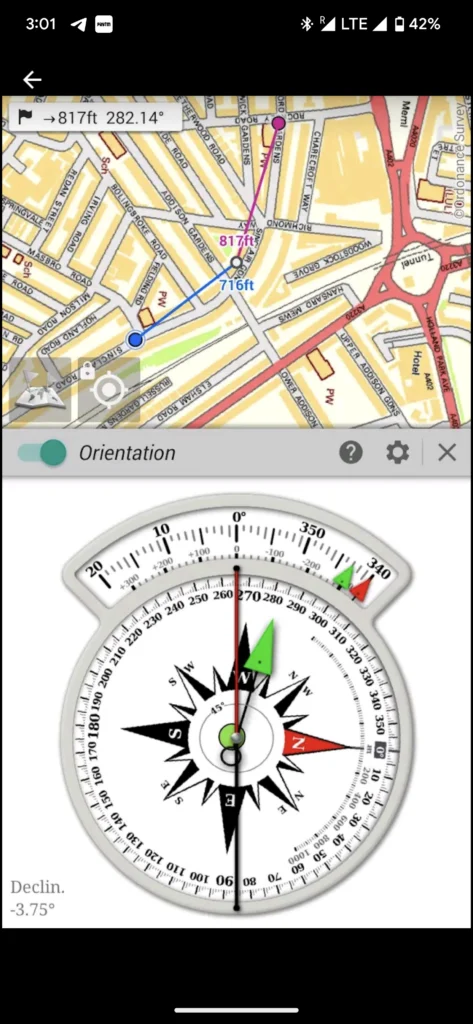 This helps riders to have a better understanding of the location with its respective features. Furthermore, the maps are available to download, which will help navigate offline.
Another noteworthy feature of this app is the opacity feature. You can pinpoint any location and get the details of this point. Its track, altitude, terrain, and many other details are given in this regard.
2. Gaia App: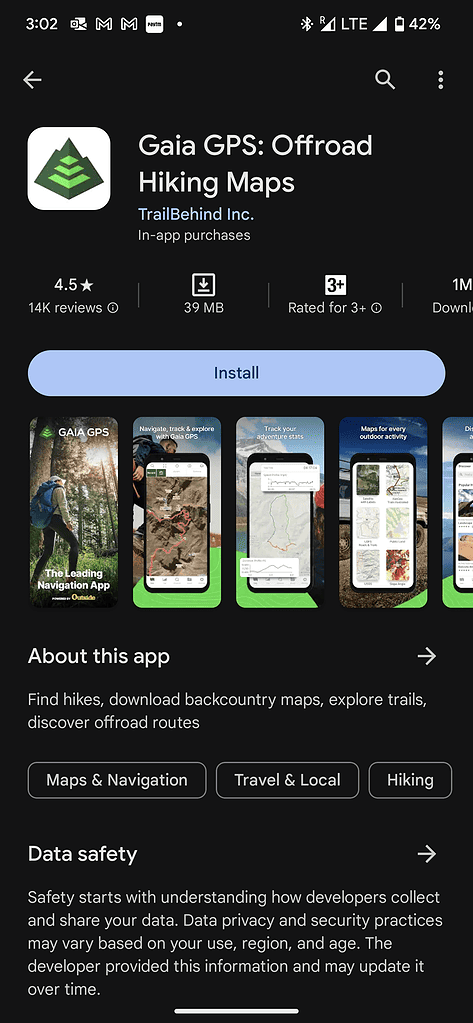 The next application on our list is the Gaia app. The app is among the easiest to use apps for off-road navigation. It has a simple user interface with map lines clear and specific. The application is also equipped with an option to pinpoint the location and deploy waypoints among routes.
This is to help the driver with the specifications of these waypoints and other matters. Furthermore, the application has a search option in which you can search about any trail, and it will become highlighted over the map. Then, the driver can easily have the information required for the trail.
The maps can be downloaded and work fine when there is no internet.
3. Trails Offroad: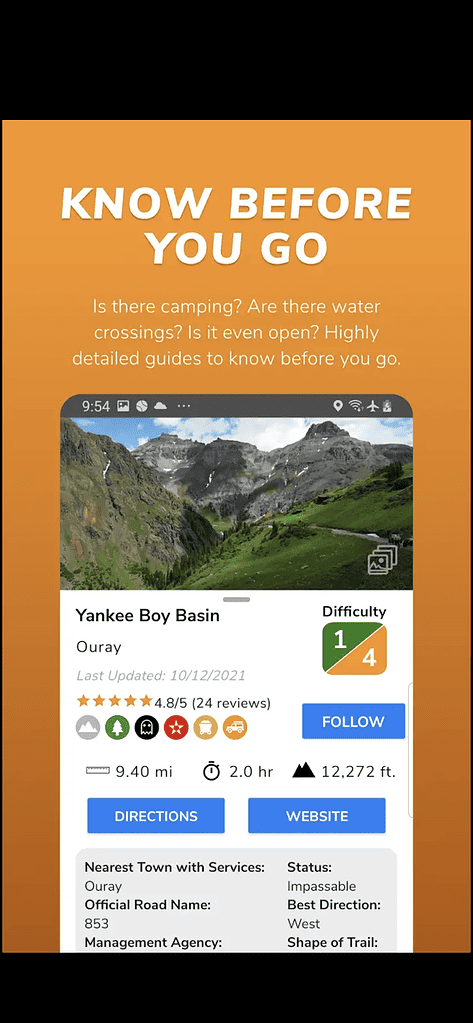 Trails off-road comes third in our list. The app is famous for its inclinometer as it accurately tells about the vehicle's angle. If the vehicle is tilted at a dangerous angle, the application will notify the driver, and an alarm will be put on.
Furthermore, the application can track your record, compile it in a .gpx format and then render it to share with your friends. With this unique feature, you can share the same track that you have found with your friends so that they can come up at the same location as you were.
Other than this, the application has maps that can be downloaded and accessed in offline mode. The application is suitable for both amateurs and experts and is free to download.
4. Alpine Quest: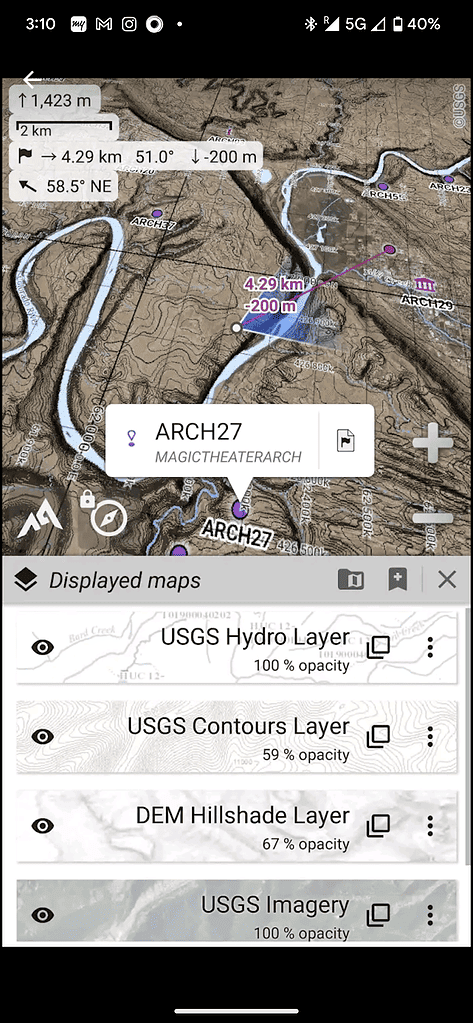 This mobile application consists of one of the most accurate maps of almost all the trekking locations for off-roaders. The maps are error-free, and the geographical features are very much the same as you will find on the ground. So rest assured that you will not face any new thing on the field. Other than this, the Alpine Quest is easy to use.
It is a simple app where you can search the required map, and the map will be available to download. The maps are usually classical, topographic, and satellite-based. But the application keeps on updating, and it gives boundary maps, property maps, lake maps, and drivers. So you better keep on checking.
Make sure that you bring enough supplies with you at all times, including a power bank, enough food and fuel, and a device to run this application.
5. OsmAnd: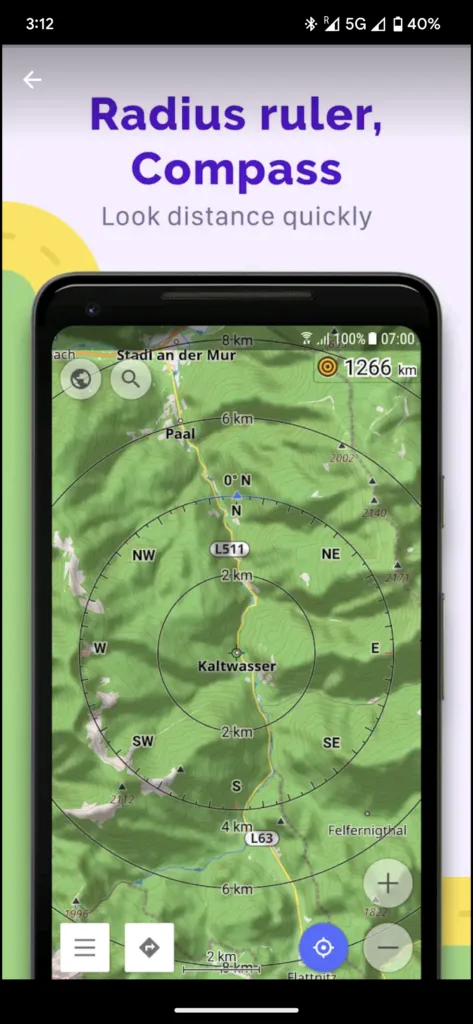 In our list, the next cool navigation application is OsmAnd. OsmAnd is available on both IOS and Android and free although some features included in this application require payment.
Talking about the functionality, OsmAnd provides accurate and effective maps that can be downloaded for offline use. The maps are free to use, and for drivers, they will not be a burden on their pocket.
Irrespective of this, some prominent features will surely help drivers go off-road.
But unfortunately, they are not free. One of these features includes the contour lines and shading hills that help describe the type and condition of the terrain.
The OsmAnd app has an awesome feature that is adding vehicle dimensions to the vehicle parameter option. The application will automatically assess the trail and tell the driver whether the vehicle can pass through the route or not.
This is beneficial for car-trailers, RVs, and big trucks. With this, some other features that OsmAnd gives are tracking the route, sharing the map, and some additional map formats.
6. Avenza Maps: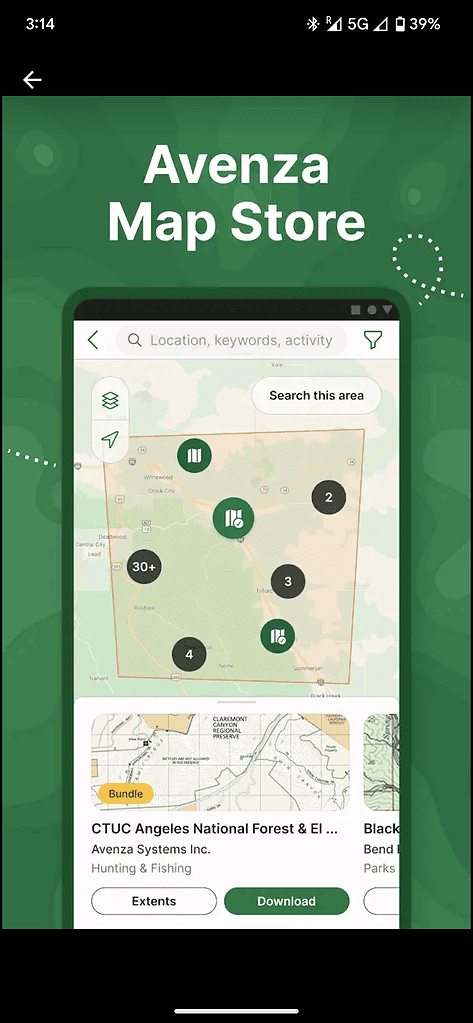 Avenza Maps is not a navigation app, yet it gives you a collection of maps that you can employ in your regular navigation applications. In short, it is an online store of maps.
The quality of the maps is very good in Avenza, and they can be downloaded for free or with some value through the store.
Other than this, the maps provided by Avenza are regular maps that have to be played by your GPS, and there is no active location monitoring option available in them.
The driver must place the cursor on the point it is standing and then move in context to this. This creates some problems for drivers.
Other than this, the other features are very good. The driver can track the route, plot pictures, share the location, and measure the distance and time taken to explore the route.
7. Locus Maps: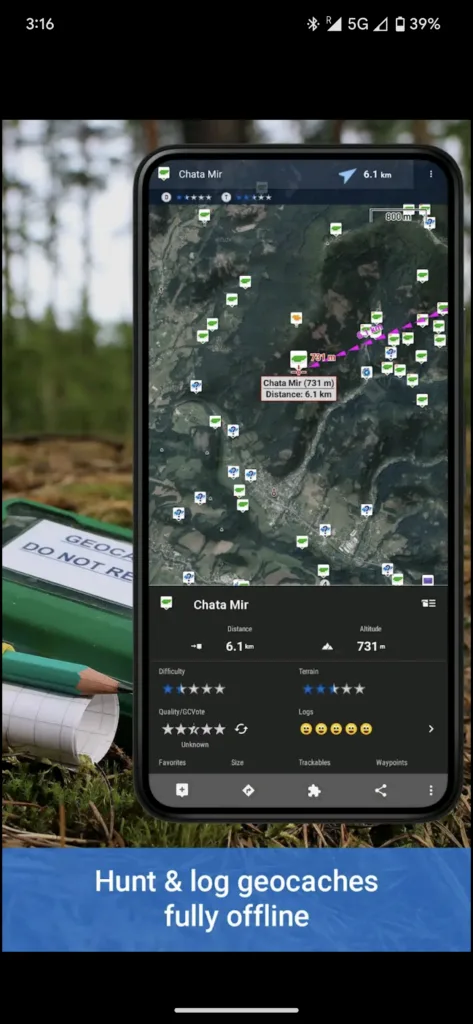 Locus Maps is a multifunctional application that allows users to track, record, share and alter routes given on the maps. The application allows drivers to share their experience living with their counterparts and plot pictures on maps.
The application is designed for several different adventurous sports that include hiking, bicycling, riding, and off-roading. The maps included in this application are designated places for these activities to perform.
Some more features of this application include voice-over navigation in which the user is given oral instructions to follow the route. Furthermore, an alert option initiates a buzzer when the driver has lost track or moved away from it.
This is very helpful for new drivers. The third feature of this application is that it provides navigation even on routes imported from other maps. That helps if the route is unavailable and has to be imported from another application.
Lastly, the application has a beeline navigation guidance option for the users. You can connect the beeline device with this application or transfer the maps to the Beeline application.
So bring enough supplies, prepare your vehicle well and keep the locus maps downloaded on your device. You will not be having any problem in your journey.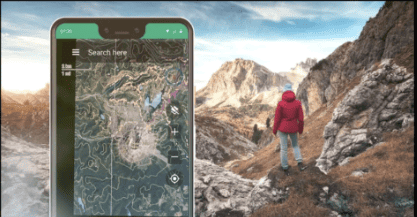 BackCountry Navigator is an application that can make your ordinary smartphone into an active GPS at any point. To use this application, you have to look for the terrain around you and then bring the bearing on the terrain. After that, you need to locate these bearings on the map. Then, you can use it.
The prominent feature of BackCountry Navigator includes overlaying of maps. The maps can be overlaid over each other and give the information of a trail you want to see. In this case, BackCountry Navigator offers lake maps, trails, boundary maps, and property maps, to name a few.
Other than this, all the maps can be downloaded offline, which gives a good grid-based organization to your mobile. Furthermore, the maps available in the application cover almost all the countries of the world with maps mentioned and downloaded. This gives flexible and efficient storage usage to the application.
BackCountry has a cloud uploading option as well. You can upload your track on the website before trekking through this feature. The cloud will then transfer it to your mobile application, which you can use at any time. You can also view your route after coming back to see the exact location, track, and terrain you followed to view your performance.
Lastly, as mentioned above, you can download all the maps for offline use. So download the required maps before starting your journey. If your mobile has lost its signals, getting on track will not be difficult for you.
9. ExplorOz Traveller: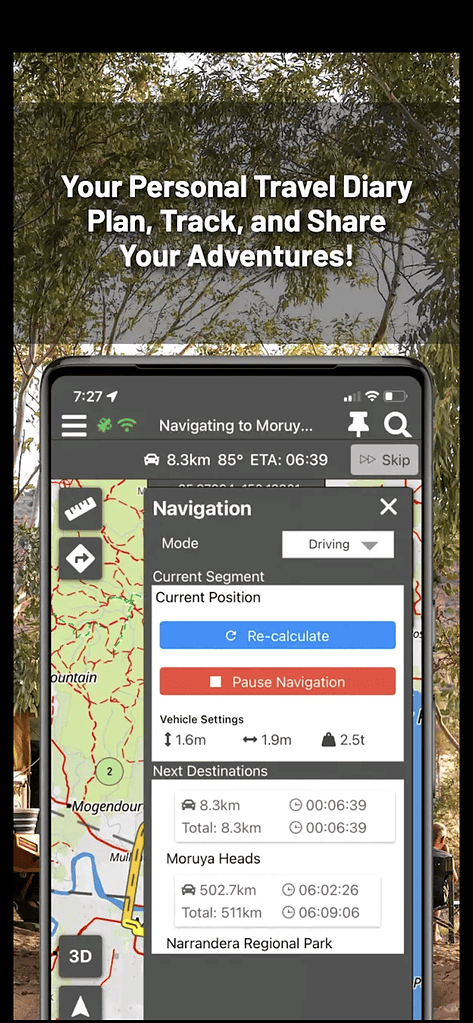 ExplorOz is an Australian-based application that provides extensive information, maps, and trails for off-roaders in Australia. The application is equipped with highly accurate trail locations and the geographical features of the whole country. This makes it a perfect choice for off-roaders in Australia.
Other than this, the application is equipped with a turn-to-turn navigation option. That too, with a voiceover to keep on guiding you. Also, trip planning, mapping, and sharing of trips are features of this app.
The app functions online and offline both. But it is not free and requires payment for a subscription.
10. Hema 4×4 Explorer: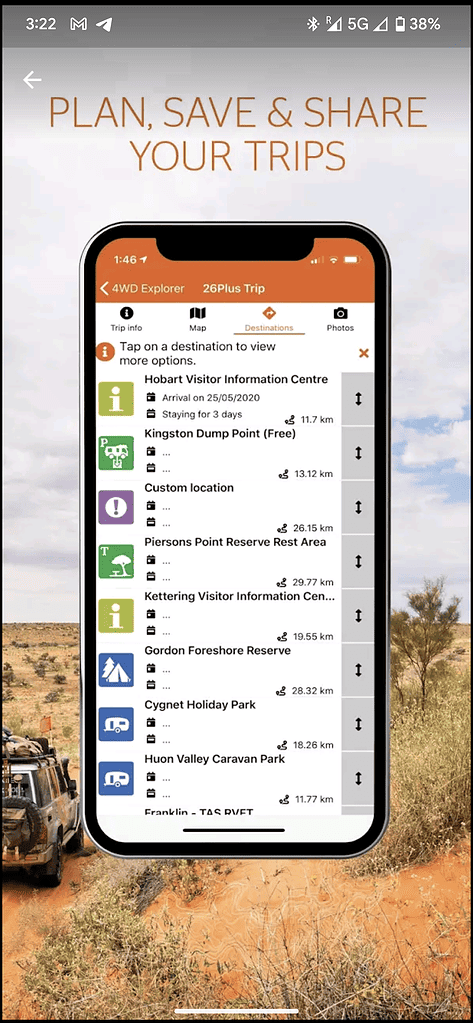 After ExplorOz, we have included the Hema 4×4 Explorer. It is a paid app that requires a payment of around $45.99. The application comes with exceptional features for off-roaders, campers, and trekkers.
The first and foremost feature of it is 690,000kms of maps that are available to be downloaded. Along with this, the application has an exclusive 45000kms of trail tracks that can be searched and are with pinpoint accuracy.
This is not the end. The application has regular features as well. Like, map guide, sharing of maps, caravan sites, and over 100,000 points of interest for visitors among different tracks.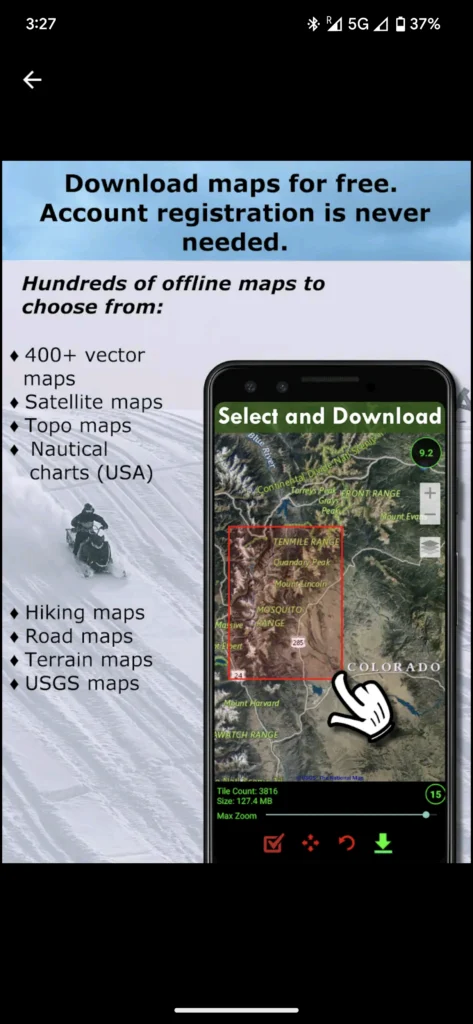 Polaris GPS application is available on the Android platform, and it is famed for its accurate compass – which comes as an in-built feature. The application is designed for off-roaders, hikers, and campers.
The application has features of measuring latitude, longitude, height, sunset, and sunrise in its list. Although these features seem overwhelming for new users, the drivers become handy on all these details over time.
Other than this, there is a point to be taken care of, and that is that most of the features in the application run only with the internet.
12. SpyGlass Application: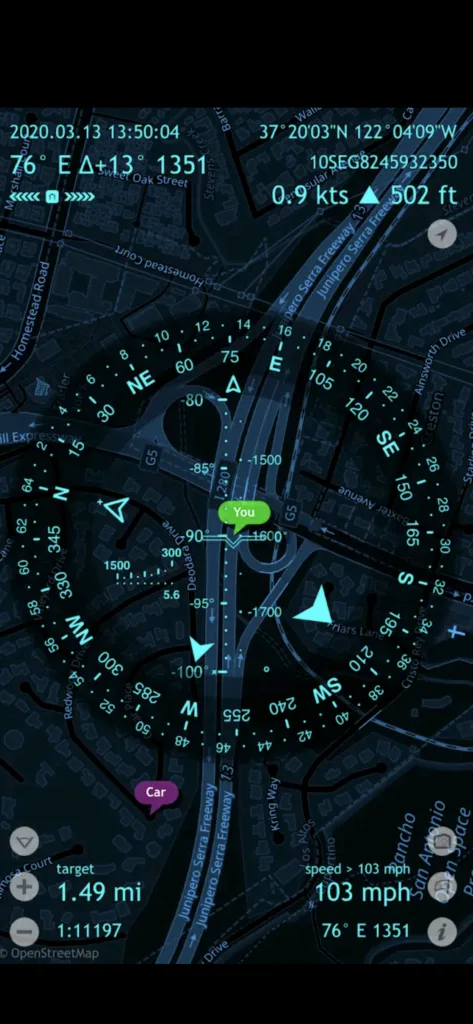 The next best application that we brought for off-road navigation is the SpyGlass application. The application is for IOs users, and it has an augmented display for guiding the users. The application includes a speedometer, altimeter, active GPS tracking, gyrocompass, real-time viewfinder, and rangefinder.
The app functions are based on your mobile phone cameras and other devices and calibrate them. Furthermore, you can calculate the distance between two objects and can identify paths with the help of stars and moon locations.
The SpyGlass is a good navigation application, but its feature may become hectic for new drivers and users to put into use. The application functions after payment of around $6 as basic subscription fees.
13. Komoot: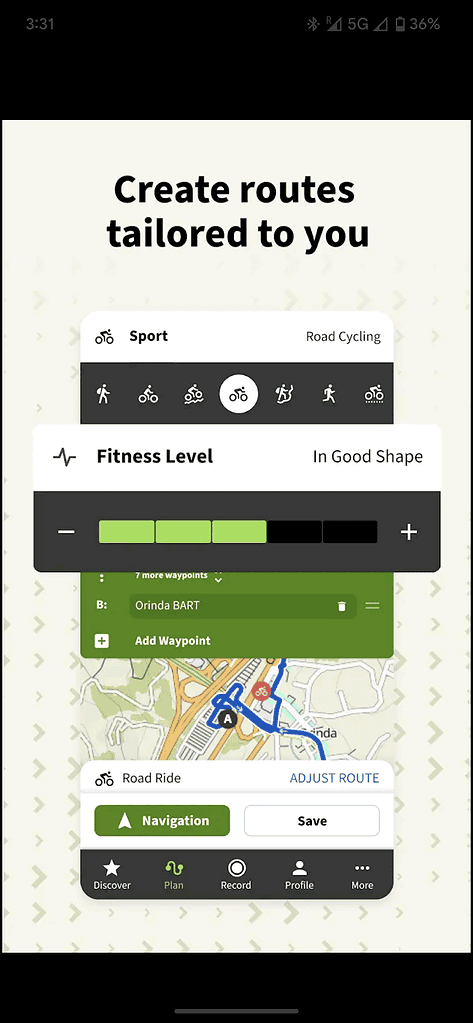 Our next application is Komoot.Komoot offers tracks, trails, and map sites for hikers, travelers, off-roaders – mostly bikers in it. The application has enlisted tracks that are paved and unpaved, both for off-roaders separately. So, you can select both the tracks of your choice.
Other than this, the application has highlighted point of interest options that the driver can see before trekking.
Komoot is available for free, but it costs around $3.99 for each region map to be downloaded. However, you can download the whole world map for around 29.99$.
14. ViewRanger (Now Outdooractive):
The ViewRanger application is best for hikers, off-roaders, and trekkers. The application alone has more than 23 countries, including the USA, Canada, Australia, etc., exclusive terrain maps for different trails.
There are also satellite images and street maps included in this application. Other than this, the application is marked by Google's Editor Choice, which makes it almost a perfect choice for users. And that is the reason for around 180,000 trails marked in its maps.
ViewRanger has an OS Wear feature as well, and that is if your watch has OS support, then the map's direction will directly come to the screen of your watch. This will prevent you from taking your phone out of your pocket. You can see it on the face of your watch.
15. OnX Map: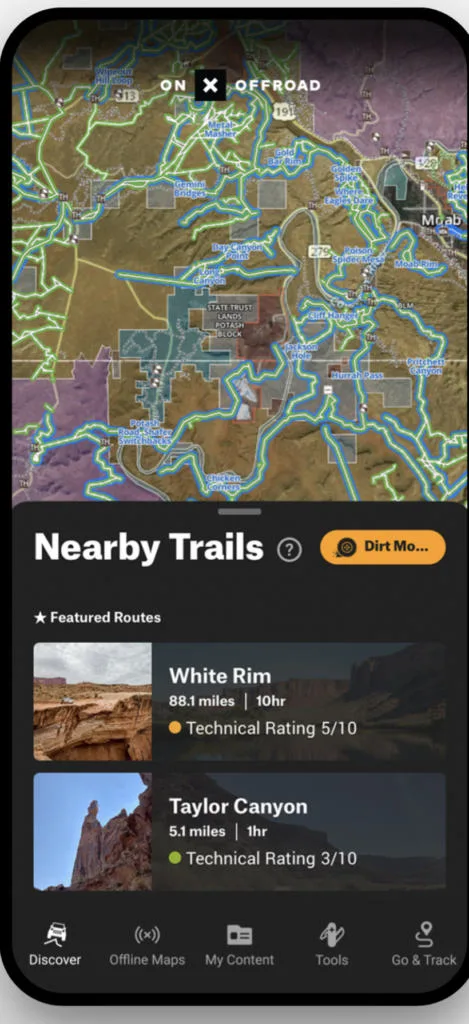 The last application on our list is the OnX application. The application has 3D maps of all the trails and gives information in 3D mode. The information ranges from giving foot tracks, points of interest, and pictures.
The driver gains enough awareness of the track through this application. Taking this further, the application has topographic features listed, which goes to measure the snow-fall weather conditions and every other feature that can impact a driver's journey.
Furthermore, you can even see the National Parks, Ski Resorts, and Trails open to the public in this application.
Final Thoughts:
If you are looking for an off-road navigation app to help you get where you need to go, then check out the options we've listed here. Each of these apps has been designed specifically with outdoor adventures in mind, so they will be able to guide you through even the most difficult terrain.
And since they all come with different features and price points, there is sure to be one that fits your needs perfectly. So what are you waiting for? Get exploring!
Also Read:
Top 10 Best Radio for Off-Roading- The Complete Guide
Top 5 Best GPS for Off-Roading: Detailed Analysis
Frequenntly Asked Questions (FAQs):
Off-road navigation apps offer several benefits, including:
• Comprehensive and accurate maps – Many off-road navigation apps feature detailed maps specifically designed for off-road use. This can help you find your way through unfamiliar territory.
• Features designed for off-road navigation – Many off-road navigation apps include features specifically designed for off-road use, such as track logging and waypoint navigation. This can help you to stay on track while navigating through rough terrain.
When choosing an off-road navigation app, you should consider the following factors:
• Accuracy of maps – The accuracy of the maps is important, especially if you are using the app to navigate unfamiliar territory. Make sure to check the reviews to see how well the app performs in map accuracy.
• Features – The features offered by the app can be important, especially if you are looking for an app that has specific features designed for off-road navigation.
• Ease of use – The app should be easy to use, with a simple interface that is easy to navigate.
• Cost – The cost of the app can vary, so be sure to compare the prices of different apps before making a decision.
The usage of off-road navigation apps can vary depending on the app, but typically they work similarly.
You will need to enter the starting and ending points of your journey, and the app will provide directions and maps to help you get there. Some apps also include track logging and waypoint navigation, which can help navigate through rough terrain.
An off-road navigation app is unnecessary for every off-road trip, but it can be helpful to have one if you are travelling in unfamiliar territory. The app can provide you with accurate maps and directions, which can help you to stay on track while navigating through rough terrain.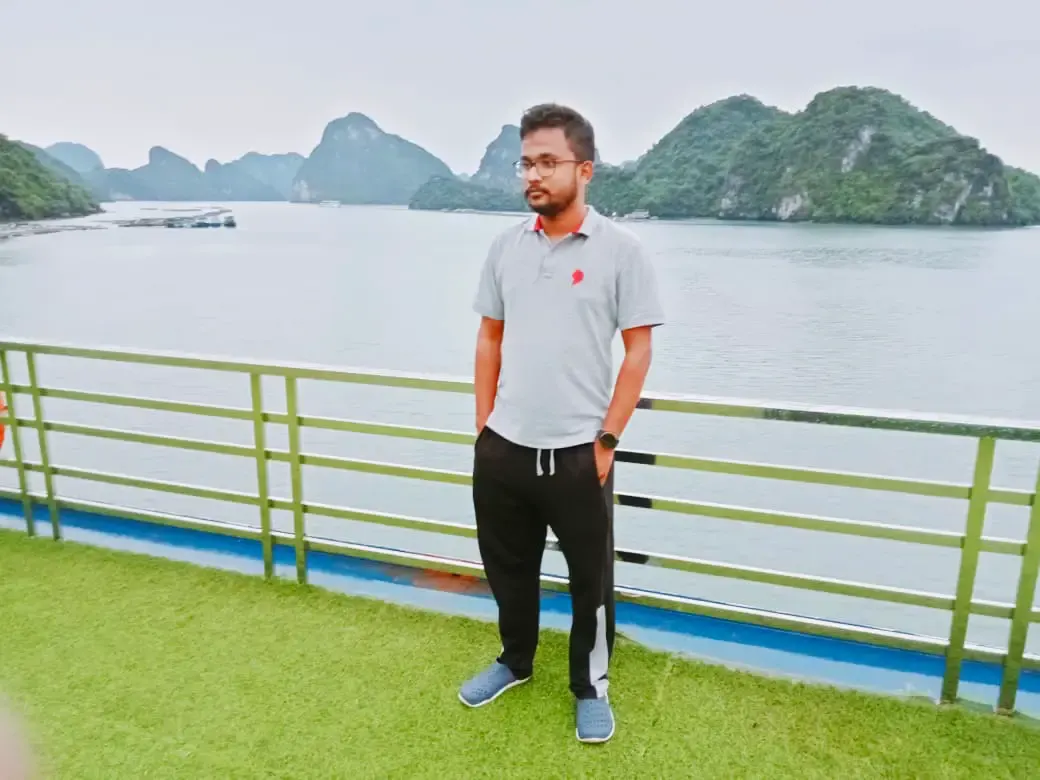 This is Surya. I am an experienced off-roader. I have been off-roading for many years across several terrains. I am passionate about 4×4 driving and want to share my knowledge and experience with others.
My goal is to provide you with the most comprehensive and unbiased information about off-roading.
I curated this article through my personal experience and expertise, and I hope it helps you with what you are looking for.