In off-roading, if there is one thing other than the power of the engine that plays the most pivotal part in your vehicle movement. It is the 'tire'. Tires allow the vehicle to find the required traction and make the journey possible. Otherwise, the vehicle will not move even with a 1000 hp.
So, coming towards the explanation of the tires, off-roading tires are available with their utility on different terrains. They are available in multiple ranges with varying price brackets as well. So, in this article, we are going to list down all the details of off-road tires. How much do they cost? And what tires are optimal in what conditions.
Normally, an off-road tire can cost between $300 and $1000. Off-road tires come in different sizes and ranges. They are made for specific purposes, and each tire has a specific price based on its durability and utility.
Before jumping to the actual cost, let's first understand the type of tires. The cost is hugely dependant on the types. If you are already aware of the several types of off-road tires, jump to the next section of the article for regressive cost analysis.
How Much Do Off-Road Tires Cost?
Regressive Cost Analysis for Off-Road Tires:
To make things easier and understandable, we have attached a table in the given section. The table provides a complete view of types of tires with their respective price range. And at last, the table has a link attached where you can buy yours from.
So, you can check out the table and find out which tire is suitable for you and whether you intend to go extreme what the tire requirements should be.
| | | | | |
| --- | --- | --- | --- | --- |
| | | | | |
| Snow Tire Mastercraft Glacier Trex Winter Tire - 225/55R18 98T | | Workable under extremely cold conditions. Even up to 40 degrees Fahrenheit. | | |
| Mastercraft Courser MXT Mud Terrain Radial Tire - 32/115R15 113Q | | Workable on nearly every type of mud terrain; also, it can go on extreme off-road trails as well. | | |
| All Terrain Tires: Falken WILDPEAK A/T TRAIL All- Terrain Radial Tire-235/60R18XL 107H | | Hybrid Tires; workable on every type of terrain, yet its capacity is only limited to low-intensity off-roading. | | |
| Rock Tires: Sedona Rock-A-Billy Radial Tire (32X10R-15) | | Perfect for rock and mountain climbing, can also bear extreme stress and can get maximum transaction. | | |
| Highway Terrain Tires: Firestone TransForce HT2 Highway Terrain Commercial Light Truck Tire LT225/75R16 115 R E | | Perfect for routine and high-speed driving. Also, can sustain and remain durable for quite some time. | | |
How to Buy Off-Road Tires:
After that, we have discussed what we have to look for in a tire before buying it; the next step is to select the best tires for yourself. Currently, many companies are selling tires in the market.
So, you need to find out the top product through the rigorous testing results they are providing to their customers. Tire companies like Goodyear, Continental, and Cooper are famous in this regard.
What can be done here is that you need to find an official retailer of these outlets in the market. So, that whenever there is a need for aftermarket services, you can go to them easily.
Beware of those outlets who offer unusual discounts or low prices. It is because usually these outlets are selling redundant tires and they came without any after service. So, it is better to spend the money on buying premium tires.
What Tire Pressure for Off-Roading Is Suitable-Tune the Tire
Types of Off-Road Tires: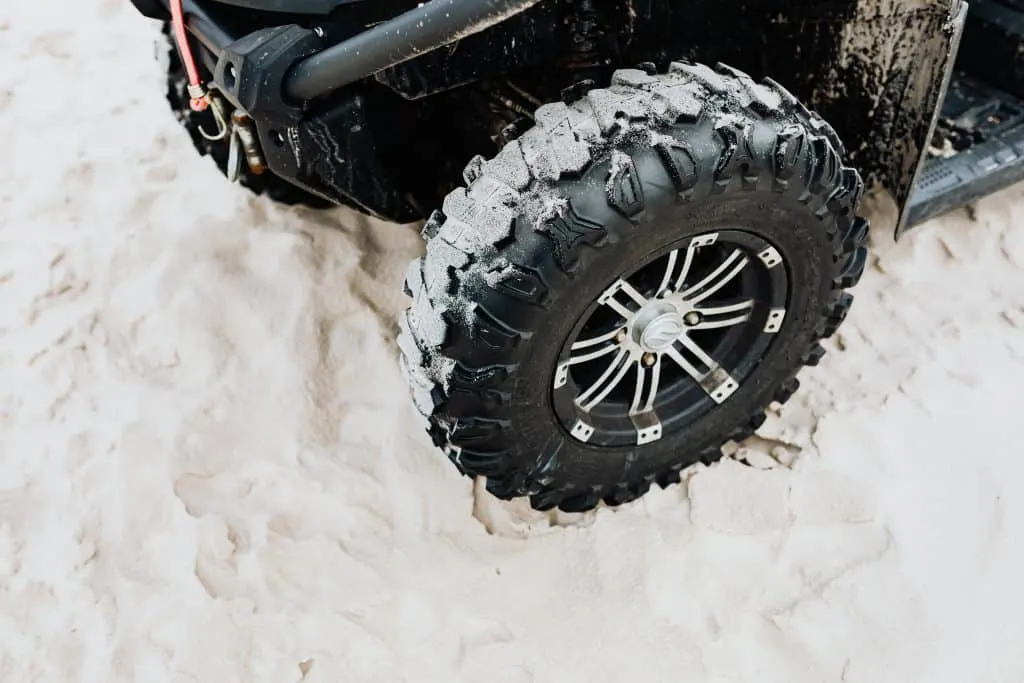 So before we move towards the different sizes and prices of off-road tires, we need to explain the types in which the off-road tires are offered. Mainly, there are five types of off-road tires, and each one of them is explained below in detail.
Highway Terrain Tires:
In our list, the first set of tires is highway terrain tires. Highway terrain tires are a little advanced form of normal vehicle tires, and that is to increase the reach and accessibility of normal vehicles to off-road trails.
In terms of making, the highway terrain tires have slightly tighter treads with enhanced sipping to make the grip tighter on the roads. These specifications tend to dig deeper into the surface, and the tighter sipping stops the water from slipping beneath the surface.
As a result, the wheels receive more traction as compared to normal vehicles.
Other than that, it is said that the highway terrain tires are more durable in terms of sustaining off-roading.
Primarily, it is due to their steel overlay that keeps their strength. Although they are not made for regular off-roading, if someone is wise enough, he/she can lead them through low-intensity off-roading.
Lastly, highway terrain tires are not made puncture-proof which means that they cannot withstand normal punctures. So, one has to take care of it through a tire repair kit and air compressor.
All-Terrain Tires:
The next type of tire is all-terrain tires. By All Terrain Tires, it means that the tires can operate on any terrain. Be it snow, mud, or rock; these tires can take you over everything.
Moving further to explain the specification of tires, the all-terrain tires or ATV are hybrid tires – with using more than one pattern – that helps survive over more than one terrain.
Usually, these tires have more open treads, and they are more rugged than normal tires. Moving towards their utility, these tires, like highway terrain tires, are feasible for low or medium-intensity off-roading. For extreme off-roading, only one pattern is followed as treads, and the sipping has to be in a particular way. Otherwise, the tires will not stand the pressure.
So the all-terrain tires are offered for those willing to test a wide number of trails – having versatile features – but keeping it low and safe.
Mud Terrain Tires:
The next tires on our list are mud-terrain tires. Mud terrain tires are purpose-built tires to sustain hard mud terrains. These tires are made with deep, wide treads and specific patterns that drift the sand away from it and get the required traction.
Usually, these tires are made solely for the mud terrains and not for general use. If you tend to take them to normal roads, then the treads that are there to get extra traction will create more friction and hinder the car from moving easily.
With it, these tires create additional sound and vibration, which is not only bad for your ears but it will harm the vehicle's body as well. So, it is advised that these tires be only used when you have to take down an extreme mud terrain.
Rock Tires:
From mud tires, we moved towards some hardcore rock climbing. And what you need for them are Rock Tires. Rock tires are specifically designed tires that perform exceptionally well in getting traction while climbing.
These tires usually have big trademarks and hard sides, which prevent them from getting punctured over rocks. Other than that, the rock tires have other treads made on the side walls as well. These are mainly to increase traction on the road.
So, if you intend to climb some intense mountains and feel that going extreme on them is your passion, then rock tires are the tires your vehicle should be equipped with.
Snow Tires:
Other purpose-built tires that you should have if you live in North America or some other cold parts of the world are 'Snow Tires'. Snow tires help vehicles to get maximum traction on surfaces even under extremely cold temperatures. So off-roaders with ambitions to drive on snow use them often.
Snow tires are also known as seasonal tires. It is because these tires are also used for normal drive-in extreme climate conditions. The main feature of these tires is that they are made of a specific rubber. This specific rubber remains non-freeze even at temperatures equal to 40 Fahrenheit.
As a result, the tires can get traction from the snow and move further. If this has to be with normal tires, then the tires would have been frozen, and they won't find any traction even through roads. So, snow tires are very helpful in this regard.
A helpful tip is to buy an additional pair of tires in your garage even if you don't go off-roading and live in cold climate areas. Use them often because they prevent minor accidents and are durable for normal use as well.
Find Out: Off-Road Rims for Trucks and SUVs- How to Select the Best
How to Choose the Best Off-Road Tire: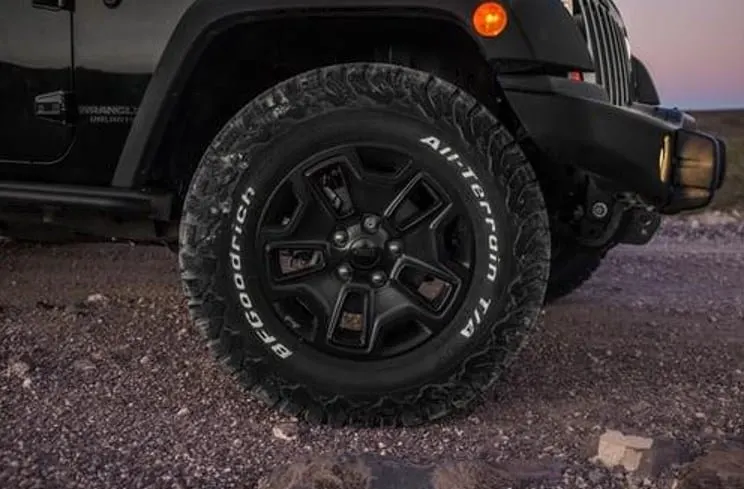 After that, we learned about the types of off-roading tires and also checked out their prices, the next step is to find out how we can select off-road tires for our vehicles. To answer this question, we list some essentials you have to check before selecting the tires.
So, to select tires, there is a famous principle of TCC which is applied. TCC stands for Tread, Carcass, and Compound.
Tread:
Treads are the groves that are present on the walls of the tires. These treads act in getting traction from the surface on which the tires are rolling. The treads come in different patterns, and we are going to list down some of the famous patterns:
1. Symmetrical Tire Tread Pattern:
In a symmetrical tread pattern, the groves are present in a streamlined pattern. The lines provide the driver with utmost flexibility and maneuverability in terms of rotating the vehicles. The pattern acts as the least resistive in all types of tread patterns.
The utility of this pattern is mostly in normal vehicles where the vehicle has to face the least resistance and smooth roads.
2. Directional Tread Pattern:
The next pattern is the directional tread pattern. In this type of tread, the groves are made in uni-direction, making the tire get as much traction as possible.
For this reason, these types of tread patterns are used in mud and snow terrain tires as the pattern resists the tire to skid in the anti-clockwise direction. Hence, making the vehicle less prone to slipping.
Another benefit of this type of pattern is that it allows the driver to have a good grip on the road even at high speed. The unidirectional pattern won't allow it to move in another direction easily.
3. Asymmetrical Tread Pattern:
The next type of tread pattern is the asymmetrical tread pattern. In this pattern, the groves are split into two separate parts. One pattern is the side-line of the tire, and the other is in between the sidelines.
The purpose of this dual pattern is that the middle helps in drifting the water away from beneath the tire's surface. At the same time, the pattern available on the sidelines will help get traction on the road.
Usually, this pattern is available in multi-terrain tires. So, if you are the person who intends to be an off-roader, a normal driver, and a person who lives in wet areas, then these are the tire patterns your wheels should be having.
| | | | |
| --- | --- | --- | --- |
| | | | |
| Asymmetrical Tread Pattern Tire: Goodyear Eagle F1 Asymmetric 2 Radial Tire - 235/50R18 101W | | | |
| Directional Tread Pattern Tire: Duro DI-2037 Frontier - Rear - 26x11Rx12 , Position: Rear, Rim Size: 12, Tire Application: All-Terrain, Tire Size: 26x11x12, Tire Type: ATV/UTV, Tire Construction: Radial, Tire Ply: 6 31-203712-2611C | | | |
| Symmetrical Tread Pattern Tire: Starfire Solarus HT All-Season 245/75R16 111T Tire | | | |
Carcass:
The carcass is defined as the inner layer of the tire that sustains most of the pressure exerted on tires and keeps the tire's shape intact. The carcass is also known as the backbone of the tire.
The carcass structure is basically in the form of rubber strings closely packed and aligned in a way to provide support to the overall body of the tire.
The normal standards of these chords range from 1400 to 2000, depending on the type of tire. And the strength of these chords also varies from a normal of absorbing 33lb to 50 lb each.
Compound:
The next material is the compound on which the tire has been manufactured. The compound is usually referred to as the chemical composition of the rubber used in the tire. Different compounds are used to manufacture tires like Zinc, Dimethylamine, and ether.
So, you have to have a good sense of the components that the tire you are buying consists of. Some of the elements that you can look upon are rubber, fillers, plasticizer, and aging.
Check Out: What is a Good Ground Clearance for Off-Roading? Know in Detail
Life of an Off-Road Tire Set:
As you have bought tires and been using them for quite some time, the next step is to find out when to replace your existing tires. In this case, you need to look for two to three main things.
The first thing which you should notice in your wheels is whether the treads are visible and in shape on wheels or not? If they have a visible pattern, then you need not replace them.
Likewise, the next thing you should witness is whether the tire surface has any permanent marks where it can easily get punctured.
Procedure to Follow for Tires:
To keep the life of your tires, you need to follow some procedures. These procedures will not only help in increasing your tire life, but they will also be helpful in the proper functioning of your vehicle as a whole.
The reason is a good set of tires will run smooth over roads, off-road paths, and off-road trails. That means your engine has to spend less power on rotating them and your suspension has to bear less. In this way, you will stay on the road for quite some time.
Aligning The Wheels:
The first step in maintaining the health of your wheels includes their alignment. By alignment means, the wheel must be positioned carefully with the vehicle's body, making the car go straight.
Usually, the wheels are aligned every 6 months – around every 10,000 km. But if you find that your vehicle is not going straight when you leave your steering, then the indication is that you should take your vehicle to a garage.
Maintaining the Right Air Pressure:
The next step is to maintain the right air pressure on your wheels. It is being noticed that every 3 out of 5 vehicles have either low air pressure or high air pressure compared to what is required in the wheels. So, if you are an off-roader, you need to be extra careful in this regard as your mistake will be more costly than a regular driver.
The normal air pressure is around 25 psi. So, you can lower this to the range of 9-14 in case you are off-roading. In this way, your tire will perform optimally and get the maximum traction as required.
Also Read:
What Do Gear Ratios Mean in Off-Roading? Everything You Want
What is The Best Rim Size for Off-Roading? The Top 5 Rims
Frequently Asked Questions (FAQs):
How much are all-terrain tires?
All-terrain tires are available in stores for around $200. These tires are optimal for low-intensity off-roading on almost all terrains.
What kind of tires do I need for off-road?
You need to buy purpose-based off-road tires for your vehicle. These tires can be all-terrain tires, mud tires, or can be snow tires as well.
Are all-terrain tires worth it?
Yes, all-terrain tires are worth buying. It is because these tires can go on almost every type of terrain with low intensity. However, if you are an extreme off-roader, you should go for specific tires made for specific trails.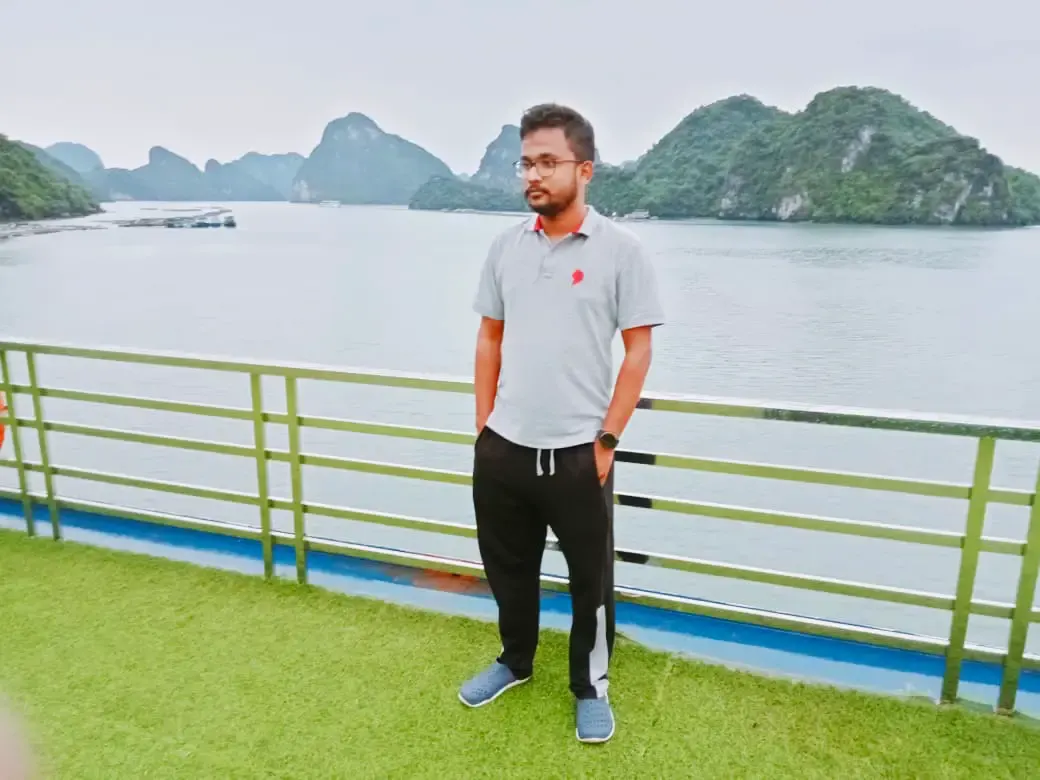 This is Surya. I am an experienced off-roader. I have been off-roading for many years across several terrains. I am passionate about 4×4 driving and want to share my knowledge and experience with others.
My goal is to provide you with the most comprehensive and unbiased information about off-roading.
I curated this article through my personal experience and expertise, and I hope it helps you with what you are looking for.