Indulging in fishing is a popular pastime enjoyed by many, but for off-roaders, carrying this hobby can pose a challenge. Particularly for those with vehicles like the Jeep Wrangler, transporting fishing rods becomes a concern.
The top 8 fishing rod holders for the Jeep Wrangler include:
Heavy duty 4-pole tube fishing rod holder by KUFA Sports
VRC Fishing vehicle rod carrier for Jeeps
4-rod boat console rod rack by Angler's
Horizontal fishing rod rack by Berkley
Vehicle rod carrier system by rod saver
Wall mounted fishing rod holders by Rush Creek
Horizontal fishing rod holders by Simple Deluxe
Vertical fishing rod holder by Attwood
In this article, I'll explore the top 8 picks that align with the rugged spirit of your Jeep while offering secure and convenient storage solutions for your fishing gear. Let's dive in and discover the ideal fishing rod holder to enhance your on-road and off-road fishing experiences.
1. Heavy Duty 4-Pole Tube Fishing Rod Holder by KUFA Sports:
KUFA Sports manufacture this heavy-duty, 4-pole tube-shaped fishing rod holder. It is made of plastic and highly durable, with wide dimensions and a deck mount.
It has ample space in which pliers and knives can be adjusted. The inside diameter of the rod tube is around 1-7 by 8 inches. 
This fishing rod holder can be cleaned easily as it is made of durable plastic, which can resist chips and sudden cracks.

The "4 Pole Tube Assembly" aspect suggests that this rod holder can accommodate up to four fishing rods at once, providing a convenient way to transport and store multiple rods without them getting tangled or damaged.

The "Tube Assembly" refers to the cylindrical or tubular design of the holder, which helps protect the rods while allowing easy insertion and removal.
Pros
Multiple Rod Storage: The KUFA Sports Heavy Duty 4 Pole Tube Assembly Rack Fishing Rod Holder RH12 offers storage for up to four fishing rods, keeping them organized and easily accessible while on the water.
Durable Construction: The "Heavy Duty" label suggests that the rod holder is built to withstand the challenges of outdoor use, including exposure to water, sun, and potential impacts.

Protection for Rods: The cylindrical tube assembly design helps protect fishing rods from tangling, damage, and scratches during transport and storage.

Hands-Free Fishing: Anglers can have multiple rods rigged and ready to go, enabling them to engage in different fishing techniques without the need to constantly hold or monitor their rods.

Versatile Mounting: The rod holder is likely designed for mounting on boats, kayaks, docks, or other fishing vessels, adding convenience for various fishing scenarios.

Efficient Trolling: For trolling enthusiasts, this rod holder allows easy deployment of multiple trolling rods, increasing the chances of catching different types of fish simultaneously.
Cons
Limited Capacity: While accommodating up to four rods is beneficial, it might still be insufficient for anglers who prefer to carry more equipment or for group fishing outings.

Space Requirement: The rod holder's design might consume a noticeable amount of space on a small boat or kayak, potentially limiting other equipment placement.
2. VRC Fishing Vehicle Rod Carrier for Jeeps:
VRC fishing rod carrier is considered one of the best fishing rods for your Jeep Wrangler, which can restore enough room in the Jeep compared to the transporting rods. A sling is attached to these rods, which can hold the rods safely.
Hang across the headrests of your vehicle, no tools required.
Made of durable nylon cloth, and equipped with soft neoprene rod cover.
Portable and stylish, the rod is fixed in place, and the space of the rear seat is freed up for sitting down. Suitable for many occasions.
One size fits most, Can be used in cars, boats, bedrooms, where you can place fishing rods.
Hang the nylon sling across your vehicle's headrests and attach to the bottom of the seats to secure. No installation tools are required, and it is universal for all vehicles that have headrests. It can hold up to 3 rods, and backseat passengers don't have to give up any legroom.
The rods do not jostle due to bumps in the road, and the vehicle's movement is due to secure fasteners. These fishing rods can hold up to 3 rods at a time, and you can also fold the sling.
This vehicle rod carrier can hold your fishing rods conveniently and safely. There is no need for extra tools.

You can only attach this rod carrier across the vehicle's headrests. This fishing rod holder is made up of durable nylon cloth.

The "Combined Fishing Rod Bracket" feature combines a rod holder and a storage rack, providing multiple functionalities in a single unit.
Pros
Easy Installation: The product can be easily installed by hanging it across the headrests of a vehicle, requiring no tools or complex assembly.

Durable Material: Constructed from durable nylon cloth, the rod holder is designed to withstand regular use and potential exposure to outdoor elements.

Soft Neoprene Rod Cover: Equipped with a soft neoprene rod cover, the holder offers protection to fishing rods, preventing scratches and potential damage during transportation.

Space-Saving Design: The unique design securely holds fishing rods in place, freeing up space in the rear seat of the vehicle for passengers to sit comfortably.

Versatile Usage: Suitable for various occasions, the holder can be used not only in vehicles but also in boats and bedrooms, providing flexibility for rod storage.

Universal Compatibility: Designed to fit most vehicles with headrests, the product offers a universal solution for rod storage without requiring specific vehicle modifications.

Capacity: The holder can accommodate up to 3 fishing rods, making it convenient for anglers who need to transport multiple rods.

Legroom Retention: Passengers in the backseat do not need to sacrifice legroom, as the holder's design does not encroach on their space.
Cons
Length Limitation: Some users have reported that the product's length might not be sufficient for all Wrangler model years.
Neoprene Cover Size: The size of the neoprene rod cover might not accommodate larger or specialty fishing rods, potentially limiting its use for certain types of rods.
3. Angler's Choice 365 Boat Console Rod Holder:
The Angler's Choice 365 Boat Console Rod Holder stands out as a promising recommendation for Jeep Wrangler owners seeking a reliable solution to store fishing rods.
This rod rack manufactured by Angler's is a 4-rod fishing rod holder made of aluminum. It is available in silver color and is considered the most lightweight fishing rod available in the market. There is no need to assemble this rod; you can mount it on the deck.
The combination of durable materials and sturdy craftsmanship implies that they can endure regular usage and exposure to varying conditions, adding value to the investment.


The optimal sizing ensures they can be comfortably integrated into the vehicle's interior without excessive bulk.


The rod holders are well-made and designed to withstand the rigors of regular use and potential abuse.
Additionally, the product's reputable brand, Angler's Fish-N-Mate, adds a layer of reliability.
Pros
Crafted with durable nylon material and a heavy-duty design, this rod holder aligns well with the adventurous spirit of a Jeep Wrangler.


Its thoughtful assembly ensures secure rod placement, making it a suitable companion for off-road journeys. With a convenient package size and manageable weight, it seamlessly integrates into the Jeep's interior.


The dimensions of the rod holder, both in its package and actual form, indicate a balanced fit for a Jeep Wrangler's cabin space.


Its heavy-duty style resonates with the rugged nature of the vehicle.


Additionally, the product's reputable brand, Angler's Fish-N-Mate, adds a layer of reliability.


Given its practical features and compatibility, the Angler's Choice 365 Boat Console Rod Holder is a noteworthy recommendation to enhance your Jeep Wrangler's fishing adventure.



Its sturdy construction, optimal dimensions, and reputable brand contribute to a seamless blend of functionality and style, making it an ideal companion for anglers exploring on and off the road.
Cons
Specific Use Case: The product's design may cater more to a certain type of fishing gear or rods without slotted butts. This specificity restricts its applicability, making it less versatile compared to rod holders that offer a broader range of compatibility.

Limited Saltwater Suitability: Given the focus on durability and use in potentially harsh conditions, the absence of provisions to accommodate saltwater rods with slotted butts seems like an oversight. This drawback might deter saltwater anglers from considering these holders, as their rods might not be securely held in place.
4. Horizontal Fishing Rod Rack by Berkley :
The Berkley Horizontal 4 Fishing Rod Rack is a storage solution for holding and organizing fishing rods.
This fishing rod manufactured by Berkley is made up of plastic material and is horizontal in shape. It has the twist locking rod holding feature with in-built improved foam, making it durable and lightweight.

This fishing rod has a twist lock feature, which offers extra stability to this product. A person can hold up to 4 rods at a time in this rod holder, and the anchor's interlocking points can also help the rack expand.

The twist-locking design allows the owner to mount the rod holder on various options, including ceilings, walls, and boats.

Pros
Convenient Rod Storage: The Berkley Horizontal 4 Fishing Rod Rack provides a dedicated and organized storage solution for up to 4 fishing rods or rod-and-reel combos.
Durable Material: Constructed from plastic, the rack is made to be durable and resistant to environmental elements, ensuring longevity and reliability.
Improved Foam Grip Pads: The rack features foam grip pads that securely hold the rods in place. These pads also protect the finish of the rods from scratches and potential damage.
Versatile Mounting Options: The rack can be wall-mounted in various locations such as the garage, boat, camper, or truck bed, offering flexibility for rod storage in different scenarios.
Space-Saving Design: Wall-mounting the rods horizontally helps maximize space and prevents rods from taking up unnecessary room.
Easy Assembly: While assembly is required, the rack's setup is likely straightforward and doesn't demand complex tools or expertise.
Manufacturer's Warranty: The product comes with a manufacturer's warranty, which can provide peace of mind in case of any defects or issues.
Cons
Mounting Complexity: While the rack offers versatile mounting options, setting it up might involve drilling or attaching it securely, which could be challenging for individuals without DIY skills.

Weight Considerations: The weight of the rack, particularly when fully loaded with fishing rods, might impact the stability of the mounting surface.
Here let me explain how the product might work in a Jeep Wrangler:
The Jeep Wrangler often has limited interior space, especially if you have a lot of gear or passengers. The Berkley Rod Rack's horizontal design and ability to hold up to 4 fishing rods can help optimize space usage by securely storing rods overhead, freeing up legroom and seat space.

If your Jeep Wrangler has a roll cage or suitable mounting points, you could install the rod rack on the interior roof of the Jeep. This would allow you to take advantage of the vertical space while keeping your fishing rods easily accessible.
The rod rack's versatile mounting options make it suitable for various surfaces, including the interior of a Jeep Wrangler. You can attach the rack securely without permanent modifications if there are attachment points or rails inside the vehicle.
Molded from durable, lightweight polypropylene
Improved foam grip pads securely hold rods in place and protects rod finish
Versatile mounting options for home, garage, boat, camper, truck bed, dock and other practical rod storage surfaces
BRMH4 Horizontal style rack holds up to 4 rods or combos
BRMH4 8 3/4" on center interlocking anchor points allows for rack expansion
5. Vehicle Rod Carrier System by Rod Saver :
This rod carrier system manufactured by a rod saver has adjustable features and requires assembling.
This rod carrier system is 12 ounces in weight and has an average length of 5.2 cm. You can choose this product according to its usage, as it generally has a holding capacity for up to 2 rods.
Designed in sleek black, the holder complements the Jeep's aesthetics while offering functionality. Its deck-mounted design accommodates up to 6-8 rods, providing ample space for your fishing gear.
Whether in a vertical or horizontal application, the Side Mount Rod Savers ensure secure storage in a crisscross manner, preventing rods from tangling and enhancing accessibility.

The holder's ease of use and durability make it an excellent fit for Jeep Wrangler owners who prioritize convenience and long-lasting equipment.

Its compact dimensions and manageable weight ensure seamless integration into the Jeep's interior.

The Rod Saver SM8 Vertical Mount Rod Holder resonates with the Jeep Wrangler's robust nature and enhances your fishing adventures.

Its smart design, dependable brand reputation, and compatibility with the Jeep's style make it an exceptional choice for storing your fishing rods safely and securely, ensuring that your fishing trips are both enjoyable and hassle-free.
Pros
Holds 6-8 rods, providing ample storage.


Crisscross arrangement prevents rod tangling.


Easy-to-use design enhances accessibility.


Durable construction ensures long-lasting use.


Complements Jeep Wrangler's adventurous spirit.


Compact dimensions integrate well into interiors.
Cons
Limited color choice (available only in black)


May not accommodate longer rods comfortably
6. Wall Mounted Fishing Rod Holders by Rush Creek:
The Rush Creek Creations 8-Rod Wall or Ceiling Fishing Rod Storage Rack is designed to provide a practical and organized solution for storing fishing rods.
This fishing rod holder is wall-mounted in nature. This rod holder can simultaneously hold up to 1-2 fishing rods in a boat or a garage wall.
Pros
Ample Storage: The Rush Creek Creations 8-Rod Wall or Ceiling Fishing Rod Storage Rack can hold up to 8 fishing rod and reel combos, providing a convenient and organized storage solution for a variety of fishing gear.

Versatile Mounting: The rack offers the flexibility to be mounted on the wall or ceiling, allowing users to choose the option that best suits their available space and preferences.

Secure Design: Deep grooves securely hold the fishing rods in place, preventing them from shifting or falling out of the rack. The adjustable spacing accommodates different rod lengths.

Durable Build: Made from engineered wood with an American Cherry laminate finish, the rack is built to withstand the wear and tear of regular use and outdoor environments.

Space-Saving: By utilizing wall or ceiling space, the rack helps keep fishing rods off the floor and out of the way, making it especially beneficial for smaller spaces like garages, sheds, or the interior of a Jeep Wrangler.

Easy Assembly: The rack is designed to be easy to assemble, which is convenient for users who may not have advanced DIY skills.

Luxurious Style: The American Cherry laminate finish adds an elegant touch to the rack's appearance, making it a visually appealing addition to any indoor space.

Manufacturer Warranty: The product comes with a 90-day Manufacturer Warranty, offering reassurance to buyers in case of defects or issues.
Cons
Interior Space Compatibility: The rack's dimensions might not be suitable for all spaces, so users should measure and ensure a proper fit before installation.

Weight Limit: The rack's durability might limit its capacity for very heavy fishing gear or oversized rods.

Visible Mounting: Wall or ceiling mounting might involve visible screws or brackets, affecting the overall aesthetics of the room or space.
The rod holders of this product have the feature of stainless steel screws for mounting in it. You can also hold a filet knife, tackle, and fishing lures in this rod holder. You will require a drill machine for piloting holes to install this rod holder.
The rack is made from engineered wood, known for its durability and strength.
The color is described as "American Cherry," which gives the rack an elegant appearance.
The rack is designed to hold up to 8 fishing rod and reel combos, providing ample storage space.
The dimensions of the rack are approximately 2.75 inches deep, 27 inches wide, and 1.65 inches high.
The rack is classified as a floating shelf, which means it doesn't have visible supports and appears to "float" on the wall or ceiling.
FISHING ROD STORAGE RACK: Offers a simple yet effective solution for your fishing pole storage needs, allowing you to keep up to 8 rod and reel combos protected and in the same location
HIGHLY-FUNCTIONAL DESIGN: Features deep grooves that hold the rods securely in place and adjustable spacing from the bottom and top piece that easily adjusts to accommodate your rod length
WALL OR CEILING MOUNT: Can be mounted onto the wall or ceiling either vertically or horizontally for versatile storage in any home, cabin, garage, shed or other indoor areas
HIGH-QUALITY BUILD: Constructed from ultra-durable materials with an elegant wood laminate finish to withstand years of quality use while boasting luxurious style
EASY TO ASSEMBLE: Rack is easy to assemble and measures 23.23″ L x 2.76″ W x 0.59″ H when assembled for the perfect fishing rod organizational system for anglers at all levels
7. Horizontal Fishing Rod Holders by Simple Deluxe:
This fishing rod is horizontal in shape and is manufactured by Simple Deluxe in ABS (Acrylonitrile Butadiene Styrene) material. This horizontal fishing rod is available in two pairs and can hold up to 12 rods in a single rack.
Pros
Space Efficiency: The wall-mounted design of the rod holders can help optimize space within the limited interior of a Jeep Wrangler, allowing you to efficiently store fishing rods without taking up valuable seating or cargo space.

Secure Storage: The holders' sturdy ABS base and EVA foam grip pads can securely hold fishing rods in place, preventing them from sliding around during off-road adventures or while driving.

Protection from Scratches: The EVA foam grip pads are designed to protect the finish of your fishing rods, ensuring that they remain scratch-free even when traversing rough terrain.

Easy Installation: The convenient installation process can be advantageous for Jeep Wrangler owners who may want to quickly set up the rod holders without complex tools or modifications to the vehicle.

Compact Design: The horizontal wall-mounted configuration allows you to maximize available wall or interior space, keeping your fishing rods organized and easily accessible.

Customizable Distance: The ability to adjust the distance between two rod racks enables you to accommodate different rod lengths and configurations, ensuring a secure fit.

Versatile Use: The holders are suitable for various indoor spaces, making them adaptable for different storage needs within a Jeep Wrangler, whether it's the interior or the cargo area.
Cons
Installation Complexity: While the installation process is designed to be straightforward, individuals without experience in wall mounting might face challenges in ensuring proper installation within a Jeep Wrangler's interior.

Visible Mounting: The installation of wall-mounted rod holders in a vehicle might result in visible screws or mounting hardware, impacting the overall aesthetics of the interior.

Compatibility with Interior: The dimensions of the rod holders should be carefully considered to ensure they fit within the available space in your Jeep Wrangler's interior without causing obstructions.
This fishing rod is wall-mounted in nature and has pad foams that offer grip for holding the rods.
This fishing rod holder is convenient in the installation process, and you only need 6 screws and drywall for its insertion.
This rod holder offers sufficient usage and is best for storing the rods in a single place.
The product includes a pair of fishing rod holders, offering storage for up to 6 fishing rods.
The Simple Deluxe fishing pole holders for garage grip pads foam is made of EVA designed to hold the poles safely and protect your rods from scratches. The horizontal fishing rod holder has a sturdy ABS base, which prevents rods from sliding down.
The horizontal fishing pole holders for boats are easy and convenient for you to install and disassemble. You only need to use the 6 installation screws and drywall inserts, and then install them on the wall mounted surface by using the matching mounting hardware.
There are 1 pair of fishing rod holders, suitable for you to store rods up to 6 rods and nice to satisfy your needs of storage and display in daily life.
1 Pairs fishing pole holder are able to store 6 individual rods neatly and securely in 13.6 inches of horizontal wall space. It is ideal for keeping your rods and reels in place. You can also adjust distance between two rod racks depends on your needs.
The horizontal fishing rod holders are suitable for many places, such as garages, game rooms, restaurants, bars, clubs, billiard rooms, hair salon, and so on.
8. Vertical Fishing Rod Holder by Attwood:
Attwood manufactures this fishing rod and has a deck mounting system in it. This fishing rod holder is made of plastic material, and no assembly is needed to fix it.
The Attwood Vertical Mount Fishing Rod Holder is designed to provide a convenient and secure way to store fishing rods in a vertical orientation.
Pros
Space Optimization: The vertical orientation of the rod holder makes efficient use of the Jeep Wrangler's interior space, allowing you to store fishing rods without sacrificing valuable seating or cargo room.

Secure Rod Storage: The anti-slip design ensures that your fishing rods are securely held in place, preventing them from shifting or falling during off-road drives or sudden stops.

Fragile Tip Protection: Specially designed small slots secure the fragile tips of fishing rods, safeguarding them from potential damage while in transit.

Multiple Rod Storage: The crisscross design of the holder allows you to store multiple fishing rods vertically, maximizing the number of rods you can transport without cluttering the interior.

Baitcasting Compatibility: If you're a baitcasting angler, this holder is tailored to accommodate your specific fishing technique.

Easy Access: The vertical placement of the rods makes it easy to access the desired rod without having to dig through a horizontal storage setup.

No Interference: The vertical storage doesn't obstruct rear visibility, providing a clear line of sight for the driver and passengers.
Cons
Potential Door Interference: Depending on the length of the rods and their placement, they might interfere with the opening and closing of the Jeep's doors, requiring careful positioning.

Limited Rod Type Compatibility: The holder's design might work best for specific rod types, potentially causing difficulties when securing rods with unconventional shapes or handles.

Installation Expertise: Mounting the rod holder might require drilling into the vehicle's interior, which could be challenging for individuals without experience in vehicle modifications.

Security Concerns: While the holder is designed to prevent rods from slipping, the open design might expose the rods to potential theft if the Jeep is left unattended.
The anti-slip design ensures your fishing rods are securely placed, even during off-road drives or bumpy terrains.

The small slots are designed to securely hold the fragile tips of fishing rods, preventing damage while in transit.

The crisscross design of the holder enables you to store multiple rods vertically, which is particularly beneficial when you want to optimize space within the Jeep's interior.

If you use baitcasting fishing techniques, this rod holder is designed to accommodate your specific needs.

This is a convenient fishing rod holder which you can tie-down to the side of your vehicle. The plastic of this fishing rod is durable on which a person can rely.
Methods for Making Homemade Fishing Rod Holders for Jeep Wrangler: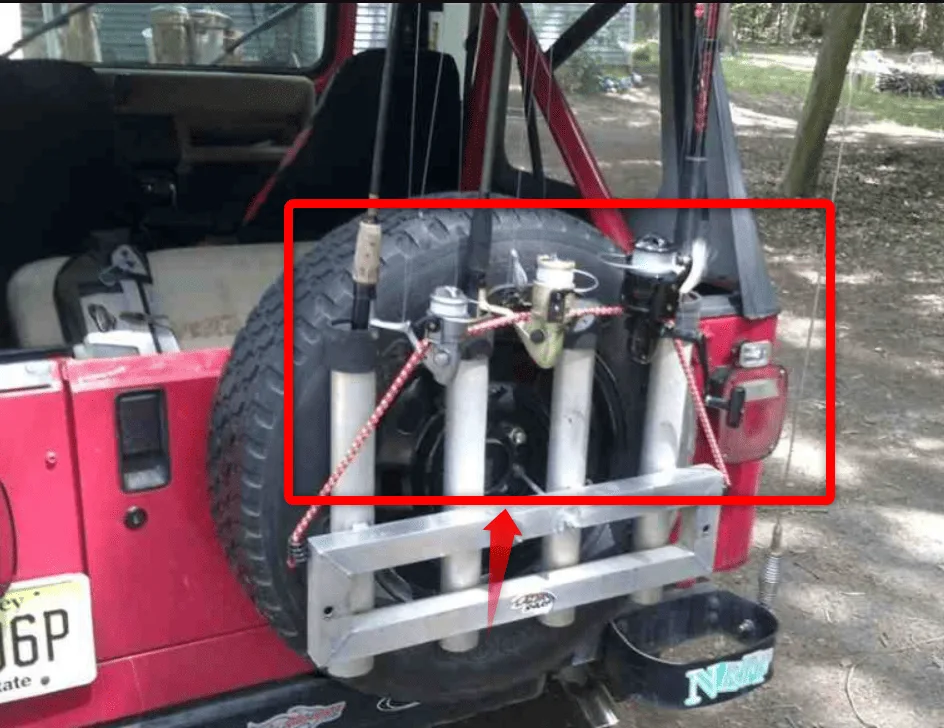 1. Method of PVC Pipes:
You can make the fishing rod holders for your Jeep Wrangler using PVC pipes.
STEP 1: Cut the PVC pipes into pieces and divide them as a base for the holder and pivot.

STEP 2: The pieces for the base should be longer than others.

STEP 3: Use the rest of the pieces to make the fishing rod holder, which should be smaller.

STEP 4: Connect these pieces with a screw according to the design and mount them using a bumper to make a full holder.
2. Method of Metal Pipes:
Another method for making the fishing rod holder is by using metal pipes. You can take metal pipes according to the design of the holder.
Let me elaborate the steps below:
STEP 1: These metal pipes can be connected through the welding method.

STEP 2: You can also make some holes in the pipes and use screws to hold them up.

STEP 3: At last, your fishing rod holder will be ready to mount on the bumper.
You can refer to the video guide below to understand how to transport the fishing rod easily in your Jeep Wrangler:
How to Make a DIY Rod Holder?
You can also make a DIY rod holder through the items available at home. For making the DIY fishing rod holders, all you need is the following:
Long pipes of similar length
Shorter pieces of pipe 280 mm in length
One-hole saw and drill.
PVC pipe 45 mm in length
4 screws of bugle batten design
4 L-brackets
Wall plugs
Step by Step Procedure:
STEP 1: Clamp both pieces of the rack to perfectly align the top and bottom pieces along with the holes.

STEP 2: Make the specified number of holes from the center and extend them towards the right and left sides using a drill. Make these holes in an even space so that sufficient room would be available for handling reels.

STEP 3: Make these holes using drill-through pieces of timber in a lineup. The holes must be in a lineup while assembling the frame. Make the rectangular frame by pre-drilling the screws and holes using bugle batten screws.

STEP 4: Cut the PVC pipe longer than the overall height of your rack. It is necessary so that the reels don't rub with each other on the timber.

STEP 5: Use a mallet to tap the pipe through the holes. You can also use nuts and bolts for the base of these rods, but it is unnecessary.

STEP 6: You can mount it on the wall according to the width of the timber of your rack. But in most cases, the reel clamps hit the wall before the rod butt is fixed securely.

STEP 7: Bolt the brackets using the Dyna bolts and attach them to the wall.
How to Mount Fishing Rod Holder?
You can mount the rod holders easily on their boat or wall. It is recommended to mount them in an accessible area that cannot get in your way, and you can use it easily along with your other activities.
The best place for the rod holder is the area at a 90-degree angle away from the centerline.
Here I will discuss some steps for mounting the rod holder on the Jeep Wrangler:
STEP 1: The first step for mounting the fishing rod in the Jeep Wrangler is to apply the protective tape around the involved area. After this, drill the hole in your intended location.

STEP 2: Use a straight edge and ensure the rod holder is placed in the middle of the gunwale. You can use a drill to cut the hole in the rod holder.

STEP 3: Place the rod holder in your home and check whether it is a good fit. Use a side-cutting and notch the recommended angle for it. Place the rod holder back in the hole which you created.

STEP 4: Install the spacer and backing nut to hold the rod holder in its place.

STEP 5: Tighten the nuts hard enough to make enough room for fixing the rods. Pull the rod holder back and forth to allow more room for tightening them hard.

STEP 6: The last step is to remove the protective tape you applied earlier and clean the area using rubbing alcohol and a rag.
Mounting the rod holder inside the Jeep Wrangler

There are various rod holders which have the capability of holding the rod holder inside the Jeep.

You can take the measurements of screw holes to mark the exact places on the ceiling inside the Jeep.

After marking, install the rod holder inside the Jeep by drilling it into the ceiling. Fix the rod holder using screws and screwdrivers.

Mounting the rod holder on front or back side of the Jeep Wrangler

Some specific rod holders can be mounted on the front or back bumper of the Jeep Wrangler. In this method, T-anglers are used, which is a joining material for holding with the bumper.

Properly fix the rod holder using T-brackets and bumper, and in case of the absence of holes, you can make these holes using a drill.

Mounting the rod holder on the rooftop of Jeep Wrangler

There are some models of fishing rod holders which can be mounted on the rooftop of Jeep Wrangler.

These rod holders have plastic end caps, which make it easy to groove them on the hard top of the Jeep. Keeping the end caps at a distance is recommended for opening and closing the Jeep door.
Final Thought:
Selecting the right fishing rod holder for your Jeep Wrangler requires a careful balance between functionality, space optimization, and personal preferences.
Consider the interior layout of your vehicle, the number and types of fishing rods you intend to carry, and how the chosen holder may impact interior aesthetics.
While a well-designed rod holder can provide convenient storage and easy access to your fishing gear, it's crucial to ensure that the installation doesn't compromise safety features, obstruct visibility, or interfere with the overall driving experience.
By finding the ideal fishing rod holder that seamlessly integrates with your Jeep Wrangler's interior, you can enhance your fishing adventures without compromising the vehicle's functionality or style.
Also Read:
How to Copy Jeep Key- All You Need to Know
7 Best Shocks for Jeep Wrangler- Ultimate Performance Picks
How Do I Get My Jeep Out of Anti-Theft Mode (In Detail)
Why Is Brake Light Flashing on Jeep Wrangler- How to Fix
10 Common Jeep Liberty Diesel Engine Problems- How to Fix
8 Reasons Jeep Radio Not Working- How to Fix
How to Upgrade Performance on 3.8 Jeep JK? Recommended Gears
Frequently Asked Questions (FAQs):
Which type of degree rod holder is considered the best one?
The best degree rod holder is the 15-degree holder, a popular option. It is popular because it can be placed anywhere in the vehicle, but it is better to place it near the corner of the transom.
Which angle placement is best for the rod holders?
It is recommended to place the rod holder at an angle of 90 degrees measured from the centerline. Ensure that the area under the vehicle and gunwales is free from obstructions.
What size of rod is considered the best for fishing all year?
It is better to rely on the medium-to-heavy size rod, which is a good size. This size is perfect for handling the majority of fish. The 6-7 inches medium rod is considered an ideal size for the fishing setup.
Does the brand and material of the fishing rod matter during usage?
The size of fishing rods matters as small fishing rods can only work for a short distance. Longer fishing rods can cover long distances to catch the fish. Each size works for the same purpose, but it has been observed that short fishing rods are best for anglers.
What is the best length considered for the rod?
The best length for the fishing rod is 6 feet which is ideal for making short and accurate casts. Long fishing rods of 7 feet are better for pinpoint accuracy. The short fishing rod is better for covering dirty water.
What sort of length is best for casting the distance?
A footer of 10-12 inches capable of casting and bearing the weight of 1-8 ounces is a good choice for casting the distance.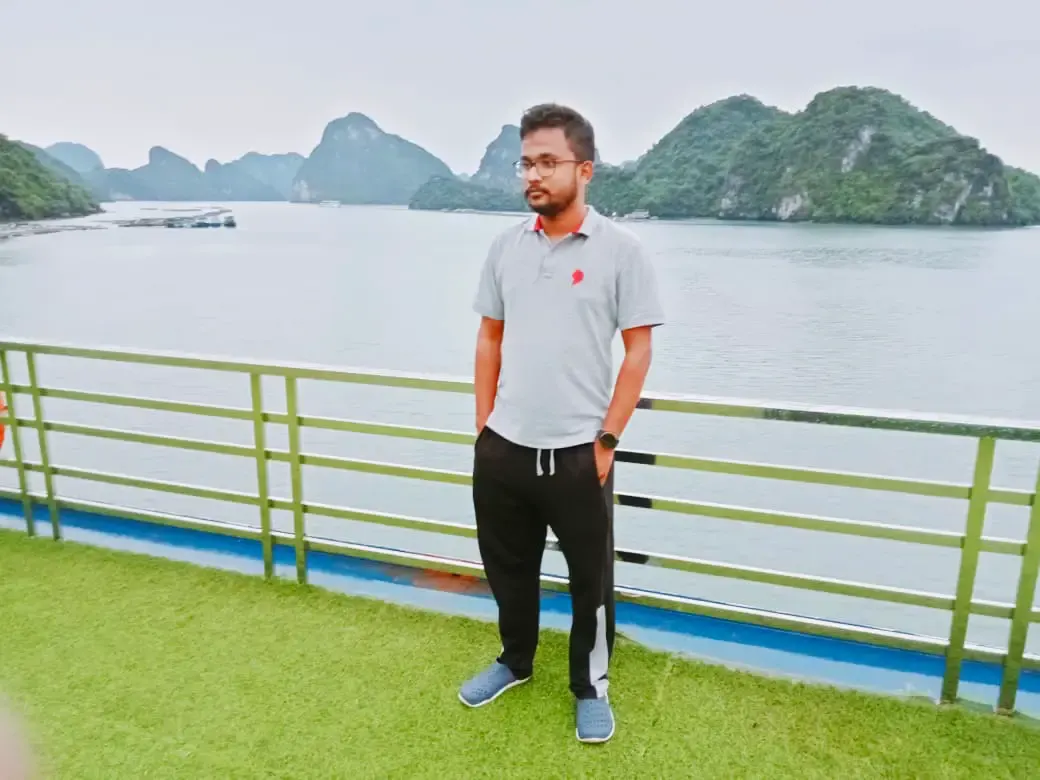 This is Surya. I am an experienced off-roader. I have been off-roading for many years across several terrains. I am passionate about 4×4 driving and want to share my knowledge and experience with others.
My goal is to provide you with the most comprehensive and unbiased information about off-roading.
I curated this article through my personal experience and expertise, and I hope it helps you with what you are looking for.