The Kawasaki Mule Pro FXT has become one of the most popular UTVs on the market. This UTV is an excellent choice for those who want an efficient, reliable, and robust option. However, the Mule Pro FXT has experienced a few issues like all machines.
Some of the common problems associated with Kawasaki Mule Pro FXT include:
The problem of heat

Problem with oil filler cap

Oil leakage

Transmission problems

Engine problems

Speed issues

Idling and power loss issues

A Misfiring engine

The lousy air filter

Brake Issue
In this article, I'll discuss the common problems with the Mule Pro FXT and the potential fixes. Keep reading to learn more about the Kawasaki Mule Pro FXT and how you can troubleshoot any issues you may encounter.
Problems with Kawasaki Mule Pro FXT:
Kawasaki Mule Pro FXT is a durable workhorse that has gained an excellent reputation for work-related tasks within years. It has some excellent characteristics that add comfort during its usage for riders and has made it a well-rounded and excellent piece in the UTV market.
But as we know, there is no perfection in materialistic pursuits, so it also holds some significant drawbacks that should be kept in mind to avoid mishaps during off-roading. The problems usually arise due to a lack of maintenance and transmission failure.
1. The Problem of Heat in Kawasaki Mule Pro FXT:
One of the common complaints of the Kawasaki Mule Pro FXT is about the heating issue in this vehicle.
The heat generated from the radiator blows into the vehicle's cabin and can affect the cabin area. In addition, this heat can affect the legs and feet of the driver if there is no windshield on the vehicle.
Heat is generated when the radiator of the vehicle vents beside the dashboard and blows some warm air out on the driver's footwell region. It becomes highly inconvenient to bear during hot days of the year.
How to Fix:
Heating issue is a common problem that is not adequately addressed, but a few strategies can be adopted to prevent this issue:
Installation of a Hood Scoop:
You can install a hood scoop in your Kawasaki Mule Pro FXT that force the air to pass out under the hood and can offset the hot air.
The Hood scoop also helps keep the radiator cool so it can produce less warm air. Various hood scoops are readily available in the market, and in some vehicles, they are already pre-fitted. You can get your hood scoop for your Kawasaki Mule Pro FXT for just $100. 
The Hood scoop is fitted with your vehicle using heavy-duty brackets that keep it in its place. Hood scoop is easy to install with brackets and latches and increase the flow of cool air.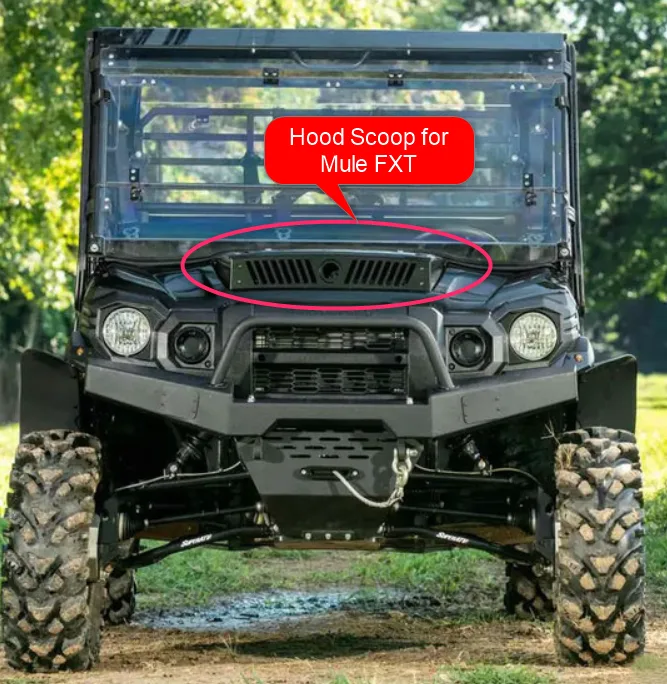 Removing the Doors of Vehicle:
If there is a heating issue in the vehicle, you can remove the doors to resolve it.
It is not an ideal fix for this issue, but it can still create a noticeable difference in it and allow some additional air to flow through the vehicle. In addition, it helps dissipate the heat from the cabin area.
Removing the Cover of Hood:
You can remove the hood cover and the hood scoop to dissipate heat from the cabin. But it is not a natural approach to doing so.
2. Problem with Oil Filler Cap in Kawasaki Mule Pro FXT:
In 2020, a recall was issued for FX, FXR, and FXT models built between 2015 and 2020, as well as DX and DXT models built between 2016 and 2020, due to the potential for the oil filler cap to dislodge.
Detailed recall information here.
The oil filler cap is located on the valve cover of the engine. It is susceptible to popping off, spilling hot oil all over the vehicle, and creating a fire hazard.
This can happen when the breather tube becomes filled with exhaust gas-induced moisture, which freezes and obstructs the tube, causing a build-up of pressure that leads to the oil fill cap being ejected.
How to Fix:
You can fix this problem by installing an oil catch in the models of this vehicle. It is recommended to install an oil catch even if your model has not shown up this problem yet.
3. Oil Leakage in Kawasaki Mule Pro FXT:
As mentioned above, it is recommended to install oil catch cans that can prevent oil spillage in the vehicle.
Each oil catch can is equipped with a transparent drain plug. If oil and water accumulate in this plug, it could begin to overflow, causing a mess on the floor.
How to Fix:
You can fix this oil leakage issue by seeking help from the owner's manual. It is recommended to remove the drain plug that is present at the bottom of the catch can.
If this transparent drain plug gets clogged with oil or water accumulates, you can remove the drain plug to make the can empty. Make sure to regularly check the drain plug to avoid oil accumulation and overflow of oil from it.
4. Engine Problems with Kawasaki Mule Pro FXT:
There arise some potential issues with the engine in the Kawasaki Mule Pro FXT that can disrupt its working.
The issue can be due to dead batteries, lack of neutral state in transmission, loose cables of batteries, faulty spark plugs, and bad ignition switch.
If the vehicle's engine does not start, the issue could be with the battery. Therefore, you should keep the battery in a charged state and check the cables of the battery to keep them in tight form.
How to Fix:
Step 1: If the engine of your Mule won't start but is making a clicking noise, check to make sure it's in neutral, as a safety switch may prevent it from starting.

Step 2: To bypass this switch, you can press down the brake pedal and try to start the Mule in gear.

Step 3: Inspect the spark plugs for any foreign substances such as fuel, oil, or coolant, and check the color of the tips to make sure they are not grey or black, which would indicate fouling.

Step 4: If you heard a whining sound coming from the fuel tank before your FXT stopped working, it's likely the fuel pump has become faulty and needs to be replaced.
5. Transmission Problems with Kawasaki Mule Pro FXT:
Sometimes the gear shift of the Kawasaki Mule Pro FXT gets stuck, which hinders the delivery of proper movement of shift gears to the driver.
This issue can occur when using a dog-ring gearbox or transmission (not only in the Kawasaki Mule but also in other UTVs, ATVs, motorcycles, and some older car models).
How to Fix:
To fix the problem:
Step 1: While the engine is running, apply slight pressure to the gas pedal.

Step 2: Wait till the RPMs reach around 100.
This mechanism should engage the clutch and shift the transmission into place, correctly aligning the collars and gears.
For safety, have your foot over the brake when attempting this shift. If the Mule has been powered off and the gear shift is stuck, start the Mule in gear while holding down the brake, and then make the shift.
6. Speed Issues with Kawasaki Mule Pro FXT:
Kawasaki Mule Pro FXT might face an issue of speed and acceleration that can slow down its working on different terrains.
Many users of the mule UTV may find that they can't reach the advertised maximum speed of 46 mph.
In some cases, users may even be unable to reach 14-18 mph. Additionally, the speed may fluctuate, going up and down.
How to Fix:
The main reason behind the speed issues is a bad fuel pump.
If you want to replace the fuel pump, make sure that it fits in its place after installation and that no issue regarding the fuel delivery during the movement of the vehicle.
It is better to replace the fuel pump if it is clogged, which can negatively affect the engine's performance.
7. Idling and Power Loss Issues with Kawasaki Mule Pro FXT:
When using the Mule Pro FXT, users face a common problem of engine stalling at idle. These issues are usually caused by carbon deposits (black soot) that have built up in the throttle body.
How to Fix:
You can clean the throttle body and associated parts to fix this issue by following a few simple steps. This should help your Pro FXT run like new, even when giving the pedal some gas.
| | | |
| --- | --- | --- |
| | | |
| | | The first step in dealing with the idling issue is removing the throttle body from the Kawasaki Mule Pro FXT. |
| | | Next comes the process of cleaning the throttle body. You can clean it using a scrub and throttle body cleaner. |
| | | After cleaning, make sure to deep clean the throttle blade and shaft bearing area with the cleaner. Clean the back and forth part of the throttle to remove the buildup. |
| | | It is better to test the throttle body after hooking all the electrical connections before re-installation. After re-installation, turn on the throttle blade, which will start your Kawasaki Mule Pro FXT. |
The issue of power loss is also related to idling problems and is common in Mule. The engine stops working efficiently after five to seven years and shows less performance in generating power.
The air filters and fuel pump gets clogged, due to which the engine does not receive enough power and resulting in power loss. There are various reasons behind the power loss issue.
The problem of idling is seen due to clogged air and fuel filters. The stuck-up residues in the carburetor and spark plug cause such an issue.
8. A Misfiring Engine in Kawasaki Mule Pro FXT:
A misfiring engine is also a common issue in the Kawasaki Mule Pro FXT. This issue arises with a spark in the machine when the start button is pressed, and the vehicle stops working.
The reason behind this problem is an old and worn-out engine incapable of performing heavy-duty tasks.
Various other reasons lead to the problem of misfiring the engine. Some of them are:
Damaged engine

Residues or damage to the spark plug

Clogged fuel and air filter

Issues with the vacuum system of the engine
Signs that indicate a misfiring Kawasaki Mule Pro FXT engine
The misfiring engine will increase fuel consumption by up to 20% compared to regular days.

The misfiring engine vibrates a lot, making it difficult for a rider to travel in such a vehicle.

The vehicle is more prone to sudden and quick power loss and does not respond well in the agricultural field.

The engine produces a popping sound during riding for a longer duration.
9. The Lousy Air Filter in Kawasaki Mule Pro FXT:
The lousy air filter can cause problems in the working of Kawasaki Mule Pro FXT. It happens due to the usage of clogged and bad-quality oil.
How to Fix:
In such a situation, all you have to do is:
Step 1: Use diesel as a fuel in your Kawasaki Mule Pro FXT

Step 2: Attempt the compression and leak-down tests for better performance

Step 3: Plug in the oil vent hose in the air box of the vehicle

Step 4: Remove away the plastic sleeves from the vehicle

Step 5: Make sure to attach the tubing that can block the oil from the filter pump
10. Brake Issue in Kawasaki Mule Pro FXT:
Users have expressed dissatisfaction with Kawasaki for brake failure occurring after 200+ hours of riding, below the manufacturer's guarantee of 600+ hours in hilly areas.
Reports of brake failure in 2016 and 2018 Kawasaki Mule Pro FXT models while riding on both paved roads and hilly regions have caused alarm.
The potential for accidents and injury is a real risk if brakes fail.
Kawasaki states that this issue is due to a lack of maintenance and recommends that users inspect the brakes and clean them before each ride.
How to Fix:
If the brake does not provide enough resistance, it is recommended to stop riding immediately and check the brake for any potential issues.
If there is any sign of brake failure, it may be indicated by the brakes getting hot.
To fix this issue, the brakes should be checked and replaced if necessary. Also, listen for any unusual sounds that could indicate an electrical issue and consult an expert if needed.
Check the video below to adjust the e-brake for the Kawasaki Mule Pro FXT:
Pros and Cons of Kawasaki Mule Pro FXT:
| | |
| --- | --- |
| | |
| Kawasaki Mule Pro FXT has high capacity of seating for passengers. | The issue of braking failure is common in this vehicle after a ride of 200+ hours. |
| This vehicle has power engines that are helpful for driving on the uphills. | This vehicle is not capable to attain a maximum speed during off-roading. |
| It has large weight capacity. | There are various issues seen with the steering system of vehicle along with leakage of oil. |
| There are suspensions in this vehicle that create ease for a person to travel on the rough terrain. | Heat is produced in the front seat and floorboard of vehicle. |
| It has a long-lasting and steel-based cargo bed. | The fan of this vehicle suddenly stops during off-roading which can heat up the fuel pump. |
| This vehicle has a reactive system of braking that is controllable. | There is a problem of air filtration in this vehicle due to which it requires time to start the vehicle. |
Final Thought:
In conclusion, the Kawasaki Mule Pro FXT is a reliable and well-rounded UTV suited for work and recreation. With proper preventative maintenance and care, this UTV can handle most of the common issues that arise.
Further, the Kawasaki forums provide a wealth of knowledge and advice to help owners address any problems that may arise. With the proper care, the Kawasaki Mule Pro FXT will provide years of dependable service.
Also Read:
7 Common Problems with Honda Rancher 420- How to Fix
10 Most Common Problems with Polaris Ranger 700 XP(With Fix)
Why Are 3-Wheeler ATVs Illegal? What You Need to Know
ATV Vs Quad- Differences That You Need to Know
Can You do Yard Work with an ATV? All You Need to Know
What Is The Most Reliable Off-Road 4×4 ATV?
Frequently Asked Questions (FAQs):
What are the features and top speed of a mule pro FXT?
The mule pro FXT has a top speed of 46 MPH with a warranty of 3 years. It has a fully independent front and rear suspension that offers a smooth ride to the vehicle. There are six seating capacities in this vehicle, and it is a trans cab that allows the folding of rear seats and beds. The doors of this vehicle are easy to open.
Is there any difference between Kawasaki Mule and Pro FXT?
There is a large cargo box in Kawasaki Mule FX compared to Pro FXT. Pro FXT does not have a single-seating mode and has a 42″ bed. There is a large and deep bed of 54″ in Kawasaki Mule.
Who are the manufacturers of Kawasaki Mule Pro?
Yanmar mill is the manufacturer of the Pro engine of Kawasaki Mule. This engine is powered by Mule-pro DX and has a 993cc inlined three-cylinder engine that works on diesel. A peak torque of 38 lb-feet is produced by this vehicle.
How fast does the Kawasaki Mule pro work on the road?
The Kawasaki Mule Pro does not work with extra speed. It can achieve a top speed of 50 mph and is tuned for low-end torque. This torque is still plenty fast to haul the engine and gear on the roads.
How can a person make the Kawasaki Mule pro to work faster on roads?
The easy way of increasing the Kawasaki Mule pro's top speed is to ensure that the vehicle's tires are inflated. It has been seen that flat tires slow down the speed of vehicles.
Is the Kawasaki Mule pro considered a good side-by-side vehicle?
The Kawasaki Mule Pro FX vehicle is regarded as an excellent side-by-side vehicle. It is a competent, well-equipped, and reliable vehicle.
Is Kawasaki Mule Pro considered a good option for trail riding?
Kawasaki Mule Pro can climb steep trails and has engine brakes that prevent the vehicle from coming down.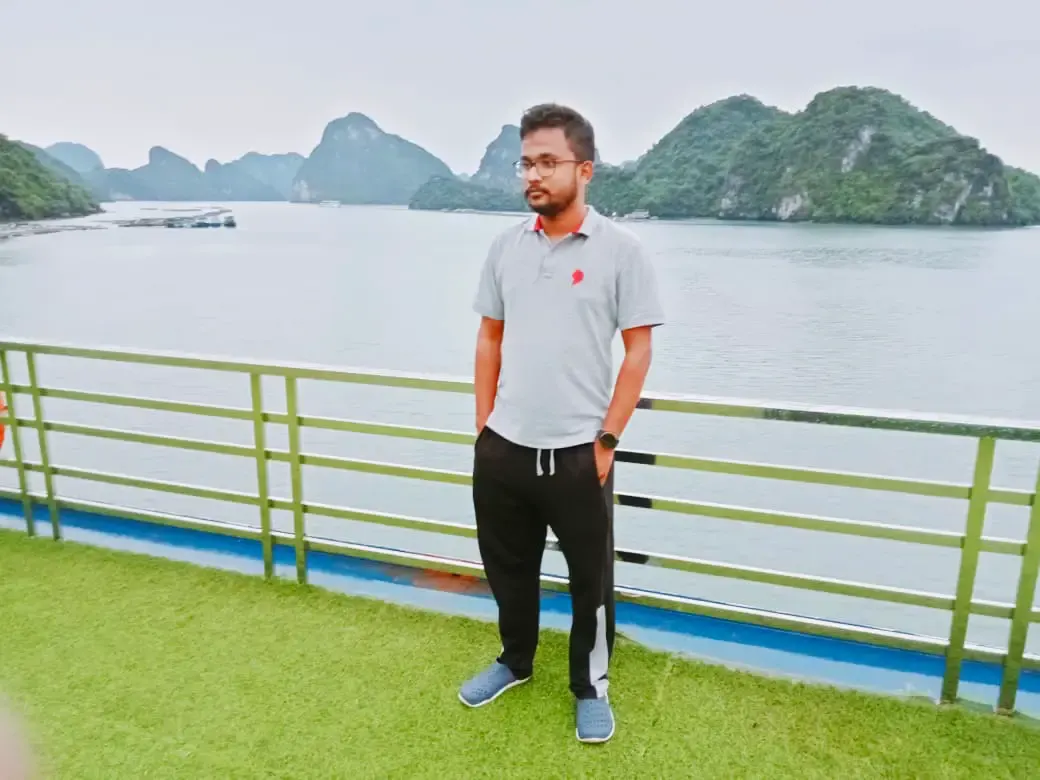 This is Surya. I am an experienced off-roader. I have been off-roading for many years across several terrains. I am passionate about 4×4 driving and want to share my knowledge and experience with others.
My goal is to provide you with the most comprehensive and unbiased information about off-roading.
I curated this article through my personal experience and expertise, and I hope it helps you with what you are looking for.