Jeep Rubicons are some of the most reliable off-road vehicles on the market. They have been designed to be able to withstand the toughest terrains and weather conditions. Here comes the question: Are jeep rubicons reliable?
Jeep Rubicon is considered one of the most reliable off-road models. The Jeep Rubicon has an average reliability rating of 3.5 out of 5.0. It is equipped with an excellent locking rear differential and suspension. Jeep Rubicon holds all those specs that are most needed for safe off-roading.
Jeep Rubicon Reliability Rating:
Consumer reports have done a study to determine which brands are the most reliable. They've ranked 32 companies based on the average scores of tested models in each category. Brands with higher scores typically offer models that have better road tests, reliability and owner satisfaction, safety features, and crash tests.
Recall of Jeep Rubicon Over the Years:
Specs and Features of Jeep Rubicon:
| Specs | Jeep Rubicon |
| --- | --- |
| Off-road performance | It performs well on the rock rails and electronic front sway bar. |
| 4-by-4 system | It has a part-time 4WD system best for off-roading. |
| Top | It has a black sun-rider soft top that helps it to stand among others in the market. |
| Ratio of axle | It has an axle ratio of 4.10. |
| Front and rear axle | It has heavy-duty front axles of next-generation Dana 44 and rear axles of tru-lok differential. |
| Suspension and engine | It is equipped with tru-lok differential front and rear axles with a penstar V6 engine. |
| Transmission and horsepower | It has a 6-speed manual with 285 horsepower. |
Performance of Jeep Wrangler Rubicon:
Jeep Wrangler Rubicon performs excellently on the off-road tracks. It is an excellent option to consider if you are looking for a 4-wheel drive SUV for the challenging off-roading experience. Jeep Wrangler Rubicon holds a dynamic rock-track system with a two-speed transfer case having a low-gear ratio. It provides more traction to wheels that are helpful for decisive action.
Jeep Wrangler Rubicon can help you climb the most challenging obstacles, and there is no need to worry about rollover. This jeep has top-notch power and capability, and it has a much better heavy-duty suspension with gas shocks.
The Interior of The Jeep Wrangler Rubicon:
Jeep Rubicon and Sahara are the best options if looking for a rugged off-road SUV. The interior design is extraordinary and best equipped, making the driver feel something special. These are some of the best-equipped jeep models.
The leather-wrapped seats elevate the driver's experience, and the leather steering wheel enhances the inner beauty. There is also a premium wrapped instrument panel.
Safety Features of Jeep Rubicon:
Jeep Wrangler Rubicon is one of the best choices holding excellent security and safety features. There are more than 75 safety features of this vehicle, and you should feel protected with this vehicle. Some of the safety features are:
Stability control

Electronic mitigation

Traction control and remote keyless entry

Rear back-up camera

Key theft-deterrent system and hill start assist
Factors Contributing to the Reliability of Rubicons:
1. Specs and Features:
Jeep Rubicon is one of the best vehicles holding off-roading credentials across the globe. It is considered a top-notch quality choice for rougher terrains and is a hardcore 4-by-4 SUV that performs excellently on the rough tracks.
Rubicon is beyond the level if you are looking for a Wrangler who can perform well on a mountain, desert area, thick forests, and river-based area. It is equipped with heavy-duty solid axles and locking front and rear differentials.
The heavy-duty shocks and low-range gear with R17 knobby tires make it the best choice for the most challenging off-roading experience. It is equipped with an electronic detachable front sway bar that allows more suspension articulation.
Jeep Rubicon is the most reliable and easy for those who feel off-roading is a challenging task. It has a push-button that opens up a dashed reading of the off-road system, and all other problems of off-roading are handled by the vehicle.
The Rubicon is capable of making adjustments and can control the transmission shift, traction, and throttle. It enables the driver to enjoy the rough terrains like sand, mud-plugging, and rocky paths. A separate off-road page provides all the vital, valuable information for the driver. The data is about the drivetrain, sway bar and differential settings, roll angles, and vehicle pitch.
2. Road Presence:
Jeep Rubicon is compared with the Toyota Fortuner when moved around on the streets. It is as big as that vehicle and is equipped with excellent specs and features that make it a remarkable piece. It is a tall bonnet with the imposed seven-slat grille.
It has a unique proportion and is an extended four-door version that is tall and wide. The towering presence of Jeep Rubicon grabs the attention of the people and is a better approach with breakeven angles. It demands the same respect as a full-size luxury SUV and is an open-top machine.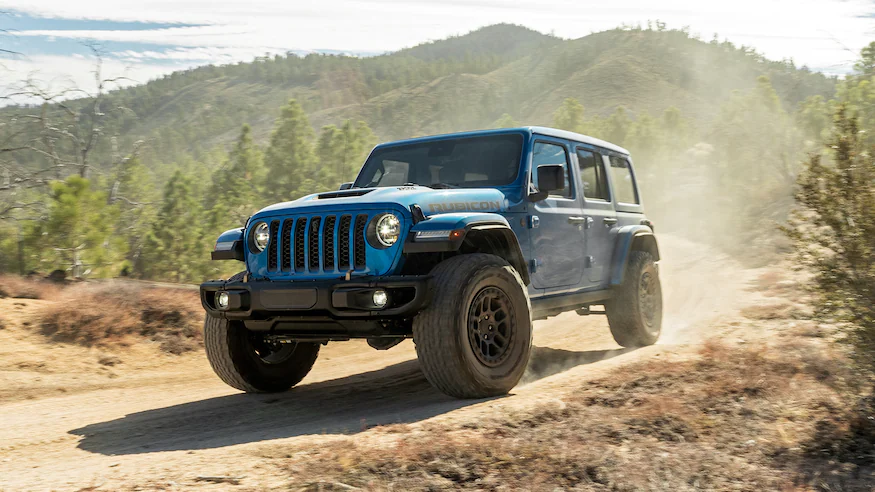 3. Petrol Engine:
Jeep Rubicon is equipped with a 2.0 Liter turban-petrol engine and has a 268bhp and 400Nm developed engine. It is sourced through a ZF-eight-speed automatic gearbox. The four-cylinder systems are an impressive part of the Rubicon and have the power to propel the two-tonne behemoth underneath.
Jeep Rubicon is easy to drive in the city as there is no fuss associated with it. It produces a soundtrack of buzzing superchargers and has a vibe-free motor. The off-roading experience is commendable as it provides a seamless shift with an eight-speed automatic.
The acceleration of this off-road vehicle provides an extraordinary experience with 0-100kmph sprint time.
4. List of Features:
There are excellent features in Jeep Rubicon that are focused and purpose-built off-road. It provides one trade-off cabin comfort that helps it tread in extreme off-roading conditions. There is leather upholstery in the Jeep Rubicon with all-four power windows.
All four doors of this vehicle are removable with a feature of dual-zone climate control. The eight-speaker music system is combined with an 8.4 inches touch screen with an excellent voice command. The Jeep Rubicon is equipped with a navigation system of Apple CarPlay and Android Auto.
Other comfort features include an automatic LED projector headlamp, reverse camera, color MID screen, and front and rear parking sensors with manual lumbar support. The Jeep Rubicon has massive storage space under its center region of the armrest, and the rear seats are foldable.
Drawbacks of Jeep Rubicon:
1. Fuel Economy and Driving Dynamics:
Jeep Rubicon having large and knobby tires that are supple and well-absorbent, does not provide a smooth flow on roads. The riders have to suffer from jitters on the streets due to these tires.
The steering wheel tends to be at a straight point, which is a tiresome act for a long journey. The steering is accelerated hard and is under quick braking. It is not easy to handle it during a long trip. It has less fuel efficiency, and its tank is drained more quickly than the Wrangler.
The engine works harder to pull the mass, making the Jeep Rubicon a less efficient option. Fuel efficiency makes it an expensive choice in terms of fuel. It is said that this jeep should be equipped with a diesel engine.
Worth of Rubicon:
Rubicon is worth the extra money if you are willing to keep the quality items like axles and transfer cases. If you have no plan to keep them, it is of no worth. Rubicon has much worth in stock or semi-stock state.
Cost of Rubicon
Jeep Rubicon is one of the excellent off-roading vehicles having a locking rear and a suspension system. These features make it worthwhile and unique, otherwise, with an equal standard just like the Jeep Sahara.
The starting price of a Jeep Rubicon is around $38,000, having two doors. The cost of the four-door model of Jeep Rubicon is $45,000.
Hard Rock Edition of Jeep Rubicon:
The edition of Jeep Rubicon named Hard rock is one of the most advanced and modern equipped vehicles in the Jeep category. It holds 17-inch-sized black wheels that are semi-gloss with black exterior trim. It also has some best additions, including:
Power dome

Rock rails wide in width

Fine quality upholstery with black leather

Super-quality Front seats

A gauge cluster

Alpine stereo

Front and rear bumpers made up of steel

Shiny Mirrors that are power-heated

Tinted windows
Also Read:
Can All Jeeps Go Off-Road? All You Need to Know
Why is Jeep So Unreliable? All You Need to Know
The Top 10 Jeeps for Off-Roading
Why Does My Jeep Wrangler Keep Beeping? All You Need to Know
How Long Do Jeep Wranglers Last?
Can You Lower a Jeep Wrangler? All You Need to Know
Frequently Asked Questions (FAQs):
How long does Jeep Rubicon last?
Jeep Rubicon tends to last till 280,000 miles without any significant problem. The well-maintained models can last up to 20 years and over 400,000 miles. The Jeep Rubicon is designed to tackle the rugged terrain contributing to its longevity.
Do Jeep Rubicons face any issues?
The main problem with the Jeep Rubicons is poor fuel economy. The large fuel consumption is due to the large engine and weight of the jeep. The Jeep Rubicon that was sold in 2006 weighed about 3700 lbs.
What are the differences between Wrangler Unlimited Sport and Jeep Rubicon?
Jeep Rubicon offers the best off-roading features with different mechanical setups. It is more capable of handling extreme adventures than the Wrangler Unlimited Sports.
Are the model of Jeep Rubicon 2021 a reliable one?
The Jeep Rubicon 2021 model earned two out of five as a reliability rating.
At what mileage do Jeep Wranglers show their problems?
Jeeps typically start showing their problems after covering around 100,000 miles. The issues include the need for service, transmission issues, bearings, and differentials.
Are the Jeeps reliable after covering the mileage of 100K?
100K mileage is a critical milestone, and it all depends on the maintenance of jeeps. The new jeeps last longer than usual. The vehicles that are not appropriately maintained cause wear and tear on the mechanical parts of the jeep.
What are the unique specs of Jeep Rubicon?
The locking front and rear differentials are the main specs of the Jeep Rubicon. It also has Dana 44 axles front and rear equipped with large wheels and gear differential.
Are Jeep Rubicons a better option than Sahara?
Jeep Rubicons is a much better option for rough terrains than Sahara. The Jeep Sahara provides a classic jeep look at a lower price and is suitable for off-roading, but Rubicon has its worth.
Which jeep is more expensive: Rubicon or Sahara Wrangler?
Jeep Rubicon is more costly than Jeep Sahara, and its starting price is $42,320. The starting price of Jeep Sahara is $38,645.
Is Jeep Rubicon big in size than Sahara Wrangler?
The main difference between the Jeep Rubicon and Sahara is their size. Rubicon offers a two-door or a four-door model, while Jeep Sahara Wrangler is a standard four-door model and SUV.
Why is Jeep Rubicon a much better option for off-roading than others?
Jeep Rubicon is built with a robust material that provides extra strength and power to work at a fast pace. Jeep Rubicon comes with a 17-inch tire size perfect for all terrains and off-roading.
Explain the main differences between Rubicon and Mojave?
Rubicon jeep has lightweight aluminum knuckles and tru-Lok locking differentials. Mojave requires cast-iron knuckles that are better to survive at high speed.
Does Rubicon provide a rough ride than Sahara Jeep?
Jeep Sahara is a smooth driving vehicle for off-roading. On the other hand, Jeep Sahara delivers a smooth drive.
Is Jeep Rubicon a comfortable vehicle?
Jeep Rubicon is one of the most comfortable and fuel-efficient vehicles. It provides a quality ride due to its specific features.
Are all Rubicon equipped with Dana 44?
All types of Jeep Rubicon are equipped with Dana 44 front and rear axle. These axles are more robust and lighter in weight than other generations and are not much interchangeable.
What is present in a Rubicon package?
The Rubicon package includes an electronic front sway bar disconnect with an electronic locking differential. It also has an optional rock-track four-wheel-drive system with all-terrain tires.
Are Jeep Rubicon equipped with lockers?
Jeep Rubicon has electric selectable lockers that can engage or disengage with a button push. The difference between the selectable and an automatic locker depends on the driving characteristics.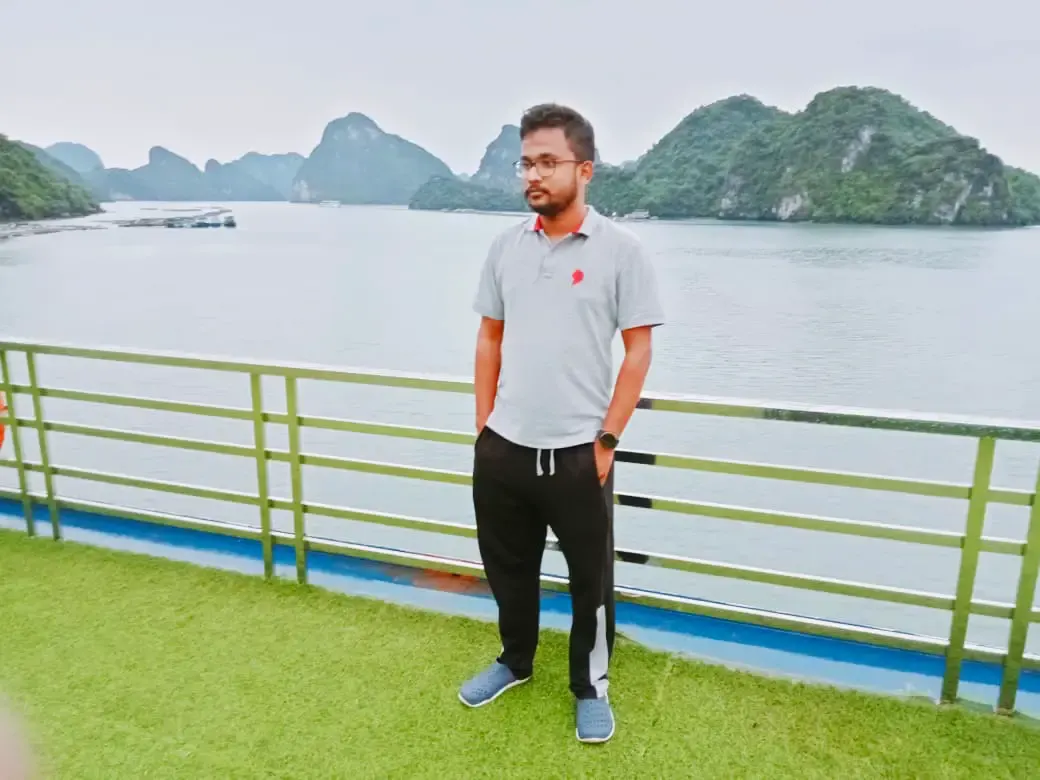 This is Surya. I am an experienced off-roader. I have been off-roading for many years across several terrains. I am passionate about 4×4 driving and want to share my knowledge and experience with others.
My goal is to provide you with the most comprehensive and unbiased information about off-roading.
I curated this article through my personal experience and expertise, and I hope it helps you with what you are looking for.