An all-terrain vehicle, short for an ATV, is a motorized off-highway vehicle made to travel on four low-pressure or non-pneumatic tires, having a seat designed to be mounted by the driver and handlebars for steering control instead of wheels. It is also known as a light utility vehicle or a quad bike. Modern ATVs are usually divided into the following categories: Utility, Sport, Children's, Side by Side, and 50 cc Gas. So, what to wear during ATV riding?
Primary safety protocols must be followed when a person starts riding or operating an ATV. Neither ATV manufacturers nor legal authorities, it is never recommended to drive or use such vehicles without proper safety equipment. It is recommended to wear the below accessories as mentioned below during ATV riding:
Helmet
Eye protection and goggles
Gloves
Long-sleeved shirts and pants
Arm/elbow pads
Knee armor
Over the ankle boots
What Things Should One Take Care of Before Driving An ATV?
Now coming towards the topic, what is one supposed to wear while driving an All-Terrain Vehicle. As per international safety standards and international rules and regulations of driving a vehicle, the most important is to make sure that the driver or the operator of the ATV must be over the age of eighteen.
In some regions, the law allows teenagers over the age of 16 to operate or drive ATVs, but mostly, all over the globe, the user or driver must reach the age of 18 before stepping into the driving seat of the ATV. 
Moreover, as per the international safety rules and regulations, the driver has to abide by the laws of wearing safety gear.
Road traffic accidents are prevalent these days, and as per surveys, the leading reason for death nowadays is repeatedly reported in road accidents. The apparent reason for these tragic incidents is that the driver or operator of the vehicle is careless and does not bother to abide by the safety rules and regulations. A little carelessness and negligence of the rules and regulations often cost people their lives.
What is a Safety Gear?
Safety gear is most commonly known as instruments or clothes recommended for ensuring the safety of the driver or the operator. The most important and mandatory thing that is recommended by all law enforcement authorities all over the globe is that the riders of motorcycles, quad-cycles, or All-terrain vehicles are supposed to wear a safety helmet.
A safety helmet is an instrument which to many possible extents, makes sure that if the driver is involved in any tragic incident, does not get a head injury. If we talk about medical conditions, the worst cases in road traffic accidents involve a head injury. A head injury happens to be a severe injury, leading to all kinds of unwanted circumstances. This risk is always minimized when a rider wears a safety helmet while riding the vehicle.
We often see that helmet is the only thing included in a safety gear that is always highlighted. The use of which is always emphasized towards the youngers by the adults and on the general public by the law-enforcing authorities. People usually forget or typically neglect the importance of other instruments or clothes included in the safety gear.
Find details on Best Off-Roading Kit- Safety, Recovery Kit and More
What to Wear During ATV Riding?
Different instruments or clothes are important to wear while driving an All-Terrain vehicle, especially when a young motorsport enthusiast or a worker operating the ATV in remote areas. Such clothes and instruments are mentioned below:
Helmet
Eye protection and goggles
Gloves
Long-sleeved shirts and pants
Arm/elbow pads
Knee armor
Over the ankle boots
The importance of all these instruments is given below, turn by turn.
1. Safety Helmet: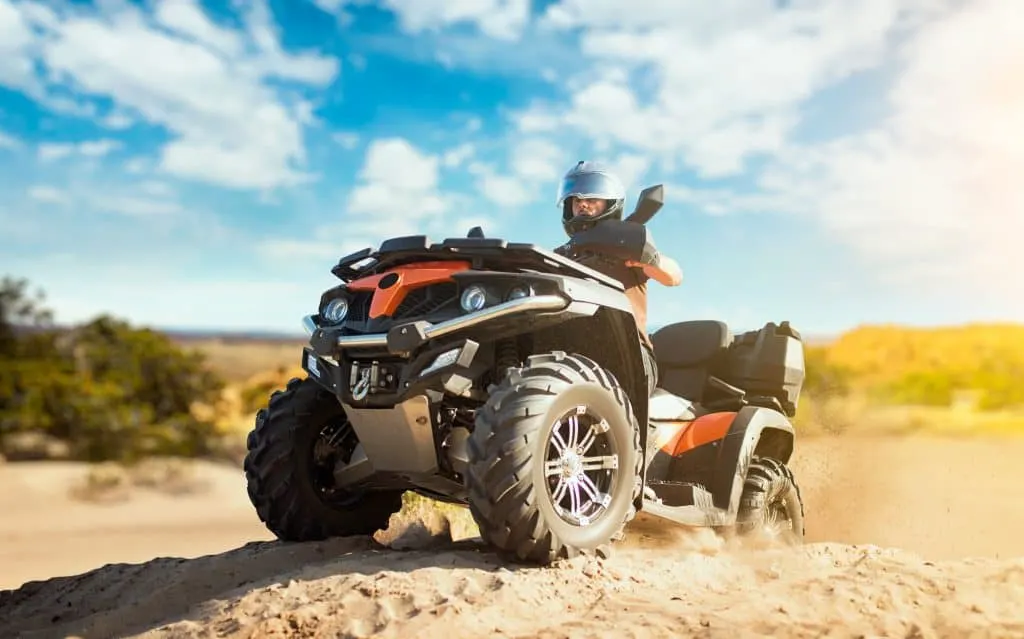 A safety helmet is an essential thing that should be worn by the driver or the operator of the ATV. As discussed above, it ensures the safety of the driver/operator from head injuries. Not only that, but it also minimizes the risk of other types of serious injuries that may result due to tragic falls or accidents that may cause harm to the operator.
2. Eye Protection Goggles:
Eye protection goggles are an essential instrument to wear. The person riding the ATV is riding it for recreational purposes or is operating the machine for some work in the field. The eyes are the most sensitive part of the human body and are with no replacement.
The person must be wearing eye protection goggles while driving to minimize the risk of getting the eyes harmed. For instance, if the user of the ATV has weak eyesight and uses lenses for better vision, they might get allergies due to air and wind pressure. Eye protection goggles provide safety from such hazards.
3. Gloves:
Gloves are essential to wear while a person is driving an ATV. The reason is, these clothes protect the hands of the rider from the wind pressure, as well, as if a tragic fall happens, the hands would be possibly saved from bruises, and in other cases, from wrist breaks also.
4. Long Sleeved Shirts and Pants:
Long-sleeved shirts are considered a parameter of safety rules and regulations worldwide. The reason behind this is simple. The more body parts of the rider or operator are covered and less exposed, the closer it brings to safety from bruises in case of fall, and in normal conditions, from the wind pressure.
Like long-sleeved shirts, long-sleeved pants are also considered an essential parameter of safety rules and regulations all across the globe. Similarly, the more body of the rider gets covered and less exposed to the surrounding, making it safer for them from wounds, bruises, infections, and other such hazards.
Pros and Cons of Wearing Casual Clothes During ATV Riding
| Pros | Cons |
| --- | --- |
| Casual clothing is super comfy. Allows focusing on what's ahead. | Casual clothing is inferior when it comes to perspiration and ventilation control. |
| Casual clothing prevents extra purchasing as you own stuff to wear. | Casual clothing provides inferior protection and materials for an optimal riding experience. |
| Casual clothing is a necessity if the track is too hot for your body. | During riding, you can face various circumstances which can transform your favorite cotton tee to a forever dirty stained shirt. |
5. Arm/Elbow Pads:
Arm pads protect the joints in the upper extremity of the body. In case of tragic falls or accidents, the most common site of displacement or fracture of bones are the wrist or elbow joints since they are more vulnerable in these cases. They are wearing arm/elbow pads while riding minimizes the risk of such hazards.
6. Knee Armor:
Similar to that of arm/elbow pads discussed above, knee armor plays a vital role in providing safety to the driver/operator of the ATV. In the lower extremity of the human body, the most vulnerable part is the Knee joint, most prone to fracture or dislocation of the bones. Wearing knee armor minimizes such risks due to unexpected events or circumstances.
7. Over Ankle Boots:
Riders need to make sure that while riding, they have proper footwear. It is not recommended by international safety regulations that the rider or operator wear comfy shoes or casual sleepers while riding. The rider must properly suit up with proper equipment and gear before hanging to ensure safety from all possible hazards.
These are all the safety equipment recommended by international safety standards. The rider must abide by the road rules and regulations and must wear safety gear, which is for the safety of the people moving on the road surroundings.
Pros and Cons of Wearing ATV Riding Gears:
| Pros | Cons |
| --- | --- |
| ATV riding gears provide superior protection from bumps, dirt, branches, and sun. It always ensures that you are safer in case of an accident. | If you go above and beyond with pro-ATV gear purchases, then they are not worth it unless you will be riding an ATV more than once a year. |
| Riding a chest gear protector is good if you have a need for speed. These vests are inexpensive and look great. | The gear may feel heavy and hot if you ride in a hot climate. |
| Simple moisture-wicking shirts are excellent for youth which can control the internal temperature and keep hydrated. | If you have no access to local outdoor then you may have to return the items purchased online many times till you find the right fit for you. |
| ATV gear or clothing is mandatory for the cold climatic regions as no one will prefer to wear a pair of flip-flops and sweat pants at 16 degrees. | |
What NOT To Wear When Riding ATVs:
It is recommended not to wear anything bulky as it can pose a blocker on quick maneuver of your ability on the trails. We recommend not to wear belts too as they can create discomfort during two or three hours of ATV tour.
You can wear flip-flops, but still, they are not recommended much. Instead of flip-flops, you can wear a pair of sneakers. It is recommended to wear clothing which is neither too tight nor too loose for you.
Avoid wearing the oversize sweatshirt of your daddy or husband as they will be too loose for you.
What Is A Side By Side ATV? SxS Details
Safety Guidelines During Riding ATV: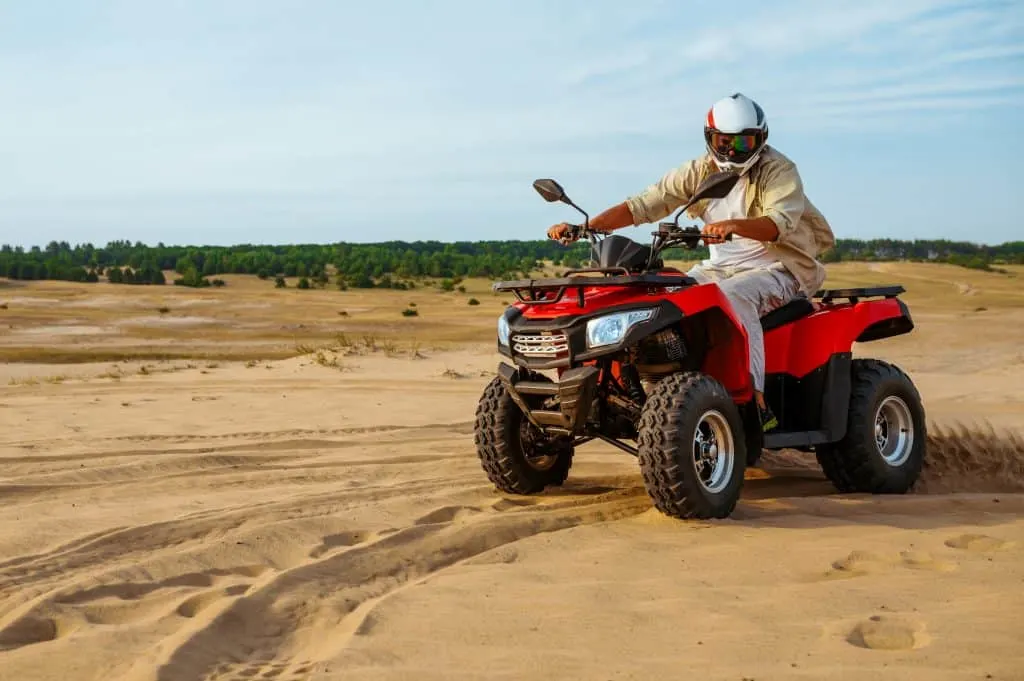 Kids younger than 16 years of age should not ride an ATV. Anyone who wills to ride an ATV should follow the tips mentioned below to avoid serious consequences.
Always take a safety training course that can help you learn how to operate an ATV safely. I prefer to ride that ATV right for your age and size.

Wear an approved helmet and eye protection as required by law.

Wear long pants, sleeves, gloves, and over-the-ankle boots, which can prevent you from scrapes and cuts.

Manage to ride during daylight hours and ride at a safe speed on a designated ATV trail.

Get some knowledge regarding the basic first aid which can treat your minor injuries during an emergency.

It is strictly advisable never to ride if you are drunk or use drugs.

Always ride on a place that is not public or paved.

Always allow the kids and teens to drive ATV under the supervision of an older adult or with a passenger.

Avoid exceeding the number of passengers as recommended by the manufacturers.
5 Safety Tips for Riding ATVs:
Although ATVs are popular and fun, they can be turned into a dangerous state if you play with the rules. Here we will discuss five tips that you can keep in mind before hitting the trails with a new ATV.
1. Wear Right Gear:
Wear the right gear. Always make sure to include proper safety gear and some absolute basics. These include long pants, a long-sleeve shirt, boots, and a helmet. You can also have additional protective equipment with you, such as an outside chest protector, motocross pants, boots, knee guards, and more!
The Main ATV Safety Gear Includes:
| | |
| --- | --- |
| Helmet | A high-quality ATV Helmet is necessary as it protects the head from any serious injury. Go for those helmets which are comfortable and durable and fit properly on your head. |
| Googles | They are a great piece of gear whenever you plan for riding an ATV. Goggles protect your eyes from wind, rocks, dirt, dust, branches, and anything else which might come your way on the trail. |
| Toolkit | The toolkit includes a few basic items like Swiss army knifeDuct tapeTrail mapTire pressure gaugeMultifunctional screwdriver there are also some other items too which include: Vise-grip pliersAir pumpTire plugs |
2. Never Ride Alone:
It is advisable to ride with a group of friends, but it doesn't mean that we are saying that ATV riding without a passenger is not possible. ATV riding is a sticky thing, and it is a good idea to have a group of friends who are also ATV enthusiasts. It helps a lot whenever you run out of the crash, run out of gas, and get stuck into something drastic. Children should always ride under the supervision of an adult.
3. No Public Roads:
ATVs are built for off-roading, so avoid riding them on public roads. It is advisable to pay attention to trail rules and regulations and stay off-paved and riding on public roads. It is dangerous to ride on public roads as any vehicle can hit you quickly. Follow trail etiquette, which means that you should stay to the right side of the trail and ride only on marked trails. Other than this, slow down around the corners and have proper paperwork and flags.
4. No Passengers:
It IS dangerous and is not considered safe to have a passenger when riding an ATV. If you are driving at higher speeds, there are chances that a passenger in the vehicle might be thrown off the car due to the center of gravity. If the passenger gets injured, it could lead to a legal and financial nightmare between the vehicle owner and the driver. Try to avoid passengers in the ATV and drive safely and responsibly.
5. Ride within Your Capabilities:
Choosing the right ATV for you according to your capabilities is advisable, no matter how you ride an ATV. You can ensure a safe and enjoyable ride by safely handling your ATV. Riding an ATV is a dangerous thing and requires more experience and skill. Avoid riding in the areas you cannot navigate and ride within your capabilities. Many great options can help you choose the best ATVs according to their toughness and innovation.
Also Read:
What is a UTV vs ATV? Which One is Right for Me
What Size ATV Do I Need to Buy for Off-Roading?
Frequently Asked Questions (FAQs):
What shoes should a person wear for an ATV?
It is advisable to wear the shoes such as hiking boots which act durable and offer ankle protection. A pair of tennis shoes might protect your feet from bits of brush, but they can hit your feet.
What are the essentials which you should bring on every ATV ride?
Here are some packing conditions which you should bring along with you if you are an ATV rider, such as:
First aid kit
Helmet
Protective clothing
Good tool kit
Charged cell phone and a charger
Air pump
Patch kit
Extra gas
Are flip-flops a good option for an ATV?
Pair of flip flops and everything casual is fine unless or until you plan for hiking or something.
Are sneakers necessary for ATV riding?
Sneakers that are closed-toe shoes fully protect the feet from all sorts of injuries that might happen potentially during ATV riding.
What should a person wear for the four-wheeling?
It is recommended to wear goggles, over-the-ankle boots, gloves, and a sturdy full-length and long-sleeve shirt if you plan for four-wheeling.
What should you wear while riding an ATV trail?
It is recommended to wear helmets riding boots, gloves, goggles, and an ATV communication system during ATV trail riding.
What to wear on ATV dunes?
It is recommended to wear breathable pants and provide extra protection during the ride in dunes.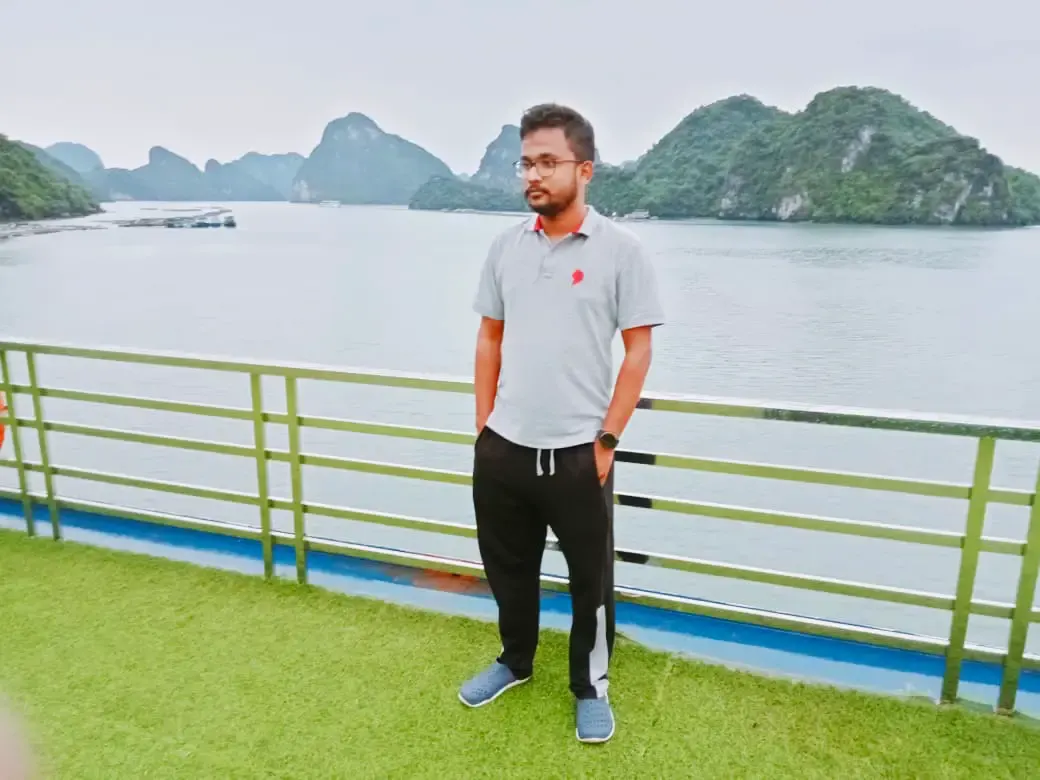 This is Surya. I am an experienced off-roader. I have been off-roading for many years across several terrains. I am passionate about 4×4 driving and want to share my knowledge and experience with others.
My goal is to provide you with the most comprehensive and unbiased information about off-roading.
I curated this article through my personal experience and expertise, and I hope it helps you with what you are looking for.